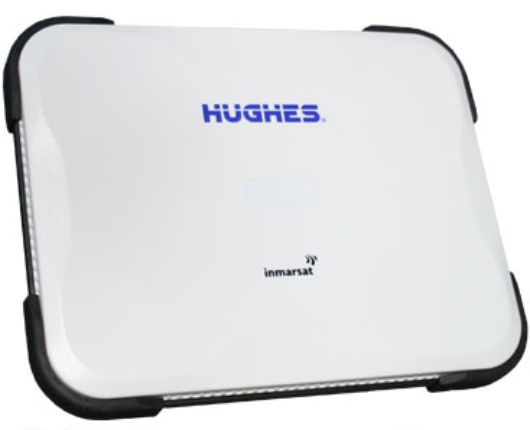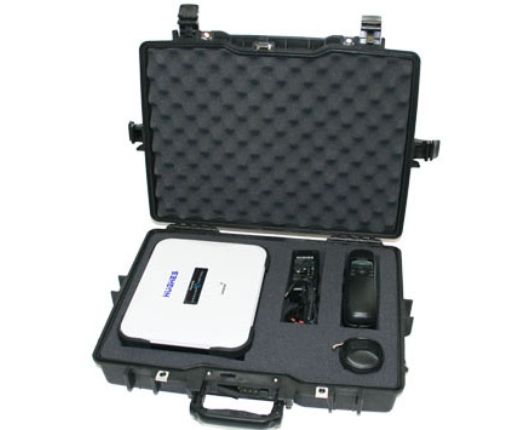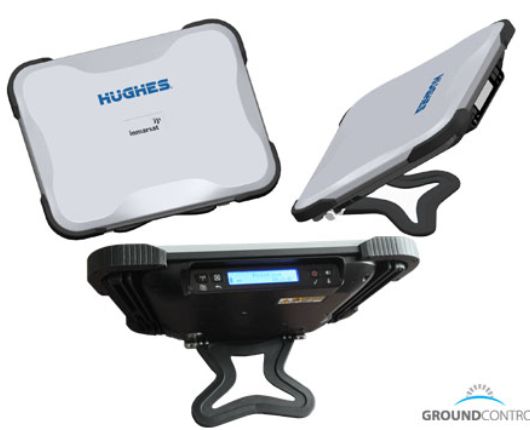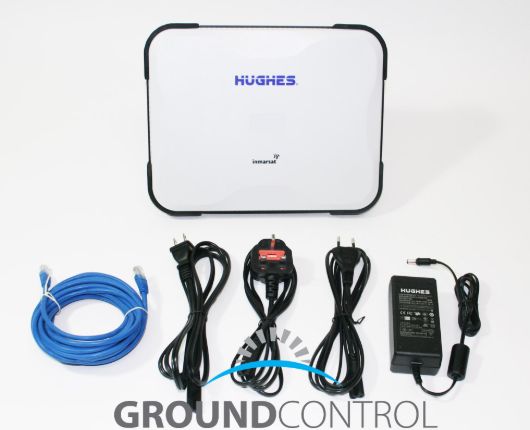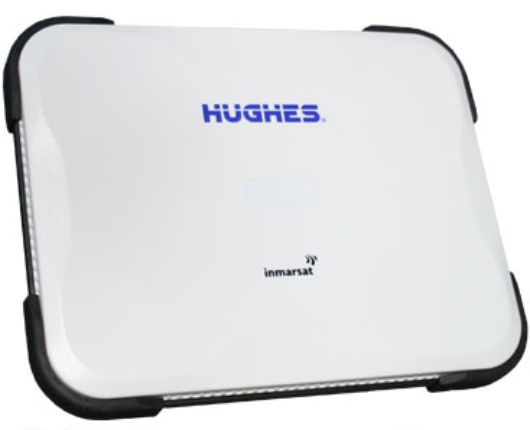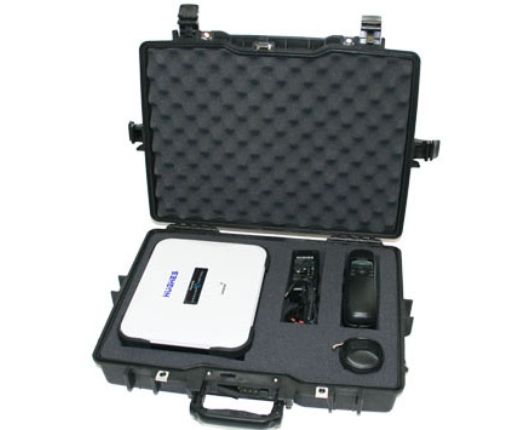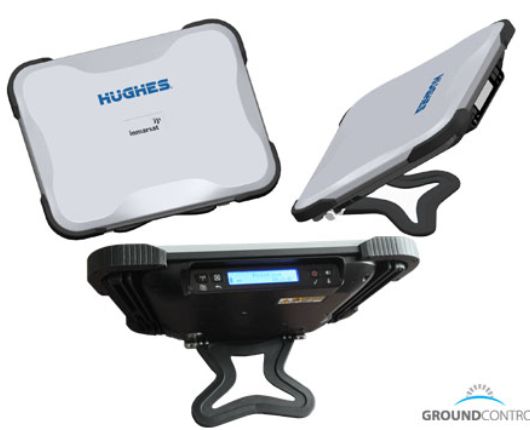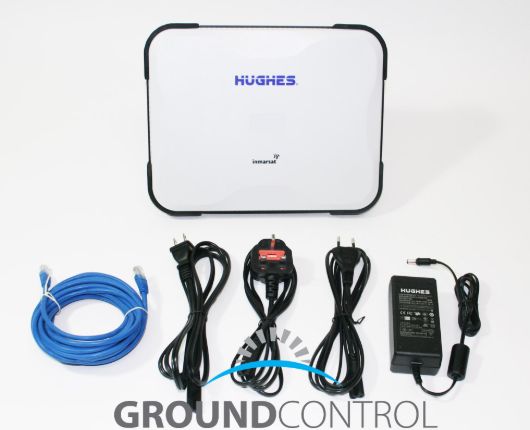 Hughes 9211 BGAN Terminal
3,534.99 € – 3,911.99 €
Powerful, Portable BGAN Terminal

The rugged and lightweight Hughes 9211 is a budget-friendly High Data Rate terminal, ideal for media, governments, NGOs, mobile healthcare providers and more, who demand the finest balance of high performance, quality of service and lowest cost.
Key Features
One-button auto-connect to the internet (after pointing). Easy to use by anyone.

Service using Inmarsat BGAN or BGAN M2M provided by Ground Control.

Delivers high-speed Internet of 492Kbps. A Class-1 BGAN terminal.

BGAN HDR streaming excellent for live video broadcasters.

Lightweight and Portable - measures a compact 9" x 11.5", and weighs just 4.2 lbs (1.9kg).

Wireless hotspot allows any wireless device to connect up to 100 feet away.

Optional in-motion antenna. The 9211 also connects while traveling in a vehicle.

Night-friendly LCD backlit display with 4 button controls.

Outdoor Use - Superior Ingress rating of IP55 - Built for extreme weather.

Wireless Hotspot allows any wireless device to connect up to 100' away. Stay warm indoors.

Directly connect any standard corded or cordless phone into the RJ-11 phone jack.

Calls are $0.99 cents per minute to any standard phone worldwide. Free incoming calls.
Tech Specification
Capabilities: Internet, email, voice, FTP, FoIP (fax), ISDN, SMS text, video streaming

Internet Speed: Class 1 BGAN HDR - 492 Kbps (Rx) x 492 Kbps (Tx). 650 Kbps HDR Speeds.

Streaming (1:1CIR): 32Kbps, 64Kbps, 128Kbps, 176Kbps , 256Kbps, and 450Kbps, BGAN HDR Asymmetric Service (650Kbps)

Wifi: 802.11b/g/n - 100' radius.

Wireless Security: WEP, WPA, and WPA2 encryption. MAC Filtering Options for up to 10 devices.

Interfaces: 1 x RJ45 Ethernet, Two Line RJ11 Phone port - (Requires RJ11 splitter for one phone and one fax)

External Antenna Port: Used for fixed or mobile (in-motion) external antenna.

Streaming Services 1:1CIR 32Kbps, 64Kbps, 128Kbps, 176Kbps , 256Kbps, and 450Kbps, BGAN HDR Asymmetric Service (650Kbps)

Dimensions: 9.1"H x 11.5"W x 2"D (232mm x 292mm x 51mm)

Weight: 4.2lbs (1.9kg)

Onboard Battery Life: 36 hours on standby, 4 hours continuous RX.

Operating Temperature: +23°F to +131°F (-5°C to +55°C) with battery, or -13°F to +131°F (-25°C to +55°C) without battery.

Humidity: 95% RH at +40°C

Environmental: IP55-compliant

Power: 20 VDC 110 to 240AC

Power Cables: 2-pin US type, 3-pin European, 2-pin UK

Wind: Operational wind loading (with stand secured to ground) 25mph (40kph)

Ice: 20mm before non-operation

Standard Warranty 18-month parts and labor - Extended warranties available
Hughes 9211 Overview
The 9211 boasts a hardened, compact, and sleek design— the world's smallest and lightest HDR- capable BGAN. Users can connect at streaming broadband speeds of over 650 kbps with features such as built-in, multi-user WiFi access.
An external powered antenna is available to support long RF cable runs for temporary or permanent fixed-site installations. The user even has the freedom to connect an accessory vehicular tracking antenna, enabling comms-on-the-move directly from the Hughes 9211 terminal.
Powerful and Compact BGAN for a Mobile Office
The Hughes 9211 enables users to send and receive IP traffic via Ethernet and/or 802.11 b/g/n WiFi, including voice or fax via a standard telephone connection. It is all IP-based and offers Class 1 background IP or selectable, dedicated Quality of Service (QoS) levels.
Inmarsat's BGAN HDR service network now offers new and higher streaming rates. The Hughes 9211 supports the highest streaming rates available (above 650 kbps) for transmitting video and other critical data from the field. Asymmetric streaming rates are supported, enabling users to better tailor the service to their individual preferences and minimize cost.
Ruggedized for Extreme Environments
The Hughes 9211 has been ruggedized to operate in frozen, or blazing hot of environments. It has an environmental Ingress rating of IP 55, which means it is dust protected as well as staying operational with water jets spraying on it from any direction.
Optional In-Motion Antenna
The Hughes 9211 has an external antenna port that will allow it to connect to a mobile in-motion satellite antenna. This add-on option allows the 9211 users to be online with phone and Internet while traveling in a vehicle, anywhere on the globe.
Hughes 9211 Photos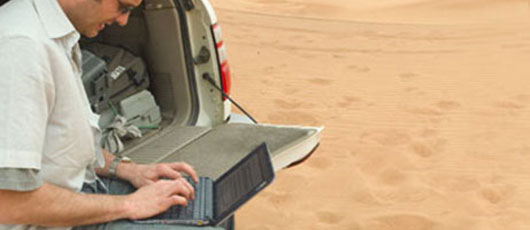 Hughes 9211 BGAN Terminal
Works in Extreme Environments
The Hughes 9211, like any Hughes BGAN terminal, is designed to be outside in rain, snow, sand, or most other extreme environments.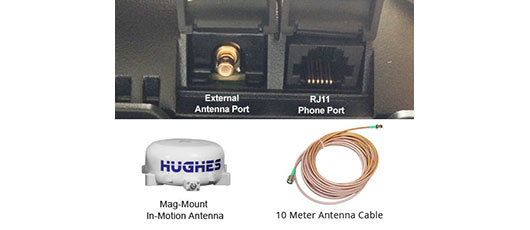 Hughes 9211 BGAN Terminal
External Antenna Provides In-Motion Service
The Hughes 9211 has an easy-access external antenna port that can connect to an optional fixed external antenna or an in-motion vehicle top antenna. The 9211 In-Motion antenna is auto-acquire and does not need to be manually pointed.. and can work while the vehicle is in motion.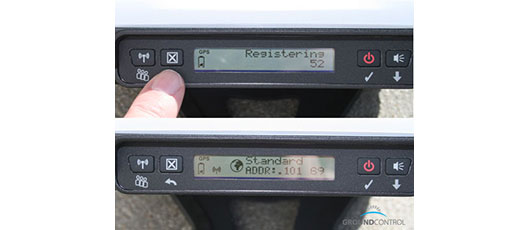 Hughes 9211 BGAN Terminal
Digital Display
The digital display on the Hughes 9211 makes pointing a breeze. Simply press the "X" register button after pointing for full connectivity. The whole pointing process takes just a few seconds.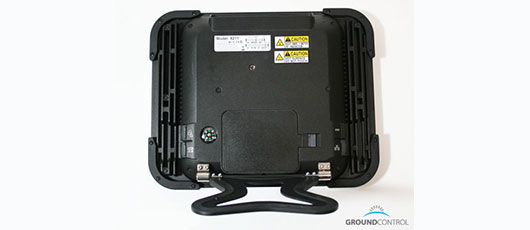 Hughes 9211 BGAN Terminal
Reverse View
The rear view of the Hughes 9211 BGAN terminal. Note that there is a compass to help in pointing the terminal. These terminals point at stationary satellites, and once the compass heading is known, pointing a terminal is a no-guess event.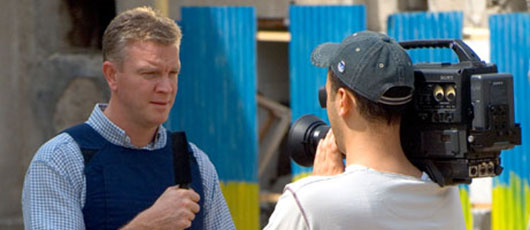 Hughes 9211 BGAN Terminal
Live Video Broadcasters
The portability of the Hughes 9211 gives live video broadcasters the ability to transmit from any location. The BGAN HDR streaming service allows for speeds of 650 Kbps upload (and 64Kbps download).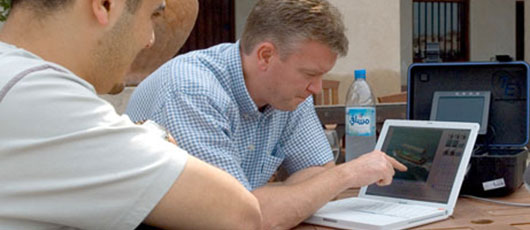 Hughes 9211 BGAN Terminal
Store and Forward Files
Many broadcasters can also upload images and stories at a later time (store and forward) using the standard BGAN Internet service provided by Ground Control.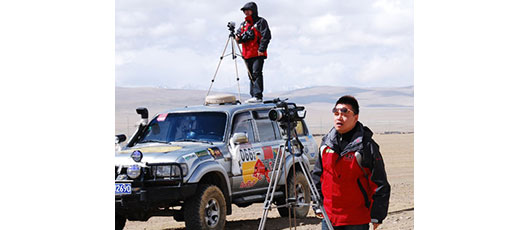 Hughes 9211 BGAN Terminal
WiFi Capabilities
Since the 9211 is Wi-Fi Capable, there is no cables required to the laptop, tablet, or smartphone after connecting to the satellite.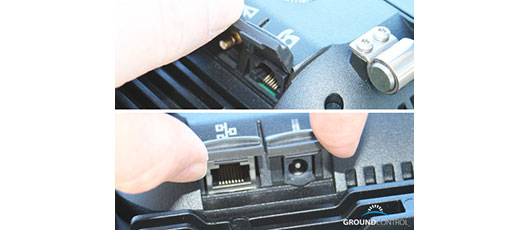 Hughes 9211 BGAN Terminal
Four Ports
Here are the 4 ports on the Hughes 9211. They are (from top left to bottom right), External Antenna Port, RJ11 Phone Port (for any standard corded or cordless phone), RJ45 Ethernet Port, and a power port.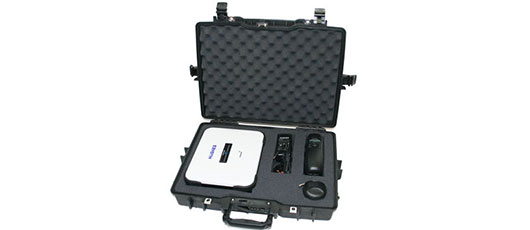 Hughes 9211 BGAN Terminal
Medium Ready Case
Ground Control offers the Hughes 9211 in a hardened "Ready Case". These cases are excellent for taking terminals into harsh environments, or just for long term storage. Shown above is the medium sized case with analogue phone and cabling.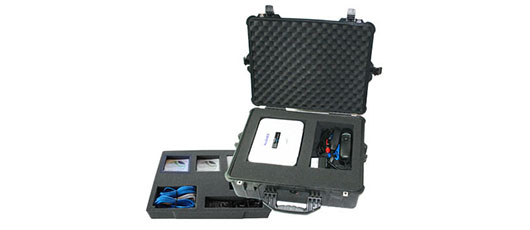 Hughes 9211 BGAN Terminal
Large Ready Case
The Hughes 9211 can also be configured to fit inside of our "Large Ready Case". This case is good for adding additional accessories, such as computers, foldable solar panels, Vehicle DC adapters, and other equipment. We customized each to any requirement.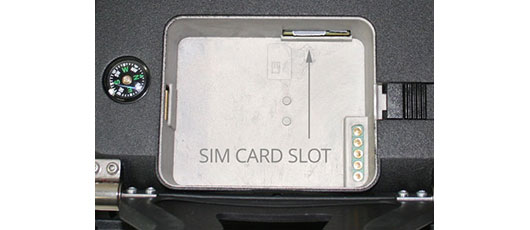 Hughes 9211 BGAN Terminal
BGAN SIM Card Slot
Under the Hughes 9211 battery is the BGAN SIM card slot. BGAN terminals are "dumb" in that any BGAN SIM card may be used to provide service to that BGAN terminal. It is the SIM card that hold account information and not the BGAN terminal itself.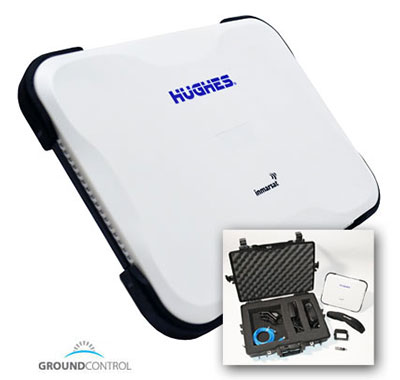 Rental 9211 System Includes:
Hughes 9211 BGAN terminal, analog phone, rechargeable Li-Ion battery AC/DC 100-240 VAC power supply with US, UK, EU, AU plugs, DC vehicle adapter-charger, 6' Ethernet cable, 9211 user manuals and software on USB flash drive in a hardened Pelican case.
Hughes 9211 Rental
Rent: $20/day + Service Plan
Rent a Hughes 9211 BGAN Terminal with everything needed for $20 a day with free rental days depending on the service plan chosen. Just call or email us and we'll do the rest.
Rent a BGAN Terminal