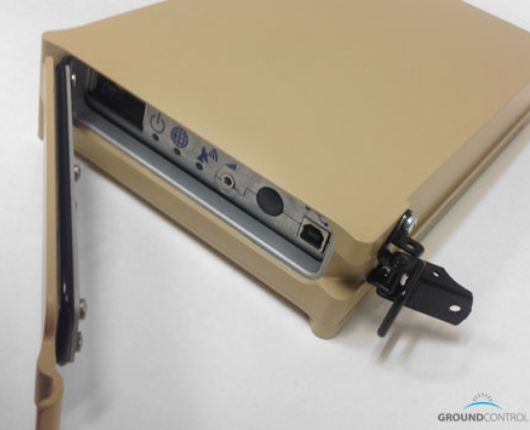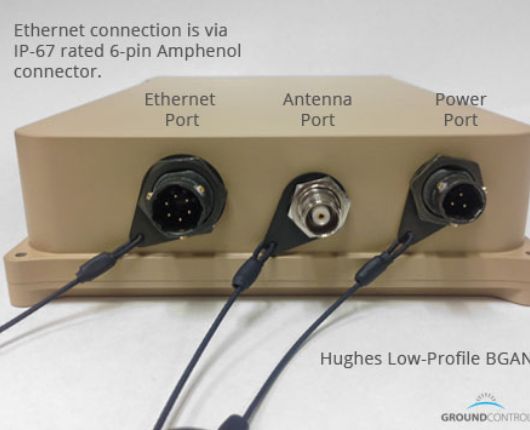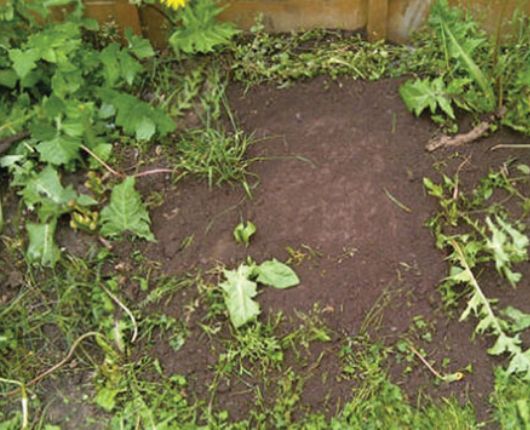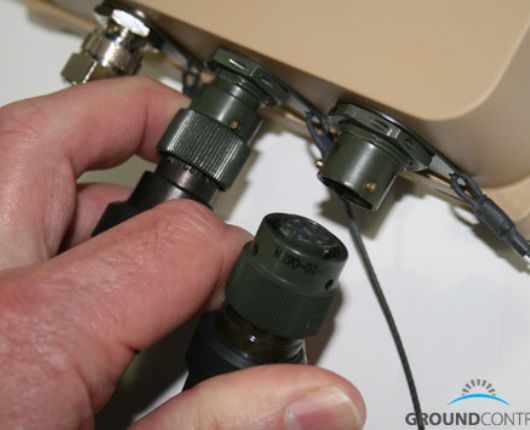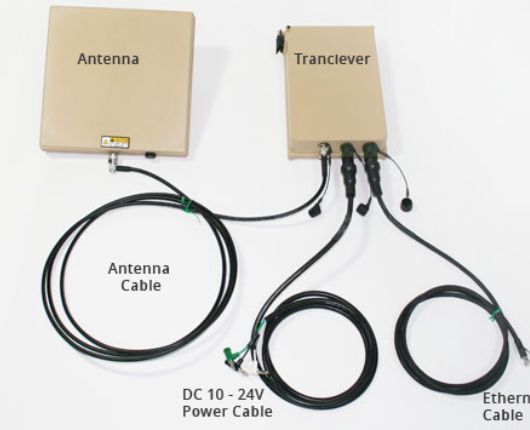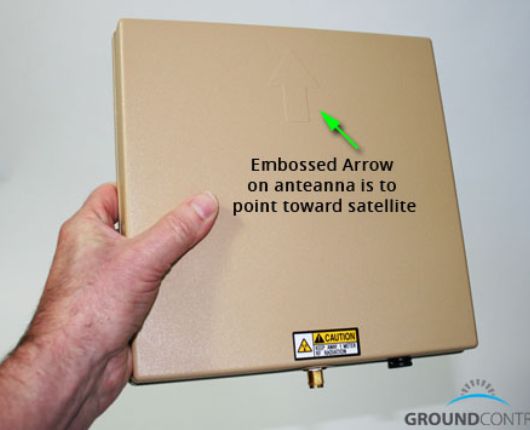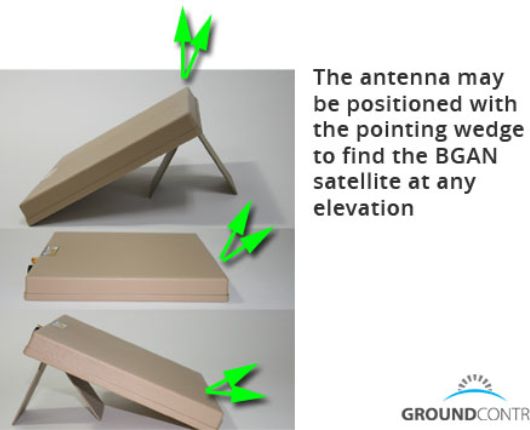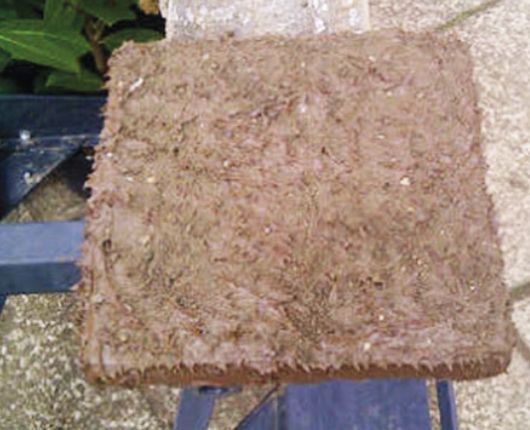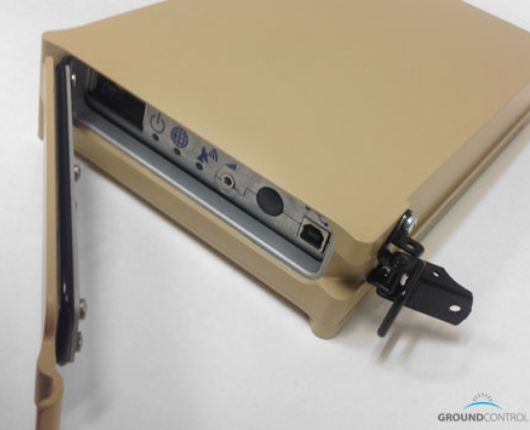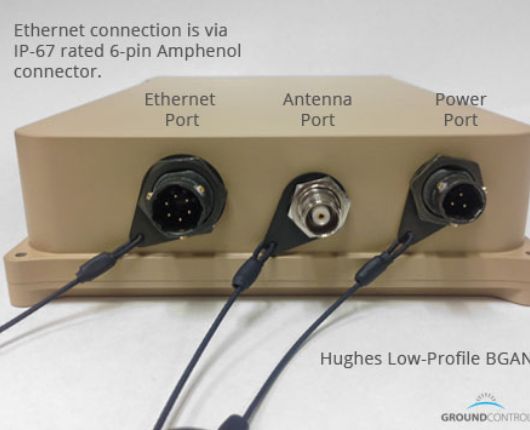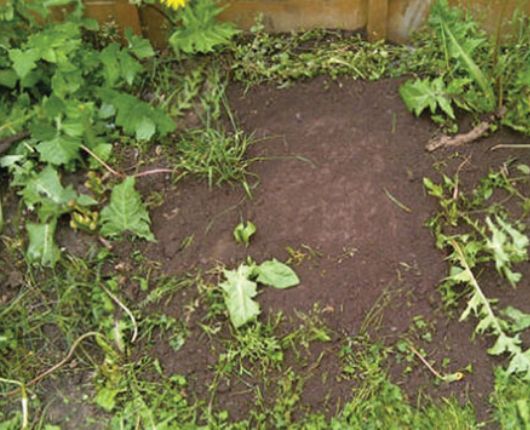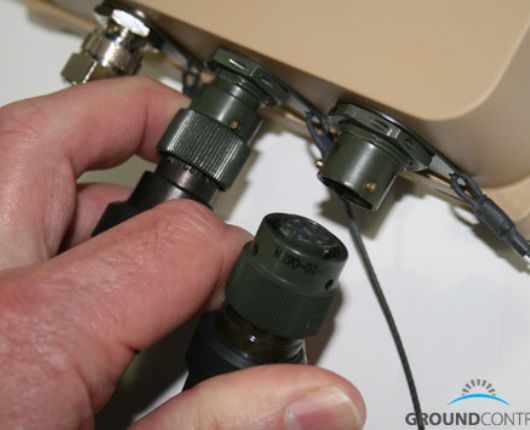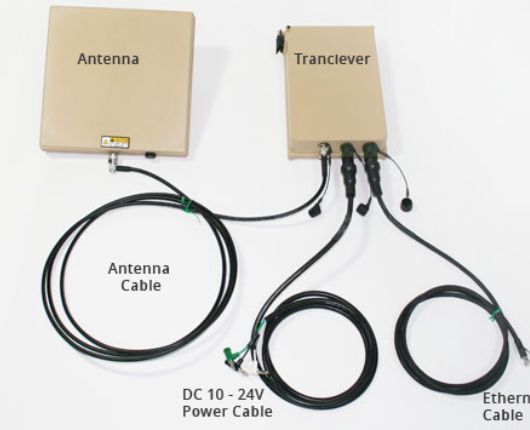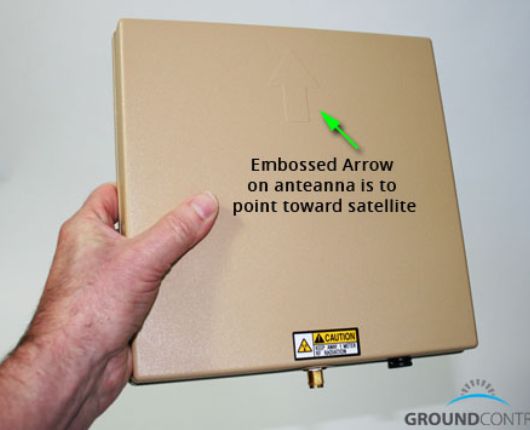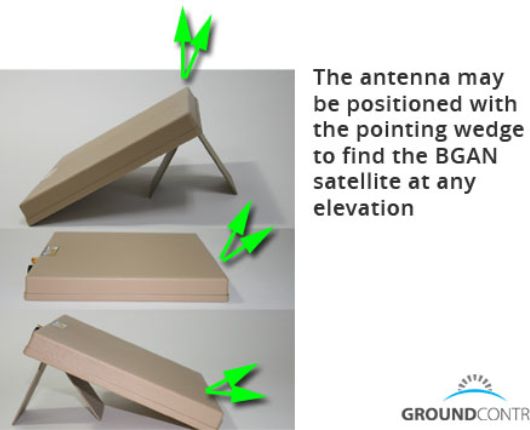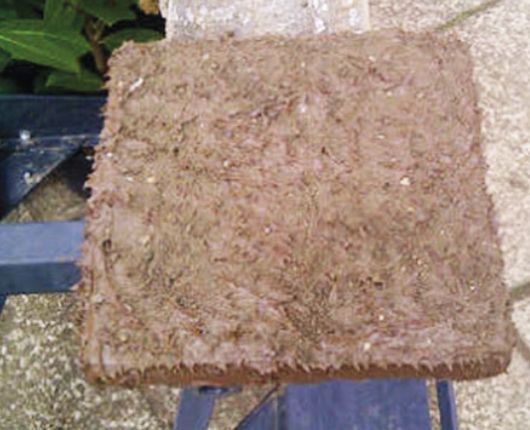 Hughes LPB Low-Profile BGAN Terminal
3,367.99 €
A Concealed BGAN Terminal

For portable high-speed Internet connection that can be concealed under a layer of dirt, Inmarsat has developed the Low-Profile BGAN terminal. This terminal lays flat on the ground and connects to a BGAN satellite totally concealed.

This terminal is ideal for a wide variety of uses including surveillance, remote home security, wildlife monitoring, fisheries, discreet weather monitoring, anything that requires a full-time Internet connection that is hidden to sight.
Key Features
Auto-connects to the Internet (after pointing). Easy to install and use by anyone.

Always-on network connection for any kind of remote equipment.

Ideal for remote equipment that needs real-time monitoring and control 24/7.

Military-grade environmental and ingress protection (IP 67).

Connect device(s) via Ethernet (using supplied special special waterproof connector).

Operates with standard BGAN internet service plans.

Also operates with BGAN M2M service plans for low-data-use locations.

Fixed permanent locations may use unlimited BGAN service with BGAN Link Global or Geo.

DHCP and Static IPs are available.

Operates on four watts of power - excellent for extending battery life.

Hibernation mode draws just 0.01 watts and wakes up (in 30 seconds) on any LAN activity.

The data connection is open and stays alive. No wake-up operation needed to transmit/receive.

Global coverage - Equipment can be located anywhere without notification to Ground Control.

Delivers high-speed internet of 464Kbps, 94.5% as fast as the fastest BGAN terminals.

Outdoor all-weather use - Superior ingress rating of IP67 - Built for extreme weather

Environmental: Operates in +-40°F to +167°F degrees (-40°C to +75°C)

SMS messages are $0.50 cents with free incoming messages (iPhone texts are not charged).

Secure from hackers with powerful firewall rules in place, or use a private network for ultimate security.

Supported transport protocols - TCP, UDP, ICMP, SKIP, GRE, ESP, SMTP, IMAP, POP3, FTP, HTTP, HTTPS.

IP Watchdog - Monitors and maintains the network so it's always up.

Monitor - Control remote terminals from one portal using the Terminal Management Portal.

Web UI Interface - Status and control screens accessed from any connected browser.

Remote SMS Control - Activate, deactivate, reboot, and many other options using SMS control.
Technical Specification
Upload (Transmit) Max Speed 448Kbps - Class 2 BGAN.

Download (Receive) Max Speed 464Kbps - Class 2 BGAN.

DHCP Supported - From one to 255 connected devices.

NAT & Relay Mode Supported,

Firewall At teleport - whitelist and blacklist supported free.

MAC Address Filtering Supported,

Satellite Transmit Frequency 1626.5–1660.5 MHz (L-band).

Satellite Receive Frequency 1525–1559 MHz (L-band).

SMS Remote Management Supported - wide beam backup connectivity.

GPS Frequency 1574.42–1576.42MHz,

Firmware Upgrades Over the air or local - No cost.

IDU Weight 2.2kg Includes transceiver and enclosure.

IDU Dimensions 253mm x 176mm x 53mm.

ODU Weight 1.2kg excludes cabling.

ODU Antenna Dimensions 240mm x 240mm x 29mm.

RF Cable Length 3 meters - TNC RF connectors.

Installation Requirements Can be installed by anyone. No certification required.

Data Connection Ethernet RJ-45.

Alternate PC Connection USB type B - For connection to PC for configuration only.

IDU Antenna Connector TNC Female,

ODU Antenna Connector TNC Female.

Operating Temperature -40°C to +75°C (-40°F to +167°F).

Storage Temperature -45°C to +80°C.

Humidity 95% RH at +40°C (104°F).

Mechanical Vibration until Non-Operational 200-2000 Hz,0.3 m2/s3; MIL-SPEC 810B Method 500.3 proc. 1.

IDU Water and Dust IP-67 compliant (withstands immersion in water up to one meter).

Input Voltage 9Vdc to 26Vdc

Normal Operation Wattage 3 to 4 watts for open full-time TCP-IP connection.

Hibernation (wakes on any activity) < 0.01 watt @ 12 Vdc (@ 0.01 Watt) + 30 seconds to establish network.

Transmission Wattage Short transmission bursts may pull up to 20 watts.

Off (GPIO Control) < 10mW @ 12Vdc.
| Plans | Description | Price (USD) |
| --- | --- | --- |
| BGAN Standard+ Monthly Plan | 12-month minimum term Our most popular BGAN plan that reduces the cost per megabyte down to under $0.10 cents if transferring gigabytes of data in a month. This is the plan to get if you may need to transfer a lot of data some months, and not so much data (or nothing) in other months. Includes 20 megabytes each month at no additional cost | $63 a month |
| Low-Cost High-Usage BGAN Plans - Standard+ | These BGAN internet plans have the same priority level as the popular IsatHub service. Where high-priority plans below cost about $5.00 USD per megabyte, standard+ plans can offer a per-megabyte cost of below $0.15 cents. Service is for all BGAN terminals worldwide. | 1,000 MBs - $1,660 5,000 MBs - $2,625 Unlimited Use - $4,555 |
| 00 Megabytes Prepaid SIM Plan - High Priority Routing - | Valid 90 days 100 megabytes at $525 = $5.25 per megabyte - TopUp megabytes anytime. SIM card includes 100 megabytes that may be used at any time during a 90-day period. Phone calls billed $0.99/min to any landline or cell phone worldwide, free incoming calls. SMS texting billed $0.50 per outgoing text, free incoming texts. SIM can be renewed with any plan at any time. SKU: BGANBW100QRT | $525 |
| 200 Megabytes Prepaid SIM Plan - High Priority Routing - | 200 megabytes at $995 = $4.97 per megabyte - TopUp megabytes anytime. SIM card includes 200 megabytes that may be used at any time during a 90-day period. Phone calls billed $0.99/min to any landline or cell phone worldwide, free incoming calls. SMS texting billed $0.50 per outgoing text, free incoming texts. SIM can be renewed with any plan at any time. SKU: BGANBW200QRT | $995 |
| 300 Megabytes Prepaid - High Priority Routing | Valid 1 year from activation 300 megabytes at $1,467 = $4.89 per megabyte - TopUp megabytes anytime. SIM card includes 300 megabytes that may be used at any time during a one-year period. Phone calls billed $0.99/min to any landline or cell phone worldwide, free incoming calls. SMS texting billed $0.50 per outgoing text, free incoming texts. SIM can be renewed with any plan at any time. SKU: BGANBW300ANN | $1,467 |
| 600 Megabytes Prepaid - High Priority Routing | Valid 1 year from activation 600 megabytes at $2,820 = $4.70 per megabyte - TopUp megabytes anytime. SIM card includes 600 megabytes that may be used at any time during a one-year period. Phone calls billed $0.99/min to any landline or cell phone worldwide, free incoming calls. SMS texting billed $0.50 per outgoing text, free incoming texts. SIM can be renewed with any plan at any time. SKU: BGANBW600ANN | $2,820 |
| 1,200 Megabytes Prepaid - High Priority Routing | Valid 1 year from activation 600 megabytes at $2,820 = $4.70 per megabyte - TopUp megabytes anytime. SIM card includes 600 megabytes that may be used at any time during a one-year period. Phone calls billed $0.99/min to any landline or cell phone worldwide, free incoming calls. SMS texting billed $0.50 per outgoing text, free incoming texts. SIM can be renewed with any plan at any time. SKU: BGANBW600ANN | $5,639 |
| High-Use High-Priority BGAN SIM Cards/Plans | Valid 1 year 2 Gigabytes - $9,360 | 3 Gigabytes - $13,980 | 4 Gigabytes - $18,560 5 Gigabytes - $23,100 | 7 Gigabytes - $32,060 | 10 Gigabytes - $41,300 15 Gigabytes - $61,200 | 25 Gigabytes - $77,826 | & Higher | SKU:BGANBWHU | |
| Unlimited Internet Use Standard+ | These standard+ plans provide unlimited internet over any BGAN terminal globally for monthly, quarterly, bi-annual and annual calendar months. (A calendar month is Jan, Feb, March, etc.) Plans end on the last day of valid period calendar month. Please note that Inmarsat does reserve the right to slow speeds up to 128Kbps if over 30,000 megabytes are used in a month. Phone calls are post use billed at $0.99/min to any landline or cell phone worldwide, free incoming calls. SMS texting billed $0.50 per outing text, free incoming texts. SKU: BGANBWLP30K, BGANBWLP3MO, BGANBWLP6MO, BGANBWLPMAX | $4,555 1 Month $12,640 Quarterly $23,377 Bi-Annual $42,949 Annually |
| 1 Gigabyte Standard+ Consumer Grade - 1 Month | 1,000 megabytes at $1,660 = $1.66 per megabyte This plan provides 1,000 megabytes of internet service during the current calendar month (Jan, Feb, Mar, etc.). May purchase additional months for an extended usage period. Phone calls billed $0.99/min to any landline or cell phone worldwide, free incoming calls. SMS texting billed $0.50 per outing text, free incoming texts. SKU: BGANBWLP1K | $1,660 USD |
| 5 Gigabytes Standard+ Consumer Grade - 1 Month | 5,000 megabytes at $2,652 = $0.53 per megabyte. A great deal. This plan provides 5,000 megabytes of internet service during the current calendar month (Jan, Feb, Mar, etc.). May purchase additional months for an extended usage period. Phone calls billed $0.99/min to any landline or cell phone worldwide, free incoming calls. SMS texting billed $0.50 per outing text, free incoming texts. SKU: BGANBWLP1K | $2,652 USD |
| Usage Only BGAN Service - High Priority Routing - 1 year term | A usage-only internet service - pay for only what you use each month at $6.99 per megabyte transferred. Like our other BGAN plans, phone calls are billed $0.99/min to any landline or cell phone worldwide, free incoming calls. SMS texting billed $0.60 per outgoing text, free incoming texts. Requires credit card for monthly subscription and usage fees. SKU: BGANBWUSAGE | $74 per month |
| Emergency Responder - Public Safety BGAN Service Unlimited Use | Affordable usage-based BGAN service specifically designed for public safety organizations. Internet usage is billed monthly at these rates: $4 per MB for the first 100MBs transferred. $3 per MB for the next 400MBs transferred. $2 per MB for the next 500MBs transferred. $1 per MB for the next 3,000MBs transferred (3 gigabytes or GB). $0.10 cents per MB for over 4 gigabytes for unlimited use ($100 per GB) SKU: BGANBWEMER | $60/month + Usage 12 month minimum term ($650 USD if paid annually) |
| Covid-19 Special For All Aid and NGO Workers Globally Unlimited Use Internet For 90 Days For $4,000 USD | Ground Control is offering all aid workers from any location on the globe a special unlimited use BGAN Internet package valid for 90 days for a one time cost of $4,000 USD. Please email us at [email protected] for details on this exceptional offering. | Unlimited Use Internet for 90 days - $4000 USD |