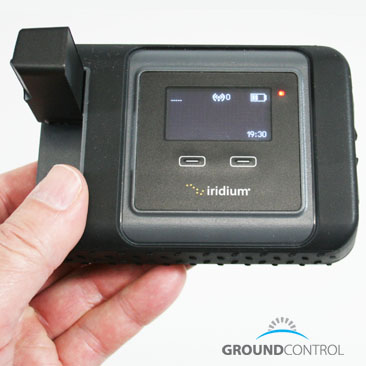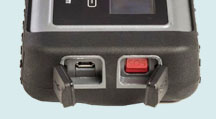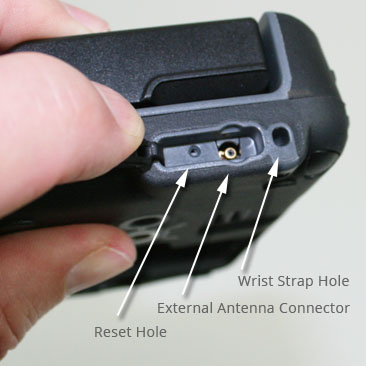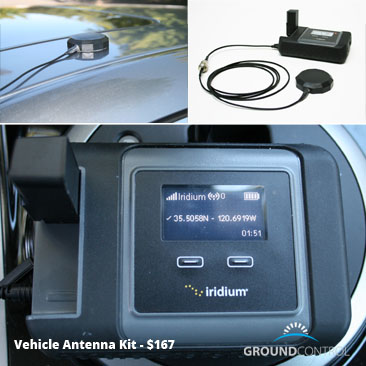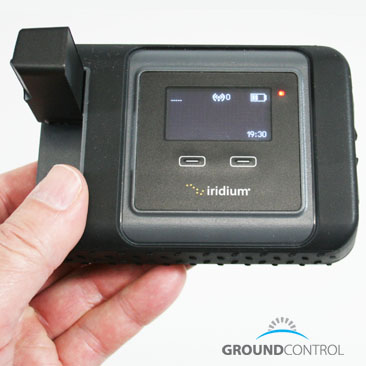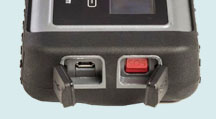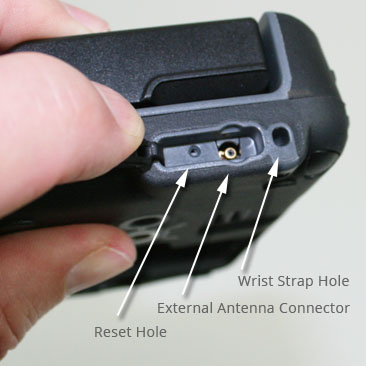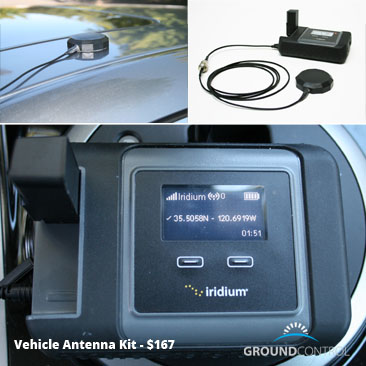 Iridium GO! Portable Satellite Terminal
$895.00
This portable satellite terminal eliminates 'no cellular service', period. The Iridium GO offers 100% global coverage for smartphones to make and receive calls, send and receive instant messages, send and receive email, send files, track a GPS location, and many more features.
The Iridium GO! lets you go anywhere, even to the North Pole, just as long as the sky can be seen. And while the internet connection is limited at an advertised 2.5 kilobits per second, it would be enough to do basics such as sending small files or checking the weather from a weather app.
Key Features
Phone: Make or receive phone calls on your smartphone

Email: Send and receive email and attachments

Instant Messaging: Send a text to any phone number of email address. Receive texts instantly

Files: Send files or photos from the Mail and Web app

Web Browsing: Opera Mini Browser (iOS) or XWEB for Android devices

GPS & Tracking: Show current position either with a click of a button, or transmit automatically at intervals

Social Media: Send Tweets and Facebook updates through the app

SOS Button: Send an emergency message, or set up to send an SMS to a defined cell phone number or email

Weather App: Press the weather button within the app to get local conditions

WiFi Hotspot: Up to 100ft (30 meters) from the device. Connect from inside a building

Offline Email Composition: Write emails any time and send only when you connect

Advanced Screens: Settings for Firewall controls, WiFi security, device passwords, tracking configuration etc.
Technical Specification
Package Contents: Iridium GO!, Li-Ion Battery, Battery Door, USB Cable, AC Charger with international plug adapters, DC Charger, Protective Cover, Users Guides

GO Dimensions: 4.5" x 3.25" x 1.25" (81.7 x 119.81 x 33.44 mm)

Weight: 10.4 ounces (0.65 lbs, or 295 grams) - With Protective Cover add .875 oz or 24.28g

Internet Speeds: 2.4-2.8 Kbps Uncompressed 24 Kbps Compressed

Rechargeable Battery: 3600 mAh - 7 hours talk, 16 hours standby - 4 hour charge time (from depleted)

Durability Specs: Military-grade ruggedness (MIL-STD 810F)

Ingress Protection: IP 65 - Dust resistant, and able to take water jets from any direction without harmful effects

Temperature Ranges: Operational 14° F to 122° F (-10° C +50° C) ,Storage -4° F to 140° F (-20° C to +60° C)

AC Power: 100 - 240 VAC, 50-60Hz; Ships with four international AC mains plug adapters supporting US, UK, EU, Australian wall plug types that support over 130 countries

DC Power Vehicle Port Adapter: Input 10 - 24Volts DC - Output 5 Volts 2.1 Amp

DC Power (USB Port): Nominal 5 Volts DC - Maximum 1.5 Amps, Minimum 500 Milliamps

Wi-Fi Hotspot Range: 100' feet (30.5 meters) - And up to 5 devices

Wi-Fi Frequency: 802.11 b, g, n - 2.5 Ghz

External Antenna: TS-9 - Requires TS-9 to TNC adapter cable to allow connecting with most Iridium antennas

Number of Users: Up to 5 devices may connect to the Iridium Go using the Iridium Go App at any one time.

Interface Connectors: SIM Card, Micro USB, External Antenna.

Web Interface: Advanced configuration screens accessed by any connected browser (even laptops)

Supported OS Apple: Apple iPhone, iPad, iPod Touch: iOS 6.1 or newer

Supported OS Android: Android smartphones, tablets: Android OS 2.3.3 or newer

GPS Accuracy: Within 8.2' feet, (2.5 meters) CEP, Velocity 0.1 meters per second. Timing 60 nano seconds.

GPS Operational Limits: Altitudes over 59,000' feet from sea level (18,000 meters) Velocities faster than 1153 MPH (515 meters per second)

SOS GPS Global Response: Requires online registration with GEOS

Registration Regulatory Certification: FCC, Industry Canada, CE, ITU, RoHS
100% Global Coverage
All Iridium products operate anywhere on the planet, which means both North and South poles, open oceans, all continents, stationary or moving or flying as long as the GO is exposed to the open sky. And with a 100 foot (30 meters) Wi-Fi range, one may connect a smart device to the GO while inside.
There are 66 Iridium satellites in various Low-Earth-Orbits, 490 miles above the Earth's surface, traveling from horizon to horizon with a maximum view time of 10 minutes each. Here is a Youtube Video that shows the Iridium orbits. When one satellite drops below the horizon, another is already in view… however for best results to stay connected, use the GO! under a big sky.
Iridium GO! - Data Minutes
Iridium GO! data minutes are simply a dial-up connection to the internet. When browsing or using email, your GO! terminal will automatically connect to the Internet by dialing a phone number. Since it is a phone call to the internet, it's billed on a per-minute basis.
Also, since the GO! can only make one call at a time, you can't be on the internet and make a phone call at the same time. For new subscribers, we highly recommend using the unlimited data plan when initially starting GO! service since you can be connected any length of time. Once acclimated to the GO!, downgrade to a lower plan if you find that you are not using the service much.
Iridium GO! Phone Facts
A unique Iridium satellite phone number is used for your iPhone or Android smartphone.
An existing cell phone number will NOT work when out of cellular range, unless you use this service.
You can add to your Iridium satellite phone number a local number with this service.
The GO can not make a phone call AND be on the Internet at the same time, because it uses the internet to make calls.
Instructions for making or receiving calls over the Iridium GO are here.
Talk time is 7 hours, and 16 hours of standby time using one fully charged battery.
Iridium GO! Instant Messaging Facts
SMS Instant messages take on average about 20 seconds to be sent or received by the GO or recipient.
Instant messaging uses the Iridium GO satellite phone number for sending/receiving all texts.
An instant message may be sent to any phone number or email address.
An inbound text will appear on all connected devices to the GO.
Outbound texts from any one device will also appear on all devices connected to the GO.
iMessage and other texting Apps (that are not Iridium Go) will not work over the Iridium Data network.
Iridium GO! Email Facts
Email on the GO is through the Iridium mail server using a new @myiridium.net email address.
Each device connected to the GO may have its own email address. Register at iridium.com/mailandweb.
Existing SMTP email accounts with other providers cannot be accessed by the GO with Go Data Minutes.
Gmail and other webmail sites can be accessed and used via Opera or Xweb browsers.
Access to the @myiridium.net is only via the GO device. There is no web access webmail portal.
Files may be sent as an attachment, or by using the "PHOTOS" button in the Mail and Web App.
Files may be received by email (to @myiridium.net) and require clicking on the "Big Mail" folder.
Iridium GO! Web Browsing Facts
Web browsing uses the Opera Mini browser or the XWeb browser.
Internet speeds are limited to 2.4-2.8 Kbps (uncompressed) and 24 Kbps compressed.
Historically, actual Internet speeds average about 1 Kilobit per second.
In ideal conditions, a 100Kilobyte .jpg image will take 5.3 minutes to transfer on a 2.5 Kbps connection.
A 1 Megabyte compressed file will take 55 minutes to transfer at 2.5 Kbps… again, in ideal conditions.
To protect from abusive bandwidth users on the network, Iridium has created a Fair Use Policy.
Operational time is 7 hours, and 16 hours of standby time using one fully charged battery.
Internet connectivity is extremely slow, and testing of the GO's web abilities requires a lot of patience.
Iridium GO! Fair Use Policy
Iridium GO! devices are prohibited from enabling an always-on connection with the Iridium network that could negatively affect the available bandwidth for other Iridium subscribers.
Iridium reserves the right to actively monitor usage statistics and take proactive measures to regulate and if necessary terminate access to the Iridium network to ensure high quality network performance for all users on an ongoing basis.
Iridium reserves the right to make a determination in its sole discretion that a particular device/subscriber is violating this Fair Use Policy and take responsive actions with or with notice including but not limited to the immediate suspension or termination of all or any portion of the service to the device/subscriber as well as other legal and technical actions.
Neither Iridium nor its agents (such as Ground Control) will have any liability for any of these responsive actions.
Iridium GO! GPS Tracking
The Iridium GO! has a valuable GPS tracking features that can instantly show your current GPS to any email or SMS text of your current location instantly. Emails or SMS texts also include a web Google Maps link to your current location.
Iridium GO GPS tracking can also be automated where the GO's GPS location is sent every 5 minutes to once a week… an excellent option for fleet tracking or mapping of maritime vessels. Iridium GO Tracking Information.
SOS Settings
The Iridium GO! offers a programmable SOS button that can be configured to notify specified contacts in the case of an emergency. Once configured, an SOS can be initiated either from the Iridium GO! device or application.
An SOS initiated by pressing the SOS button on the Iridium GO! device will only send an emergency message with location information, while an SOS initiated from the Iridium GO! application will also provide the option for two-way voice communication with the designated contact.
GEOS Safety Services
To support the SOS feature, Iridium has contracted with GEOS Travel Safety Group to provide an emergency response coordination service for your Iridium GO! at no additional charge.
These services are offered and provided exclusively by GEOS and not by Iridium which is a separate, unrelated company. Standard airtime charges will apply to SOS mode messages and/or calls to GEOS, a valid Iridium SIM subscription and online registration at https://my-geos.com/registration is required.
User Permissions - Firewall Control - Wi-Fi Security
Advanced screens allow the the owner to add users to grant permissions for giving priority ranking, making calls, sending messages, receiving messages, access to twitter, or sending a Quick GPS message.
The Iridium Go Advanced screens give robust Firewall controls for blocking or allowing only access to a single IP addresses, or IP address range, and ports for TCP/UDP.
Wi-Fi Security on the GO by default is not blocked, however since connecting to the Iridium network can only be done through the GO app, that has a login and password, the connection is secure.
Using Twitter via Iridium GO!
To link your Twitter account with your Iridium GO! device, login to Twitter.com and update your Account settings with the Iridium phone number. Once the Iridium GO! has been linked to your Twitter account, posting messages within the Iridium GO! Twitter feature will post directly to your Twitter profile. Further information on Tweeting via SMS can be found at https://help.twitter.com/en.
Iridium RUDICS Supported
The Iridium Router-Based Unrestricted Digital Internetworking Connectivity Solutions (RUDICS) is an enhanced data service that allows customers who have requirements for large data transfers the ability to transfer data via reliable, affordable, multi-protocol Mobile Originated (MO) and Mobile Terminated (MT) circuit switched data connectivity across the Iridium satellite network.
Captain and Crew Calling
A captain or crew calling scratch card can be used in the Iridium GO! device. The application can be configured to dial the first stage dialing number and submit the captain PIN or crew scratch # automatically. Configure this setting at Settings -> Captain/Crew Calling option.
More information about the Iridium GO!