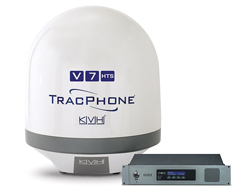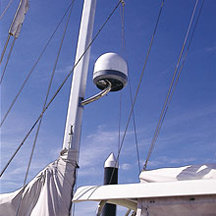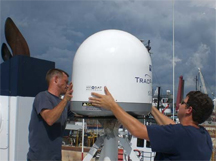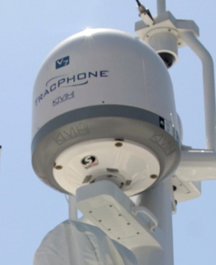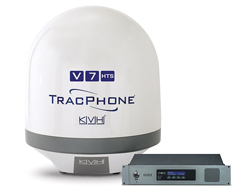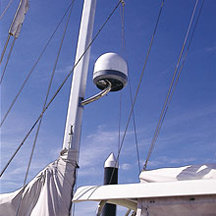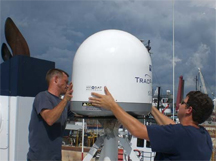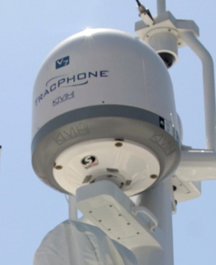 KVH TracPhone V7-HTS
KVH's award-winning TracPhone V7-HTS provides the uncompromised speed and coverage seafarers worldwide rely on to help them manage their business at sea. At 60cm, this rugged, marine-grade antenna outperforms the leading competing one-meter Ku-band systems to provide the essential services that connect vessels and crew to the world.
Dual channels, one powerful solution. Get the speed and control your business requires with KVH's exclusive dual-channel configuration that offers both a high-speed and an unlimited use data channel simultaneously through unique hybrid airtime plans.
Tech Specification
Service KVH mini-VSAT HTS Broadband Network

Antenna Type Ku-band

Belowdecks Equipment Integrated CommBox Modem (ICM)

Service Coverage Area Seamless Worldwide Regions

Maximum Download Speed1 10Mbps

Maximum Upload Speed1 3Mbps

Typical Cost per Minute for Voice (see rate sheet) Starting at $0.05 USD (speed-based plans) $0.49 USD (metered plans)

Antenna Dish Diameter 60cm (24")

Antenna Unit Diameter x Height/Weight 66.3cm (D) x 79.2cm (h) / 26.1kg (26.1" (D) x 31.2" (h) / 57.6lbs)

System Option: CommBox Software Bundles Available Standard or Enterprise Packages

System Option: Built-in Crew Calling Gateway Available. Contact Ground Control for details

System Option: IP-MobileCast Services Available. Contact Ground Control for details
Overview
Industry's Highest Speed
Plans as fast as 20Mbps and 3Mbps down/up
Simple tools to control data usage.
All plans offer fastest network speeds.
Ideal for: videoconferencing, video chat (e.g., via WhatsApp or Skype), telemedicine, web browsing, security cameras, on-demand file transmission, video and music streaming, and allocated crew usage.
Industry's Fastest Unlimited Plan
Plans as fast as 8Mbps and 2Mbps down/up
Speed-based plans to fit every need
Ideal for: IoT data transfer, email, software updates, instant messaging (e.g, WhatsApp), automated file transmission, social media, weather updates, VPN, and unallocated crew usage.