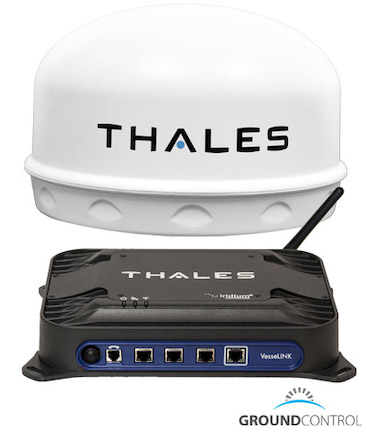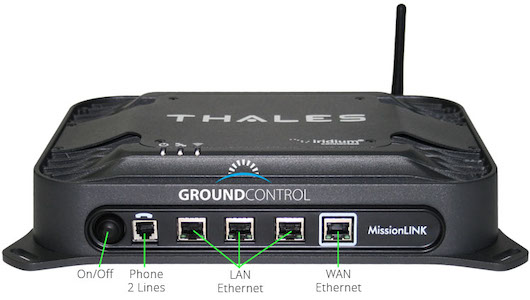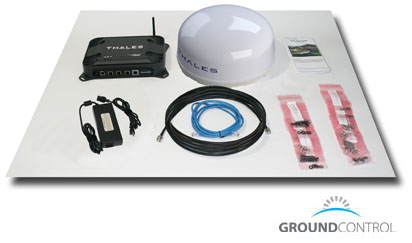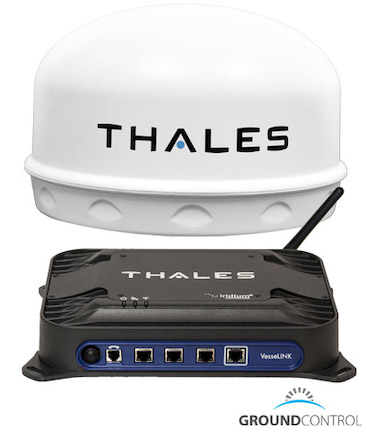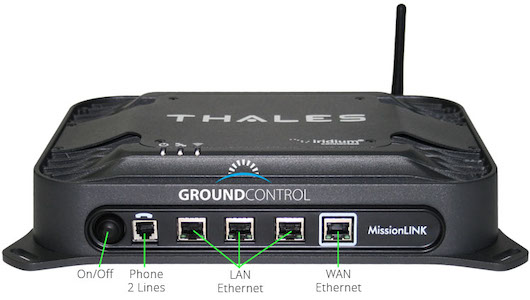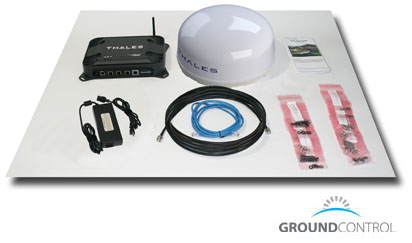 Thales VesseLINK 700
$7,395.00
Powerful Maritime Iridium Certus Communications.

Thales VesseLINK provides global satellite coverage for maritime communications. With uninterrupted coverage from pole to pole, it is the solution to depend on for essential communications.

Suitable for ships or fleets of any size, VesseLINK easily integrates with your existing equipment to fully digitize your vessel.
Iridium Certus Service Plans
Key Features
Easy to set up and use. Once the unit is on, there's global internet and phone

High-speed satellite broadband on the Iridium Certus 700 network provided by Ground Control

100% Global, Low Latency satellite coverage for critical data and communications

300-meter - 1,000-feet Wi-Fi range. Excellent for penetrating thicker walls.

Connects up to 12 wireless devices (laptops, smartphone, tablets) simultaneously

3 phone lines... 2 on the RJ-14 phone jack, and 1-3 for VoIP phones via Ethernet

Designed to operate in extreme environments

Location tracking services - Send coordinates to any server with any time frequency

Equipment manufactured in the USA

2 year standard warranty with 3 and 5 year extended warranties available
Technical Specification
Terminal Dimensions: 12in x 9in x 3in (30.5cm x 22.9cm x 7.6cm) 7.5 lbs (3.4kg)

Antenna Dimensions: 14.5in Ø x 7.5in H (36.8cm Ø x 19.8cm H) 6.2 lbs (2.8 kg)

Internet Speeds: Up to 704kbps (Rx), 352kbps(Tx), 256kbps(Streaming)

Wifi: 802.11b/g, 300m / 1,000ft range

Wireless Security: WPA2 and MAC address whitelist

LAN: 3 RJ-45 Ethernet Ports with PoE (Power over Ethernet class 2)

Phone: Three phones lines: Two are available on the RJ14 phone jack (with splitter), and all three are available to VoIP phones. Configuration of lines may be configured from the VesselLINK web interface.

IO Port: GPIO (RS-232, +12V out, DISTRESS, Radio Gateway, GPIO)

Vessel Roll: Operable with up to a 20° roll.

AC/DC Power Supply: 110-240VAC 50/60Hz - Output is 12VDC

Power Consumption: 30 watts average with 60 watts maximum

Operating Temperatures: -40°C to +55°C / -40°F to +131°F

Environmental Rating: (Antenna) IP 67-Compliant

Antenna Robustness: MIL-STD-810G, Test Method 514.6, Proc. 1, Category 20, Annex D MIL-STD-810G, Test Method 516.6, Proc. IV

Terminal Robustness: MIL-STD-810G, Test Method 514.6, Proc. 1, Category 20, Annex D MIL-STD-810G, Test Method 516.6, Proc. IV

Warranty: Two years standard limited warranty. Extended warranties available
VesseLINK Overview
VesseLINK operates using Iridium Certus broadband services over a network of 66 satellites that cover 100% of the globe, including deep oceans and poles. The solution utilizes this robust network service to provide highly reliable, mobile and essential voice, text and web communications for captain and crew. VesseLINK comes with an intuitive, user-friendly interface and can be quickly integrated into existing vessels or new fleets. It also includes built-in upgradeability to future-proof your investment and ensures peak speed and performance.
VesseLINK Terminal - Front View
The Thales VesseLINK is composed of two main parts, the transceiver and the antenna connected by a 82-foot (25-meter) antenna cable. Below is the front panel of the VesseLINK terminal. On the front panel next to the on-off button is a standard RJ-14 phone jack that will support two standard phone lines (with dial-tone). A phone splitter is used to break out the second phone line. Note that any standard corded or cordless phone will operate with this phone jack.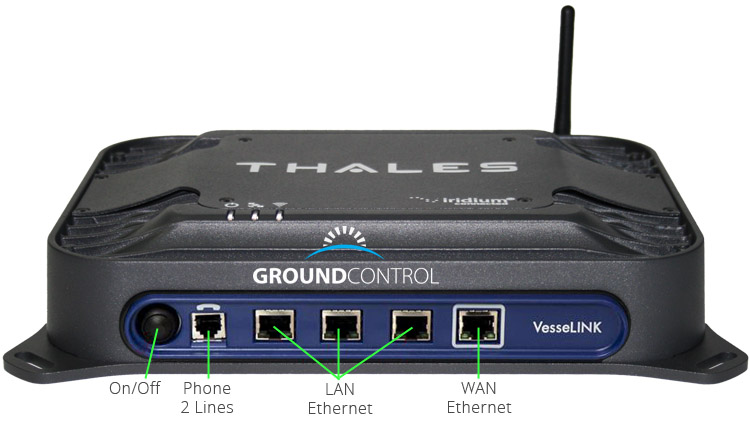 Also shown are three Ethernet ports which can support any connected device and VoIP phones (up to three VoIP phones for three phone lines). The WAN port is for a device connected to the internet such as a cellular modem or satellite dish so that the end-user may have least-cost routing. For example, if a vehicle travels out of the less-expensive cellular coverage area, the satellite connection will automatically be there.
VesseLINK Terminal - Rear View

On the back panel is the Wi-Fi (802.11bg) antenna for up to 12 wireless devices, the SIM card slot, an IO input-output port for API integration (not required for normal use), and a power port that can take a wide range DC voltages from 10 to 32 volts from any source. The 12VDC power port is an alternate power input port. Right of that is the antenna connector for the 10-foot (3-meter) antenna cable and finally a vehicle chassis grounding lug.
VesseLINK Antenna Pattern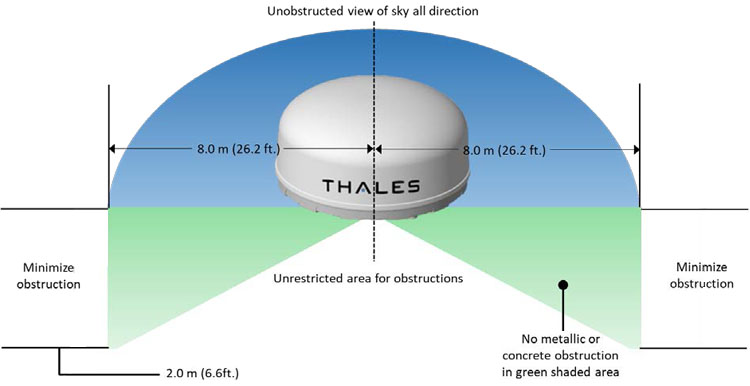 The VesseLINK antenna can transmit below the horizon up to 20° degrees, which is good for rolling seas. It's important to minimize or reduce metallic obstructions in this region for the best signal quality avoiding feedback from radiated power.
Thales VesseLINK Terminal Photos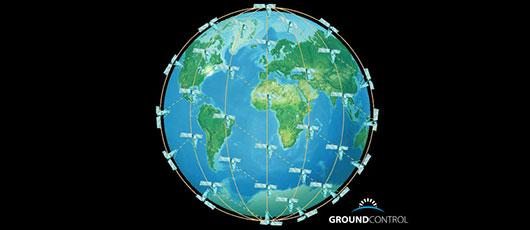 Thales VesseLINK
Iridium Network Benefits
A major benefit is latency (or ping time) is far less than Geo-Stationary satellites since Iridium satellites orbit just under 500 miles above earth and not 23,300 miles away like Geo Sats. Iridium's network latency is 40 to 50 milliseconds!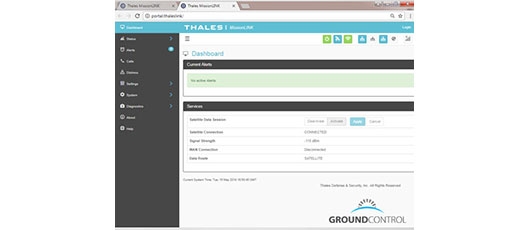 Thales VesseLINK
Web Interface
The VesseLINK web interface provides many powerful tools to configure the system to needed requirements. From any connected browser, the interface is located at URL: 192.168.55.1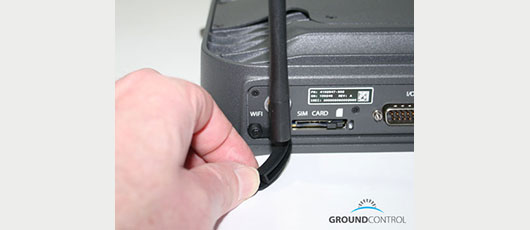 Thales VesseLINK
Iridium Certus Enabled
For service, the VesseLINK requires an Iridium Certus SIM card that provides the account information to the terminal when connected. Here is where the SIM is inserted (with rubber cover bent back for a better view).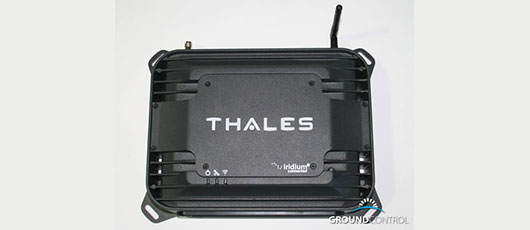 Thales VesseLINK
Easy to Operate
The top view of the VesseLINK terminal. Note the 3 LED lights that show power, satellite connectivity and WiFi.