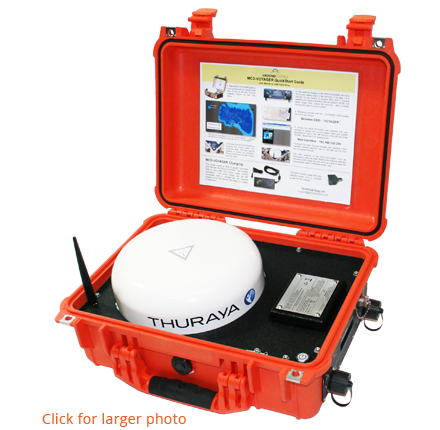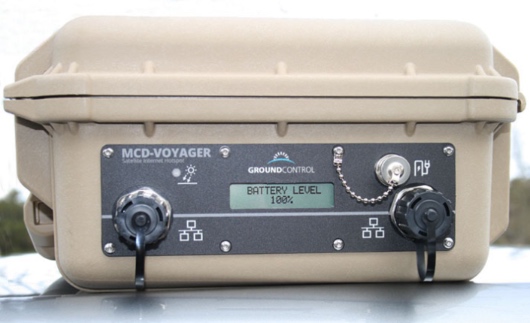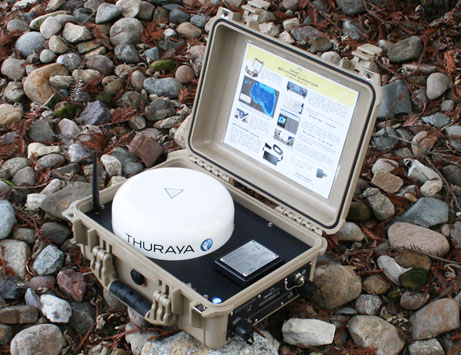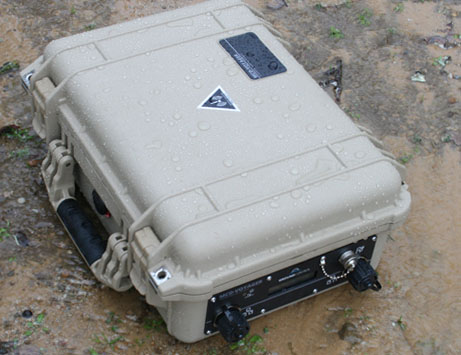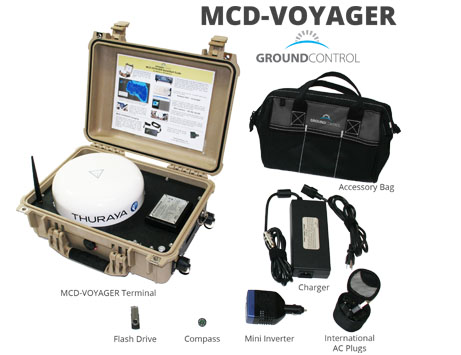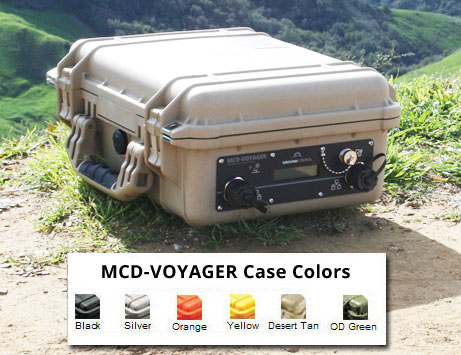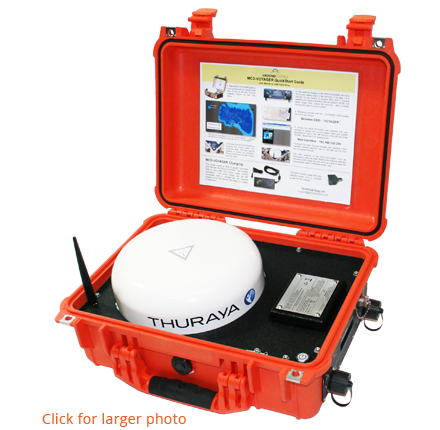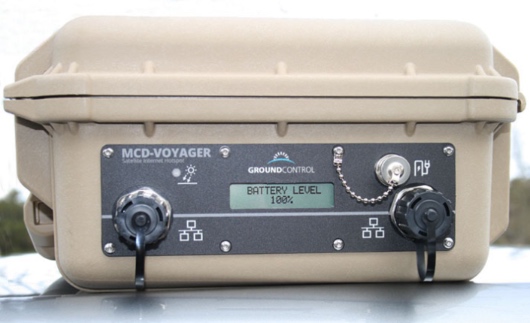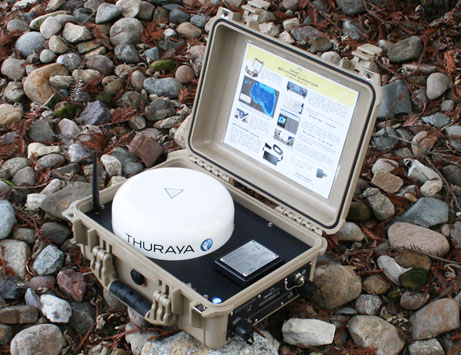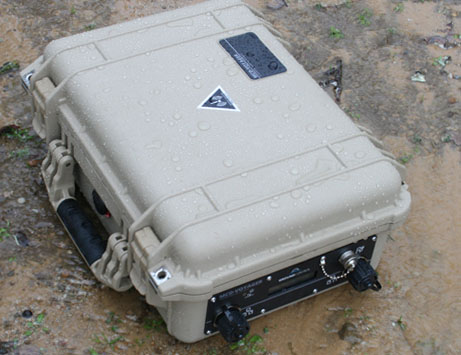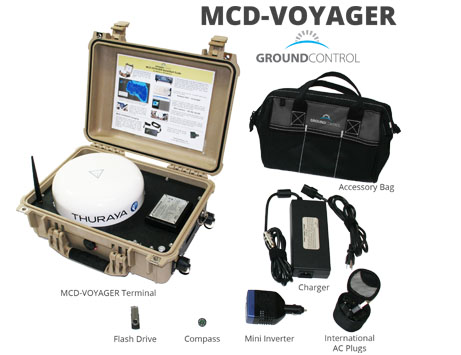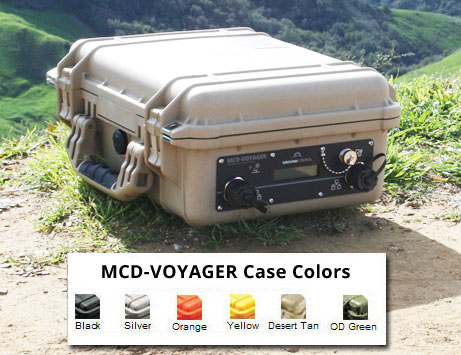 MCD-VOYAGER
Portable Thuraya Internet Hotspot

The MCD-VOYAGER is a portable, easy to operate, auto-pointing Thuraya satellite terminal which provides a powerful Wi-Fi hotspot in any environment.

No pointing, no setup, just place the weather proof case on the ground, boat deck or any surface with a clear view of the sky, then simply turn it on and close the lid.
Key Features
Easy to set up and use. Online within one minute

Internet connectivity for half the globe on the Thuraya satellite network

Broadband speeds of up to 444Kbps down, 404Kbps up.

Wi-Fi hotspot for all in-range devices up to 100 meters (328 feet).

Unlimited-use Thuraya IP service

Internet, email, voice and SMS messaging services

Housed in a portable, ruggedized, waterproof case

Operates stationary or in-motion, on land or open ocean

Up to 5-hour battery life for normal use.

Does not require user interaction. No software to run. Establishes AP "Hotspot" automatically

No rain fade - Operates in heavy rain, and will function with up to 20mm of ice build up

Internal temperature control fan - cools internal electronics during high temperature

Compact size 17" x 13.75" x 6.75" (432 x 349 x 171 mm) and weighs 11.5kg (25 lbs)

Two external all weather Ethernet (RJ-45) ports
Technical Specifications
Terminal: Thuraya IP VOYAGER terminal

Terminal Capability: Internet, email, phone, fax, SMS, VoIP, FTP, Video Streaming

Data/Internet Speeds (Standard IP): Up to 444Kbps (Tx) x 404Kbps (Rx)

Streaming: Supports up to 384Kbps with the Thuraya IP streaming service.

Thuraya IP Service: Operates with any service provider offering Thuraya IP plans

Wireless LAN: 802.11b/g/n, up to 100 meters range, up to 11 concurrent wireless connections

Wireless Security: WEP, WPA and WPA2 security, MAC address filtering

External Ports: 2 x RJ45 LAN / PoE, 1 x AC/DC external power

Case Dimensions (LxWxH): 17" x 13.75" x 6.75" (432 x 349 x 171mm)

Weight: 11.46kg (25lbs 4.3oz)

Battery Life: Up to five hours normal use

Power Draw: 32 watts of power at idle, and 65 watts when transmitting.

Recharge Time: Less than four hours (from fully discharged) using 110 to 240VAC (worldwide)

Battery Type: NiMH (nickel-metal hydride)

Regional Power Plug Compatibility: Includes international plug kit for US, UK, European, Australian, China, N. Europe

AC/DC Power Supply - Charger - Input 110 to 240V AC. Output 28V DC @ 8 Amps

Operating Temperature: -25°C to +70°C (-13°F to 158°F)

Humidity: 95% RH at +40°C

Rain / Water / Dust: IP67 when closed (withstands immersion in up to one meter of water)

Wind: Unaffected by wind if case is secure

Ice: 20mm buildup before signal loss

Max Turning Rate (Azimuth): 40° per second

Turning Acceleration: 50°/s2

Case Colors Available: Desert tan (default color), yellow, black, silver, orange, OD green

Warranty: 12 month standard warranty. Extended warranties available

Compliance and Certifications (Radio): CE, EMC 301 444, 301 489, IEC 60950, FCC ID: U9R-W2CBW0015
MCD-VOYAGER Overview
The MCD-Voyager mobile communications device is an auto-pointing Thuraya satellite terminal that requires no user training to operate. Simply place the weather-tight case on the ground, on a boat deck, or on any surface with a clear view of the sky, rain or shine, almost anywhere in the eastern hemisphere, and turn it on – no pointing necessary.
Within a minute the MCD-Voyager becomes a powerful Wi-Fi hotspot accessible by any wireless device within a 100-meter range for up to five hours on internal battery power. This auto-pointing solution uses the high performance Thuraya Voyager in-motion terminal integrated with our proprietary mobile electronics for a ruggedized self-contained, in-field, user-friendly Wi-Fi communications link.
Thuraya IP Service
The MCD-Voyager uses the Thuraya IP service, which is often less expensive than larger stationary satellite dish services. Thuraya IP service offers unlimited use for the first 30 gigabytes at full speed 444Kbps, over that and it slows to 64Kbps for unlimited use (plans may vary depending on provider).
Other-less expensive monthly plans are available but the cost per megabyte can be much higher. Please contact Ground Control if you are looking for a Thuraya IP service provider for your MCD-Voyager.
MCD-VOYAGER Interface
While the MCD-Voyager is primarily used as a wireless hotspot, the front panel includes two Ethernet ports that are weather-sealed when not in use.
The charge port is also a watertight seal for several external power sources such as a portable solar panel, external battery, or vehicle power 12-volt adapter, which is included with each system. The display shows current system status and remaining battery power. A light sensor automatically backlights the display during night operations. The MCD-Voyager only has only one button to operate – the power button located inside of the case.
Built For Extreme Environments
The MCD-VOYAGER is enclosed in a watertight hardened plastic Pelican case and the case lid does not need to be opened in order for it to fully function. It operates in heavy rain and will still be able to transmit even with 20mm of ice buildup. While there is an internal fan, we do recommend the case lid be slightly cracked opened for venting for long duration use in warm weather to avoid heat buildup inside the case.
MCD-VOYAGER Contents
The MCD-VOYAGER integrates the Thuraya IP VOYAGER terminal into in a ruggedized Pelican 1450 case (flyaway case) with Ground Control engineered electronics and software.
MCD-VOYAGER terminal case
AC/DC power supply charger
Mini-inverter for running off a vehicle power port
Laminated Quickstart guide affixed to lid

International plugs U.S., U.K., European, Australian, China, N. Europe

Miniature compass, to help in finding obstacle to the Thuraya satellite
USB flash drive with user manuals, mobile status gadget, software
Carry bag to hold contents of system components
MCD-Voyager Thuraya Terminal Photos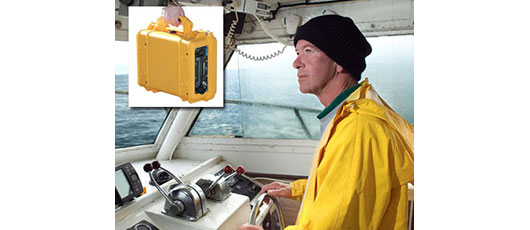 MCD-VOYAGER
Ideal for Harsh Marine Environments
Since the MCD-VOYAGER is inside of a closed hardened case (even while operating), is ideal for harsh marine environments. An excellent primary or secondary Internet connection from land or sea.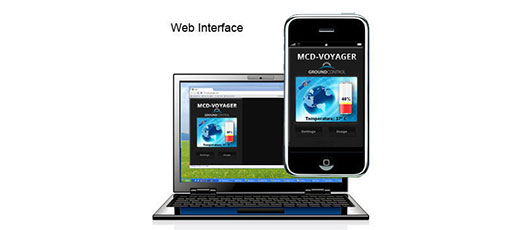 MCD-VOYAGER
Status Screens
The MCD-VOYAGER main interface is accessed via any connected browser. Status screens show battery life, internal temperature, and links the Voyager web interface show system status, WiFi security, and other parameter configurations.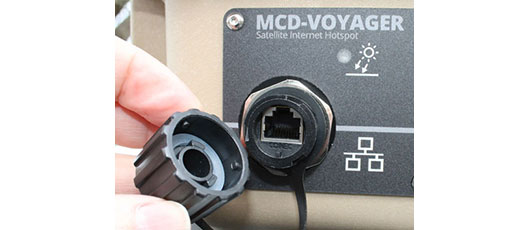 MCD-VOYAGER
Watertight Ethernet Ports
Watertight caps on the front panel protect RJ-45 Ethernet ports from the elements. A laptop or router or IP camera that requires PoE (power over Ethernet) may be connected directly to one of these ports. Ethernet cable lengths can be up to 328 feet (100 meters). Specially designed waterproof Ethernet connectors are available.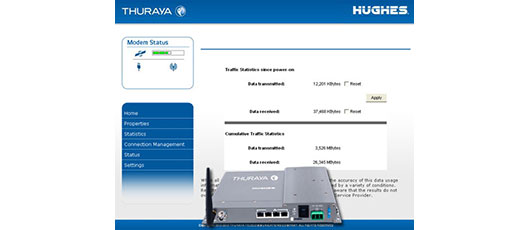 MCD-VOYAGER
Voyager Web Interface
The Voyager web interface provides informative screens, such as a "Usage Statistics" screen shown above that gives an approximate amount of usage the terminal has done since a power-on, and cumulative over its lifetime. Also shown is the Voyager transceiver, located inside of the MCD-Voyager terminal case.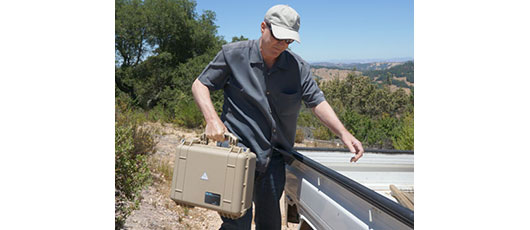 MCD-VOYAGER
Watertight 'Flyaway' Case
The MCD-VOYAGER is a compact hardened watertight "Flyaway Case", weighing 11.5 kg (25 lbs) that is easily transported and operated by anyone. An excellent solution for many industries and organizations like public safety, mining operations, public safety, travel, ocean going vessels, oil-rigs, or any other communications need that requires an easy, instant, no-hassle use-anywhere broadband hotspot.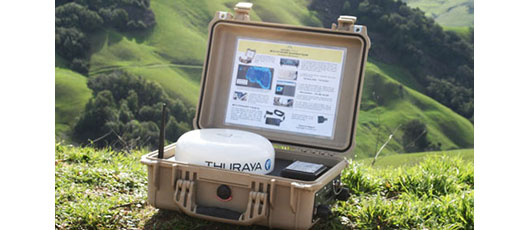 MCD-VOYAGER
Satellite Connectivity
The MCD-VOYAGER uses the Thuraya IP satellite service for broadband Internet connectivity. Thuraya has a wide variety of plans including an unlimited use plan from Thuraya IP resellers. With the lid opened or closed, the terminal is a WiFi Hotspot with a 100 meter range (328 feet) in about 1 minute of turning it on. The long range WiFi access gives users the ability to be inside a building or move around a structure untethered from the case.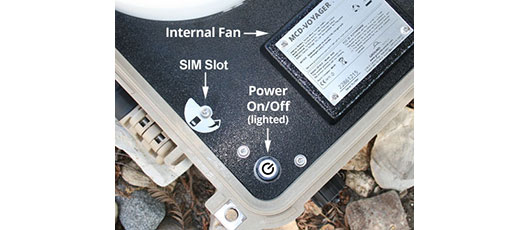 MCD-VOYAGER
Easy to Operate
Shown above is the lighted LED power button to turn the system on or off. The Thuraya IP SIM card tray is also easily accessed from just inside the case lid. An internal fan keeps electronics cool in hot weather.
MCD-VOYAGER
Connecting Wireless Devices
Connecting a wireless device such as laptops, smartphones or tables to the MCD-VOYAGER is as easy as selecting it from available access points. Wireless security is configurable from a web interface and includes MAC address filtering.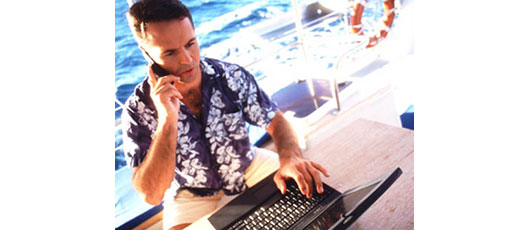 MCD-VOYAGER
Use on the Water
The MCD-VOYAGER uses the in-motion Thuraya Voyager terminal, which means it can be used while on water. The internal antenna's turning speed is rated at 40 degrees per second, which is faster than most vessels will pitch and roll on heavy seas on the ocean.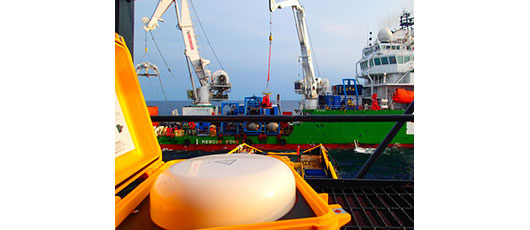 MCD-VOYAGER
Operates with Lid Opened
The MCD-VOYAGER operates with the lid opened as shown above. In this picture, a ship offloads supplies to another vessel.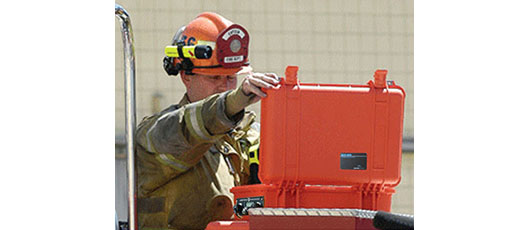 MCD-VOYAGER
No Training Required
The MCD-VOYAGER can be a real lifesaver since it requires no training to operate. Simply turn it on under an open sky for high-speed Wi-Fi Internet and phone anywhere on land or sea.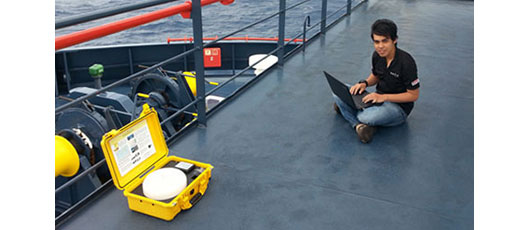 MCD-VOYAGER
For Ocean-Going Vessels and Oil Rigs
The MCD-VOYAGER is an excellent solution for costal ocean faring vessels and oil-rigs. Here an IT specialist uses a wireless laptop to establish Internet connectivity. Wi-Fi may be shut off and an Ethernet cable connection can be used for a more secure connection.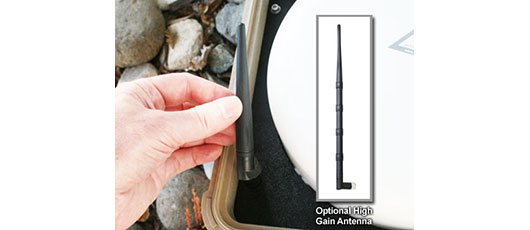 MCD-VOYAGER
WiFi Antenna
The 802.11 b/g/n WiFi antenna is mounted next to the dome. Antennas use an RP-SMA connector and can be fitted with an optional directional 8dBi or other antennas as high as 15dBi for increased wireless range. Up to 200 meters can easily be achieved with the proper antenna.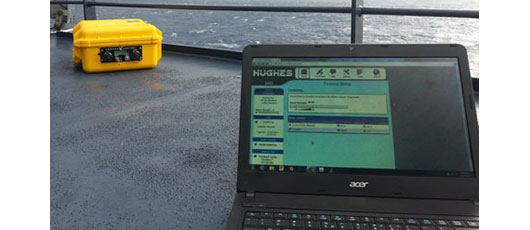 MCD-VOYAGER
Wireless Hotspot
The MCD-VOYAGER case lid only needs to be opened to turn the the system on and then it may be closed tight. In 60 seconds, it will become a wireless hotspot most anywhere in the eastern hemisphere for up to 5 hours on internal battery.