Satellite Communications for Australia, New Zealand & South Pacific Islands
Ground Control is a single-source equipment and service provider servicing Australia, New Zealand and the South Pacific islands. We have a wide range satellite equipment to fit a specific requirement, and we'll provide the service and support. This page shows a list of equipment and service options available in your region.
Ground Control services available
Business Grade VSAT Equipment & Service Solutions - iDirect Ku-Band
Performance Grade Satellite Internet from Ground Control will deliver high-speed, low-latency, net-neutral, application tolerant, VPN & VoIP optimized, highly predictable connections that deliver what consumer grade satellite services can not.
All VSAT Products
Global Ku-Band for fixed or mobile VSAT satellite dish service
| iDirect Plans | Transfer Speeds | Service | Monthly Price (USD) |
| --- | --- | --- | --- |
| Satellite internet plans | Dynamic contention | Unlimited use internet | From 128 Kbps to 5,000 Kbps or faster | Create any upload and download speed and email us for a quote best suited for your region | Unlimited internet / data | Please contact us for a quote |
| Phone | Standard phone service | VoIP over satellite | Standard phone service (PSTN / Public Telephone Network) over your satellite connection. Uses any standard corded or cordless phone. | Service includes 1000 minutes free each month (16.6 hours) | $49.95 / month | 1,000 free minutes |
Plan details
1 static-public IP included with all accounts. Additional static IPs are available.

All plans are for one year term that reverts to month-to-month at the end of the term.

Use your existing iDirect satellite equipment with Ground Control.

Call for installation availability or become a certified installer online with purchase of system & service.

Satellite service is ideal when paired with VOIP phone service - crystal clear calling.

All speeds are listed in Kilobits per second (Kbps).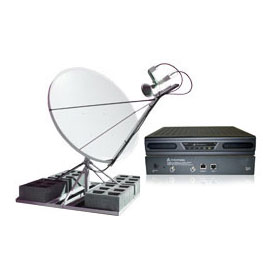 iDirect Fixed Location Satellite System - Complete Hardware Solution
Our most popular and least expensive fixed satellite solution uses the Evolution X1 iDirect gateway connected to a 1.2 meter satellite dish using a powerful 6 watt BUC (transmitter) on a non-penetrating mount.
Fixed VSAT Satellite Dish Equipment – iDirect
Online Installation Certification - $300 USD
Avoid the cost of installation by taking our online Installation Training & Certification course. Certified installers can assemble, point, and activate a satellite communication systems with Ground Control.
VSAT Installation Training Program
Satellite Phones & PTT Global Radios
PTT radios communicate with other PTT phones at the touch of a button ANYWHERE ON THE GLOBE. No infrastructure to build out and service is 100% global. Maintain an instant com-link to a team from anywhere. A great new technology that provides radio service to all dead zones. We're showcasing two Iridium-based PTT options here, plus a traditional satellite phone from Inmarsat, that's ruggedised and useable even with gloves on.
Satellite Phone Range
Portable Satellite Internet
Ground Control offers a wide variety of portable satellite internet devices for use in Australia, New Zealand and the South Pacific. What we mean by portable is that the devices are small enough to pick up and carry, and all of these devices fit the bill. They are all BGAN devices, which means they use the Inmarsat BGAN airtime service - connecting to geostationary satellites for a very stable satellite connection, which is particularly important for VoIP calls.
Portable Satellite Internet Devices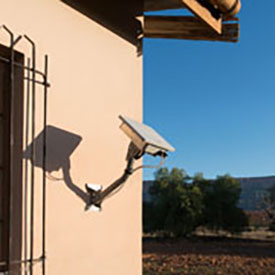 BGAN Link - 30 GB Internet & Phone
Australia, New Zealand and the South Pacific Islands may consider a portable "Fixed" BGAN terminal using BGAN Link "GEO" service for Unlimited Internet and phone (via Skype). BGAN Link is advertised as "all you can eat" at one fixed location. While speeds are not as fast as VSAT dishes, these terminals can be installed by anyone and used for almost anything.
BGAN Link