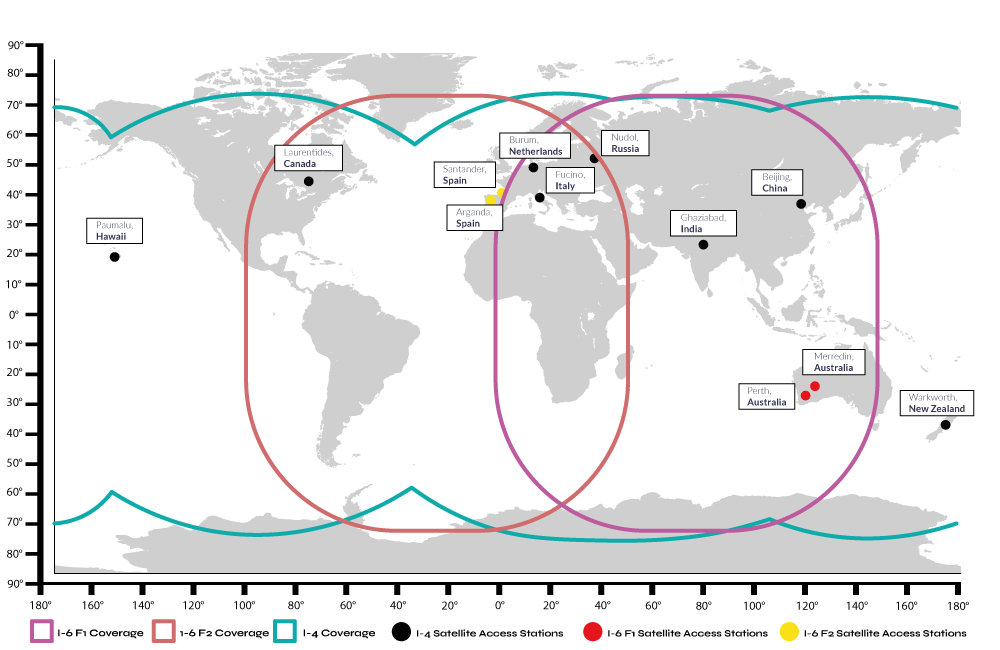 Ground Control's BGAN and BGAN M2M service plans are global and may connect with any of the BGAN satellites at any time with any of the BGAN plans we offer… no certification or training required. Any BGAN or BGAN M2M terminal will operate in any country within any of the coverage areas above with any of Ground Control's BGAN service plans. Also, any BGAN terminal may move to any location and connect with any of the satellites without need to reconfigure the system or need to purchase any different service plan (ideal for world travelers).
Satellite Names and Orbital Locations
I-4 Americas 98° West
Alphasat EMEA (Europe, Middle-East, Africa) 24.8° East
I-4 Asia-Pacific 143.5° East
I-4 MEAS – 64° East
The Next Generation of Inmarsat Satellites
The Inmarsat I-6 F1 launched on 22nd December 2021, and will be followed by the I-6 F2 in 2023. Both are dual-band satellites and will support both L-Band and Ka-Band frequencies. With the launch, Inmarsat will easily be able to support four times the amount of traffic the network can support today, which means faster speeds and continued reliability of service. The new satellites also deliver greater coverage.
Satellite Access Stations and the Primary NOC
Inmarsat has 32 Satellite Access Stations (SAS) at strategic locations through the world that are all privately interconnected. The 6 primary SAS stations are located in New York, Hawaii, Hong Kong, Italy and Amsterdam. The Primary Network Operations Center (NOC) is located in London UK and performs the coordination of all network activities, monitoring and troubleshooting.
Excellent In Stormy Weather
Since a BGAN terminal uses the L-band for reception and transmission (the L-band has a very long wavelength), it is able penetrate through clouds and other atmospheric condition far better than large satellite dishes.
Can BGAN Be Used On A Ship or Boat?
Yes. We recommend the MCD-4800 that has its own power so the terminal is easily transported from vessel to vessel and can be used on land. For fixed terminals, we recommend the Explorer 510 that has a very wide view angle compared with other fixed BGAN terminals, and works when a vessel is traveling in a fairly straight line.
What are the differences between the Wide, Regional and Narrow Beams?
Beams are what the Inmarsat satellites transmit onto Earth and there are three beams they use… Wide beams for pointing signal strength, Regional beams for Voice and SMS, and Narrow beams for Internet.
Wide beam (not registered): This is the beam that you use for pointing. Minimum signal should be 50 or higher as seen on your Web Interface of the BGAN terminal.
Regional beam (registered): From the Web Interface of any BGAN terminal clicking on the "Register" button allows the terminal to make and receive phone calls and SMS messages. It is not for actively passing data (Internet) traffic… For that option to occur, click on "Start Data Session" from the Web Interface. Typical signal when in a Regional Beam is high 50s (usually 57-59).
Narrow beam (registered): These are the data/Internet beams (shown in a graphic below) and are used when clicking on "Start Data Session" from the Web Interface of any BGAN terminal. This establishes an active PDP context and IP data is allowed to pass from a connected device to the Internet. An ideal signal should be 65 or higher once establishing a connection with a BGAN Narrow Beam. Please note that a data connection may fall back to the regional beam after about 2.4 minutes of data inactivity.
If your narrow beam signal is bouncing between 60 and 63, it could be a pointing issue or the antenna/mount may be loose and moving or not pointed correctly. Please to take time to find the highest signal strength possible with your terminal for best results..
Interesting Facts On BGAN I-4 Satellites and Coverage Area
Today there are four BGAN Satellites that give contiguous worldwide coverage. Each I-4 can generate 19 wide beams and more than 200 narrow spot beams. These can quickly be reconfigured and focused anywhere on Earth to provide extra capacity where needed. Information on Inmarsat Wide Beams and Narrow "Spot" Beams.
Some of the spacecraft's impressive features include:
The I-4 body – approaching the size of a double-decker bus at 7m x 2.9m x 2.3m
Solar arrays – approaching the width of a football pitch, with an immense wing span of 45 meters
Solar panels – combining conventional silicon with advanced gallium arsenide (GaAs) cells for optimum efficiency
Digital signal processor – controlling the antennas, beam forming and channel allocation
Reflector – 9 meters wide and designed to unfurl in orbit like a giant flower
Antennas – 120 helix elements combined in a single flexible array
Thrusters – both chemical and plasma ion for orbital station keeping
Look Angle Map
If you know your location on the map below, you can approximate the compass heading, as well as how many degrees up from the horizon one of the Inmarsat satellites will be.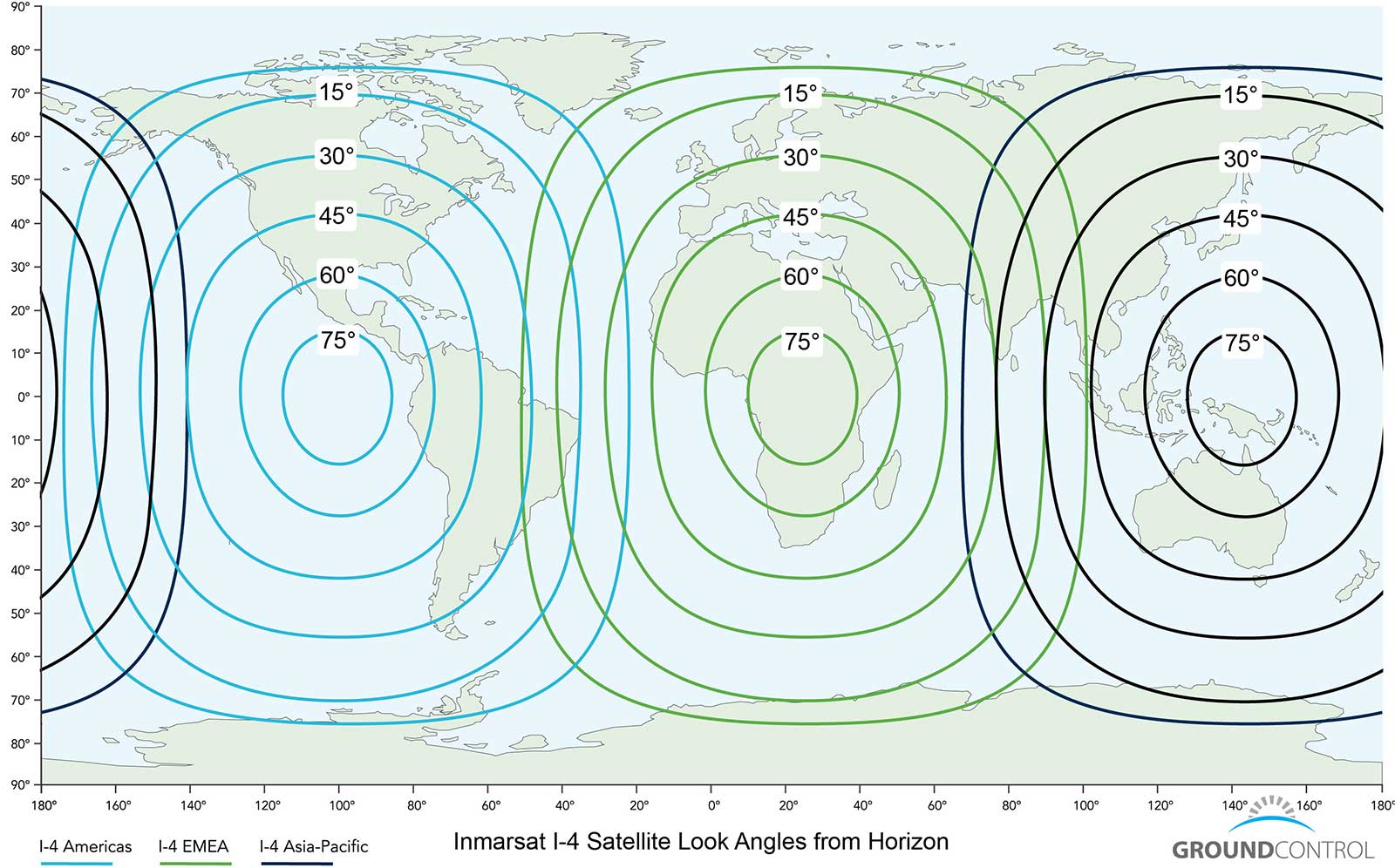 The circular lines on the map show the "Look Angle" of the nearest Inmarsat BGAN satellite to help you locate a satellite. For example, to connect from California, a BGAN terminal will need to point south-south-east and tilt the BGAN terminal face up 45° degrees from a level horizon, while a BGAN terminal in Nigeria will aim east-south-east and 60° degrees up. Some BGANs come with a small compass built into the terminal to help point a terminal.
Spot (Narrow)-Beams for Seamless Coverage
There are 228 Spot beams for each of the I-4 Inmarsat satellites.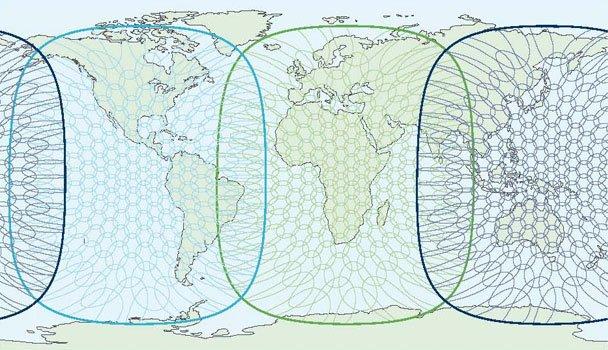 Ground Control Products Using BGAN Coverage
Connect any laptop, smartphone or any wireless device to a BGAN portable satellite terminal for Internet and phone from anywhere on the planet. BGAN terminals are small enough to fit inside of a laptop case yet deliver usable Internet speeds of up to 492 Kilobits per second.
BGAN Range
Ground Control Products Using BGAN M2M Coverage
With Ground Control as your service provider, you'll gain access to our carefully selected BGAN M2M hardware from trusted partners. We also have very competitive and flexible airtime plans, and all of our customers benefit from Cloudloop, our subscription, device and data management system which gives you a single view of all deployed communication assets.
BGAN M2M Service
Do you need any help?
The Ground Control team have 20 years' experience in delivering portable satellite communication, and we're here to help.

If you have any questions about coverage, devices and airtime, please call or email us, or complete the form, and we'll be happy to help.