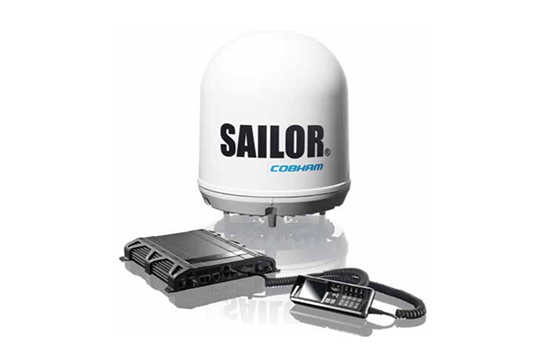 Using the Sailor 250 - TDI-Brooks International
Ground Control and strategic partner GeoData Publishers, Inc. have teamed together to provide TDI- Brooks International (TDIBI) with state-of-the-art communications at sea with Inmarsat's FleetBroadband network. Utilizing the Sailor 250 FleetBroadband antenna, Ground Control has been able to team their experience in satellite communications with GeoData Publisher's system integration techniques to keep TDI Brooks' fleet of research vessels connected across the globe.
Solving the problem of Marine Communications
GeoData Publishers Inc. has been the preferred partner for many data management and IT services for TDI Brooks for over 12 years. GeoData Publishers was tasked with the problem of improving communications methods to all of their five research vessels operating worldwide. Ground Control, being a leader in the fleet/BGAN sector, was brought in to provide their expertise on the equipment, satellite bandwidth, and management portal.
The Sailor 250 has given TDI Brooks an unprecedented opportunity to monitor and manage critical assets 24/7 from their corporate headquarters without paying tens of thousands of dollars to use comparable technology. The ability to connect to a remote ship prior to the availability of the Sailor 250 systems would simply have been cost prohibitive.
In the case of the TDI Brooks fleet, a need existed for a constant connection, but with a limited data transmission need. The Sailor 250 systems were the perfect solution, with minimal service charge per month and a usage charge on a per-megabyte basis, rivalling the airtime charges of a satellite dialup system transmitting the same volume of data.
Prior to the Sailor 250 systems, TDI Brooks had relied on dialup methods ranging from Iridium to GlobalStar, which required a manual connection to the internet initiated from onboard the vessel – thus connecting to the vessel was simply impossible. Therefore, monitoring systems onboard a vessel could not be automated. In addition, the reliability of these dialup methods of data transmissions was poor at best.
The systems had many occurrences of the connection being dropped during the transmission of a large data file, forcing a restart to the transmission, as well wasting the airtime cost used during the failed attempt. Cost per megabyte of data ranged from $24/MB to $48/MB, when considering bandwidth throughput and cost of airtime.
The Sailor 250 systems solved both problems. Now being deployed on every ship in the fleet along with a custom-designed network solution, which not only manages the usage (which must be managed due to potential cost overruns), but also provides an hourly report automatically logged to the server at TDI Brooks' headquarters. This automated report provides the condition of the onboard ship network and allows remote adjustments to any bandwidth management rules from TDI Brooks. The Sailor 250 systems, along with the onboard networks, are self-reliant and don't require any onboard IT trained personnel.
Better Standard of Living for the Crew
Although not allowed to surf the Internet in an unlimited fashion, access to low bandwidth sites is allowed as well 24/7 continuous email services and chat capabilities with friends and families. This has created a much-needed boost in moral for individuals whom may be deployed at sea for months on end.
Effectively Managing Bandwidth
One thing quickly learned was that using the Sailor 250 systems does not mean a user on an equipped vessel will have exactly the same kind of experience with the internet that one would expect from a cable modem. They're very fast compared to a dialup satellite phone and even though the systems are considerably slower than a cable modem, they're fast enough that a typical user will find their connection reasonably fast enough to use as they might use the internet at home on land.
This caused a pretty unique problem when combined with the per-megabyte charge. The added bandwidth allows the users to surf the internet reasonably well (although slower). However, a typical user doesn't have a clear understanding of bandwidth usage.
It is easy to 'burn' through hundreds of dollars' worth of bandwidth without knowing it. Very few users on the internet know how many megabytes a typical web page may have. In addition, computer systems are now being designed to be continually connected via the internet to retrieve files from their manufacturers (i.e. drivers, updates, etc.).
These files can be very large. Consequently, this can incur a very large expense when these files are downloaded through a sailor system. If an XP operating system determines that a service pack needed to be retrieved, it would do so with no consideration to what network it was on and start retrieving the update.
If this update is a 300MB update, this would incur a $5000 expense. Thus bandwidth must be managed effectively for each deployment of a Sailor system. TDI-BI solved this problem by working with their partner, GeoData Publishers, Inc., to deploy systems along with the necessary data management tools to allow the most effective transmission of needed services and at the same time avoid the transmission of non-critical or wasteful bandwidth through the Sailor systems.
All in all, the Sailor 250 systems allowed TDI-BI to not only increase the reliability of data communications with their vessels and the lower cost of service provided a much-needed personal connection between their crews and their respective families back on shore. TDI-BI is completely satisfied with having become dependent on the Sailor 250s as their primary method of communicating with their research vessels worldwide.