Small but mighty with Pole-to-pole coverage
Utilizing the Short Burst Data (SBD) element of the Iridium Satellite Network, the RockBLOCK 9602 is one of the most versatile and popular items in our SBD series. From use cases involving meteorological sensing, through to preventing fires in remote locations, the RockBLOCK has a few tales to tell from developers and scientists, through to global corporations.
If you're looking for a smaller version of the RockBLOCK 9602 unit, then the RockBLOCK 9603 might suit you – designed primarily for product developers and system integrators where space inside an enclosure is at a premium.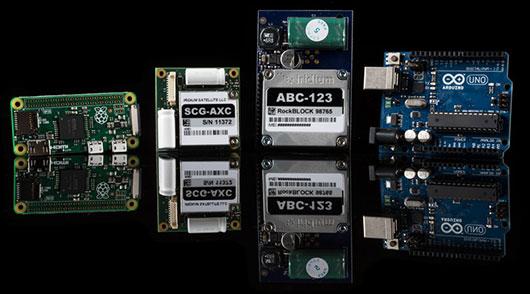 How RockBLOCK Works
RockBLOCK takes its power from a standard 0.1″ pitch direct header connector, or alternatively via an FTDI to USB adaptor (to power/control from a USB port). If you're using the PCB assembly version with a direct header, your host needs to supply a minimum of 100mA @ 5V.
At the heart of RockBLOCK is an Iridium 9602 modem. The RockBLOCK hosts the 9602 and provides it with an antenna, and its power supply requirements. It exposes the modem's serial interface via a breakout connector over serial, or USB (via a USB/serial adaptor).
Key Features
Tech Specification
Airtime
Register your rockblock
Plug and play satellite communication
Full 2-way communication system
Optional SMA connector, for external antenna
Truly Global operation, pole to pole
Available as a PCB or encapsulated product
Integrated antenna and power conditioning
Powered via USB or direct-header connection
Data via e-mail or directly to your web-service
Powered By: Direct Header Connector, or optional FTDI USB adaptor
Transmits Using: Iridium
Size: RockBLOCK Mk2 Naked: 3 x 2 x 0.75″ (76.0 x 51.5 x 19.0 mm)
Ideal For: Integration into existing devices
Built in Antenna: Yes (& optional 'SMA' version for external antenna)
Weight: RockBLOCK Mk2 Naked: 76 grams
Waterproofing: RockBLOCK Mk2 Naked is *not* waterproof. If you need a waterproof unit, look at the RockBLOCK Plus
Ground Control offers Iridium SBD airtime both as a prepaid tariff, and as an annual contract for companies planning a larger deployment of devices. Full pricing plans can be found on our Short Burst Data Pricing page.
If you choose our prepaid, or pay as you go option, line rental is paid in blocks of 1 month, and allows the RockBLOCK Plus to exchange information with the Iridium satellite network. You only pay for months in which you wish to use the RockBLOCK Plus. No annual contract is required. Line rental costs $17.00 per month.
Credits are used each time you transmit. 1 credit is used per 50 bytes (or part thereof) of message sent or received. 1 credit is also used if you check your mailbox and there are no messages waiting (A mailbox check). Credits do not expire, even if you are paying no line rental. Credits are shared/pooled between all of the devices on your account
Please note, while our pay-as-you-go tariffs offer great flexibility for development purposes, we know they are not suitable for everyone. If you are planning a large deployment of devices and are willing to commit to airtime contracts of 12 months or more, please get in touch. We have access to various tariffs which may suit you better.
Bundle:
per Credit:
Bundle Price:
Line Rental (per month):
50 credits
$0.20
$10.00
$17.00
100 credits
$0.19
$19.00
$17.00
200 credits
$0.16
$32.00
$17.00
500 credits
$0.14
$69.00
$17.00
1000 credits
$0.12
$124.00
$17.00
2000 credits
$0.11
$220.00
$17.00
5000 credits
$0.10
$482.00
$17.00
The RockBLOCK management system allows users to amend their account details, manage RockBLOCKs, top-up accounts, review invoice details, and set-up communication between HQ, individual devices and device groups.
Upon receiving your RockBLOCK(s), first time users will need to log on to our registration page: https://rockblock.rock7.com/Operations.
Having trouble registering?
If you are not registering new units, there's a very high chance they have been already registered somewhere else. Contact support@groundcontrol.com, mentioning your RockBLOCK serial numbers and IMEIs so that we can look into the issue.
Useful Links
Get in touch
Complete the form, or call / email us to see if the RockBLOCK is a good choice for your tracking and two-way communication requirements. With 20 years of experience, we can help you make the best choices for your critical communication needs.

We're not invested in selling you a specific product or connections, just the best solution for your needs.