Case-Based Mobile Satellite Internet
Our Flyaway Toughsat is more than a traditional flyaway VSAT system, in that it is designed mount in ALL locations that mobile VSAT systems could be mounted, such as on ground, on top of a vehicle, truck, trailer, or even transported in the back of an SUV.
The multi-functional stabilization brackets work for both ground mounting and roof-rack "fly-and-drive" mounting… even on rental vehicles. And note this stabilizing bracketing is not required for ground mounting if there is no wind, making setup a breeze in minutes.
Since the Flyaway case is impervious to weather, secure it to any mobile surface such as a flatbed trailer. The case lid can be on or off as desired. The electronics are in their own rolling case and can be safely located and stored. A 50 foot cable run can place the electronics anywhere they are needed and the dish removed from foot traffic.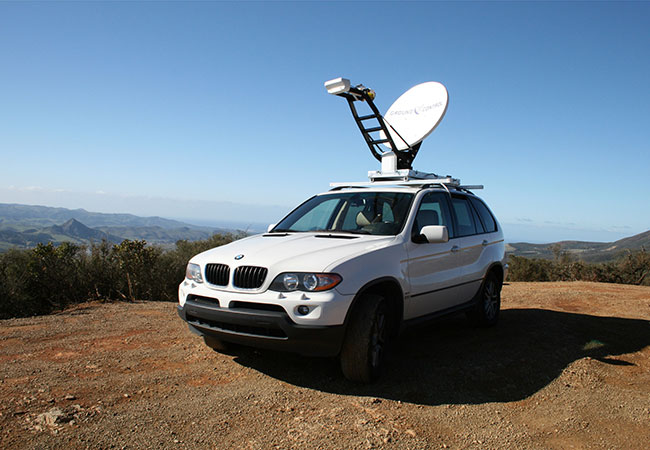 Installation on Trucks and Trailers
For semi-permanent installations on top of trucks and trailers, you may purchase the inexpensive mounting plate and affix this plate to any rig. Simply remove the 6 nuts that hold the Toughsat to the Flyaway case, and then fasten it mounting plate on the rig. Use the same cables and rolling rackmount equipment and you've got a fully functional "permanent" roof mounted mobile VSAT.
One Operator Simplicity – No Certification Required

Once the system is assembled (see video above), operation is as easy as pressing the "Deploy" button. The system will deploy, lock on satellite, and in a few minutes create a Wi-Fi access point for high-speed Internet automatically. It's that simple!
Total location flexibility – It's a Toughsat… and can be operated by one person with one button connectivity.
KEY FEATURES
TECH SPECIFICATION
EXAMPLE AIRTIME*
IN THE BOX
WARRANTY
Complete, ready-to-go system including all components required for operation
Heavy-duty all-weather construction, fully designed and manufactured by Ground Control
Establishes a local area wireless network (100-foot radius) automatically
No requirement for specialist training to deploy or operate
Bundled with our performance iDirect service providing 20Mbps x 5Mbps Internet speeds
Service pricing available for Public Safety Organizations. SAFECOM-compliant
Works in extreme environments (rain, hail, hot, cold). The case lid is unaffected by weather
Ideal for VoIP phone service with low latency (500-650ms) iDirect. VoIP phone service
SNG rated to stream live video at guaranteed 4 x 4Mbps with our streaming services. Perfect for news stations or live event broadcasters
Excellent back-up Internet for emergency organizational use… activate Internet service anytime
Fly-And-Drive bracketing is universal, even for most vehicle roof racks, including rentals
150 watts max draw (90w average). Flyaway may be powered by a $50 vehicle mini-inverter
.98m dish will withstand winds speeds of 20 MPH (32kph) without added weight
A powerful 6 watt transmitter (BUC)
All system bags/cases are under UPS-FedEx-DHL shipping weight limits
Transmitter (BUC) Size (XP): 6 watts
Main Case Dimensions (LxWxH): 61.25″ x 21.75″ x 16″ (155.6 x 55.24 x 40.64 cm)
Main Case Loaded Weight (0.98 /1.2 m): 149 lbs (67.59kg) / 160 lbs (72.57kg)
Dish and Bag Dimensions (0.98 /1.2 m): 39″W x 4″D (99 x 10.16 cm) / 48″W x 5″D (122 x 12.7 cm)
Dish and Bag Loaded Weight (0.98 /1.2 m): 26 lbs (11.79 kg) / 35 lbs (15.88 kg)
Rackmount Electronics Case Dimensions (LxWxH): (6RU) 21.75″ x 24.75″ x 14 (55.24 x 62.86 x 35.56 cm)
Rackmount Electronics Case Loaded Weight: 33 lbs (14.97 kg)
Fly-and-Drive Bracket and Dolly Bag Dimensions (LxWxH): 62″ x 8″ x 8″ (158 x 20 x 20 cm)
Fly-and-Drive Bracket and Dolly Bag Loaded Weight: 28 lbs (13 kg)
Example Plan:
3 GB
3 GB MAX
12 GB
12 GB MAX
Pricing (USD):
$399 per month
$599 per month
$849 per month
$1,299 per month
Service Speed:
3 Mbps x 1 Mbps
20 Mbps x 5 Mbps
3 Mbps x 1 Mbps
20 Mbps x 5 Mbps
Inclusive Data:
3 GB
3 GB
12 GB
12 GB
Overage Fee:
$0.19 per MB
$0.19 per MB
$0.14 per MB
$0.14 per MB
Our complete, ready-to-go system includes:
The Toughsat XP .98 or 1.2 meter mobile system inside reinforced case (shippable).
The Toughsat TS2 ACU (1 RU) with integrated 4-port wireless router.
The iDirect Evolution X7 satellite router for 20 x 5 Mbps speeds.
Power conditioner (1 RU) for 8 AC plugs. Flyaway may be powered by small 150 watt inverter.
25′ (7.6 m) cable run. Place electronics case at distance from dish. 50′ and 100′ runs available.
The rolling rackmount case (6 RU front 6RU back) for system electronics (shippable).
A taller 8RU rolling rackmount case available.
There is available space in case for customer electronics such as VPN or video encoder.
The .98 or 1.2 meter dish with reinforced, double stitched, heavy-duty shippable bag
Fly-and-drive & ground mount bracketing with dolly in a heavy-duty bag (shipping compliant)
Quick-release dish – No tools needed for full assembly (if not using ground mount bracketing)
Standard warranty – 1 year parts and on-site labor
Extended 12 & 24 month warranties and lifetime radio electronics warranties available.
Standard Warranty
Toughsat XPs are protected with a standard one-year parts and on-site labor limited warranty. Our field technicians, located in hundreds of locations throughout North America, will drive to your rig's location (in most locations) and perform needed repairs, all on our dime.
Extended Warranties Available
12-Month Extended Warranty – Add one extra year of parts and labor to the standard warranty for either the Toughsat mobile satellite systems.
24-Month Extended Warranty – Add two extra years of parts and labor to the standard warranty for either the Toughsat mobile satellite systems.
Lifetime Electronics Warranties Available
For a small monthly fee of $24.95 placed on your monthly VSAT service, Ground Control will replace any failed radio electronic component of your satellite system, which includes the satellite gateway router, the LNB, and the 3-, 4- or 6-watt BUC (transmitter). As long as the radio insurance fee is current with an active iDirect account with Ground Control, any radio equipment that fails to operate through standard use will have that part replaced.
Dual Matrix – Dual Satellite Network
The Toughsat series – Toughsat XP, Toughsat Flyaway, and T-100 Trailer – may utilize the SES2 satellite service in North America. Users can also choose Intelsat's Galaxy 18 service, or our Dual Matrix option which allows you to switch between the two services as preferred / needed.
Map shows the Intelsat Galaxy 18 satellite and SES2 footprint, and their shared coverage areas.
DUAL SATELLITE COVERAGE MAP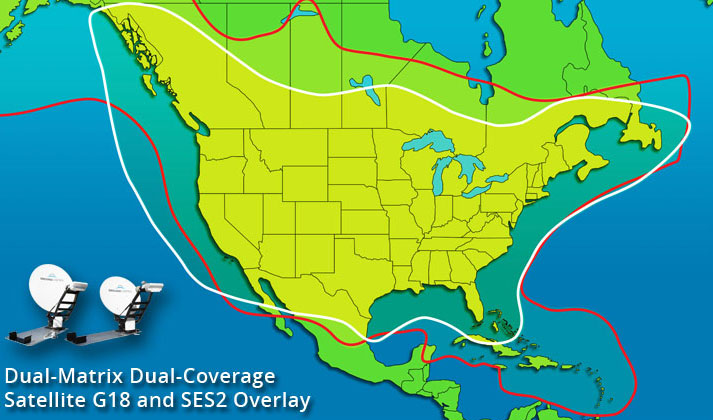 Questions about the Toughsat Flyaway?
Great, we can help. Click the button below to start a dialogue with one of the team and see how the Toughsat Flyaway could fit into your communications setup.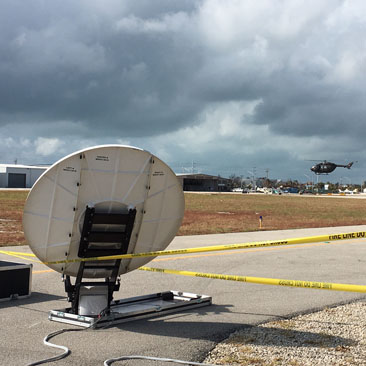 The Flyaway Toughsat is often used with emergency services that need a quick and portable auto-pointing VSAT antenna for both high-speed Internet and voice (phone) communications.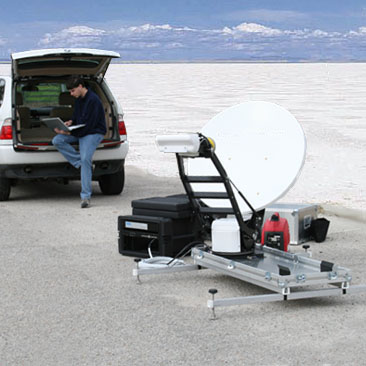 The Flyaway establishes a 100 foot radius wireless "G" access point for broadband connectivity to any in-range wireless device including smartphones and wireless computers. The WiFi range can be extended to half-mile with an optional high-gain antenna the we offer for $300.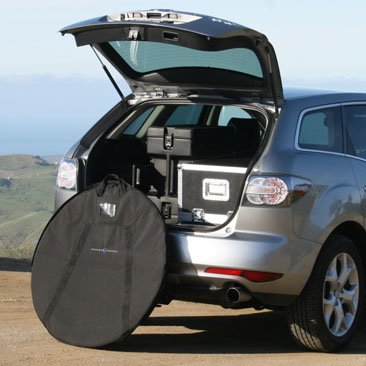 The largest case of the Flyaway system is 62″ (155cm) long and can fit in most SUV storage areas. To save space inside, you can also secure the all-weather case to a vehicle roof rack.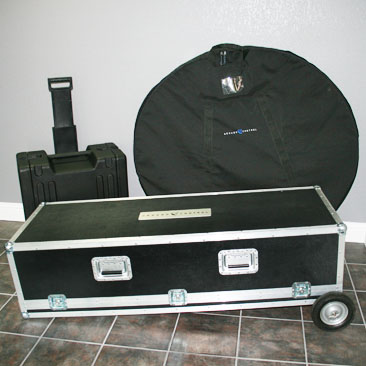 The 1.2 meter satellite dish in the weather resistant, heavy-duty shippable bag (48″ diameter) behind the flyaway case. Note the quick-release dolly wheels for easy movement of the case over even or uneven terrain.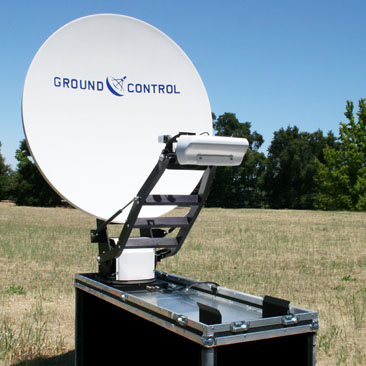 The 1.2 meter Flyaway Toughsat XP (shown above) fits in the same sized case as the .98 meter. The 1.2 meter dish is 48″ inches or 1.22 meters in diameter. The .98 meter dish is 39″ inches or .99 meter in diameter. Both dishes have their own bags.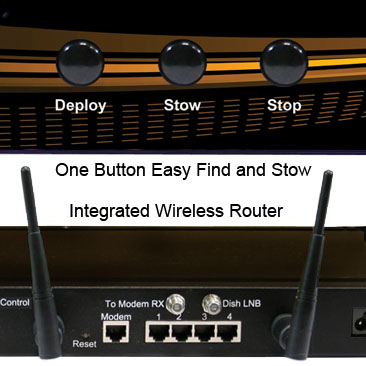 The Toughsat TS2 ACU has easy one-button "Deploy" and "Stow" buttons for simple operation. The web Interface also allows the system to be monitored and controlled.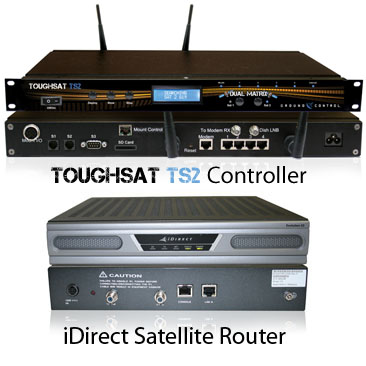 The Toughsat TS2 ACU has powerful tools that maintain connectivity. The iDirect Evolution X7 satellite router is now standard equipment. (Rackmount 1 RU bracketing for the X7 iDirect satellite modem is not shown).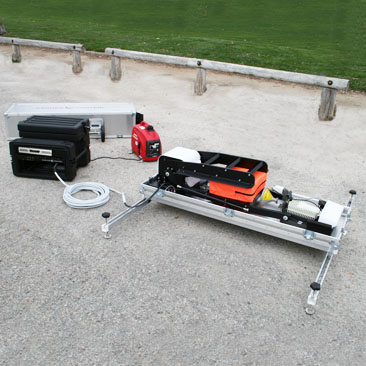 The Toughsat system is designed for extreme weather. Aluminum light weight construction and drain holes allow the case lid to be unaffected by rain. The rackmount electronics case may be sealed (with the lid) for a water resistant wireless "G" access point.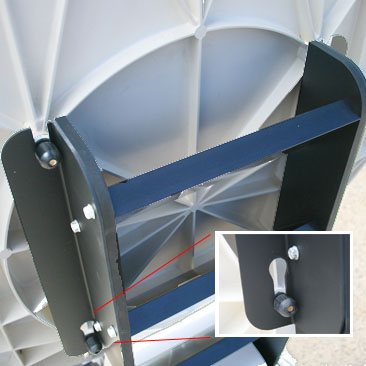 All Flyaway systems come with a quick-release dish that requires no tools for assembly. The quick-release will shave minutes off assembly over the standard 4 bolt dish.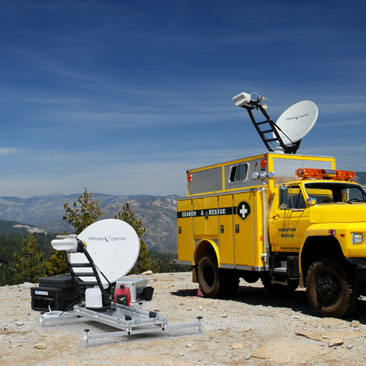 Popular with first responders and other emergency agencies, the Flyaway is a portable broadband hotspot that supports VoIP phone services for on-site personal.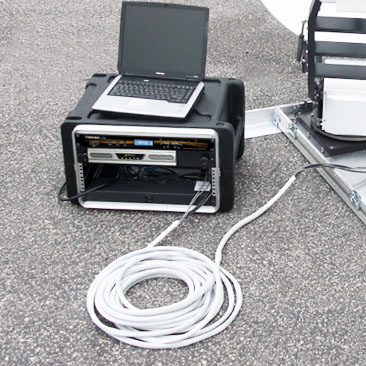 The electronics case is 6RU front & 6RU back (19″ by 19″ deep). Included are the Toughsat TS2 ACU (1RU x 12″ d), the iDirect Evolution X7 (1RU x 12″ d), and an 8 AC plug power-conditioner (1RU x 15″ d). The cable run length is 25′ (7.6 meters). Longer 50′ and 100′ runs available. There is significant space available for adding additional equipment.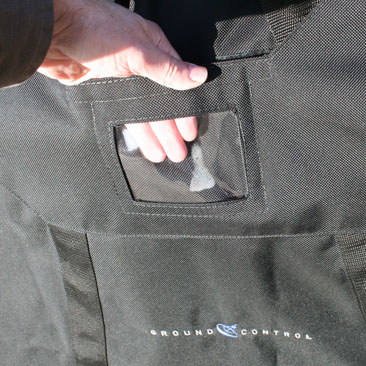 The dish bag for the Flyaway has been designed with high strength material for rugged use. It may be easily shipped to any location.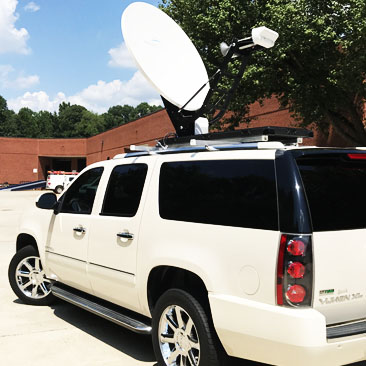 Here the Flyaway is mounted on top of a Suburban. The Flyaway may be mounted on any kind of roof rack of any vehicle. This solution gives WiFi Hotspot connectivity to any location instantly.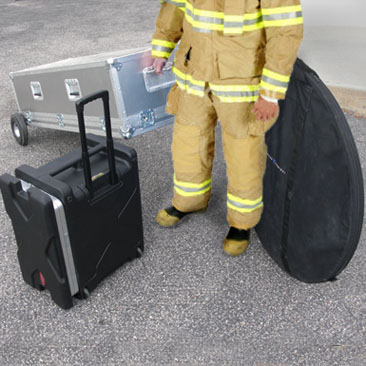 The three piece system (4 pieces with fly-and-drive bracketing) is designed to be moved and assembled by one person (the rackmount and VSAT cases have wheels).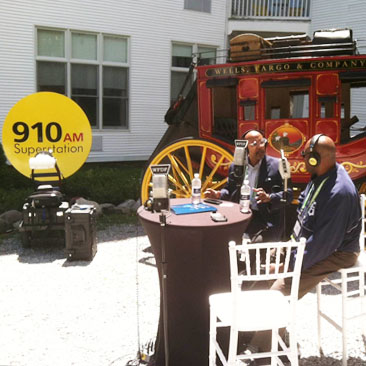 Here the Flyaway is being used by a radio station to stream their program from a festival.
The fly-and-drive system is perfect for streaming live video from sporting events. Ask about video streaming services from Ground Control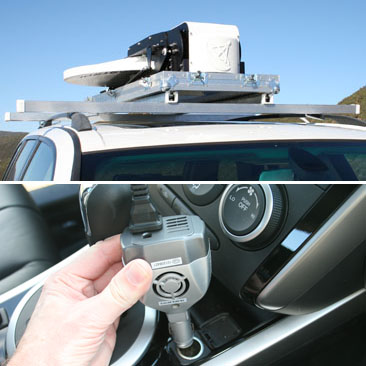 Both the Toughsat and the exposed bottom part of the case are designed for extreme environments and travel. Power can be supplied by a small mini-inverter.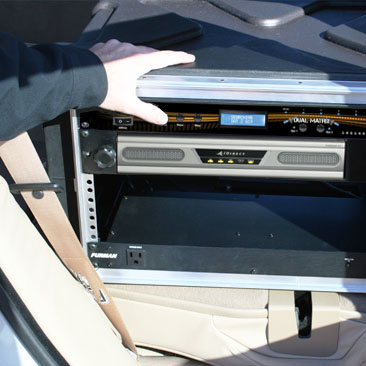 Operation of the Toughsat for deploy or stow, can either be from a connected computer, or by pressing a button on the front of the ACU. Everything is automatic and there is no configuration required. Here is a view of front and back of Toughsat TS2 ACU.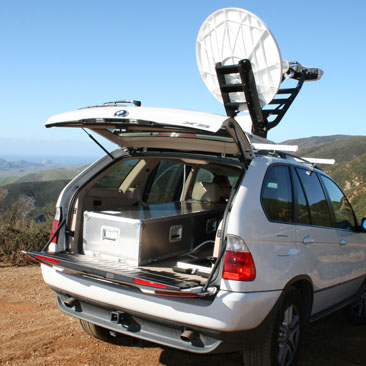 Mobility and flexibility. The waterproof case top and electronics are stored in a SUV's cargo space. The cable to the dish on the roof can be threaded through a slightly open window.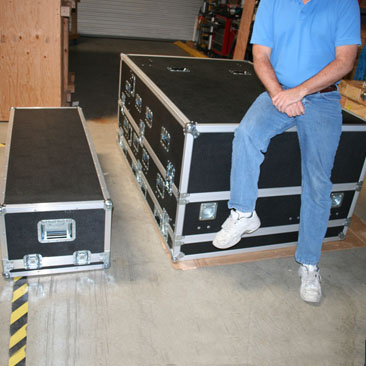 When compared with other Flyaway solutions, the Ground Control case size makes it a preferred solution because it is easy to move, transport, and operate by one person.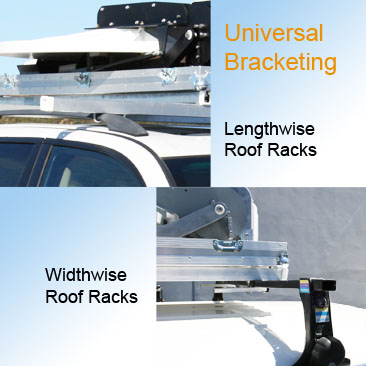 The fly-and-drive bracketing will mount on most kinds of vehicle roof racks of most heights.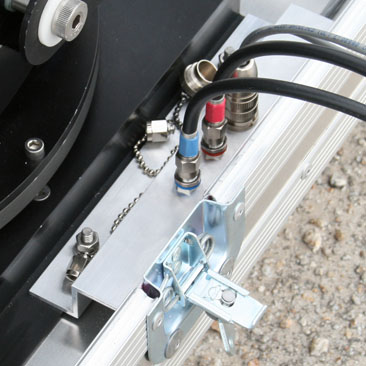 The connector block on the Flyaway case is easily accessed. The ACU connector is submarine rated, and all connectors have weather caps when not in use.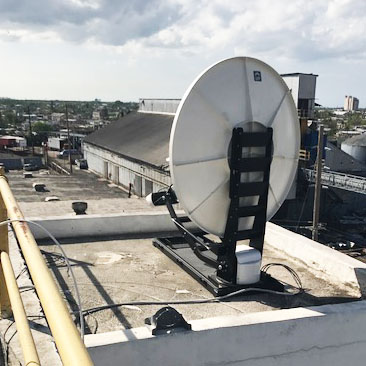 Since the Flyaway is an auto-acquire satellite dish, it can repoint from anywhere in a few minutes providing emergency backup Internet and phone to organizations from any location. Fixed satellite dishes need to be repointed by a certified satellite installer, which is not normally not quickly available after a hurricane.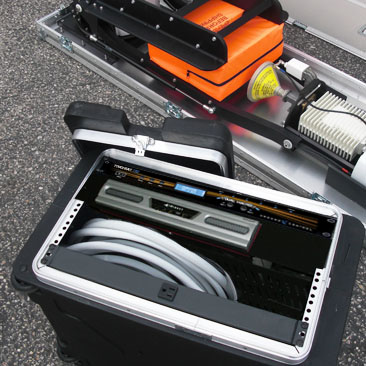 The Toughsat system is designed for extreme weather. Aluminum light weight construction and drain holes allow the case lid to be unaffected by rain. The rackmount electronics case may be sealed (with the lid) for a water resistant wireless "G" access point.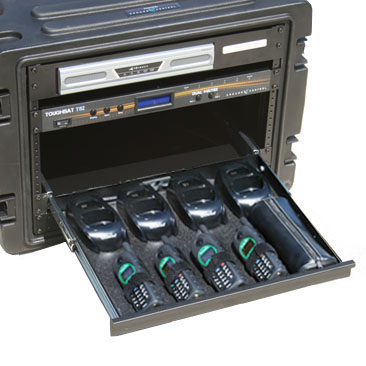 Ground Control offers long-range cordless phones that are able to keep you connected up to 2 miles from the Flyaway case. Each phone handset is issued its own phone number and can place or take calls from anyone, including other handsets. These phones use the Ground Control VoIP phone service.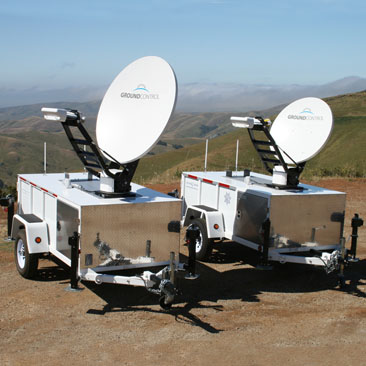 Combine a Flyaway case with a T-100 self-contained trailer. This is the ultimate in communications flexibility. The T-100 trailer is also manufactured by Ground Control.
Useful Links
We're here to help
We're proud to have supported thousands of organizations since 2002 including many emergency service personnel that rely on our connection when all others fail. While we designed and manufacture the Toughsat series at our plant in California, we work with partners across the world to ensure our customers get the best possible service.

Call or email us, or complete the form to start a conversation about your mobile VSAT needs.