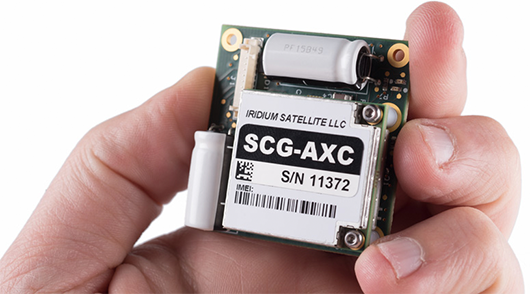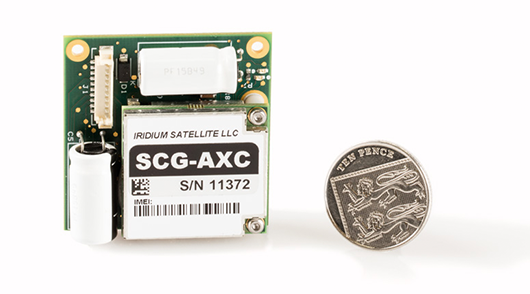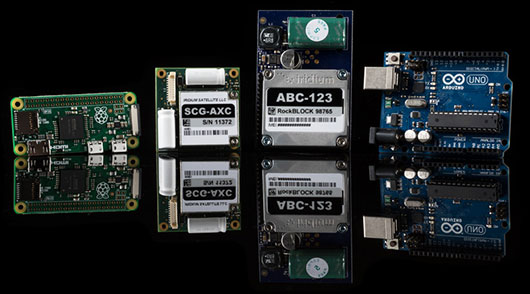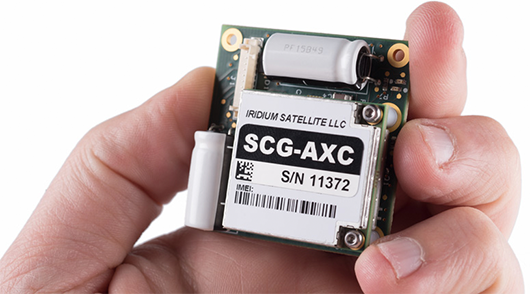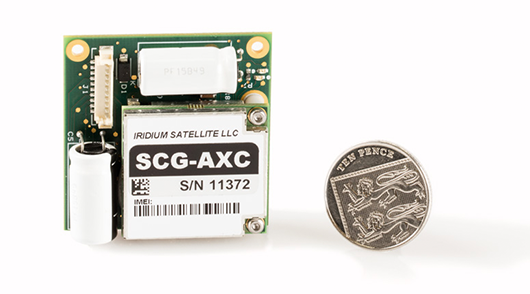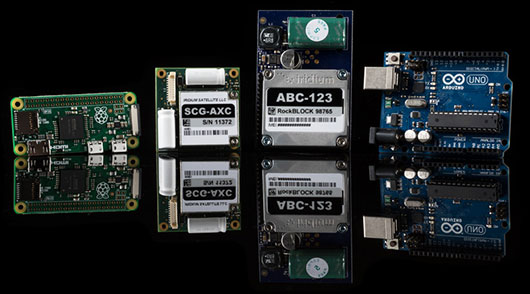 RockBLOCK 9603 Compact Plug-and-Play Satellite Transmitter
The smallest and lightest version in our RockBLOCK family, the RockBLOCK 9603 is targeted primarily at systems integrators and product developers where space inside your enclosure is at a premium.

RockBLOCK can send and receive short messages from anywhere on Earth with a view of the sky. It is compatible with Arduino, Windows, Mac and Linux computers (including Raspberry Pi), and many other platforms with serial or USB ports.
Short Burst Data Service Plans
Key Features
Plug and play satellite communication

Available as a PCB for integration

Full 2-way communication system

Integrated antenna and power conditioning

Optional SMA connector, for external antenna

Powered via direct-header connection

Truly global operation, pole to pole

Data via e-mail or directly to your web-service
Technical Specification
Powered By Direct Header Connector, 5v

Built in Antenna: Yes (or use optional SMA connector for external antenna)

Weight: 36 grams including antenna

Size: 45.0 x 45.0 x 15.0mm

Waterproofing: RockBLOCK 9603 is not waterproof. If you need a waterproof unit, look at the RockBLOCK+

Ideal For Integration into existing devices
Overview
RockBLOCK 9603 is the smaller version of our standard RockBLOCK product. It has the same capabilities, but is specifically designed to be as small and light as possible. The RockBLOCK 9603 is targeted primarily at systems integrators and product developers where space inside your enclosure is at a premium.
It has a small form factor Molex connector to link the serial, power, and signalling lines to your controller. This may be marginally harder to use for hobbyists than the 0.1″ dot pitch header used on the standard RockBLOCK product. At the heart of RockBLOCK 9603 is an Iridium 9603 modem.
The RockBLOCK hosts the 9603 and provides it with an antenna and its power supply requirements. It exposes the modem's serial interface via a breakout connector over serial and also offers an SMA connector for external antenna usage.
FAQs
Unit refuses to give me data using the SBDRT command
If you're using the SBDRT command and the modem appears to 'hang' when you issue the command, it's probably due to flow control configuration. The default state for the RockBLOCK and RockBLOCK+ units has flow control turned 'on' in the modem. When running in 3-wire serial mode, flow control should be turned 'off', which will ensure you get responses to your requests.
Use the command AT&K0 at the start of your command sequence. This turns flow control off and should solve the problem.
How to control the sleep pin
The sleep signal is internally pulled high on the RockBLOCK and RocKBLOCK+ products, so you can leave it disconnected if you want to leave the modem 'awake' all of the time.
To turn 'off' the modem, pull the line to ground.
How does it work?
RockBLOCK uses the Iridium satellite network. Specifically, it uses an Iridium service called 'short burst data' (SBD). There's some official info here. At the heart of RockBLOCK is an Iridium 9602 modem. The RockBLOCK hosts the 9602 and provides it with an antenna and its power supply requirements. It exposes the modem's serial interface via USB (or directly – PCB assembly version only). Full documentation for the 9602 modem can be found here: Iridium 9602 SBD Transceiver Product Developers Guide.
How is it powered?
RockBLOCK takes its power from the direct header connector or alternatively via the optional FTDI/USB adaptor. If you're using the PCB assembly version with a direct header, your host needs to supply a minimum of 100mA @ 5V.
How much data can I send/receive?
340 bytes FROM RockBLOCK.
270 bytes TO RockBLOCK.
How quickly can I send a message?
Testing shows that it generally takes around 20 seconds from power-up to successful transmission, with a perfect view of the sky. With a very restricted view, it may take several minutes.
How frequently can I send a message?
You should be able to complete an Iridium SBD session roughly every 10 seconds, assuming a perfect view of the sky.
Can I connect an external antenna?
Yes. There's a version of the RockBLOCK available with an SMA connector (instead of the built-on antenna) which allows you to attach an external Iridium antenna.
Do you have USB drivers for my XYZ platform?
Almost certainly. If you have purchased the optional FTDI-USB adaptor, you'll need to install the FTDI drivers. You can check on their website (http://www.ftdichip.com/FTDrivers.htm), where you'll find drivers for Linux, Mac, Windows, Android and others.
What about software?
The RockBLOCK appears as a serial interface, and you can talk to it using a simple set of AT commands. It is expected that you'll be able to integrate it into your own software with minimal effort.
Could you give us some sample code to get started?
There is a Node.js library available and an Arduino library which you can get via the developer docs. There's also an excellent Python project for Raspberry Pi, which would make a great starting point for any Raspberry Pi users which can be found here. We're working on publishing some samples for other languages soon.
How do my messages get back to me (on Earth)?
Messages sent from RockBLOCK can either be delivered to your chosen email address or sent to your own web service as a simple HTTP POST. The message data will be hex encoded so there are no character set problems. Full details of our web service are available in the web service guide.
How do I send data to my RockBLOCK?
You can make a simple HTTP POST to our web service. The message is queued on the satellite network almost instantly, ready for RockBLOCK to download (on your command).
Does RockBLOCK get notification of a new message waiting?
Yes, as long as you configure it correctly. Check the 9602 documentation for the 'Ring Alert' feature.
Do I get positions with my messages?
The RockBLOCK does not have a GPS chip inside it. It's envisaged that if you want position reports, you would use an off-the-shelf GPS module with your solution and get position data from that.
However, it's worth noting that with each Iridium transmission we do get an approximate position report. This varies in accuracy from 100km to 1km, and therefore can't be relied upon for accurate tracking, but we do provide this information for you (along with the approximate accuracy, 'CEP' in km) with your messages. If you're looking for a dedicated tracking satellite tracking device, you might want to consider our RockSTAR, RockFLEET, or RockAIR products.
If I have a whole set of RockBLOCKs, how does billing work?
Our billing is flexible, and allows you to pay only when you're using your devices. Line rental is sold in one-month blocks and credits are bought in packs. If you have several RockBLOCKs, credits are shared from a credit pool amongst all your devices. You don't need to buy separate packs of credits for each device. Similarly, if only some of your devices are being used at any one time, you don't need to pay for line rental on those which aren't in use.
Do you guys know what you're doing?
Yes. Ground Control has been an Iridium Partner since 2008. We've been developing all sorts of products, but most famously we're the people behind YB Tracking.