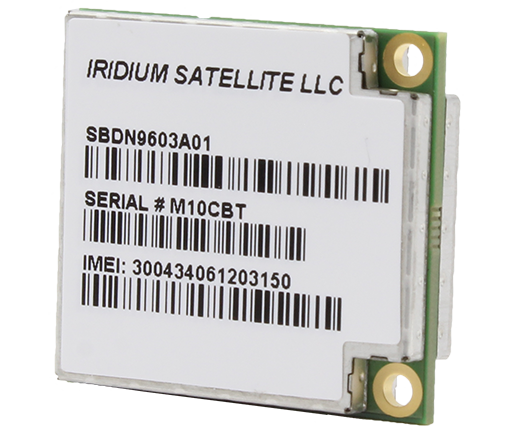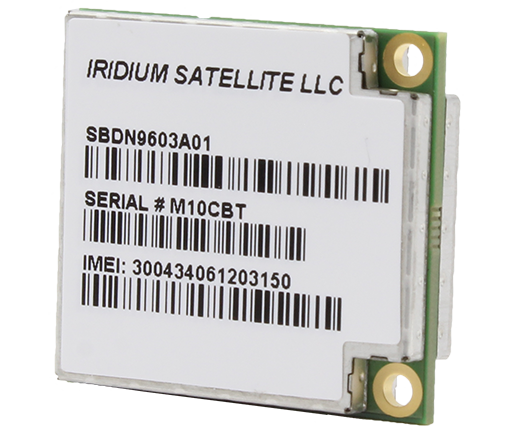 Iridium 9603N Transceiver
With the smallest form factor of any commercial satellite transceiver available today, the Iridium 9603 is ideal for space-constrained applications including monitoring, tracking and alarm systems.

One-fourth the volume and half the footprint of its predecessor, the Iridium 9602, the Iridium 9603 combines the global coverage of the Iridium satellite constellation with the low latency of the Iridium Short Burst Data service to provide highly reliable satellite communications from pole to pole.
SBD Service Plans
Key Features
Ideal for M2M Applications

Small form factor, low power requirements

Can provide/suggest SBD equipment, or provide airtime for existing equipment; we're Iridium SBD specialists and here to help

Truly global operation, using the Iridium satellite network

Single-board transceiver

Single header connector for power, on/off control, logical level asynchronous UART control and network availability

Simple AT command interface

SIM-less operation

Automatic notification that mobile-terminated messages are queued

Low, uniform global latency (less than one minute)

Supports Short Burst Data (SBD) capability; does not support voice, circuit switched data, or short message service (SMS)
Technical Specification
Dimensions (LxWxH): 31.5mm x 29.6mm x 8.1mm

Weight: 11.4g (0.025 lb)

Operating Temperature Range: -30C to + 70C | Operating Humidity Range: < 75% RH

Storage Temperature Range: -40C to +85C | Storage Humidity Range: < 93% RH

Frequency Range: 1616 to 1626.5 Mhz

Duplexing Method: TDD (Time Domain Duplex)

Input / Output Impedance: 50Ω

Multiplexing Method: TDMA / FDMA

VSWR Return Loss: 1.5:1 In Iridium Band, 3:1 Out of Band

Supply Input Voltage Range: 5.0V +/- .2V DC

Supply Input Voltage Ripple: <40mV pp

Idle Current: 45 mA (average) | 195 mA (peak)

Transmit Current: 190 mA (average) | 1.5 A (peak)

Receive Current: 45 mA (average) | 195 mA (peak)

SBD Message Transfer: average current - 190 mA | average power: <= 1.0 W
Applications of the Iridium 9603N Transceiver
When you send or receive small packets of data (hundreds of bytes) in difficult geographic areas, Iridium SBD may solve your problem. It uses the Iridium satellite network, which has truly global coverage, and provides a vital means of communication for M2M applications.
It is ideal for remote weather stations, ocean drifters and buoys, monitoring of oil pipelines, controlling and reporting on equipment in the middle of nowhere. For basic telemetry and command/control applications where mobile signals don't go, it's ideal.
Iridium SBD is designed to move small packets of data, a few hundred bytes, from the middle of nowhere. If you're looking to send photos, videos or large files, Iridium SBD is not for you!
We are SBD specialists. Whether you have existing Iridium equipment you're looking to get airtime for, or you need help and advice on the best way to solve your particular problem, we're here to help. Get in touch today – we're friendly, knowledgeable, and we won't baffle you with technology.