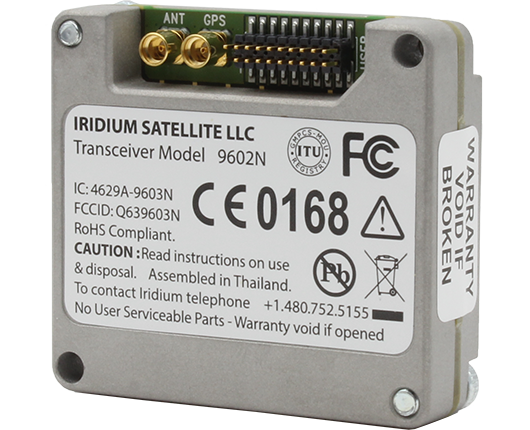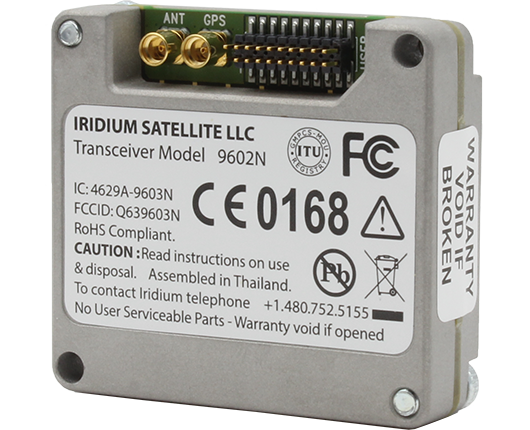 Iridium 9602N Transceiver
The Iridium 9602 is the next-generation SBD Transceiver from Iridium. Designed for integration into complete wireless solutions, it provides the critical global data communications necessary for today's global solutions.

The small size, low-cost and ease of integration make the Iridium 9602 ideal for Machine-to-Machine (M2M) solutions such as automatic vehicle location, asset monitoring, marine and personal tracking applications.
Key Features
Designed to exclusively support Iridium's Short Burst Data Service

Very small form factor offers unmatched flexibility

GPS module antenna feed for shared antenna applications

RoHs compliant

Single header connector for power, on/off control, logical level asynchronous Uart Control and network availability

XXMC connector for small omni-directional L-Band antennas

Simple AT command interface

Pole-to-pole global coverage

Low, uniform global latency: less than one minute
Technical Specification
Dimensions (LxWxH): 41.0mm x 45.0mm x 13.0mm

Weight: 30.0g (0.066 lb)

Operating Temperature Range: -40C to + 85C | Operating Humidity Range: < 75% RH

Storage Temperature Range: -40C to +85C | Storage Humidity Range: < 93% RH

Frequency Range: 1616 to 1626.5 Mhz

Duplexing Method: TDD (Time Domain Duplex)

Input / Output Impedance: 50Ω

Multiplexing Method: TDMA / FDMA

Idle Current: 45 mA (average) | 195 mA (peak)

Transmit Current: 190 mA (average) | 1.5 A (peak)

Receive Current: 45 mA (average) | 195 mA (peak)

SBD Message Transfer: average current - 190 mA | average power: <= 1.0 W