Tracking, Monitoring and Communications for Logistics
In addition to continuous tracking and two-way communication capabilities, Ground Control also supports data transmission from various fleet sensors. By processing data related to location, motion, temperature, speed, and fuel consumption, logistics companies can plot the most fuel-efficient and safe routes and provide better customer service. As connectivity is a critical element of this process, the reliability, ruggedness and interoperability of the devices used is key.
Meet RockDASH
The RockDASH tracker is designed for carry-on carry-off use in vans, trucks, trains and other land-based fleet vehicles, and has an optional LTE Narrowband unit. This allows the use of terrestrial mobile phone networks when possible, automatically switching to the global Iridium satellite network when these are unavailable, for a truly cost-effective solution.
With 5 switch inputs for connection to on-board sensors, it's easy to capture data on vibration, temperature and pressure, enabling predictive maintenance and powering vehicle management systems.
View Product Detail
"We wanted to offer our customers a choice of hardware for their tracking and communication needs, and chose to integrate with Ground Control because of their justified reputation for reliability, and the ease of integration with our software. They make it very easy for us to work with them, and in turn, our customers get a very competitively priced and powerful fleet tracking and communication solution."
Kylan Diprose, Director Track your Drivers with Cloudloop Tracking
Our devices, including the RockDASH, are integrated with our Cloudloop subscription, device and data management platform. With easy to use APIs, partners and customers also have the option to integrate this data directly into their ecosystem. Meaning other services such as traffic and weather patterns can be layered over the data supplied, for an enriched view of fleet operations.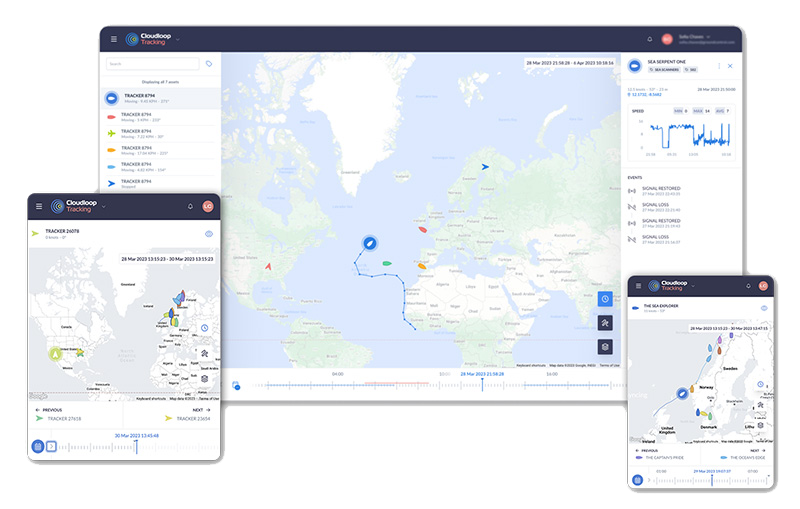 Part of this rich feature set is an online map-based interface which shows you the current and historical locations of your fleet. Cloudloop Tracking delivers vital insights into the whereabouts of your assets, wherever they go, based on hyper-accurate GPS readings from your Ground Control tracking device.

FEATURE OVERVIEW
Historical position reporting
Real-time asset monitoring
Speed monitoring and event tracking
Instant notification when the alert button is used
Map-based interface
EXPLORE CLOUDLOOP TRACKING
Other Satellite-Enabled Tracking Devices
Lightweight and easy to deploy, the Explorer 323 has been designed to be instantly attached onto any vehicle roof using the optional mag-mount rubberized feet and powered from a standard 12v/24v vehicle power port. Asset tracking over the BGAN M2M network with internet speeds of up to 384Kbps.

The RockFLEET benefits from the same global tracking and communication capabilities as the RockDASH but has been designed for permanent installation. Vital handheld safety device, the RockSTAR has an astonishingly long battery life, giving peace of mind to drivers and fleet managers, irrespective of location.
Need help finding the right product?
That's what we're here for. With offices in the UK and US, and over 20 years' experience delivering satellite and cellular connectivity, we can help you make the right choice for your requirements and budget.

Simply complete the form and we'll respond with objective, expert advice.