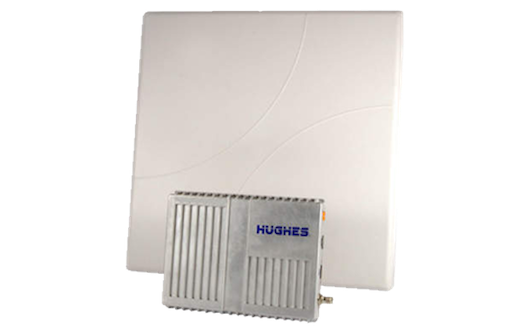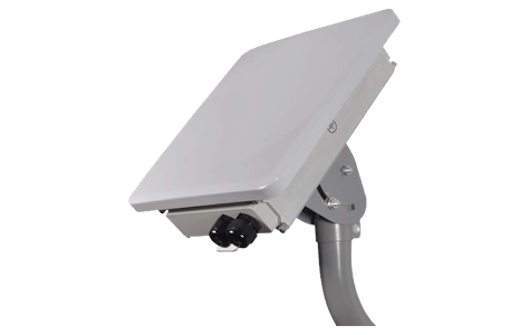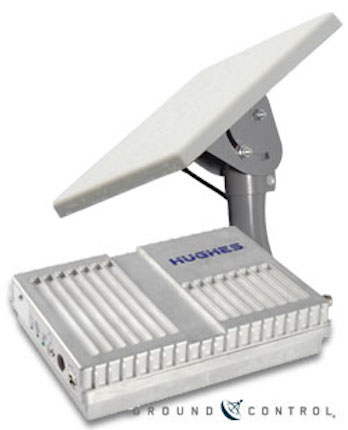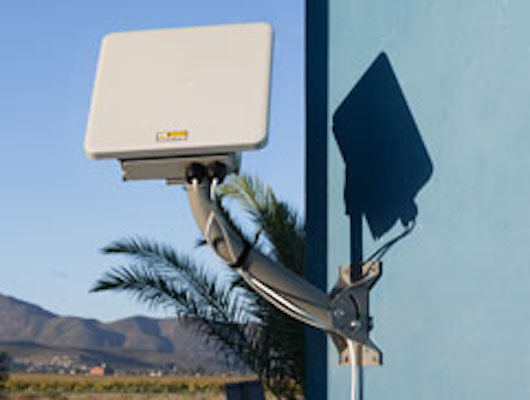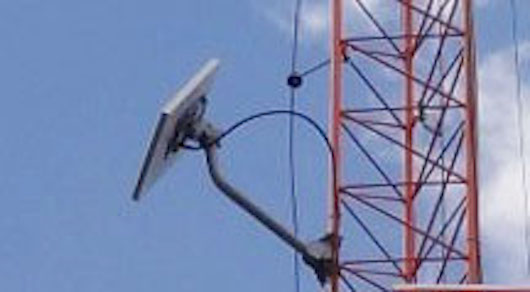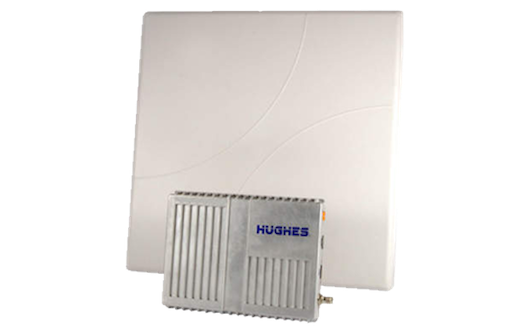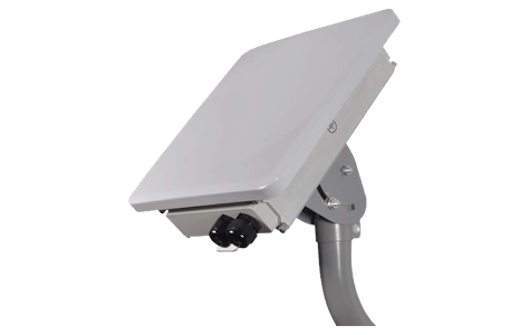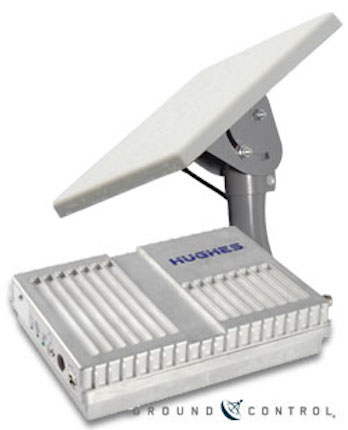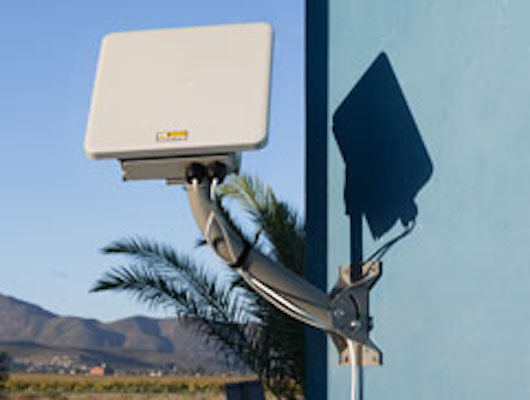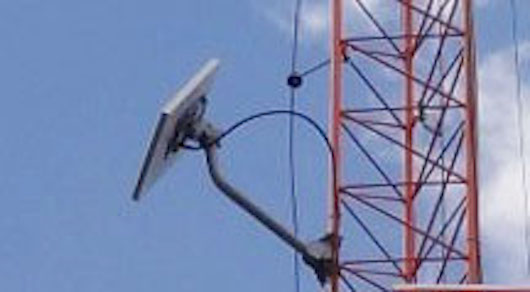 Hughes 9502 Range
BGAN M2M Satellite Terminal

The Hughes 9502 IP satellite terminal provides reliable connectivity over the Inmarsat BGAN network for IP SCADA and machine-to-machine (M2M) applications.

The device is offered in one-piece or two-piece form factors as well as a variant compliant for operation in Hazardous environments.
BGAN Service Plans
Key Features
Easy to Install

Service using Inmarsat BGAN or BGAN M2M provided by Ground Control

Ultra-low power consumption

Integrated IP Watchdog to ensure "always-on" network connectivity

Remote control via SMS

Supports multiple network modes: NAT, Relay, NAPT & PPoE
Technical Specification
Two-Piece Indoor: 150 x 200 x 45 mm, 1.2 Kg (2.64 lbs)

Two-Piece Antenna: 385 x 385 x 33 mm, 1.9 Kg (4.18 lbs)

One-Piece: 275 x 275 x 84 mm, 3.8 Kg (8.4 lbs)

Operating Temperature: -40° C to +75° C

Storage Temperature: -55° C to +75° C

Humidity: 95% RH at +40° C

Antenna Wind Loading: Survival wind loading (with optional mount) up to 100 mph

Environmental: One-Piece: IP66, Two-Piece: (IDU) IP40, (Antenna) IP65

Power: +12 Vdc/+24 Vdc nominal
Hughes 9502 Overview
The 9502 terminal delivers affordable, global, end-to-end IP data connectivity enabling applications in industry sectors such as environmental monitoring, SmartGrid, pipeline monitoring, compressor monitoring, well site automation, video surveillance, and out-of-band management to primary site communications.
The exceptional low power consumption (1W idle) of the Hughes 9502 makes it possible to provide end-to-end IP connectivity to sites that are off the grid. This breakthrough provides end-to-end IP connectivity to power-challenged locations that rely upon solar- battery arrays involving sensitive power budgets.
Antenna Positioning Flexibility
The Hughes 9502 includes 10 meters of RF cabling, granting the user freedom to position the antenna remotely and away from the transceiver in complex installations while securing the SIM card inside a premise or enclosure to better protect against unauthorized use, theft, and vandalism.
The One-Piece 9502 is also identical in service performance to the two-piece 9502, even though it has a smaller antenna. Both systems are class 2 BGAN terminals. Only a 12-volt power cable and an Ethernet cable are needed for the cable run to this device. Exterior-rated Ethernet cables are rated for 328 foot (100 meter) cable runs.
The Hughes 9502 includes the One-Piece terminal, a padlockable security bar that keeps the enclosure caps from being removed, and four mounting bolts. We recommend the mounting bracket when purchasing the One-Piece 9502.
Hughes 9502 Photos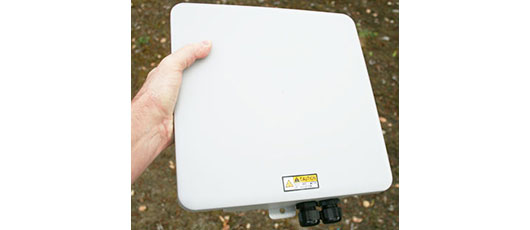 Hughes 9502
No Enclosure Needed for One Piece
The Hughes 9502 One-Piece BGAN Terminal is excellent for locations that may not have an enclosure for remote equipment. (The Hughes 9502 standard system requires an enclosure).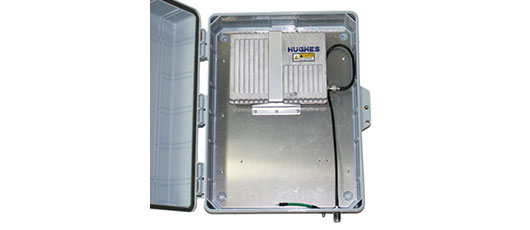 Hughes 9502
Sealed, NEMA Rated Enclosure for Two Piece
Ground Control also offers a sealed enclosure specifically designed for the 9502. This enclosure is all weather NEMA rated.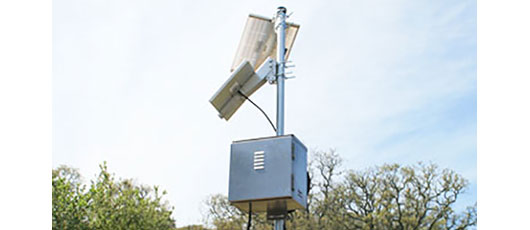 Hughes 9502
Enables Solar Solutions
Since the 9502 can use less than .1 watt of power (in hibernation mode, 4 watts in 24 x 7 mode), small solar solution like the one above can be designed and used.
Hughes 9502
Type N Connection
The Type N connection on the back of the 9502 antenna. Note the 4 bolts on the back of the antenna are identical. In the picture above, are 2 black rubber caps over 2 of the protruding bolts.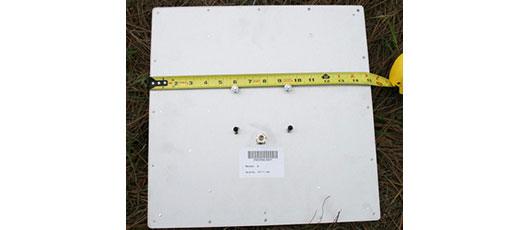 Hughes 9502
Antenna Dimensions
You may purchase our mounting bracket, or customizes your own to secure the antenna. There are 4 identical bolts protruding 17mm from the back of the antenna with 4 securing locking nuts. Dimensions of the 4 bolts are 70mm W x 90mm H on center. Bolt hole size in custom bracket should be 3/8th" or 1cm.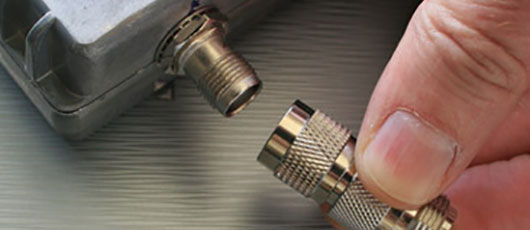 Hughes 9502
Connector for 9502
A Type-N to TNC adapter is included for the 9502 antenna port. The 10m cable has Type N connectors at both ends.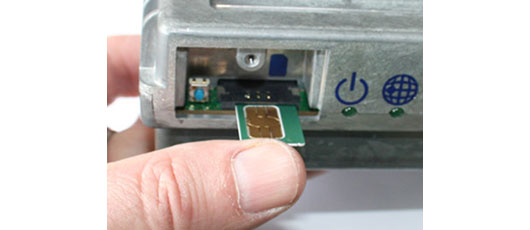 Hughes 9502
Installing BGAN M2M SIM Card
Installing the BGAN M2M Sim Card into the 9502. The 9502 terminal uses specialized BGAN M2M service (via BGAN M2M Sim Card), that will NOT work when installed in other BGAN terminals.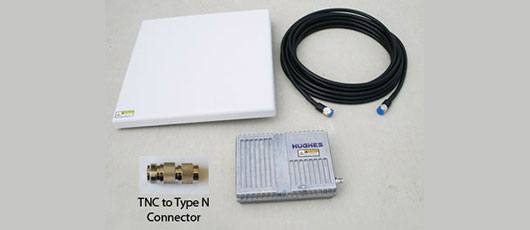 Hughes 9502
Four Component Parts
The four components that make up the 9502 BGAN solution... The L-band antenna, 10 meters of RF cable (Type N connection at both ends) the 9502 BGAN terminal, and a TNC to Type N connector.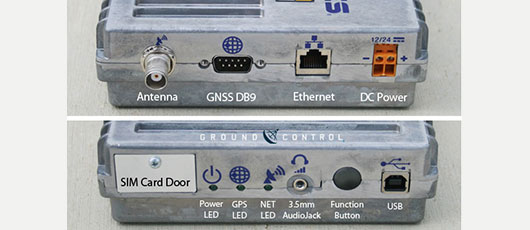 Hughes 9502
Side View of Terminal
The 9502 uses special M2M BGAN service that charges between 1 to 2 cents per Kilobyte! Excellent for small packet communication. And BGAN M2M service does NOT bill for overhead data related to establishing (or reestablishing) a connection to the High-Speed satellite network. This is a great deal for remote device control.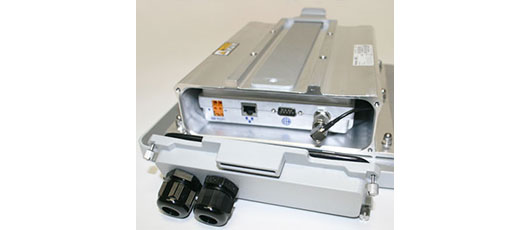 Hughes 9502
Milled Aluminum Case
The One-Piece places the Hughes 9502 terminal inside of a milled aluminum case two caps on both ends. Removing the caps requires only a screwdriver with the four screw-bolts. (These caps are lockable using the locking bar/plate (shown on top).