Monitor. Maintain. Troubleshoot.
Reduce operational costs and improve the performance of managing remote satellite communications assets through a direct connection to device status information and management tools.
With Cloudloop Device Manager, IoT / M2M customers can remotely access, diagnose and manage the functionality of hard-to-reach devices via an easy to navigate web user interface.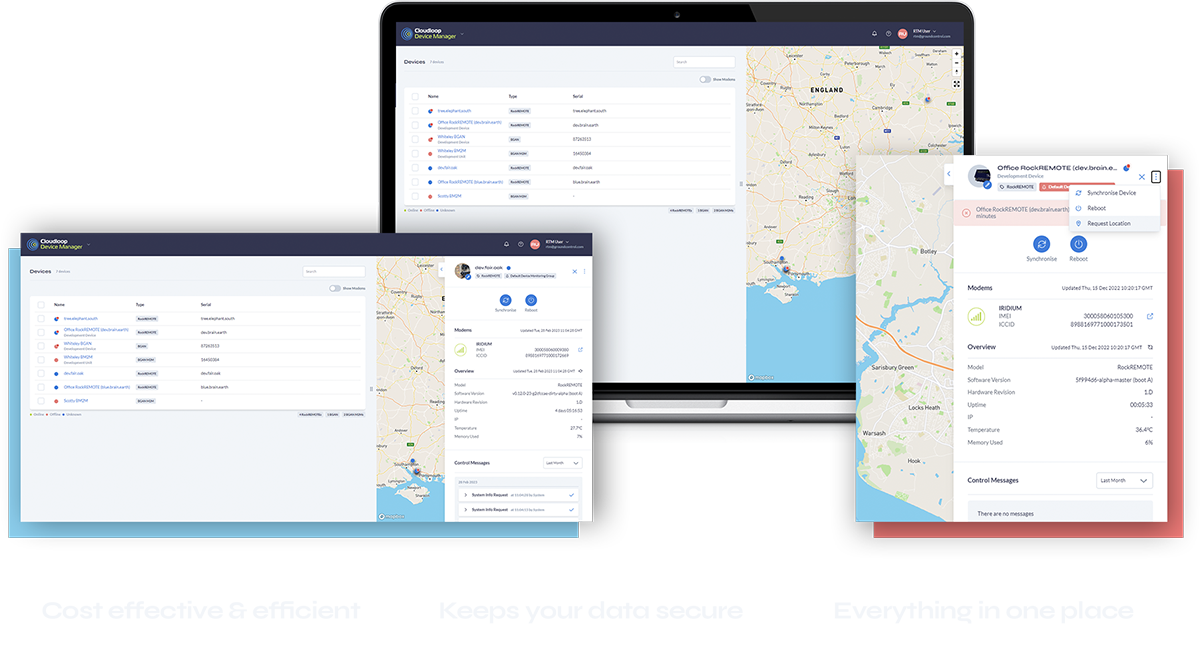 Cloudloop Device Manager's key features
Monitor the health status of your remote device(s) and get up-to-date device information
Create custom device connection alerts and notifications
Access service and system logs to enable remote troubleshooting
Initiate basic command functions
Complete Over The Air (OTA) software updates.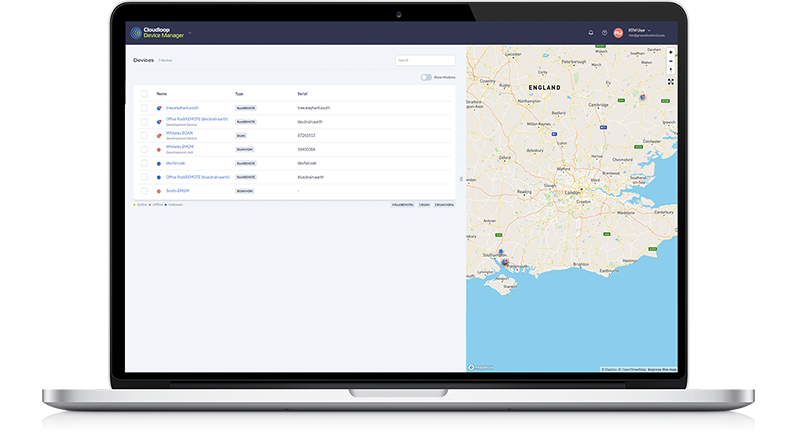 Securing your data
Combined with the Ground Control Delivery Network, CDM provides a truly secure connection to devices, segregating communications data from device information while providing unparalleled insight into deployed devices.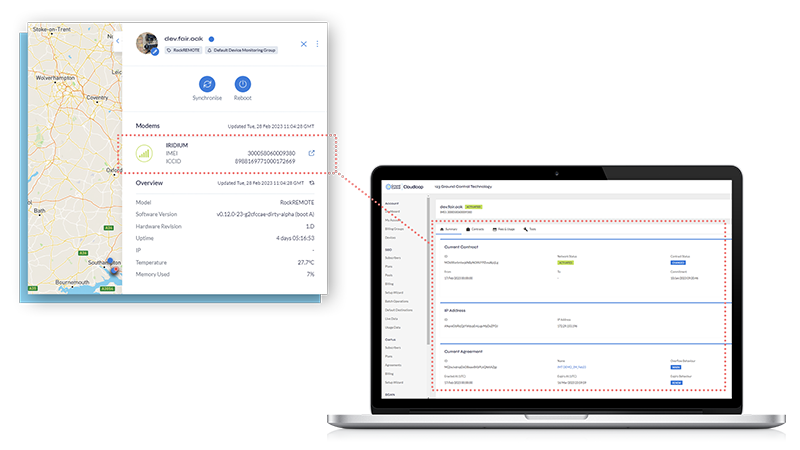 Closely integrated with the Cloudloop suite
Part of the Cloudloop services suite, Device Manager combines device and subscription data to provide a rich view of remote devices without needing to send an engineer on-site. Click-through from each device to:
Manage the activation, deactivation, and suspension of your devices
View real time and historical usage data
View and manage billing of your services
Create custom alerts for usage and expenditure
Monitor your communications in real time.
Cloudloop Subscription Management
Devices that can be managed in CDM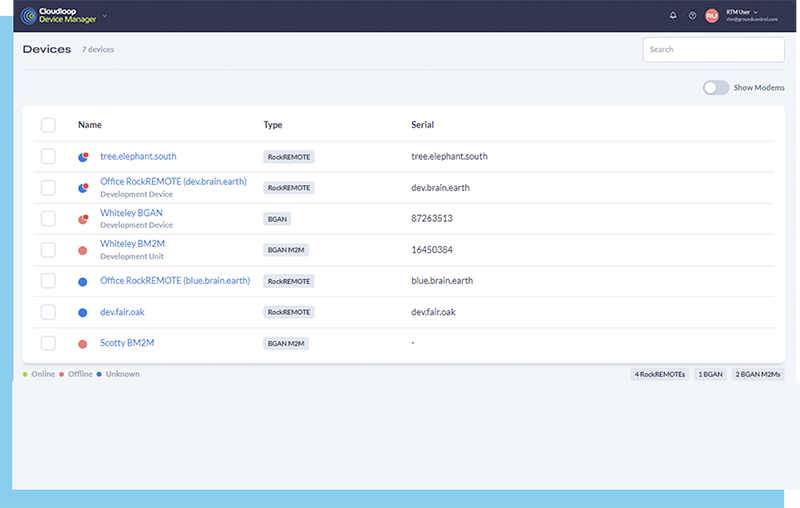 Frequently asked questions about CDM
What connection methods are available?
CDM utilizes Out-of-band connectivity to provide a reliable, secure, and separate communication channel that allows administrators to remotely manage or troubleshoot devices.
How does Out of Band Management help with operational costs?
Where available, communication with your remote devices uses a communications channel which is separated from the main data communications stream, often providing a lower cost method of communication for device status information. This is referred to as out-of-band connectivity.
For BGAN and BGAN M2M, SMS is utilized for this purpose which transmits short commands to the device initiated from the CDM user interface. These are then actioned and responded to by the device.
For Certus 100 and RockREMOTE, the Iridium IMT service is used for this purpose, providing an efficient communication mechanism for device status data.
Can IP Communication be used in CDM?
Where there is a need for greater data capacity or an out of band mechanism is not available, communication over the primary IP connection can be used for CDM data.
This will be used in scenarios such as remote software updates when connecting directly to the BGAN device web user interface.
Can I set up monitoring and alerts?
Yes. By setting device connection alerts and notifications, you'll improve your visibility of problem devices.
CDM Monitoring and Alert functionality enables rapid identification of potential device issues visualized on a map based view and via Cloudloop user alerts.
Devices can be monitored individually or added to a monitoring group, with last-seen time thresholds set based on when devices last transmitted data over the satellite network.
Get a demo of Cloudloop Device Manager
Satellite IoT often means devices are in remote, hard to reach locations (otherwise you'd probably be using cellular or fiber connectivity!), which can present challenges if you need to reboot your device or perform diagnostics. CDM was built to manage these tasks, and more, removing the need to send an engineer on site.

If you'd like to learn more about CDM, complete the form, or call / email us and one of our team will be happy to take you through a demo of the key features.