Many UK businesses still heavily depend on copper wire-based services to collect data and communicate with remote sites. These hardwired connections have offered reliability and resilience for decades. However, the cost of operating and maintaining outdated copper wire-based analogue services is high, and the limited bandwidth and speeds no longer meet customer expectations. BT Openreach, who own and manage these lines, have therefore called an end to analogue based services. The PSTN network will be switched off in December 2025.
The decision to switch off PSTN creates a necessity for organizational change and large-­scale investment. The switch off provides an ideal opportunity for digital transformation, and the removal of existing legacy systems. Businesses are also changing. Organizations are merging Operational Technology (OT) with IT services, drawing the worlds of physical infrastructure and data management closer together. Further, expansion into process control and automation, and data sharing across an organization, creates efficiencies through optimization and greater visibility.
Fibre optic cable as a PSTN solution
Openreach is focused on fibre optic cable as the solution for replacing PSTN. It's cheaper and more resilient as a product and it offers faster speeds and greater bandwidth to carry more data. The area around an exchange and its network infrastructure which can use fibre, is known as a 'fibre footprint'. The size of the footprint may be due to economics or physics, but the real communication challenge for PSTN switch off lies outside the footprint.
Utilities providers can pay for a fibre connection to be added to remote sites, and this is a good choice if applications will benefit from 20 times more bandwidth and higher speeds of up to a gigabit per second. However, millions of active PSTN lines at remote sites won't benefit, and increased sophistication of cyber threats and the prohibitive economic cost of digging fibre to remote locations means a different approach is required.
Satellite communication as a PSTN solution
Several satellite communication services offer secure solutions with varying bandwidth and speeds at viable pricing. What's more, satellite services go one step further and provide more than an like for like replacement for remote sites with no coverage. Satellite also offers cyber security and resilience at critical locations, even where there is cellular coverage. Implementing built ­in satellite and cellular communication paths reduces the risks posed by the switch off PSTN lines.
BT Openreach findings
The number and variability in locations, applications and data requirements, means the PSTN replacement will be a mix of solutions. With 16 million lines and channels to manage, most replacements will be simple, straightforward swaps to cellular or fibre. The distance from the exchange and the data volumes are key questions. Certain lines will be better served by fibre connections and some will be more easily replaced by a cellular solution. This leaves an estimated 10% of sites too far from the exchange to be serviced by fibre or broadband over copper, with many of these also requiring more resilience than cellular coverage offers.
RockREMOTE as a satellite-based solution
The potential loss of connection and data transfer from assets can carry heavy penalties, both monetary and reputation damage. The challenge of converting traditional lines into digital communications without such loss can be resolved effectively by adopting the new RockREMOTE technology. The unit, with its hybrid LTE / Iridium Certus connectivity, facilitates data transfer from and to anywhere – only solar power is required to run the RockREMOTE continuously and without loss of connectivity.
With RS232 and RS485 built in, supporting serial to IP migration for telemetry devices, RockREMOTE has a full Linux OS, and even has storage allowing users to move closer to the benefits of edge computing-based processing.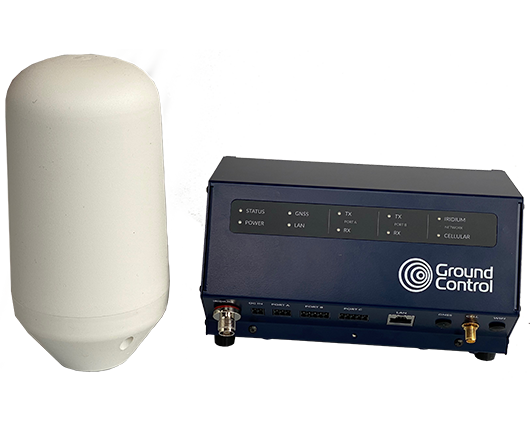 Key Features:
RockREMOTE reaches where other solutions can't – cellular doesn't always provide reliable connectivity in remote areas and there is a lack of capacity in rural locations. Also, this will likely get worse with the sunsetting of 2G/3G over the next few years
Provides backup comms – some sites are connectivity-critical and require backup comms when all else (namely cellular or fibre) fails
More cost-effective than fibre – fibre solutions remain costly and difficult to implement, especially if channelling to and installing in remote locations
Requires only solar – it is not uncommon for sites to be powered entirely by renewable energies. RockREMOTE can run purely through solar and does not require a generator or other power source, making it both energy- and cost-efficient.
Final Thoughts…
Understanding the practical business requirements for data transmission from remote sites and then designing a matrix of viable options is undoubtedly a major project. For non-essential applications in areas of good coverage, cellular will always, and appropriately, be considered the easy win.
Utility companies who count PSTN lines in their thousands need to make a start­ swapping to robust and secure digital IP-based communication technologies. Technologies that allow organizations to securely extend IT infrastructure to every remote corner of their operations, create complete visibility of assets, and allow process control. Satellite technologies also offer proven cyber-secure scalable communications. RockREMOTE is therefore ideal for industrial use cases where sites are remote and satellite communication is the only sensible PSTN switch off solution.
Video guide
The below webinar has also been put together as a handy guide for using satellite communication as your PSTN replacement: