Nobody questions the value of data extracted from oil well sites. From exploration to flowback testing, and drilling to recovery, there is both routine and failure data to be captured, stored, shared and analyzed.
In many cases, this data is out of reach of terrestrial communication networks, giving production companies two choices: send someone to retrieve the data, or set up a satellite communications network.
In this blog post we're comparing the pros and cons of both options. Full disclosure: we believe satellite connectivity is the more scalable, cost-effective and safe approach, but we'll be as objective as a satellite communications company can be!
Field Engineer vs. BGAN machine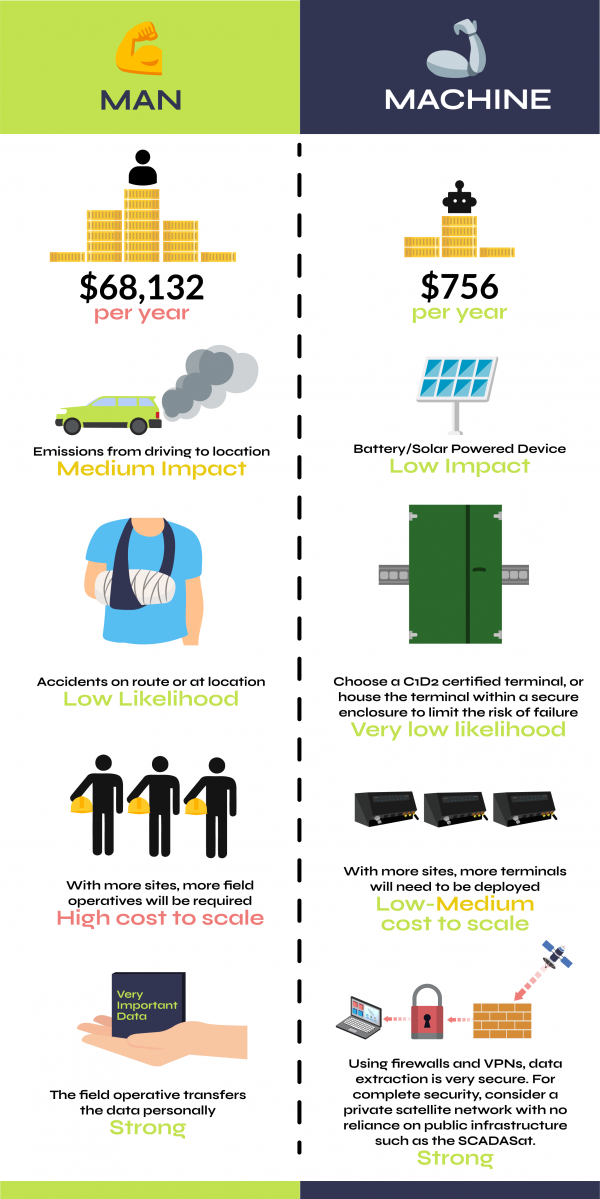 Here's a full breakdown of the relative costs of operation
An experienced Field Engineer costs on average $68,132 per year. Plus expenses and other benefits including company vehicles and overtime charge out rates.
The cost of operating a BGAN satellite connectivity terminal can be as little as $63 per month for up to 20MB – a saving of $68,069 annually and $680,690 over the typical 10 years lifetime of a BGAN terminal.
Gas is an ever-increasing expense and the cost of fuel has increased around the world. The average Field Engineer will travel on average 25,000 miles per year. With the average gas price currently $3.34, this amounts to almost $3,500 in fuel costs alone; with insurance and taxable miles on top, and of course chargeable time.
Time is money. Onsite maintenance of traditional connectivity devices can take several hours to service – with on-site visits taking place on average once per week. Even then, there is no guarantee of the issues being resolved without further callbacks. Installation of a BGAN device mitigates the need for on-site Engineers. With a reliable uptime of 99.9%, BGAN requires minimal servicing, maintenance or ongoing equipment checks.
A single weekly call-out based on the average Field Engineer's salary is a day rate of $272.52. With expenses, it is likely to be around $500, each time the system fails and on the basis that the fault can be rectified the same day. BGAN is highly reliable – even when installed in the most remote locations. Installation of one BGAN satellite connectivity device across the oil well network of ten pumps could save tens of thousands of dollars each year.
Servicing, ongoing maintenance and fault checking is costly work. In addition, equipment required to measure and transmit data from oil well sites often costs hundreds, if not thousands, of dollars per month. Installation of a BGAN satellite connectivity device mitigates these costs completely. Reporting on exception, the costs to transmit and measure data are as little as $2 a day.
BGAN satellite connectivity devices are incredibly cost-efficient. The typical hardware and airtime requirements for a remote oil site are just $2 a day, or $756 per year. Compared with the average cost of a Field Engineer, the savings to your business are in excess of $67,376 every, single, year.
Want to know how you can reduce your call out costs?
We're a preferred Iridium and Inmarsat partner and can help you to reduce your daily, annual and ongoing connectivity costs. It's what we do best and we're always here to help. Email us on sales@groundcontrol.com or call:
UK and RoW +44 (0) 1452 751940 USA +1.805.783.4600