It's a challenging time to be a Utility provider. Where once there was predictability, there is now uncertainty.
Consider the climate: temperatures are rising, which places greater strain on the grid as people seek to cool their homes and premises down. Further, extreme weather events are increasing, impacting power lines and towers, and the communication networks that help Utility companies find and identify the issue.
There's also the growing threat around cyber security. In fact, 44% of respondents to our recent survey of US homeowners said that they considered hackers to present a threat to their Utilities supply.
Related to this is the challenge of ageing infrastructure. With the retirement of 2G and 3G networks impacting telemetry and control, Utilities providers need to explore new means of securely collecting data for their SCADA systems.
Ultimately, all three challenges pivot around reliable and secure data collection.
Data is the key to operational success in Utilities
The key to operational success in Utilities is to collect accurate, real-time data from infrastructure and assets, at every point in the supply chain – from networks to plants, treatment environments to customers.
Armed with better data, utilities companies can more effectively model the impact of extreme weather events, and plan accordingly. They can measure wind speeds and water levels at wind farms and hydro-electric facilities in real-time, knowing when the conditions are right to increase renewable energy production. They can determine when remote facilities are working optimally, and when they are not, and in some instances, they can even resolve the problem through remote commands, without having to send an engineer onsite.
However, the number and severity of cyber threats to utility companies continues to grow exponentially as the world becomes increasingly connected. According to research firm Gartner, in 2020, there were 20.4 billion internet-connected devices, with approximately 37 percent of these being used outside consumer settings—including large numbers dedicated to infrastructure monitoring and control.
What cyber security threats are utility and renewable companies facing?
For Utilities and Renewables, the remote site environments and silo operation sites are a tempting prospect for cyber attacks. McKinsey reports that both geographic distance and organisational complexity make the utility industry vulnerable. Indeed, there's potential threat impact across the whole value chain: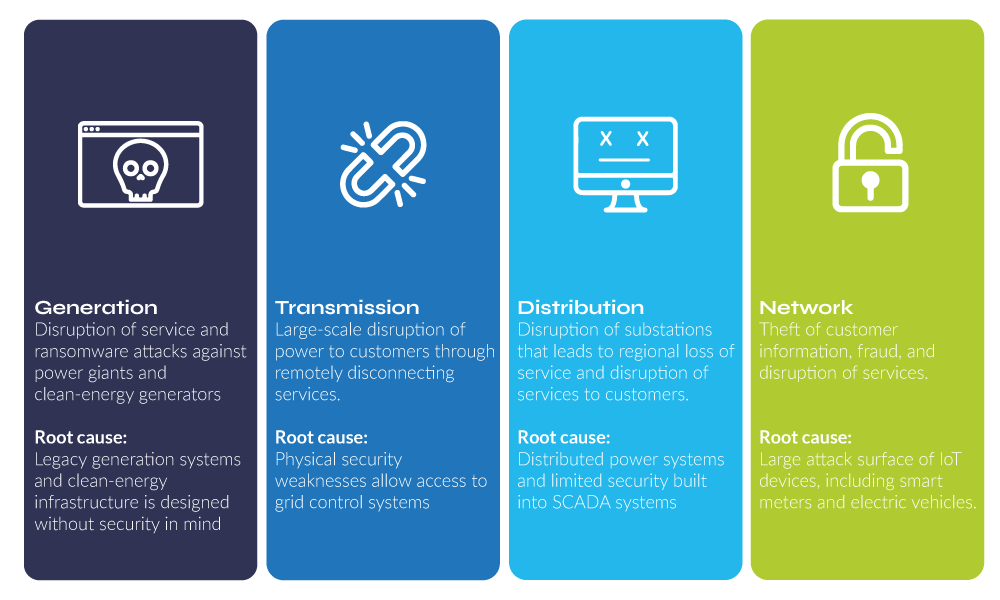 However, the cyber threats to electric-power and gas security are not too great to overcome. McKinsey advises that a structured approach that 'applies communication, organisational and process frameworks along with technical improvements in a few areas, can significantly reduce cyber-related risks for utilities.'
The adoption of secure and reliable remote connectivity services can provide an effective barrier and line of defence in the event of a cyber threat or attack.

Our latest ebook explores the challenges facing Utilities companies, but quickly turns to the connectivity options available to mitigate the risks of cyber attacks and ageing infrastructure.
Ground Control works with utilities and renewable energy companies around the world, and together we have devised strategies that provide robust, reliable and secure data transmissions, balancing the value of the data with the cost of retrieval.
If you'd like to find out more about our work with Utilities companies, get in touch today.