The Toughsat Auto Deploy Antenna is already established as a reliable, robust mobile satellite system – and we're pleased to announce that we have secured an even more robust and cost-effective connectivity solution to accompany this. In addition to our Dual Matrix satellite service, we are now able to offer Ground Control customers an enhanced connectivity service via The Dejero GateWay. Utilizing Smart Blending Technology, the new service seamlessly blends multiple cellular and satellite networks into one pipe, resulting in better cost management and often, faster download speeds.
Used to facilitate phone and internet, in any location, our SAFECOM-compliant Toughsat series has proved particularly popular among First Responders, those with off-grid operations and for the purposes of disaster recovery.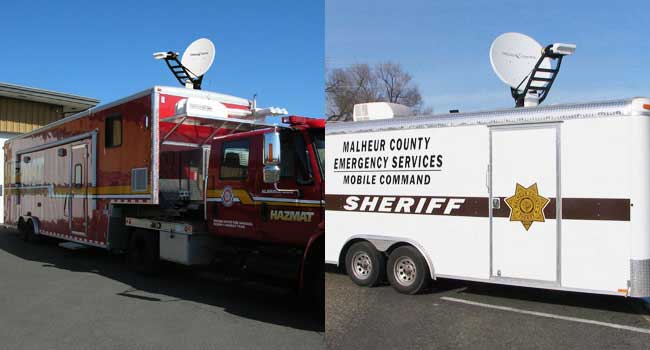 As the world continues to become more interconnected and mobile,organizations and companies are increasingly turning to cloud-based solutions to support operations. In addition, many have become reliant upon autonomous data transmission, to drive and maintain operational efficiencies. For both, reliable connectivity is key. And for many, this connectivity is mission critical.
The Dejero Gateway
In simple terms, The Dejero GateWay is a certified, network aggregation device that uses Smart Blending Technology. We have been strengthening our Cell/Sat service across North America, and this enhanced cellular/satellite hybrid is now available to our Toughsat customers.
What is Smart Blending Technology?
Dejero explains, we "simultaneously blend together multiple wired (broadband, fiber) and wireless (3G/4G/5G, Wi-Fi, satellite) IP connections from multiple providers to form a virtual Dejero 'network of networks'.
We dynamically and intelligently manage the fluctuating bandwidth, packet loss, and latency differences of individual connections in real-time."
How does this help Ground Control customers?
We understand our customers require ubiquitous, powerful connectivity, under all circumstances. Especially in the case of First Responders, where real-time information is required to deliver situational awareness to both command center and teams on the ground. Many use cases also call for video streaming, which can prove challenging depending on the required bandwidth and speed of connection available.
With this new service, we can offer our customers ubiquitous, powerful connectivity, utilizing more cellular networks, meaning better cost management. And in some cases, as multiple cellular networks are simultaneously combined to deliver one robust connection, increased speeds. We recently ran our own tests utilizing our Toughsat XP and The Dejero Gateway, and saw download speeds over 180Mbps.
As an example, with a Dejero M6E6 GateWay device, we would provide SIMs on Verizon, AT&T and T-Mobiles networks (2 SIMs on each) and the Toughsat would use a Cat-5 to plug into the External WAN port on the Dejero. Any cellular and satellite service that the device can see would be blended/bonded together to deliver one usable, more robust internet connection. For instance, if the cellular networks seen, totalled 100x10Mbps, and the satellite was receiving 20x5Mbps, you would achieve speeds of 120x15Mbps.
What's more, as the service plans assume some usage is going to be over cellular, after the hardware, airtime plans could drop by up to 30% over standard usage services.
At Ground Control, we have always aimed to optimize our customer's connectivity, so data always gets through, and in the most cost-effective way. We are genuinely excited to see what this new service can provide for our customers.
Our complete systems are trusted by hundreds of Urban Search and Rescue agencies, State, County and City Law Enforcement and Fire Departments throughout the United States.

If you would like any further information, on our products or available airtime services, simply get in touch with our expert team at sales@groundcontrol.com.