Dependable and robust comms with a small antenna
We're big fans of the Thales MissionLINK 200 for its versatility. It delivers basic internet use via WiFi or RJ-45 cable and has two RJ-14 ports for independent phone lines. The antenna is highly lightweight and compact, ideal for use on the move. Plus, the solution has relatively low power requirements, making it suitable for tracking applications.
MissionLINK 200 uses the Iridium Certus 200 service, via 66 satellites in Low Earth Orbit (LEO), providing 100% global coverage, including the polar regions. it's ideal for field workforce management for fleets, remote asset control requiring IP connectivity, voice communications, and added redundancy for VSAT systems as a failover for out of band management and back-up connectivity.
If you want a truly global, dependable and flexible satellite communications service, you can't go wrong with the MissionLINK 200.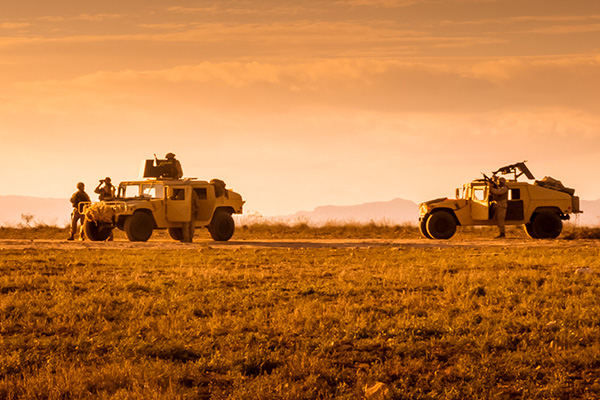 KEY FEATURES
TECH SPECIFICATIONS
AIRTIME
Iridium Certus 200 service (176 Kbps up / down)
100% global satellite coverage and low latency for critical data and voice communications
Satellite to land mobile radio extendable network through a unique radio gateway
Easily integrates terrestrial cellular with built-in preferred routing switch
Dependable and robust satcoms, covering every continent
L-band frequency: unaffected by weather or landscape
Terminal dimensions: 2.3″ x 12″ x 9″ (HxWxD)
Terminal weight: 7.5 lbs
Power options: 10-32 VDC or AC/DC supply with 12 VDC (65 watt nominal / 120 watt max)
IP rating: IP31
Front connectors: RJ-45 x 3; Class 2 PoE RJ-45 WAN x 1 for cellular, VSAT and other IP connections; RJ-14 POTS (2 independent phone lines)
Rear connectors: DC Power Input (10-32V) MIL-STD-1275D, DC power Input (+12V regulated), GPIO (RS-232, +12V out, Emergency, Radio Gateway, Discrete I/O), TNC – RF connection to Antenna, WiFi – Reverse SME, SIM card slot
Mechanical vibration and shock: MIL-STD-810G w/Change 1, Test Method 514.7, Category 4
Antenna dimensions: 5″ dia. x 5.5″ h
Antenna weight: <1.5 lbs
Power: directly powered by the terminal at 24 VDC
Operating temperature: -40 to +55C
Mechanical vibration and shock: MIL-STD-810G w/Change 1, Test Method 514.7, Category 4
Price Per Month (USD):
$82.00
$137.00
$455.00
Included Data:
20 MB
50 MB
200 MB
Overage Rate / MB:
$7.30
$6.40
$4.60
Activation Fee:
$15.00
$15.00
$15.00
SKU:
AT-CER200-LM-20MB-3
AT-CER200-LM-50MB-3
AT-CER200-LM-200MB-3
Would you like to know more?
Talk to an expert today about our powerful on-the-move Iridium Certus communications solution. With access to competitive airtime rates and extensive first-hand experience of utilizing the MissionLINK, we will help you make the right choice for your requirements.

Contact us via phone or email, or complete our contact form by clicking the button below.