The four Inmarsat satellites (increasing to six in 2023) that provide BGAN M2M service globally are among the most advanced communications spacecraft of their kind. One of the little understood facts about the service is how these satellites use Wide Beam and Narrow Beam technology.
Like the name suggests, a wide beam from the satellite covers large geographical areas of the planet, while narrow beams focus a frequency range in a smaller area. The advantage of a narrow beam is that you can transmit vastly higher amounts of information using many narrow beams as opposed to fewer wide beams. Each I-4 satellite can generate 19 wide beams and more than 200 narrow spot-beams. These beams can be quickly reconfigured and focused anywhere on Earth to provide extra capacity where needed.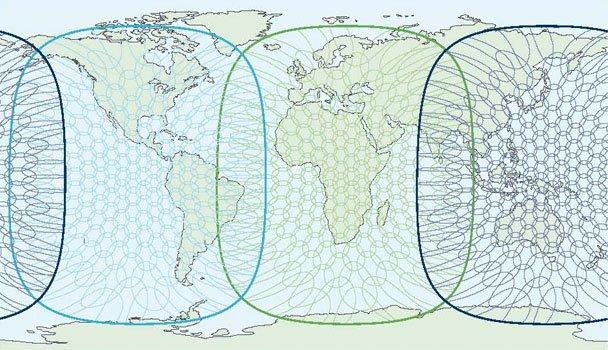 Wide Beam Advantages
One advantage of the wide-beam is that it is more omni directional, which means an antenna does not need to be pointed well in order for a connection to be made. The Isatphone 2 is an example of a satellite phone using only the wide-beam technology.
The Hughes 9502 M2M BGAN Terminal, while primarily used for data sessions, can use wide beam SMS messaging as a backdoor communications channel, even if the terminal has been misaligned due to wind. A real advantage over satellite dish technology.
The Two Step Connection Process
You may have noticed, after pointing a BGAN terminal, there are two steps taken to connect to the Internet when using the BGAN Terminal Web Interface. The first step is to Register with the Network which is opening a wide beam connection with one of the I-4 satellites. After registration, the BGAN terminal's phone and SMS messaging services are operational. The BGAN may place or receive voice calls or SMS messages to anyone in the world.
The second step is opening a Data Session, such as a connection to the Internet (again, using the Web Interface). When this happens, the BGAN terminal is connecting to a Narrow Beam of the same I-4 satellite. Narrow beam connectivity is for broadband.

Wide Beam = Voice Services, SMS Messaging, FAX services
Narrow Beam = Internet (aka Background IP or Standard), Streaming Services, ISDN 64 Kbps
Would you like to know more?
If you're a Ground Control customer, you can reach our support team at support@groundcontrol.com, or complete the pop-up form and we'll make sure it gets to the right team.

If you're not a Ground Control customer, but would like to learn more about our satellite connectivity services, please complete the form - we would love to hear from you.