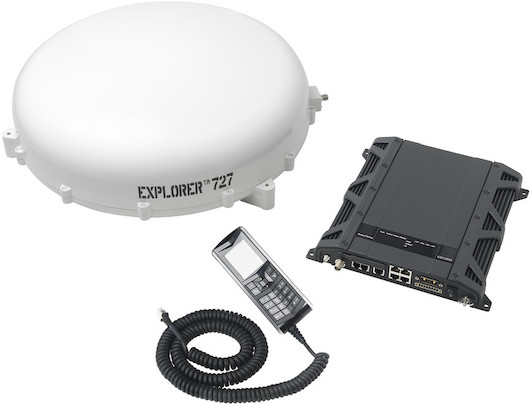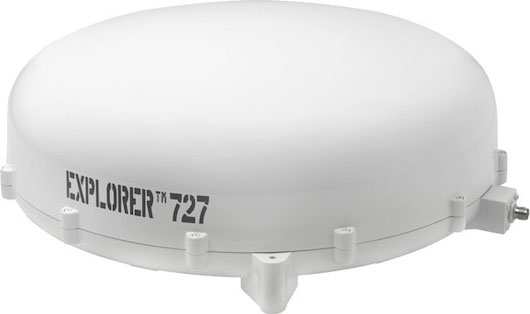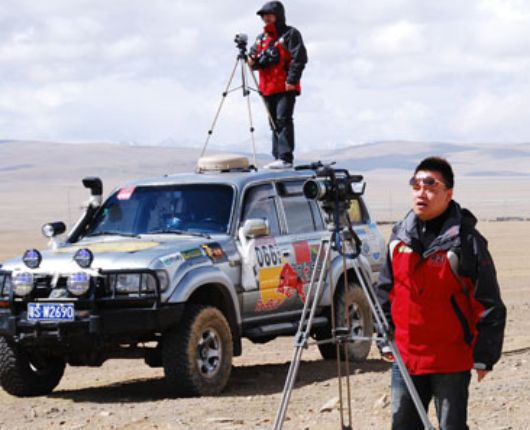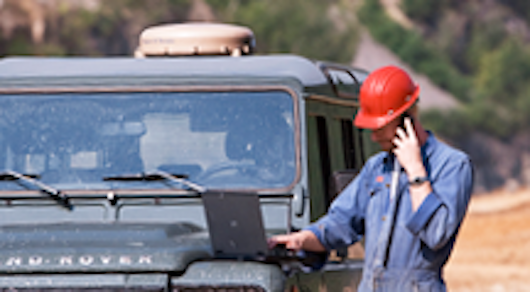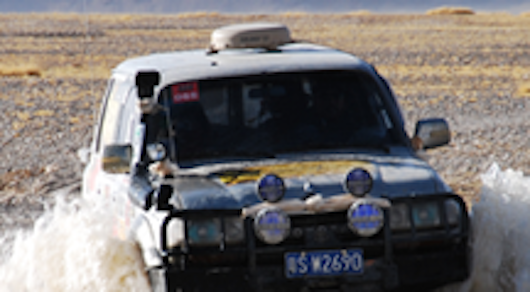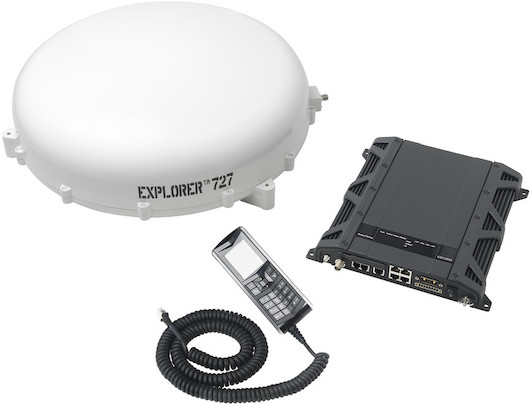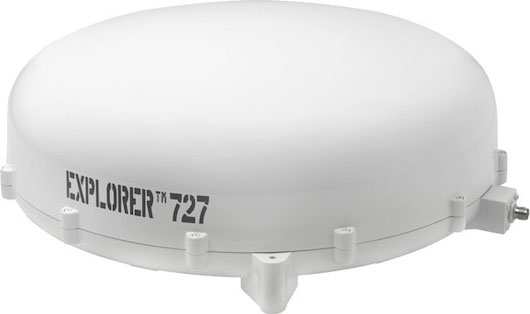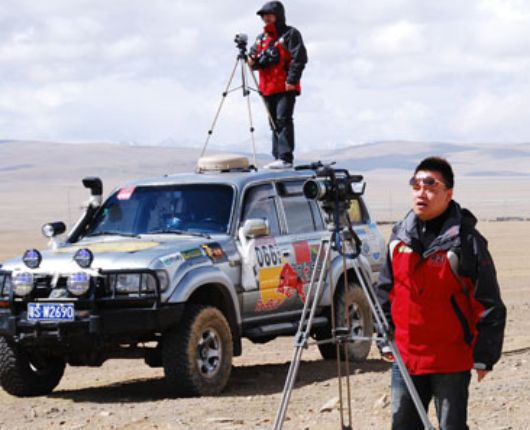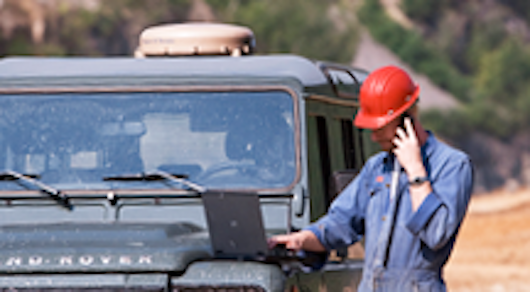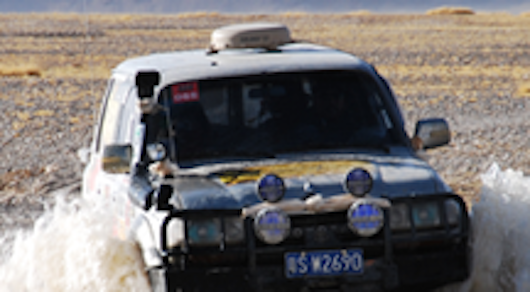 Cobham Explorer 727
$15,725.00 – $17,620.00
Powerful On-the-Move BGAN Terminal

The powerful Explorer 727 BGAN satellite system is the perfect terminal for professionals who require a very stable connection, often to transmit video.

With speeds of up to 492 Kbps and stable streaming speed of 450 Kbps, this BGAN terminal is ideal for live event video broadcasting.
BGAN Service Plans
Key Features
Voice and data communications on the move.

Easy to use and operate. Simply turn the unit on, and connect any laptop.

Auto-pointing while in motion or parked (if it requires line-of-sight to the BGAN satellite).

Up to 492Kbps internet speeds using standard BGAN service plans from Ground Control.

Up to 450Kbps unshared CIR 1:1 speeds with BGAN X-Stream service.

Simple three-piece design: Mag-Mount Antenna, Controller and IP Handset.

Easy to transport. Place system in a medium-sized suitcase for use anywhere.

Antenna available in two colors - white or tan.

Rackmount version of controller available.

Integrated web console for system status, wireless security and other parameters.

There are four RJ-45 Ethernet ports for multiple device connections.

All Ethernet ports are POE (Power Over Ethernet) for specialized devices (IP camera).
Technical Specification
Physical Dimensions (Antenna): (H) 15.2cm / 6.3" (Ø) 47.7cm / 18.76" (W) 6kg / 13.2lbs

Physical Dimensions (Transceiver): (H) 4.25cm / 1.67" (W) 23.1cm / 9.72" (D): 27.3cm / 10.63"(W) 2.5kg / 5.5lbs

Satellite Service: Inmarsat BGAN - Provided by Ground Control

Voice/Premium Voice : 4 kbps AMBE +2 / 3.1 kHz audio, 64Kbps

Standard IP Data: Up to 492 kbps

Streaming CIR 1:1: 32, 64, 128 and 256Kbps up to 450Kbps BGAN X-Stream when stationary

ISDN: UDI 64Kbps / RDI 56Kbps

SMS: 160 Characters

LAN Interface: 4 x RJ45 10/100 Mbps ethernet connections

Other Interfaces: 1 x RJ45 ISDN, 1 x 5 pin GPIO

Power: 10.5-32VDC input 150W max

Operating Temperature: -25°C to +55°C / -13°F to +131°F

Storage Temperature: -40°C to +85°C / -40°F to +185°F

Humidity: 95% non-condensing at +40°C/+104°F

Water and Dust Protection: IP56 (Antenna), IP30 (Transceiver)

Approvals: CE, GMPCS, FCC, Inmarsat Land Class 10
Explorer 727 Overview
Using the Explorer 727 is as easy as turning on the power switch. A standard Internet connection is available in about 1 minute from startup. For video broadcasters, Ground Control can configure the system to automatically establish a streaming unshared channel for superior data performance (useful for live event/news video broadcasters).
Explorere 727 Contents
13.8″ Inch antenna with built-in magnetic mounts.
Transceiver with 2 Ethernet Ports and 1 Phone port.
2.7 Meter and 8 meter antenna cable.
IP Handset phone for making and receiving calls.
5m (16′) Ethernet cable.
DC power cable.
Antenna mounting kit (fixed/rail)
Cable support.
Quickstart guide, users manual, installation manual on Thumbdrive