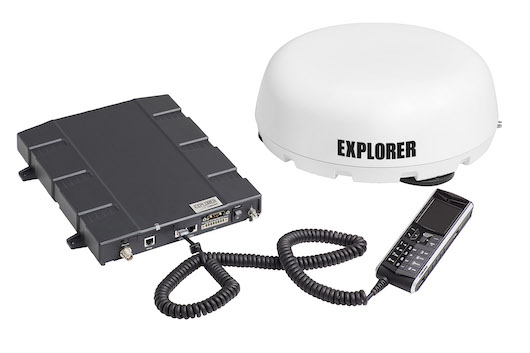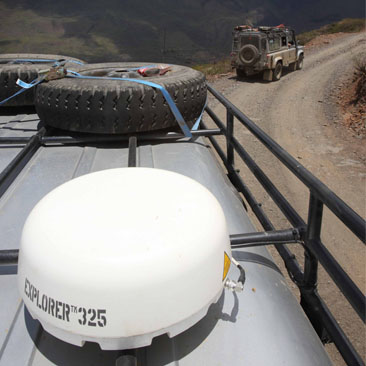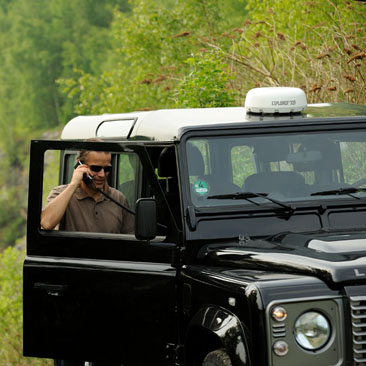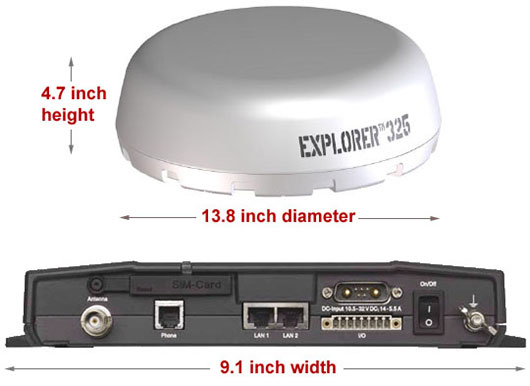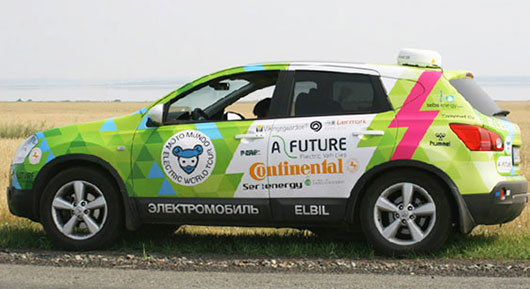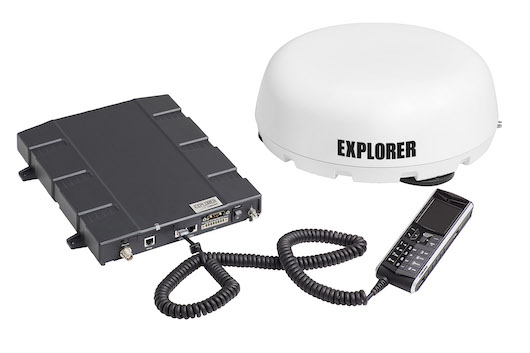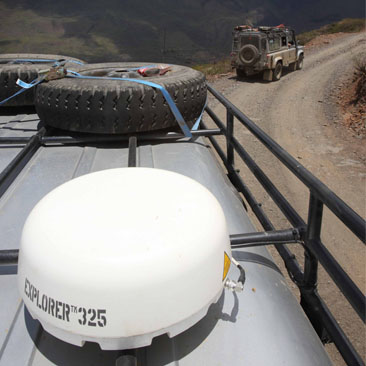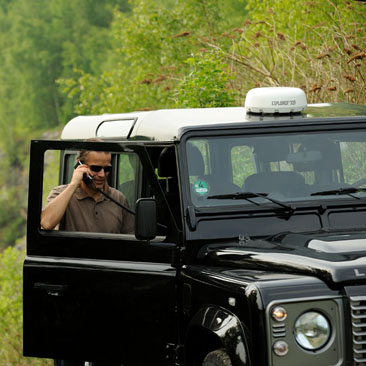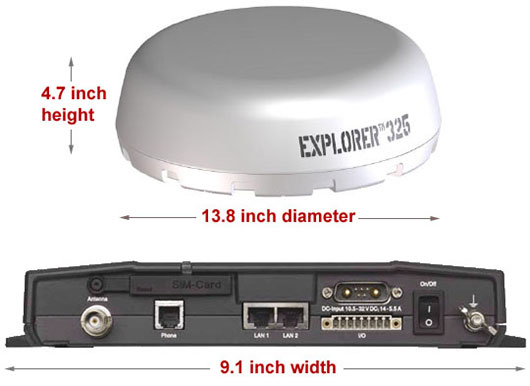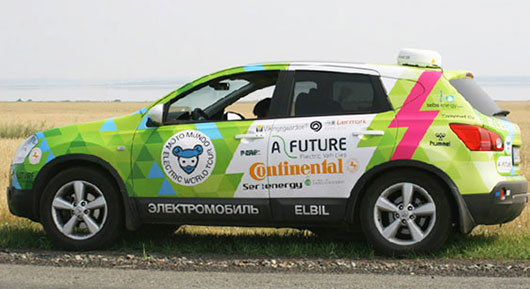 Cobham Explorer 325
Compact On-the-Move BGAN Terminal

The compact Explorer 325 BGAN satellite system provides complete communications on the move.

Whether you're engaged in humanitarian operations, cargo transportation, broadcasts or telemedicine, you need easy deployable communication equipment you can always rely on, regardless of time or place.
BGAN Service Plans
Key Features
Voice and data communications on-the-move

Easy to use and operate. Simply turn the unit on, and connect any laptop

Up to 448Kbps using Inmarsat BGAN network

Streaming IP services available 32, 64, 128Kbps CIR 1:1 BGAN streaming services

Designed to operate in extreme environments

Includes IP handset phone

Connect any standard corded or cordless phone into the RJ-11 phone jack

Integrated magnetic roof mounts

Web interface for usage logs, options and many other features

Internet service can be usage based, or pre-paid using standard BGAN Service Plans
Technical Specification
Physical Dimensions (Antenna): (H) 12.8cm / 4.72" (Ø) 34.9cm / 13.8" (W) 3.6kg / 7.9lbs

Physical Dimensions (Transceiver): (H) 4.1cm / 1.6" (W) 23.1cm / 9.1" (D): 27.8cm / 10.9"(W) 2.2kg / 4.9lbs

Satellite Service: Inmarsat BGAN - Provided by Ground Control

Voice/Premium Voice : 4 kbps AMBE +2 / 64 kbps

Standard IP Data: Up to 464 kbps

Streaming IP Data: 32, 64, 128 kbps

SMS: 160 Characters

LAN Interface: 2 x RJ45 10/100 Mbps ethernet connections

Other Interfaces: 1 x RJ-11 Phone / Fax, 1 x 5 pin GPIO

Power: 10.5-32VDC input 150W max

Operating Temperature: -25°C to +55°C / -13°F to +131°F

Storage Temperature: -40°C to +85°C / -40°F to +185°F

Humidity: 95% non-condensing at +40°C/+104°F

Water and Dust Protection: IP56 (Antenna), IP30 (Transceiver)

Approvals: CE, GMPCS, FCC, IC, Inmarsat Land Class 11
Overview
Reliable, compact, and easy to use.
Magnetic mounts quickly attach this 14″ satellite antenna on top of any vehicle. This compact BGAN terminal provides 464Kbps internet speeds while driving down the road.
Global Connectivity Anywhere Parked or On-The-Move
The EXPLORER 325 from Cobham is a compact on-the-move BGAN antenna. The system consists of a transceiver, an IP handset, and a roof mag-mount antenna. Simply connect a laptop or wireless access point to the transceiver's Ethernet port, turn the unit on and you're online anywhere and any time.
The antenna has built-in magnetic roof mounts and may be mounted on an angle on the roof. The antenna connects via a cable to the controller/transceiver that provides an Ethernet port and a phone port for broadband Internet and phone. As long as there is line-of-sight to the geostationary satellite, connectivity is global with Ground Control BGAN Service.
Global Coverage and Service
With Ground Control service, BGAN terminals may connect anywhere on the globe except for the poles. If you're within one of the three colored regions, you may connect at broadband speeds, as well as make and receive phone calls from anywhere.
Explorer 325 Contents
A 13.7″ Inch antenna with built-in magnetic mounts
Transceiver with 2 Ethernet Ports and 1 Phone port
2.7 Meter antenna cable
IP Handset phone for making and receiving calls.
2m Ethernet Cable
1m DC power cable
Quickstart Guide, Users Manual, Installation Manual on Thumbdrive