A Powerful, Portable Cellular Hotspot
The MCD-Cradlepoint is a self-contained 3G/4G/LTE Cradlepoint 900 router enclosed in a portable ruggedized Pelican case that operates for up to 10 hours on the internal battery. Operation is one-button easy and closing the case lid allows it to operate in extreme weather.
The MCD-Cradlepoint has all the features inherent in a Cradlepoint router along with the optional FirstNet frequency operation for public safety agencies.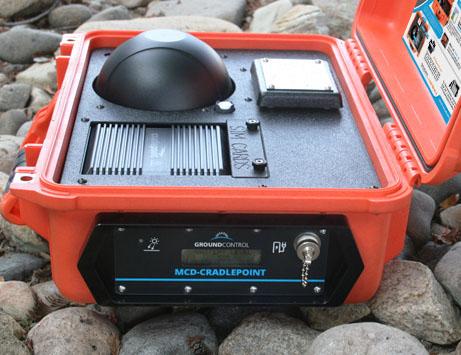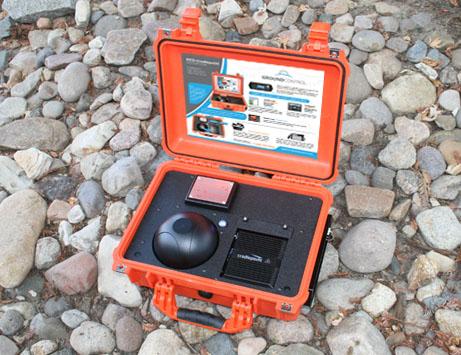 Extremely Ruggedized, High-Speed Cellular Internet
The MCD-Cradlepoint is enclosed in a watertight hardened plastic Pelican case time-proven to take a beating and keep out the elements. Full operation of the terminal can be with the case lid closed, so it operates in heavy rain or sloshing water environments.
External ports are inset to avoid breakage with impacts. With an IP rating of IP66, the terminal is dustproof and can take high-pressure water jets from any direction. Besides the onboard cooling fan, there are no moving parts of this system. Cold or hot weather doesn't faze it – the MCD-Cradlepoint operates from -22° to 158°F (-30° to 70°C).
KEY FEATURES
TECH SPECIFICATION
WHAT'S IN THE BOX?
One-button auto-connect – no training required.
Wi-Fi hotspot (802.11 a/b/g/n/ac) with long-range connectivity.
Includes full-feature Cradlepoint COR IBR900-1200M router.
3G/4G/LTE modem with dual SIM slots for all carriers.
Optional FirstNet connectivity SIM slots.
Integrated battery provides up to 10 hours of use.
External ports allow for hard-wired waterproof Ethernet connections to any device.
External RJ-45 WAN port for failover least-cost routing.
Doesn't require user interaction after turning on.
No software to run. Establishes Wi-Fi hotspot automatically.
Case operates stationary or inside a moving vehicle.
Ruggedized hardened Pelican case. All-weather operation.
May be plugged into vehicle 12V power for continuous use.
Operates in extreme temps -22° to 158°F (-30° to 70°C).
Operates in heavy rain with the case lid closed.
Internal fan keeps internal electronics cool in hot weather.
Portable – ships UPS, FedEx, or flight luggage anywhere.
The onboard battery is FAA flight allowed (nickel-metal hydrid).
Dimensions are 16.75" x 13" x 7" and weighs 22.6lbs.
The MCD-Cradlepoint is integrated tech by Ground Control.
Case Default Color – Orange (other case colors available upon request).
Service Used – Verizon, Sprint, AT&T, T-Mobile, FirstNet
Wireless LAN – 802.11 a/b/g/n/ac
Wireless Range – Tested at 300 meters (1,000 feet) with good wireless signal (-78 dBm signal) to standard laptop computer.
LAN (External Port) – One RJ-45 Ethernet ports with PoE – watertight connector (power over Ethernet Class 2)
WAN (External Port) – One RJ-45 Passthrough failover parameters set in the web interface – watertight connector
Cradlepoint Web Interface -URL: 192.168.0.1
MCD-Cradlepoint Case Dimensions – 17″L x 13.75″W x 6.75 "H (432 x 349 x 171mm)
MCD-Cradlepoint Weight – 22lbs (10kg)
Battery Life -10 hours average
AC/DC Power Supply – Input 110 to 240 volts AC. Output 28 volts DC @ 8 Amps. Total cable length is 12′ (3.6 meters)
Internal Battery Type – NiMH (Nickel-Metal Hydride) – FAA flight-approved
Operating Temperatures – -22°F to +158°F / -30°C to +70°C
Environmental Rating – IP 66-compliant – excellent in all kinds of weather/dust
Standard Warranty – One-year standard limited warranty – extended warranties available
Country of Origin – The MCD-Cradlepoint is integrated technology manufactured in the United States.
MCD-Cradlepoint Flyaway portable case
AC/DC power supply (110/240VAC)
Mini DC inverter for running off vehicle power
Ethernet cable – 10 feet / 3 meters
USB flash drive with user manuals
Carry bag to hold accessories
The MCD-Cradlepoint is a ruggedized cellular hotspot that can run on internal power for up to 10 hours.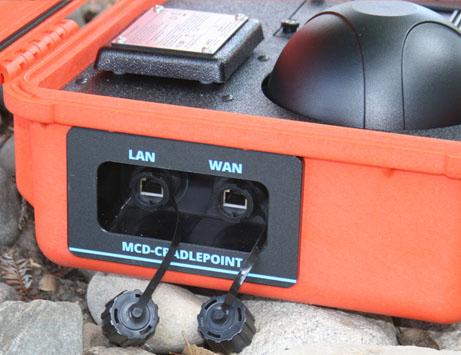 While the MCD-Cradlepoint is a WiFi hotspot, it may also be used for a direct Ethernet connection, or provide a failover WAN connection using cellular as a secondary connection.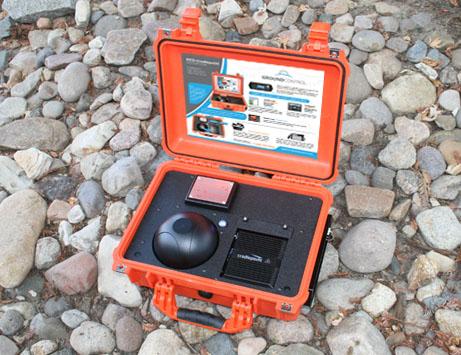 The MCD-Cradlepoint operates with multiple cellular carriers.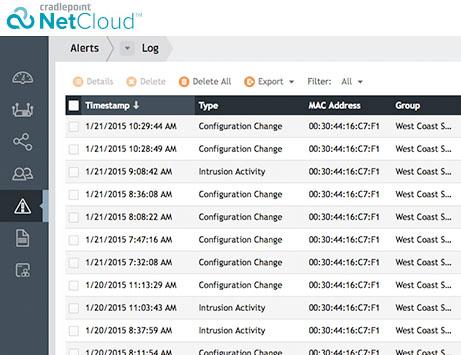 The Cradlepoint NetCloud service is also available.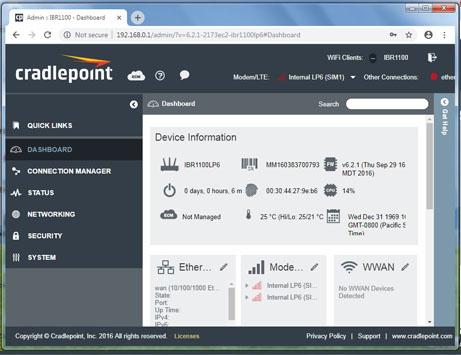 The Cradlepoint is accessible at 192.168.0.1 and provides for powerful tools for connectivity.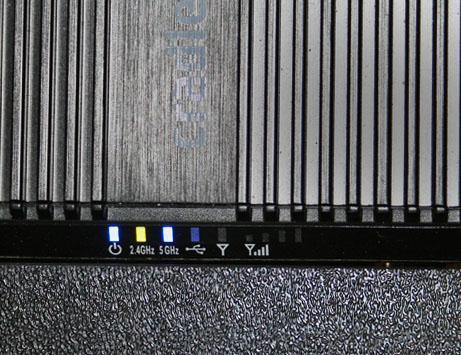 Status LED lights of the Cradlepoint are visible when the case lid is open.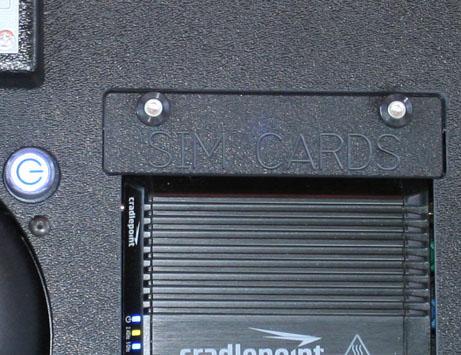 Cellular SIM slots are readily available for a preferred cellular provider.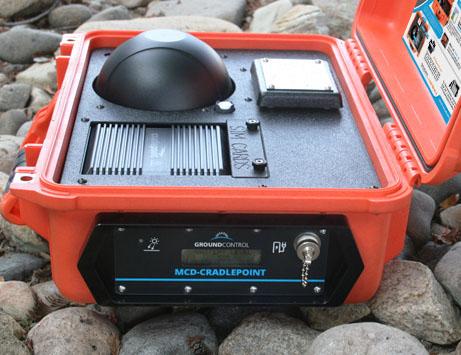 The front panel of the MCD-Cradlepoint shows battery level as well as a charge port for the system.
Useful Links
Would you like a quote or more information?
If you've decided that the MCD-Cradlepoint is the right device for you, and would like a quote, please call or email us, or complete the form, and we'll be happy to help.

If you're not sure what portable WiFi hotspot will best meet your needs, get in touch; we have 20 years' experience and will offer impartial, expert advice.