Uninterrupted pole-to-pole coverage for ships and fleets
The VesseLINK 200 is a great all-rounder for ships and fleets, providing basic internet access, voice and text communication, plus support for connected ship applications such as vessel monitoring systems (VMS), IoT and sensor data collection and transmission.
VesseLINK provides 176 Kbps of upload/download speed for voice and data communications in extreme environmental conditions such as temperatures that range from -40 to +55° C. The highly-compact, lighter-weight antennas make the VesseLINK an ideal solution for smaller platforms such as racing sailboats.
Iridium Certus 200 is ideal for primary vessel communications needs, can serve as a VSAT companion solution and has been designed for future GMDSS service capability. The small form-factor, lightweight VesseLINK 200 has no moving parts, ensuring easy installation, low-maintenance and reliability, giving mariners affordability of both service and equipment.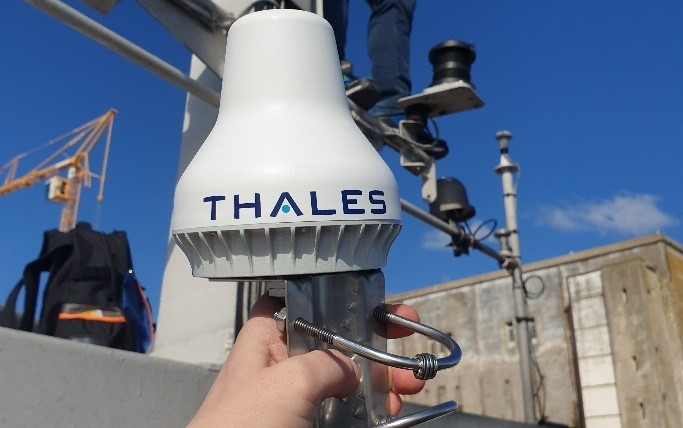 KEY FEATURES
TECH SPECIFICATION
AIRTIME
Iridium Certus 200 Service (176 Kbps up / down)
Robust, lightweight communications for at-sea operations
100% global satellite coverage and low latency for critical data and voice communications
Dependable maritime satcoms, from pole-to-pole
Easily integrates VSAT with built-in preferred routing
Low gain omnidirectional antenna, with no moving parts to enable the fastest upload and download speeds
Below deck unit dimensions: 2.3″ x 12″ x 9″ (Height x Width x Depth)
Terminal weight: 7.5 lbs
Power options: Option 1: 10–32 VDC; Option 2: AC/DC supply with 12 VDC (65 watt nominal/120 watt maximum)
IP rating: IP31
Front connectors: RJ-45 LAN x 3; Class 2 PoE RJ-45 WAN x 1 for cellular, VSAT and other IP connections; RJ-14 POTS (2 independent phone lines)
Rear connectors: DC Power Input (10–32V) MIL-STD-1275D, DC Power Input (+12V Regulated), GPIO (RS-232, +12V out, Emergency, Radio Gateway, Discrete I/O), TNC — RF connection to Antenna, Wi-Fi — Reverse SMA, SIM card slot
Mechanical vibration and shock: MIL-STD-810G w/Change 1, Test Method 514.7, Category 4
Antenna dimensions: 5″ dia. x 6.7″ h
Weight: <1.5 lbs
Power: Directly powered by the terminal at 24 VDC
IP rating: IP67
Operating temperature: -40 to +55° C
Mechanical vibration and shock: MIL-STD-810G w/Change 1, Test Method 514.7, Category 4
Plan:
Pay-As-You-Go
50 MB
100 MB
Price Per Month (USD):
$82.00
$410.00
$728.00
Included Data:
0 MB
50 MB
100 MB
Overage Rate Per MB:
$21.00
$9.10
$7.30
Activation Fee:
$15.00
$15.00
$15.00
SKU:
AT-CER200-MAR-0MB-1
AT-CER200-MAR-50MB-1
AT-CER200-MAR-100MB-1
Would you like to know more?
If you'd like a quote for the Thales VesseLINK 200 device and/or airtime, please call or email us, or complete the form, and we'll be happy to help. If you're not sure what the best device for your satellite maritime communication requirements is, we're here to help; we have 20 years' experience and will provide impartial, expert advice.