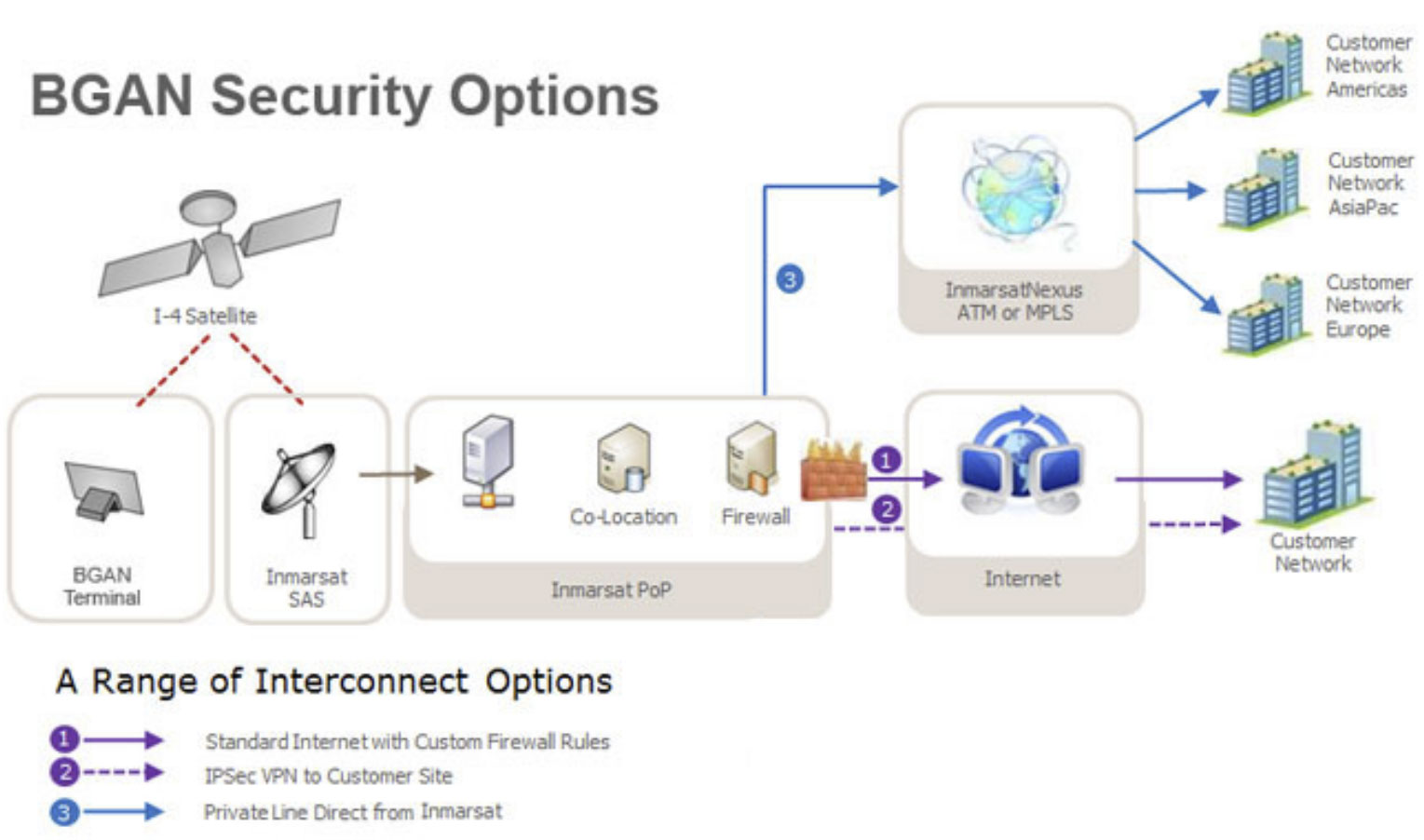 Ground Control offers several ways to secure your BGAN network connection.
1. BGAN Firewall Controls – Free
Included with all Ground Control BGAN Subscriptions. $0 setup and $0 per month
Firewall rules, or a whitelist of IP addresses, protocols, and ports can limit what incoming or outgoing traffic is permitted over the BGAN network. The firewall rules are placed at the Inmarsat teleport and they can effectively block all unauthorized traffic not defined on the whitelist. Implementing a firewall is easy and free. If used properly, firewalls can reduce a service bill by thousands of dollars since there will be no unauthorized or background traffic. Here are details on BGAN firewall controls.
2. IPSec VPN to Inmarsat – Avoids Public IP Costs
SAS BGAN Teleports at New York, Hawaii, Hong Kong, Italy, Netherlands, Amsterdam
$525 setup fee – $149 per month per VPN tunnel to Inmarsat IPSec router.
Requires IPSec capable router at subscriber headquarters. 12-month minimum term.
Use your IPSec VPN-capable routers to connect to our IPSec routers at one of the above Inmarsat BGAN teleports.
Since the VPN doesn't go over the satellite link (which is itself highly secure), VPN performance is excellent and the overhead VPN data doesn't add to the cost of using the BGAN network. VPN performance over the BGAN network takes a tremendous hit in performance since latency is 1200 to 1700 milliseconds. Also, VPN adds significantly to the total amount of data transferred over the satellite link, and with the cost of BGAN charging by the megabyte transferred, it makes sense to terminate the VPN at the nearest SAS teleport.
One great advantage to using an IPSec VPN is that individual BGAN terminals don't need to be issued public-static IP addresses at a cost of $20 to $25 per SIM per month. Included in the cost are private IP addresses, which effectively pays for IPSec VPN if five or more terminals are deployed. Please email or call Ground Control for more information.
3. Co-Location VPN at Inmarsat – Avoids Public IP Costs
SAS BGAN Teleports at New York, Hawaii, Hong Kong, Italy, Netherlands, Amsterdam
Please call or email for pricing
Similar to IPSec VPN, co-location lets your firm install your own VPN hardware at one of the Inmarsat SAS locations.
Like IPSec VPN, co-location VPN terminates at one of the Inmarsat SAS locations, so there's no performance drop common with VPN over a high latency satellite link. There's also no need to configure individual remote equipment with a VPN since all remote traffic is privately routed through the Inmarsat network to your co-located VPN hardware, thus avoiding the $25 per SIM monthly charge on Public IP addresses.
Also, the monthly cost doesn't change if you have one or 100 remote sites. Please email or call Ground Control for more information.
4. Point-to-Point VPN – Free – Requires No Permission to Implement
Free of charge
You may use your own VPN at the remote site and connect it over the satellite link to your home server at no added cost to your existing service. There's no need to inform Ground Control that you're using a VPN over your BGAN network link. Please note that VPN over satellite will increase the amount of data transferred and there will be a negative performance hit. It's advisable to test a solution to confirm it operates within required specifications. Most VPN solutions today can work with the latency inherent with a satellite connection.
5. Private BGAN Network
Please call or email for pricing
Ground Control can establish an MPLS connection from the Inmarsat SAS to your organization's network. Any solution can be discussed and applications are integrated by a specialized Inmarsat IT engineering team. To ensure you're developing an efficient worldwide network, we'll offer you the best and most cost-effective solution.
If your organization requires MPLS, we highly recommend using IPSec VPN for initial implementation and switching to MPLS for a long-term connectivity. Please email sales@groundcontrol.com for more information.
Helping You Choose
To facilitate the process of determining which connectivity solution best fits your organization and existing network, we have a number of ICT experts, including specialists at Inmarsat, available for consultation.

Please call or email us at sales@groundcontrol.com, or complete the form, and we'll start the process with the specialist that helps you decide.