Public-Static IP addresses (also called "Global IPs") for BGAN terminals are available from Ground Control and are useful for connecting to a VPN that requires a static IP, or for accessing devices connected to your BGAN terminal from the Internet. These publicly routable IPs will not change no matter where you connect on the globe.
Service may be activated or cancelled at any time
Public Static IPs are only available to Ground Control BGAN SIM card
All incoming initiated traffic to the BGAN is BLOCKED by default. A whitelist of IP address is required if remote access is needed
BGAN Public-Static IP addresses are global and may be used anywhere the terminal is located.

To purchase a Public-Static IP for your BGAN, email or call us, or complete the form at the bottom of this page and we'll contact you.
Other Interesting BGAN Facts:
BGAN APNs
BGAN APNs (Access Point Name) route data traffic from the BGAN terminal to different servers on the BGAN Network.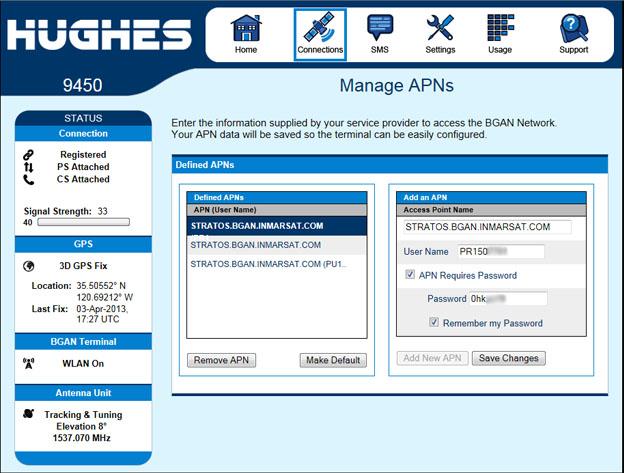 When configuring a BGAN terminal as shown above on a browser interface (or one may use the BGAN Launchpad), one or more APNs may be added to the terminal. APNs are assigned to each active connection. BGAN active connections are also called "PDP Contexts" or Packet Data Protocol Contexts described next.
PDP Contexts
PDP Contexts (Packet Data Protocol) are a single active data connections through the BGAN terminal. You can consider PDP Contexts to be similar to IP addresses… each connected device will have one. If there were two devices connected to the terminal, there would be two active PDP Contexts (and two IP addresses). PDP Contexts are used by BGAN to define if the connection is static or dynamic (DHCP), the QoS (Quality of Service) of the connection, the APN to be used, relaying the IMSI SIM Card number and relaying security settings information.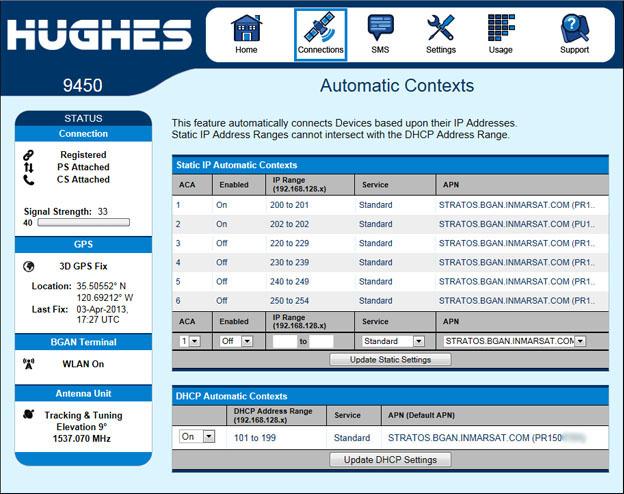 On receiving the Activate PDP Context message from the BGAN terminal, the UMTS/BGAN network checks the subscription record to establish whether the request is valid. If the request is valid, a virtual connection is established between the terminal and the UMTS/BGAN core network and data transfer can then take place between the terminal and the external data network.
Pre-Configured and Tested
If much of this is a bit confusing, you are in good company. When you purchase BGAN terminals from Ground Control, we pre-configure and test each device to your requirements before we ship it. If you need to connect one or more devices to a publicly routable IP address over the BGAN terminal, we'll set that up and give you the appropriate IP information to configure your device(s). If you require backhaul services or VPN services, we can set that up as well.

Please call or email us for pricing or questions, or complete the form.