In early 2019 Iridium updated their entire constellation of 66 low-earth orbiting satellites that were placed in operational orbit in 1998. This much-needed 20 year technology upgrade was a game-changer and now Iridium satellites are delivering high-speed Internet (up to 700 Kbps), push-to-talk, M2M, and Aviation services that were not available… until now.
Iridium Certus is now available, at varying levels of throughput – from the M2M applications of Certus 100 enabled devices like the RockREMOTE through to the high-throughput Certus 700 services you'll find on this page.
Iridium Certus 700 Service Plans
• High-Speed IP data (Internet) up to 700 Kbps download by 352 Kbps upload
• Excellent voice quality over the new Certus network
• 100% global connectivity – even at the North and South Poles
• Operates with 66 Low Earth Orbiting satellites orbiting 485 miles (781 km) over Earth
• Low latency (395 +- 100 milliseconds depending on location)
• WiFi Hotspot – 802.11b/g for up to 12 devices; WPA2 wireless security
• Can use Internet and phone service simultaneously.
100% Global Coverage and Service
Iridium Certus services are 100% global even on the North and South Poles at full available speeds.
There is no place above ground the service does not cover; an excellent advantage over other satellite service that have limited service regions or line-of-sight obstructions.
The Iridium network uses 66 satellites that are moving in Low-Earth-Orbit.
Iridium Coverage Map
Low Earth Orbit = Low Latency
A major benefit of the Iridium LEO Low-Earth-Orbiting satellites is latency (or ping time) is far less than Geo-Stationary satellites since Iridium satellites are under 500 miles above earth and not 23,000 miles away.
Iridium's network latency is pinging at about 395ms +- 100 milliseconds, compared with Geo-Stationary satellites that have latency of 500 to 1000 milliseconds. Many applications such as VPNs operate far better on a low latency connection.
Satellite Orbit Heights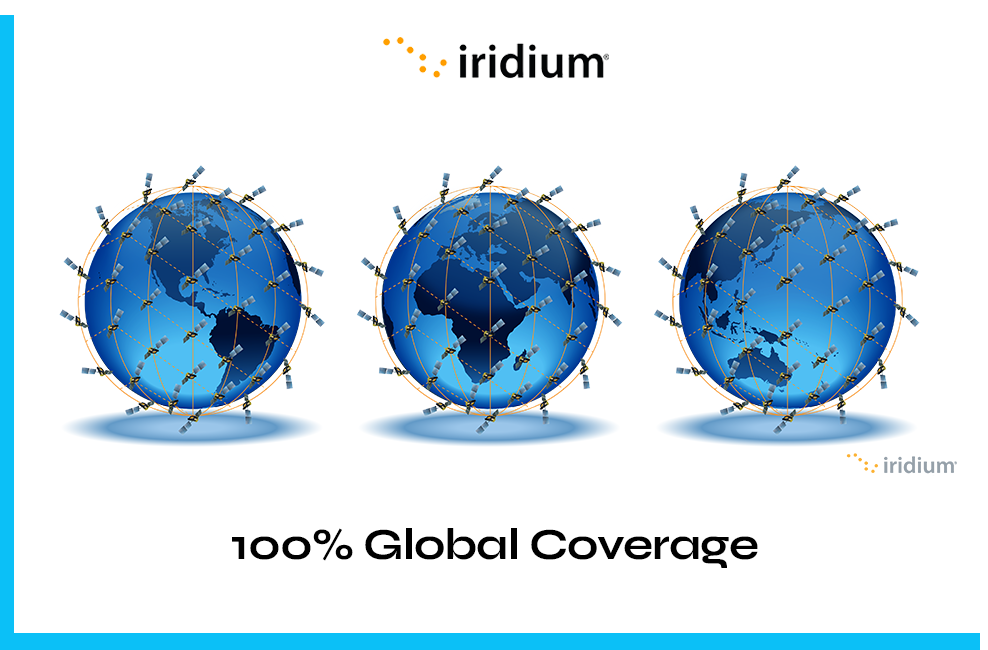 Iridium Certus 700 Satellite Terminals
Ground Control partners with Thales to offer three Certus 700-enabled devices. The Thales MissionLINK is designed for installation on land vehicles. The Thales VesseLINK is designed for installation on marine vessels.

The MCD-MissionLINK turns the standard MissionLINK into a fully portable satellite connectivity solution, with a five hour battery life, ruggedized case, and electronics and software designed and delivered by Ground Control.
Interested in Certus 700 service?
Whether you'd like to know more about the Iridium Certus 700 service, or would like a quote for hardware and/or airtime, we're here to help.

Ground Control has over 20 years' experience in satellite communications, and we both design and build our own solutions, and partner with leading manufacturers to provide you with the best possible range of products and services.

Either call or email us, or complete the form, and we'll be in touch.