If you want to receive incoming phone calls to a phone connected to your BGAN terminal, a local number from almost any city and country makes it easy for people to reach you. Satellite phone numbers are often blocked, or have exorbitant rates when making international calls to your satellite phone number. A local number makes communication simple and far less expensive for the caller.
Start Local Number Service to Any BGAN/Satellite Phone
To request a local number service, please complete the form at the bottom of this page, and we'll write back with local phone number availability and help activate your first local number. Once created, you're given online web portal access to manage your phone number and have it point to any satellite phone number at any time. Please note that this service is only available for existing Ground Control customers.
Why have a Local Number for a Satellite Phone?
Your phone number is a long, 14- or 15-digit international number that looks like this: 011870772626744. This can be confusing. Add to that most phone and cellular companies simply block international calls or charge exorbitant calling rates as high as $10 per minute, and it's not hard to see why adding a local number to your satellite phone may be essential.
Local Numbers Anywhere
We offer all US area codes and many countries a local phone number that can be assigned to any satellite phone from any BGAN/Inmarsat service provider. Calls made in the same country to this number are deemed 'local' so the caller never pays international rates and their calls are never blocked.
Once activated, our local number service is fully online to manage your local phone numbers. A credit card is required and will be charged $10 a month and $3.44 a minute for calls made to your BGAN from the local number. Remember, the caller never pays anything other than calling the local number, but they do pay if they call your satellite phone number direct.
Advantages of Having a Local Number
Have a second 'local' number for your satellite phone.
Callers won't have trouble calling because their phone provider 'blocks' international calls.
Callers are not charged international rates for calling since they are calling a local number.
A 'local' satellite phone number is seen as a typical looking number and not intimidating.
A web interface lets users point the local number to any satellite phone at any time.
The web interface provides access to detailed call records instantly; you may set up auto-reports, too.
Management tools allow you to add any number of satellite phones to your account.
You can use your cell phone number and receive calls over satellite using call forwarding.
Powerful Web Interface
The online web portal gives you features to create local numbers, add one or more satellite phones, view usage, point the local number to another satellite phone, create an optional pin-code for number callers, start monthly invoice auto-reports, create a block-list, and a host of other tools to use from an online portal.
Creating a local number is easy. After selecting what city in which country you want a local number for, use this screen below. Activation is instant.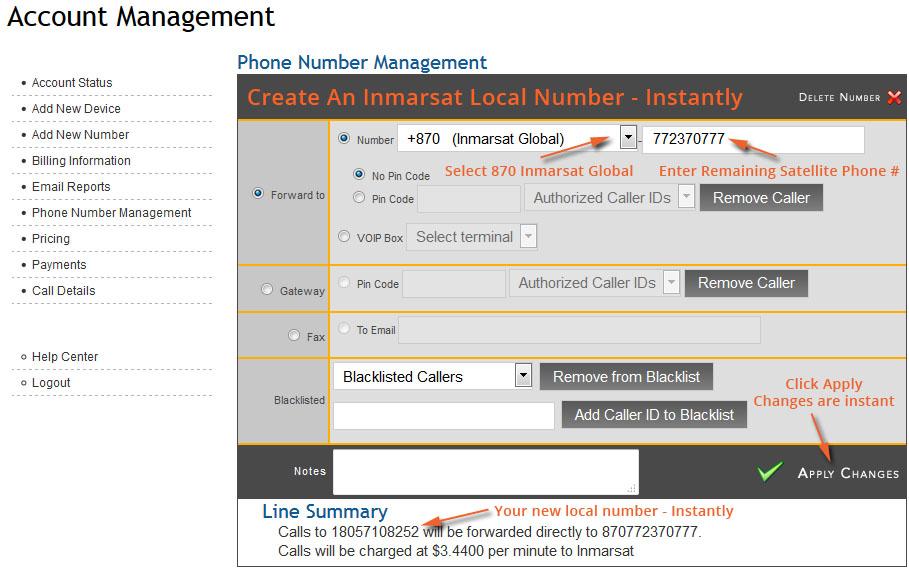 Peruse the Portal
We recommend checking out all of the features this portal has to offer. Some of these features are:
Adding daily, weekly, or monthly auto-reports for invoicing.
Creating a blocklist of barred incoming phone numbers.
Create a pin number so that incoming callers needed to secure the phone.
Call details that show usage on any phone for any period.

Want more information? Have questions? Please write to us at sales@groundcontrol.com and we'll be happy to help.
Would you like to know more?
Based out of the USA and United Kingdom, the Ground Control team has over 20 years of experience in keeping people, assets and businesses connected.

We're here to help, so please call or email us, or complete the form to discuss your portable satellite connectivity needs