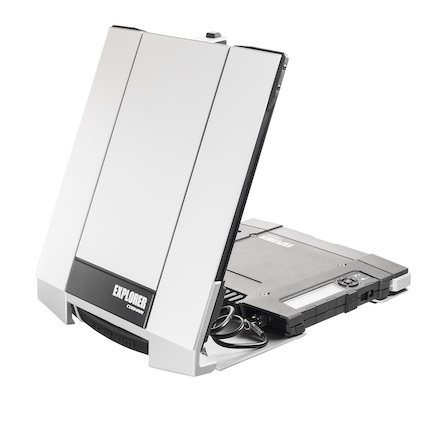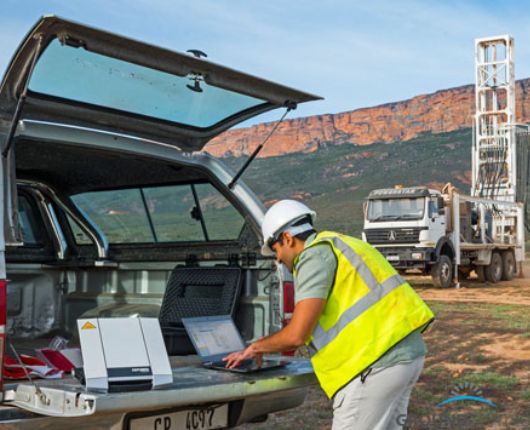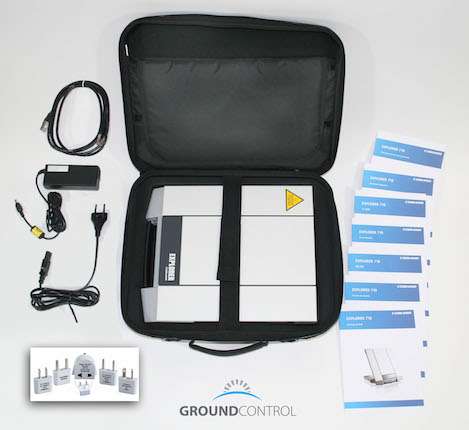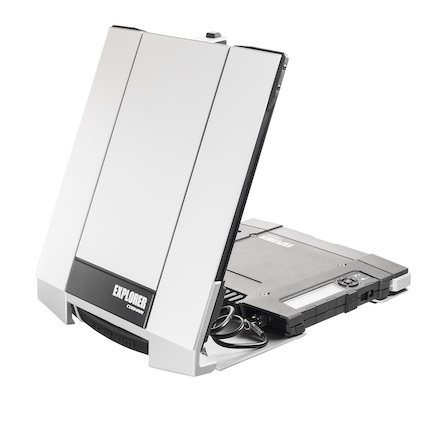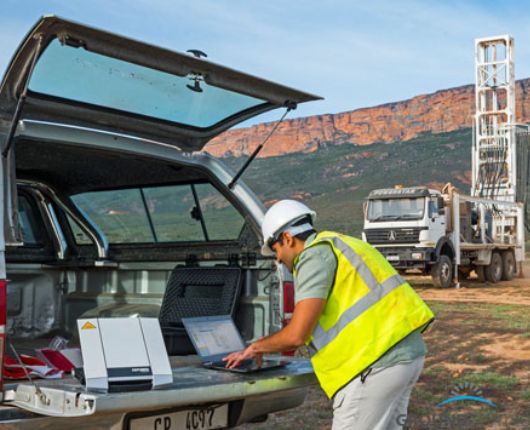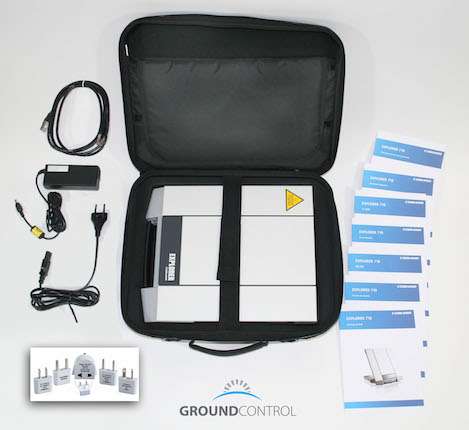 Cobham Explorer 710 BGAN Terminal
$5,249.00 – $5,733.00
Powerful, Portable BGAN Terminal

The most feature-rich portable BGAN satellite terminal available, the Explorer 710 is designed for power users and live video broadcasters.

For operation in extreme conditions, the Explorer 710 has the unique ability to separate the antenna from the transceiver with an optional antenna cable.
Key Features
A Class-1 BGAN with up to 492 x 492Kbps speeds

Fastest for live-streaming - 650Kbps both directions with BGAN HDR

Powerful Wi-Fi hotspot (up to 328 feet or 100 meters)

Control app includes phone support for any type of smartphone

One-button auto-connect to the internet (after pointing). Easy to use by anyone

Operates with all BGAN service plans: monthly, prepaid, or streaming

Operates with any iPhone or Android phone for system control as well as calling

Large display and keypad with ability to configure system without laptop

Intuitive browser interface screens for advanced controls

USB recharge port (.5 amp or 2 amp) for recharging smartphones and other devices

Portable size - the 710 dimensions are 11" W x 13" H x 2.13" inches (279 x 332 x 54 mm)

Operates in very cold or very hot weather at -25°C to +55°C / -13°F to +131°F
Technical Specification
Dimensions (HxWXD): 13" x 11" x 2.13" (27.9 x 33.2 x 5.4 cm) Weight:7 lbs (3.2 kg)

Satellite Service: Inmarsat BGAN - Provided by Ground Control

Voice/Premium Voice: 4kbps / 3.1 kHz audo, 64 kbps

Standard IP Data: Up to 492 kbps (Rx) 492 kbps (Rx). Class-1 BGAN terminal

Streaming IP: 32Kbps, 64Kbps, 128Kbps, 176Kbps , 256Kbps and BGAN X-Stream

HDR Streaming: 600 kbps (300 kbps half-channel)

ISDN: UDI 64 kbps / RDI 56 kbps

WLAN Interface: 802.11 b/g up to 100 meter (328 feet) radius.

Interfaces: 2 x RJ45 LAN / PoE, 1 x RJ11 phone, 1 x USB 2.0 host, 1 x RJ45 ISDN

Power: - 10-32 VDC / 100-240VAC

Terminal Colors - White (default) - Tan

Battery: Hot-Swappable Lithium Ion (Rechargeable) Up to 3.5hrs usage, Recharge: less than 3hrs

Operating Temperature: -25°C to +55°C / -13°F to +131°F

Storage Temperatures (excl. battery): -40°C to +80°C / -40°F to +176°F

Humidity: 95% RH at +40°C (+104F)

Environmental (Antenna): IP 66 for dust and rain

Environmental (Transceiver): IP52for dust and rain

Supported Languages - UK, FR, DE, ES, RU, CN

Standard Warranty - 2 year parts and labor - Extended warranties available
Explorer 710 Overview
The EXPLORER 710 is the flagship Explorer BGAN terminal tied with the Hughes 9211 for the fastest speed possible of any BGAN terminal.
The carry portable office provides high-speed internet access with multiple interfaces for countless applications. Connect your laptop, smartphone, or tablet to the 710's Wi-Fi hotspot with a powerful 100-meter Wi-Fi range. Internet browsing, email, live video broadcasting, phone services, large file transfers, and even video conferencing are all available with standard BGAN service. For video broadcasters, the new BGAN HDR service is available for a unshared 650Kbps channel for reduced jitter, video dropouts, or fast file transferring.
Explorer Connect Smartphone App
Download the free iPhone or Android app and use your smartphone and tablet to connect, monitor, control and communicate.  As well as enabling control and configuration of the terminal the app also turns a smartphone into a satellite phone to make and receive voice calls.
Explorer 710 Contents
Explorer 710 terminal

Carry case

Rechargeable Li-Ion battery

AC/DC power supply – Input 100 to 240 Volts AC

International plug adapters – US, UK, EU, AU, China, N. Europe

Short split cable. Connects transceiver and antenna

6′ of Ethernet cable

Quickstart guides and manuals on flash drive
Explorer 710 Photos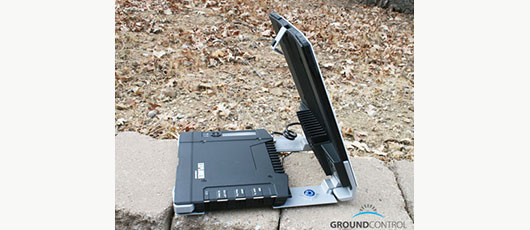 Explorer 710 Class 1 BGAN
Small and lightweight
Small and lightweight, the Explorer 710 is easily used in city, as well as rural settings. Simple connectivity means that anyone can point and operate this device.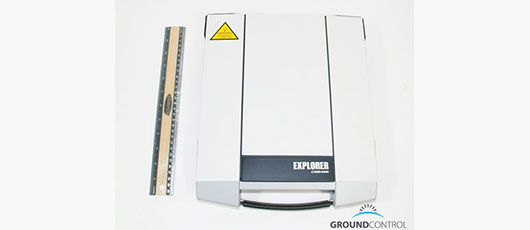 Explorer 710 Class 1 BGAN
710 dimensions
The Explorer 710 BGAN Terminal is much smaller than its predecessor (the Explorer 700). shown here next to a 12 inch ruler. It comes in at 11" W x 13" H x 2.13" D (279 x 332 x 54 mm) the 710 weights 7 lbs (3.2 kg) The antenna itself is 1.7kg, and the transceiver is 1.5kg.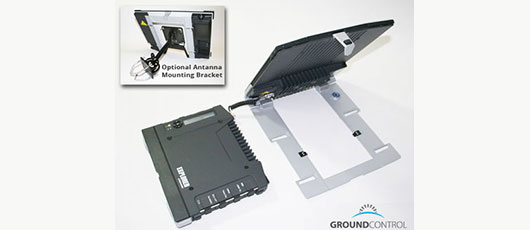 Explorer 710 Class 1 BGAN
Can separate transceiver from antenna
Another excellent feature with the 710 is that the transceiver of the system can clip off of the base and be moved inside a structure using a long antenna cable. This keeps the waterproof antenna outside with the connection ports inside... An excellent design for long term use at remote locations. An optional pole/wall mount is available in the accessories section.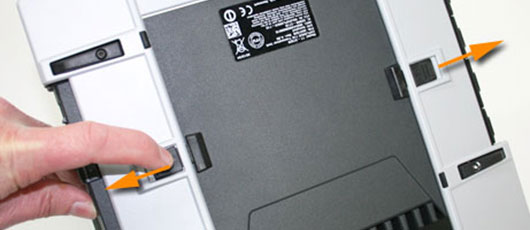 Explorer 710 Class 1 BGAN
Transceiver removal
The 710's transceiver is secured to the base of the 710 with two clips. The transceiver only needs to be unclipped if using a long antenna cable to place the transceiver indoors. Otherwise, it stays attached to the base for normal operation.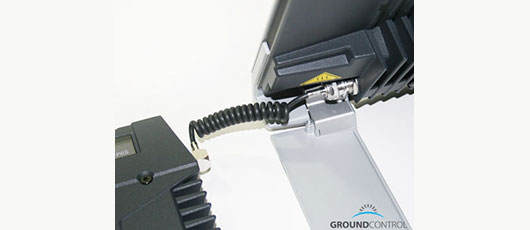 Explorer 710 Class 1 BGAN
Antenna cable options
Here is the short antenna cable connecting the transceiver to the 710 antenna. Optional antenna cables available come in 10 meter, 30 meter, 50 meter and 100 meter antenna cable lengths.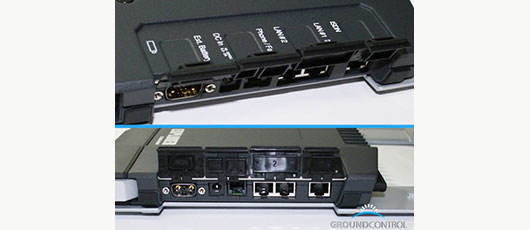 Explorer 710 Class 1 BGAN
710 Ports
The 710 has (from right to left), an external battery port, DC in, Phone port for any standard phone (RJ-11), LAN 2 (RJ-45 Ethernet), LAN 1 (RJ-45 Ethernet & PoE capable), and an ISDN port. Onboard power will supply the BGAN for up to 36 hours on standby.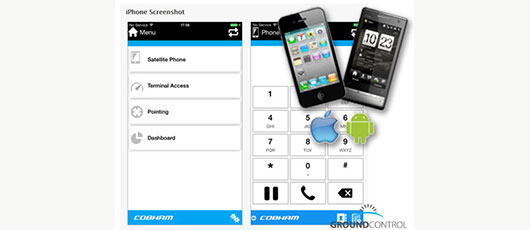 Explorer 710 Class 1 BGAN
The Explorer Connect app
The 710 may also be accessed by any smartphone using the Explorer Connect App. This control panel also gives a host of tools to use your 710, including voice support for your smartphone. The satellite telephone number can be configured to ring your cellphone when connected.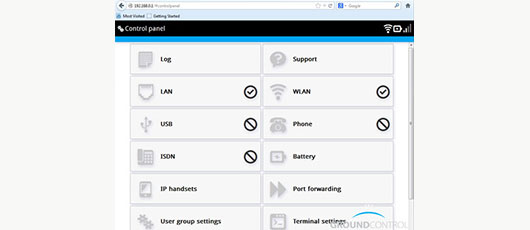 Explorer 710 Class 1 BGAN
Easy to access web interface
The 710's web interface is easily accessed by any connected browser by going to 192.168.0.1 ...All functionality including connecting types, usage, WiFi security and many other features can be accessed from this interface.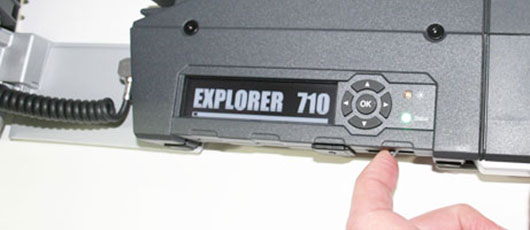 Explorer 710 Class 1 BGAN
5 key keypad for quick scrolling
The 710 has a wide display with a 5 key keypad for scrolling through menus quickly. Not the power light and status light and power toggle switch located at the bottom right of the transceiver.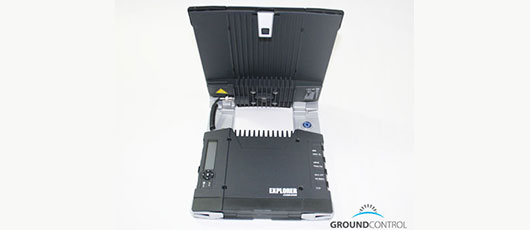 Explorer 710 Class 1 BGAN
The 710 from the back
From the back, the Explorer 710 transceiver is unfolded for access to the exterior control panel and cable ports. There is also a small compass built into the frame to aid in pointing.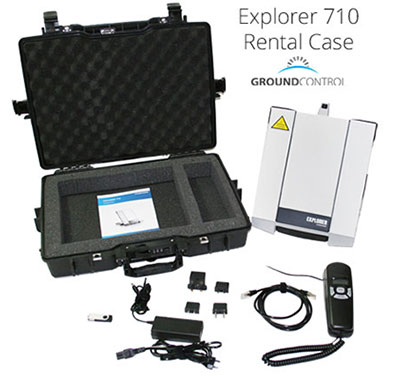 Rental 710 System Includes:
Explorer 710 terminal, terminal case, 6 foot Ethernet cable, AC-DC power supply with international plug adapters (US, UK, EU, AU, China), DC vehicle adapter, li-ion battery, quick start guides and manuals provided USB flash drive, packed in a hardened Pelican case.
Explorer 710 Rental
Rent: $20/day + Service Plan
Rent a Explorer BGAN Terminal with everything needed for $20 a day with free rental days depending on the service plan chosen. Just call or email us and we'll do the rest. Should you require a service plan that covers streaming service, please contact us to tailor a plan to fit.
Rent a BGAN Terminal