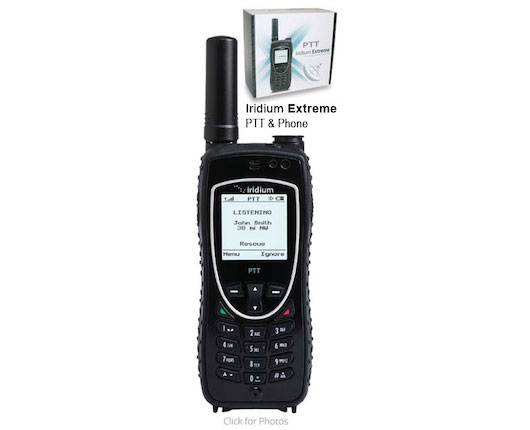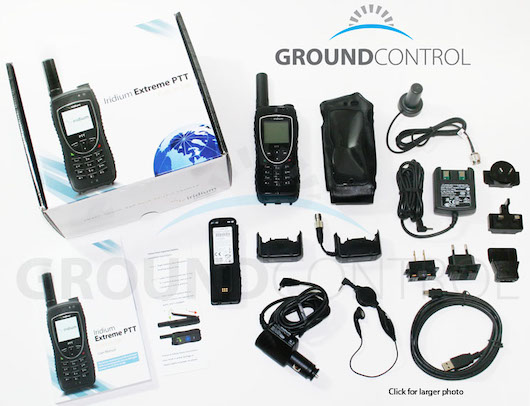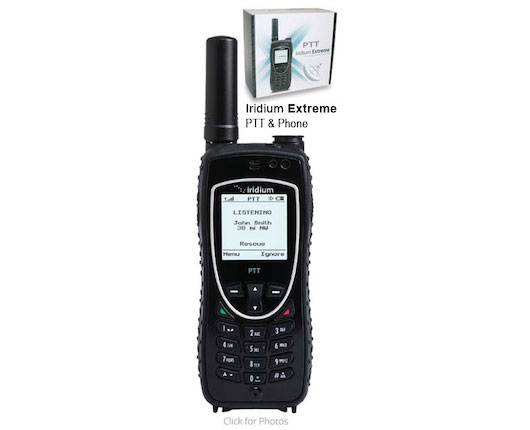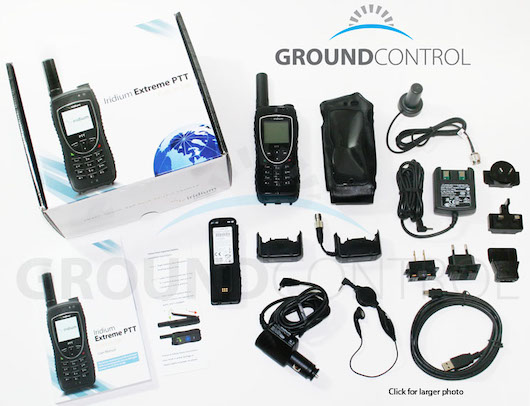 Iridium Extreme 9575 PTT Handset Phone
$1,689.00
Ruggedized Iridium Push-to-Talk Handset

The Iridium Extreme Push-to-Talk (PTT) is the device for global dependability, adaptability and durability. Only Iridium can deliver the power of fast, simple and secure group communication with the toughest, most feature-rich PTT-enabled satellite phone on the market.
Key Features
100% global coverage on the Iridium network, provided by Ground Control

Everything offered within the Iridium Extreme plus push-to-talk functionality

Global PTT capabilities and configurable talkgroups

A reinforced PTT button

Phone Mode battery duration: standby up to (54) hours; talk time up to (6.5) hours

PTT Mode battery duration: standby up to (16.5) hours; Talk time up to (5) hours

GPS-enabled location-based services

Supports online tracking and Google Mapping services

Military-grade (MIL-STD 810F) durability

Dust proof, shock resistant and jet-water resistant

Includes speakerphone and wind-resistant microphone

Intuitive and easy to use

Exterior vehicle antenna included

200-character brightly illuminated graphic display.

Multiple languages, clock on display (GMT), Vibracall.
Technical Specification
Dimensions (LxWxD): 5.51" x 2.36" x 1.06" (140mm x 60mm x 27mm).

Weight : 9.4 oz (266g).

Operating temperature: Military-grade MIL-STD 810F.

Battery: Li-ion rechargeable.

Phone Mode battery duration: standby up to (54) hours; talk time up to (6.5) hours

PTT Mode battery duration: standby up to (16.5) hours; Talk time up to (5) hours

AC power: 100 - 240VAC, 50-60Hz; comes with international AC adapter kit.

DC power (vehicle adapter): Input 10 - 32V (output 6V 800 mA).

Warranty: 12 months.
Extreme 9575 PTT Overview
The Extreme is Iridium's top-of-the-line push-to-talk satellite phone. Being highly ruggedized, it offers superior PTT, voice, SMS texting, GPS, low-speed Internet, SOS button, and real-time web-tracking. This popular satellite phone works in all weather conditions and is an ideal communications tool for remote industry, military, maritime, backpackers, or anyone who requires a reliable satellite phone wherever they travel.
Extreme Ruggedness
Iridium Extreme is the first satellite phone to meet military standard of US DoD (810F) with high ingress protection rating (IP65) with location-based services (LBS) to be compliant with satellite emergency notification device (SEND) features, via programmable SOS button.
100% Global
All Iridium satellite phones can operate anywhere on the planet. This means both polar regions, open oceans, all continents, stationary, moving, or flying – as long as the phone (or the included 5-foot mag-mount antenna) is exposed to the open sky, you can make a call.
Making Calls and Other Features
Voicemail – Call Forwarding – Call Holding – Call Waiting – Caller ID – Call History – Phonebook
The Iridium Extreme is about as easy to use as a typical cell phone. It is assigned an international number so it can make calls to any cellular or landline phone in the world for about $1.50 a minute. All calls it receives are free, but the calling party is charged their rate for calling a satellite phone (rates vary by provider).
The 'call forwarding' feature is handy when you want incoming calls to be diverted to your cell phone to circumvent higher satellite phone rates to the calling party (when you're in cell range). Of course, the 9575 has all the other phone features you've come to expect. Voicemail is free with a prepaid service. and is an additional $10 per month on the usage only plan.
Iridium Extreme Push-to-Talk Phones
Global Radio Communication
The Iridium Extreme comes in a Push-to-Talk version that gives the ability to instantly communicate with other PTT phones at the touch of a button – globally. Instant radio com links with unlimited PTT talk time. No towers or infrastructure to support and maintain with this amazing technology.