For over 15 years, v2track has delivered affordable, global, high-detail flight and fleet tracking, via their powerful cloud-based asset viewing and interaction platform. v2track manufactures its own tracking device, and have also integrated their 'Viewer' software with Ground Control's RockAIR, RockSTAR and RockFLEET tracking devices.
Ground Control and v2track
A complete solution for fleet telemetry
Ground Control's RockAIR and RockFLEET devices both offer dual-mode cellular and satellite tracking capabilities, leveraging the global Iridium network, so that no matter where your asset goes, you will be able to see their location in real time.
Both provide text-based communication, so pilots and drivers can keep in touch with their base of operations. The RockAIR is designed to be carry on / carry off, with a battery that will last up to two weeks, whereas the RockFLEET is designed to be installed; either can be used on air, on land, or at sea.
v2track's value add is their advanced software platform, which has been designed by aviators, for aviators, and works well for land-based fleet operations too.
Learn more about v2track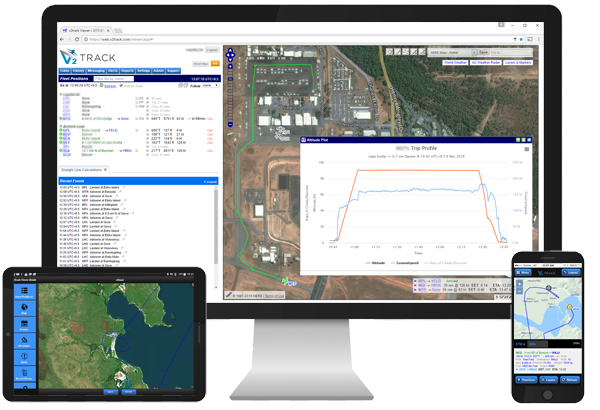 Introducing v2track's Viewer platform
As the Viewer is cloud-based, there's no need to download any programs or install updates; when you log in via your desktop, tablet or mobile, you'll be using the most up to date version of the software. Using the View you can monitor all of your aircraft, vehicles and assets in real-time. It retains the history of every trip / session for future retrieval.

Customizable, automatic SMS, email and website alerts, e.g. speeding alerts, out of hours use, movement in and out of predefined areas
Flight following alerts: proximity and non-reporting
EFB functions
Flight manifests
Electronic checklists
Daily history, playback and reports

When you combine the tracking and communication capabilities of the RockAIR, RockSTAR and RockFLEET devices with v2track's innovative and constantly improved software solution, you have an end-to-end solution for fleet tracking, anywhere in the world.
"We wanted to offer our customers a choice of hardware for their tracking and communication needs, and chose to integrate with Ground Control because of their justified reputation for reliability, and the ease of integration with our software. They make it very easy for us to work with them, and in turn, our customers get a very competitively priced and powerful fleet tracking and communication solution."
Kylan Diprose, Director Like to know more?
If you're interested in v2track's fleet tracking and communications solution, or you have your own tracking software and want to explore integration options with Ground Control's satellite tracking devices, we'd love to hear from you.

Call or email us, or complete the form, and one of our experienced team will be happy to help.