RockREMOTE for Harsh Environments
RockREMOTE Rugged is designed for permanent outdoor installation in harsh environments. Using Iridium's truly global Certus 100 service and an omni-directional antenna, it is perfect for critical communication in remote and mobile situations.
With no requirement for antenna-pointing and a constellation of 66 rapidly moving satellites, RockREMOTE can reliably transfer your data even with a poor or changing view of the sky.
The powerful Linux-based operating system offers containerised hosting for edge-computing applications. Comprehensive remote management (including diagnostics and firmware updates) is provided by Cloudloop.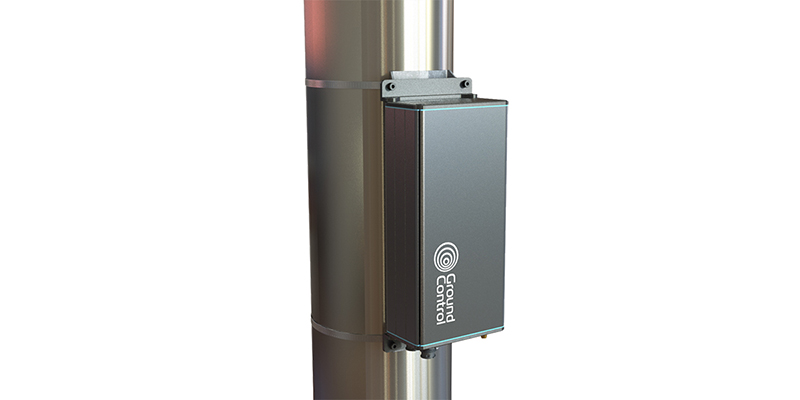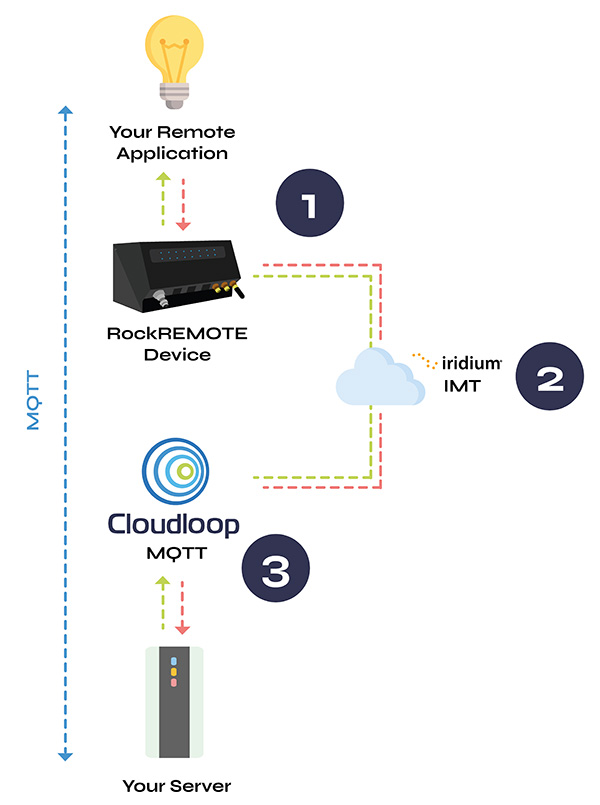 Iridium Messaging Transport (IMT) Compatible
Taking full advantage of IMT, the latest Iridium network service evolution, Ground Control has developed a Satellite IoT delivery network. It's designed to deliver large message payloads for a wide range of IoT applications in a highly cost effective way.
It provides an end-to-end solution comprised of:

An MQTT application deployed on the RockREMOTE terminal; this provides the interface for your remote application to submit and receive data payloads
The Iridium IMT satellite service
An MQTT server application, delivered via Ground Control's Cloudloop platform, which enables your IoT service application to submit and receive data payloads.
Learn More About IMT
Key Features
TECH SPECIFICATION
AIRTIME
Intuitive local web UI and RESTful JSON API
Automatic WAN failover
Configurable Firewall
Hosted applications (Edge computing)
Remote Management with Cloudloop Device Manager (CDM)
Over-The-Air firmware updates
Protocol facades for MQTT and FTP
IP67 rated: designed for permanent outdoor installation in harsh environments
Omni-directional, with no antenna pointing required; ideal for fixed deployment in hilly or woody locations, or for on-the-move applications
Simple to deploy, IP-based over Ethernet or Wi-Fi
Dual mode Iridium Certus satellite network combined with LTE
Physical & Environmental
Size: 250mm x 97mm x 61mm
Mounting: Fixings for deck/bulkhead and pole mounting
Antenna Size: 191mm x 95mm (diameter), pole mounted
Weight: 1.2 kg
Operating Temperature: -40C to +70C
Ingress Rating: IP67
Vibration Rating: EN 300 019-2-5, EN 300 019-2-7

Communications
Iridium: Certus 100: IP (22/88 kbps) and IMT
Cellular: LTE Cat 1 & Cat 4
GNSS: GPS, Glonass, Bei-dou, Galileo, QZSS
WiFi: 2.4 GHz, 5.0 GHz IEEE 802.11 b/g/n/ac
Interfaces
Iridium: TNC cable assembly to supplied Certus antenna
Cellular, GNSS, WiFi: SMA connector to external antennas
Ethernet: M12 connector, supplied hybrid cable
Serial & GPIO: M12 connector
SIM: Field accessible Certus & Cellular SIM slots

Electrical
DC Input: 10-30V DC protected
Power: 0W (sleep), 5W (idle), 9W (average transmit)
Compliance: CE, FCC, IC
Plan:
Flex
5 MB
50 MB
200 MB
Price Per Month (USD):
$25.00
$53.00
$200.00
$636.00
Included Data:
0 MB
5 MB
50 MB
200 MB
Overage Fee / MB:
$19.00
$12.00
$7.00
$5.00
Minimum Contract Term:
3 Months
3 Months
12 Months
12 Months
Useful Links
LAUNCHING IN FEBRUARY 2023
The RockREMOTE is designed to connect your remote IoT assets using IP or message-based protocols. It uses LTE networks where available, and the Iridium satellite network when your device is out of cellular coverage.

The new rugged form factor is in response to customer feedback and will be available from February 2023 (the current form factor is available now). It's designed for permanent outdoor installation in harsh environments, whether fixed or mobile. If you'd like to know more, call or email us, or complete the form.