Get Tracking and IoT Data from Anywhere
The Iridium Edge Solar is highly ruggedised, and will transmit data for up to 10 years using solar power to charge the battery. It also features a back-up battery that'll deliver another 5 years of data transmission (based on 2x per day reporting).
With real-time GPS tracking and advanced Bluetooth capabilities, we recommend the Edge Pro Solar for very remote asset tracking, monitoring and management.
The diagram shows how data is passed from the Edge Solar to you via Cloudloop, Ground Control's subscription, device and data management platform.
With Cloudloop you can configure your data delivery, activate your devices and manage subscriptions, set usage alerts and cost control measures, track and monitor your devices, and integrate all of this data into your own proprietary system if you choose.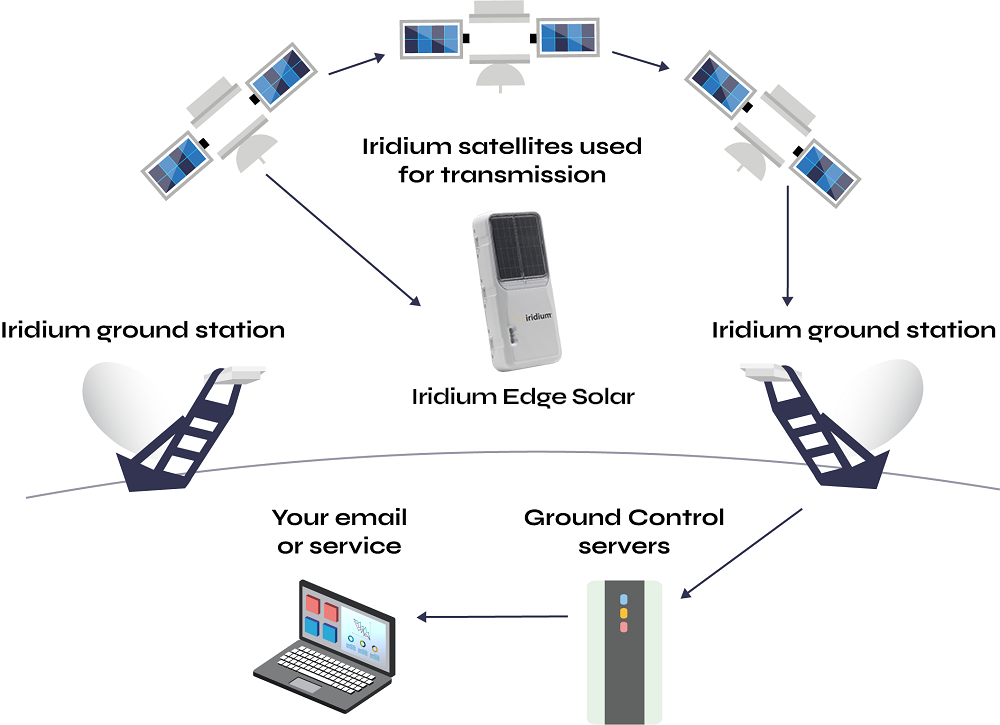 KEY FEATURES
TECH SPECIFICATION
AIRTIME
Two-way communications with Over-the-Air configuration with Cloudloop Device Manager
Enhanced Bluetooth functionality for seamless integration of wireless sensors and local device connectivity
Self-charging solar-powered battery with longevity of up to 10 years
Ruggedness and reliability meeting military standards MIL-STD-810G and IP68
Certifications from FCC, IC, CE, and Australia/New Zealand authorities
Cloudloop Tracking compatible, featuring tracking and position visualisation
Scheduled reporting mode allowing you to define specific time slots for reporting
Start/stop reporting enables the device to automatically transmit data when movement begins or stops
In-motion reporting ensures that the device continuously provides updates while in motion
Set specific time intervals for regular data transmission with interval reporting mode
Accelerometer and magnetometer
Truly global operation, including the polar regions
Size (L x W x H): 164.2mm x 71.2mm x 32.9mm
Weight: 470 g
Operating Temperature Range: -40 to +85 ℃
Storage Temperature Range: Store below 90°F (32°C) for best results
Durability: MIL-STD-810G, ASTM D3763, IPC9592a, UL746C F1, ASTM-G154 to 1.0 Yr
Ingress Protection: IP68 rated
Vibration: MIL-STD-810G:514.7, IEC60068-2-80 to 7.5Grms Random (5Hz-2000Hz)
Transmits using Iridium Short Burst Data
340 bytes per message sent; 270 bytes per message received
Ground Control offers Iridium SBD airtime both as a prepaid tariff, and as an annual contract for companies planning a larger deployment of devices. Full pricing plans can be found on our Short Burst Data Pricing page.
If you choose our prepaid, or pay as you go option, line rental is paid in blocks of 1 month, and allows the Edge Solar to exchange information with the Iridium satellite network. You only pay for months in which you wish to use the Edge Solar. No annual contract is required. Line rental costs £13.00 per month.
Credits are used each time you transmit. 1 credit is used per 50 bytes (or part thereof) of message sent or received. 1 credit is also used if you check your mailbox and there are no messages waiting (A mailbox check). Credits do not expire, even if you are paying no line rental. Credits are shared/pooled between all of the devices on your account
Please note, while our pay-as-you-go tariffs offer great flexibility for development purposes, we know they're not suitable for everyone. If you are planning a large deployment of devices and are willing to commit to airtime contracts of 12 months or more, please get in touch. We have access to various tariffs which may suit you better.
Bundle:
50 Credits
100 Credits
500 Credits
1,000 Credits
5,000 Credits
Price Per Credit (GBP):
£0.16
£0.145
£0.11
£0.099
£0.077
Bundle Price:
£8.00
£14.50
£55.00
£99.00
£385.00
Line Rental (per Month):
£13.00
£13.00
£13.00
£13.00
£13.00
Any questions about the Edge Solar?
If you're confident the Edge Solar is the right device for your needs, and would like a tailored quote for airtime or hardware, please call or email us, or complete the form.

Equally, if you'd like some expert, impartial advice on your application and the best suited device and airtime, get in touch: we have over 20 years' experience in satellite IoT and tracking, and we're here to help.