Switching Is Simple
Use Your Own iDirect Equipment
If you have an existing Ku-Band satellite system using iDirect equipment, switching may be as easy as calling us. In some cases we may need to repoint your dish or upgrade the transmitter using a local technician. Call us and we can confirm if your satellite equipment is compatible.
Supported iDirect Satellite Gateway-Routers
iDirect Evolution X1 Series Satellite Router

The iDirect Evolution X1 satellite router is available in two form factors; standard X1 Indoor gateway and the X1 Outdoor Gateway with ruggedized housing for use in remote unmanned locations for all weather use (IP67 NEMA 6 rating and -40° to 140°F temperatures).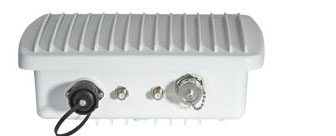 The X1 is more cost effective with many of the features of the X3 and X5, and is available for fixed VSAT dish installations.
Star Topology
Advanced QoS Prioritization
iDirect Evolution X3 Series Satellite Router

The Evolution® X3 is a next-generation satellite router featuring iDirect's highly efficient implementation of the DVB-S2/ACM standard. The X3 is ideally suited for broadband connectivity such as Internet and VPN access to enterprise networks, as well as real-time VoIP and video conferencing applications. Available in 1.5 RU rackmount tray.
● Star topology
● DVB-S2/ACM outbound for greater efficiency and enhanced network availability
iDirect Evolution X5 Series Satellite Router

The iDirect Evolution X5 satellite router is an easy-to-deploy solution with fast processing capabilities on a star topology network. The X5 features advanced QoS and traffic prioritization capabilities supporting superior processing speeds for data rates of up to 138 Mbps downstream and and 11.8 Mbps upstream. An ideal solution for fixed and mobile business critical applications. Available in 1.5 RU rackmount tray.
● Star topology
● Advanced QoS prioritization
iDirect Evolution X7 Series Satellite Router

The iDirect Evolution X7 Powerful is the next-generation remote supporting DVB-S2/ACM on the outbound and ATDMA and SCPC* on the return, with performance capabilities for the most demanding applications. It features a compact, rack-mount design, embedded 8-port switch, a 2nd DVB-S2 demodulator*, variant power supply configurations and Web iSite support making it an ideal enterprise class solution. Comes in 1RU rackmount.
● Star topology
● Advanced QoS prioritization