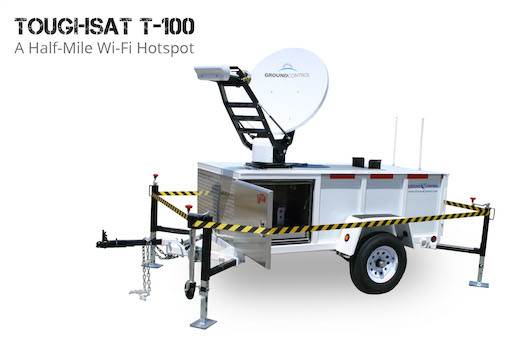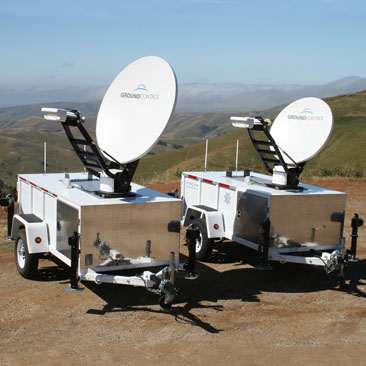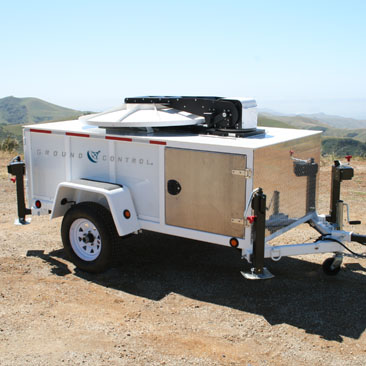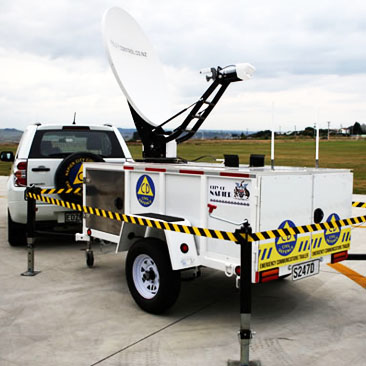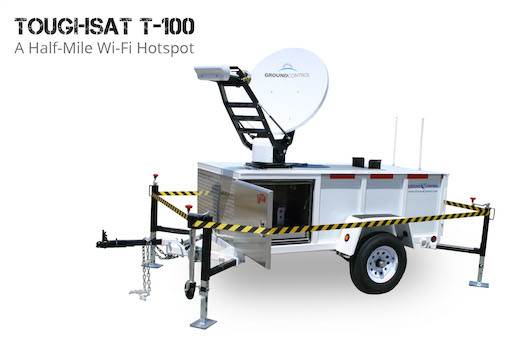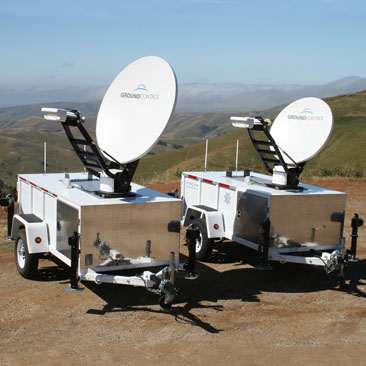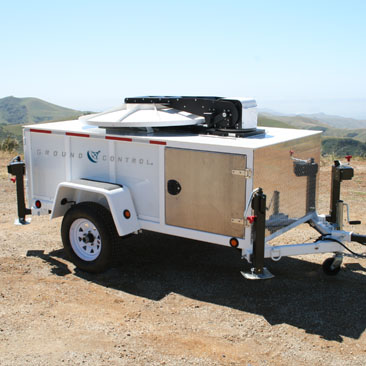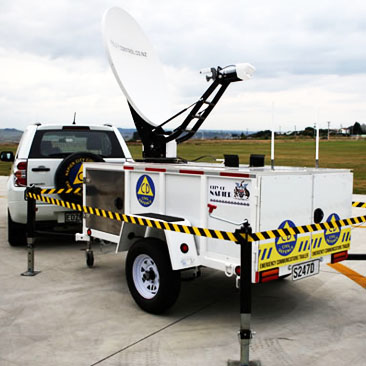 Toughsat T-100
Mobile Satellite Internet Trailer

The Toughsat T-100 is a self-contained, multi-purpose satellite communications trailer which combines Ground Control's powerful Toughsat XP satellite solution with a easily transportable trailer which can be quickly deployed at any location to provide a robust, high-speed internet and communications solution.

Contact one of solution experts to discuss how we can solve your communications needs.
iDirect Service Plans
Key Features
Heavy-duty all-weather construction, fully designed and manufactured by Ground Control.

Bundled with our high-performance satellite service providing 5Mbps x 2Mbps internet speeds.

Service pricing for available Public Safety Organizations. SAFECOM-complaint.

The trailer may be deployed and operated by anyone with little or no training.

Stabilization jacks are not required for normal use.

The 6RU rackmount electronics case may be moved 50 feet from trailer (such as a tent or structure).

The 6RU rackmount case has 2.5RU space for customer-added equipment. (8RU cases available.)

Trailer suspension rated for light load mobility and can be towed by any vehicle without issue

Designed to operate in extreme weather, including very high winds

Lockable cabinet door with heavy-duty latch assemblies
Technical Specification
Trailer Dimensions: 138"L x 66"W x 58"H (Stowed Dish - Exterior Dimensions)

Rear Storage Bay: 62"L x 24"H x 46"W (Interior Rear Bay Dimensions)

Weight (loaded): Under 1400 lbs (includes spare tire, gas & dolly)

Hitch Ball Size: 2 Inch

Removable Tongue Length: 23" (when removed, trailer is 115 inches long)

Trailer Lights Plug/cable: 7-Pole, RV-Style Trailer Connector (male)

Optional Generator: Honda EUi Ultra Quiet 1000 Watt Generator (upgradable to 2000W)

Utilises the Toughsat XP mobile satellite system as standard; other satellite systems may be used

TS2 Dish ACU 1 RU with integrated Linksys 4 Port Wireless Router

iDirect Evolution X7 Router - Satellite Modem - 1RU

Power Conditioner 1 RU (with 8 AC plugs)

2.5 RU available for customer use (front side rack)

6 RU available for back side rack equipment mounting

50' (15.3M) Quick-disconnect cable run (between dish and ACU)

Normal Power Draw: 90 to 100 watts

Power-Up Surge & Extreme Cold: 300 watts (Actual watts may be less. Buffer is built into this number)

Warranty: Standard 1 year parts and labor on all equipment
Engineered for Actual Use
Constructed of aluminum and stainless-steel, the T-100 trailer was designed from the ground up to accommodate our flagship Toughsat XP mobile satellite equipment and to be road-durable to operate in any extreme environment. The lightweight suspension is perfect for long travels or bumpy roads in any kind of weather. The reinforced generator cabinet houses an optional 1000 or 2000 watt ultra-quiet generator, and the electronics cabinet is shock resistant with high-grade locking doors. The large rear storage bay is perfect for adding additional electronics or for transporting any customer required equipment. Owners of the T-100 rave of its performance and ease of use. The T-100 is built to be used… and used often.
Simple Operation
Operation is as easy as starting the generator, switching on the power inside the rackmount case, and pressing the 'Deploy' button on the Toughsat TS2 ACU (antenna control unit). The mobile satellite dish will deploy, lock on satellite, and automatically create a Wi-Fi access point for high-speed internet in about 3.5 minutes. No other interaction is needed for full operation, and there's no special licensing or certification required to operate. Stowing the dish is just as easy – just press the 'Stow' button.
Toughsat T-100 Included Equipment
The Toughsat XP Mobile Satellite System (May also use any dish we offer).
The Toughsat TS2 Controller (1RU) with integrated 4-port wireless router.
The powerful iDirect X7 Satellite Router.
AC Power Conditioner (1RU) for 8 – 120 VAC outlets – Good for keeping power clean.
Rackmount case (6RU) for electronics that is easily moved (larger case sizes available).
50′ (14 meters) ACU cable (electronics case may be located in a structure or tent).
There are quick-release straps for securing equipment inside of large storage area.
Four easy-crank stabilization jacks – Good for high winds and uneven terrain.
Self retracting security belt for crowd-security control.
Spare tire (located inside storage bay).
Removable and lockable trailer tongue. The ball is a standard 2″.
T-100 Toughsat Communications Trailer Photos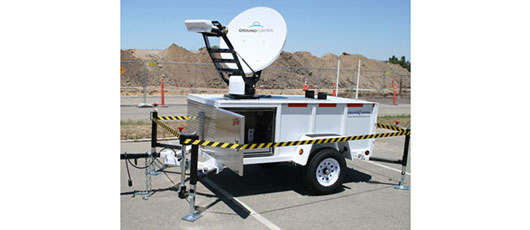 Toughsat T-100
Stable in Uneven Terrain / Poor Weather
The Toughsat T-100 trailer uses four stabilizing legs for uneven terrain or to secure the system from being accidentally jarred off signal by accidental pushing or wind.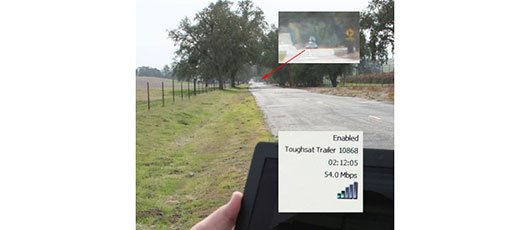 Toughsat T-100
Half-Mile Wireless Hotspot
The T-100 wireless (802.11 "G") access point has been confirmed to connect with a standard laptop at a half-mile distance from the trailer (over 2700 feet or .8 Kilometer).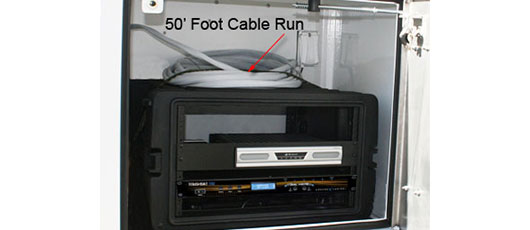 Toughsat T-100
Rackmount Case
A lightweight 6RU (or 8RU) rackmount case is strapped inside a shock absorbing weather-proofed cabinet with a stainless steel locking reinforced door. The rackmount case can itself be moved up to 50 feet from the trailer and located inside of a structure or tent if desired.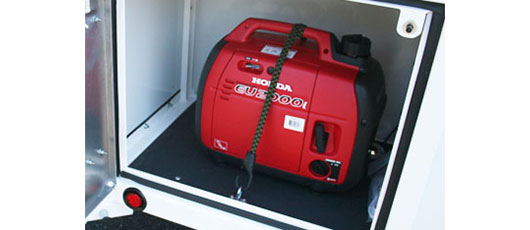 Toughsat T-100
Generator Cabinet with Honda Generator
The generator cabinet may hold the optional 1000 watt ($999) or 2000 watt ($1,200) Honda ultra-quiet generator, or a generator of your choosing. The satellite systems pulls 90 watts leaving a lot of power for other electronics. Runtime on 1 gallon of gas is just over 8 hours.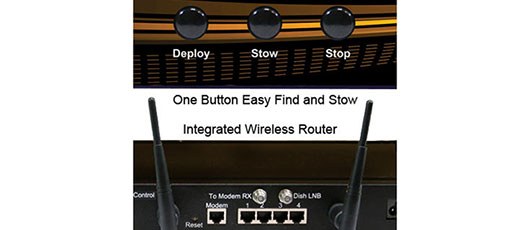 Toughsat TS2 Controller
Simple Operation
The Toughsat TS2 ACU has easy one-button "Deploy" and "Stow" buttons for simple operation. The web Interface also allows the system to be monitored and controlled.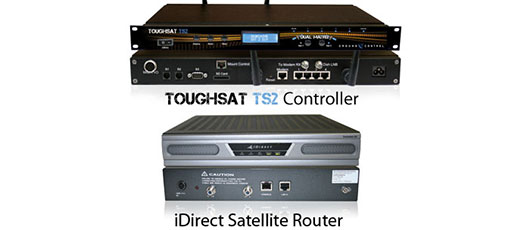 Toughsat TS2 Controller
Maintaining Connectivity
The Toughsat TS2 ACU has powerful tools that maintain connectivity. The iDirect Evolution X7 is now standard equipment (Rackmount 1 RU not shown).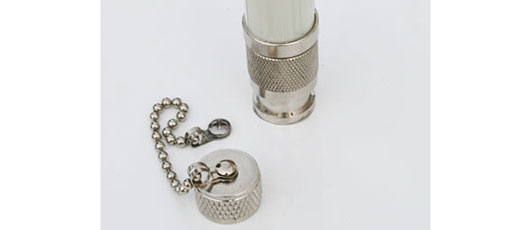 Toughsat T-100
High Gain Antennas
There are two high gain, range extending antennas that are both removable for added security when stored. The exposed connectors are protected by a metal twist cap.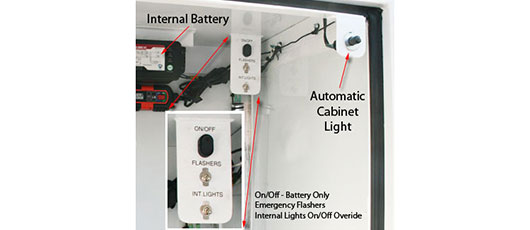 Toughsat T-100
Onboard Battery
An onboard battery powers all cabinet lights and the trailer's emergency flashers when the generator is not running. Helpful for dark nights.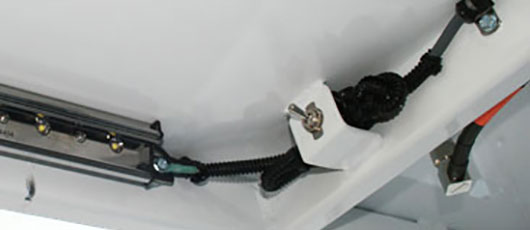 Toughsat T-100
Lighting Up the T-100
In the rear bay, the lights and light switch are located on the top support rail. Full clearance for loading any equipment.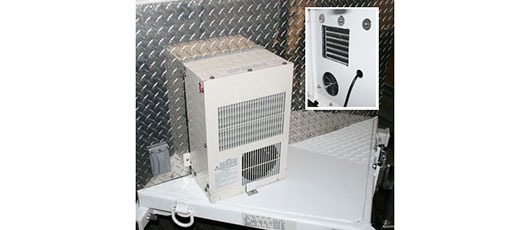 Toughsat T-100
Environmentally Controlled
The optional 450 watt AC/Heater keeps electronics at optimal temperatures no matter the temperature outside. The picture on the top right are the venting ports inside of the electronics cabinet.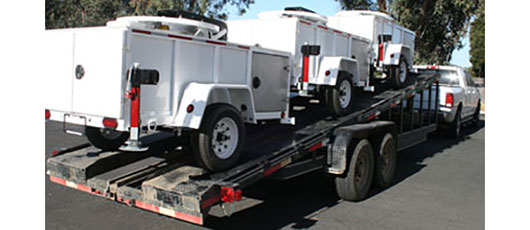 Toughsat T-100
Worldwide Shipping
Ground Control is able to transport one or more T-100 trailers from our plant in California to any location... worldwide.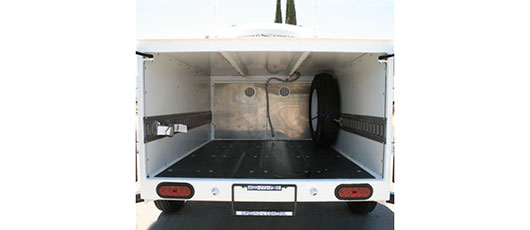 Toughsat T-100
Lockable Storage Bay
The weather resistant enclosed rear lockable storage bay includes a spare tire. Internal dimensions are 62"L x 46"W x 24"H.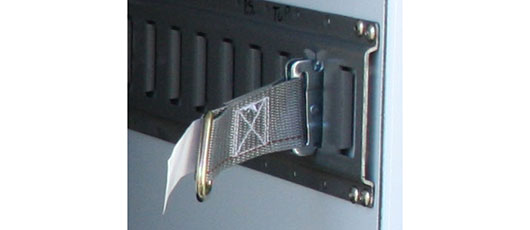 Toughsat T-100
Quick Release Straps
Rails on the sides of the walls include with quick release strap/rings to make any load secure.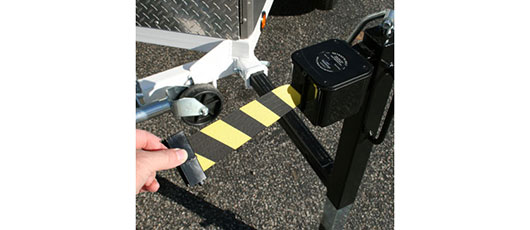 Toughsat T-100
Retractable Belts
Two retractable belts mounted on two jacks are useful for day or night security when in operation.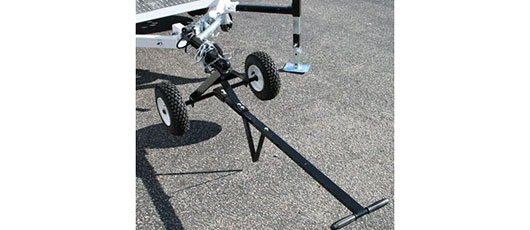 Toughsat T-100
Optional Trailer Dolly
The optional trailer dolly maneuvers the trailer with a single person. It may fit inside of the storage bay, but normally is used only at the trailer storage location.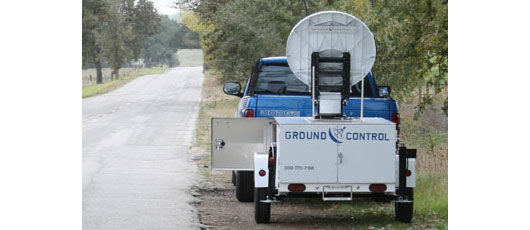 Toughsat T-100
Operational within 5 Minutes
The T-100 can be fully operational about 5 minutes from parking. This includes starting the generator, powering up the electronics, and pressing the "Deploy" button.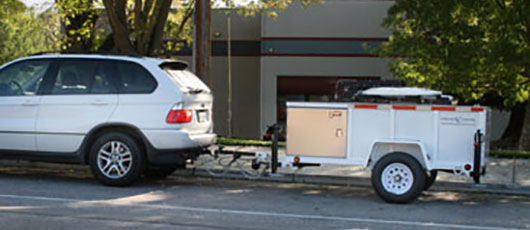 Toughsat T-100
Easily Towable
The T-100 trailer's weight is under 1400 lbs, making it an easy tow behind any vehicle with a tow package. The ball size is 2" and can be easily changed to a different size.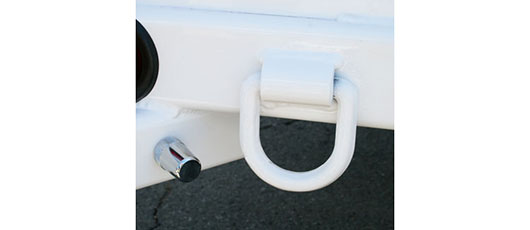 Toughsat T-100
Can be Airlifted
Four helicopter D-Rings on the T-100 allow helicopters to aerial lift it anywhere. The weight of the trailer fully loaded with all equipment is under 1400 lbs which is under most sling load capacities.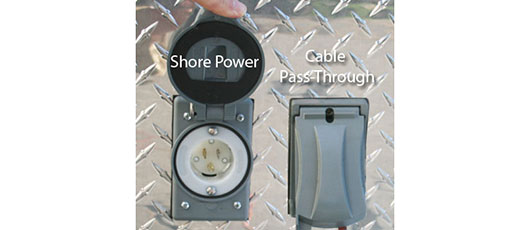 Toughsat T-100
Plugs and Ports
The T-100 has a shore power plug (110 VAC) to run all equipment and bypass the generator. Next to it is a pass-through port for customer cables into the electronics cabinet.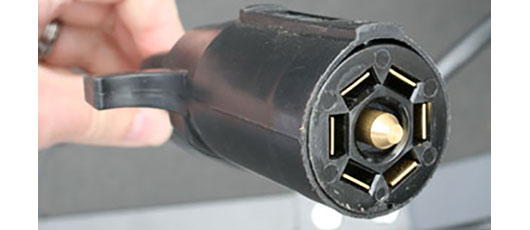 Toughsat T-100
Trailer Lights Plug
The T-100 trailer lights plug is a 7-pole, RV-style trailer connector (male).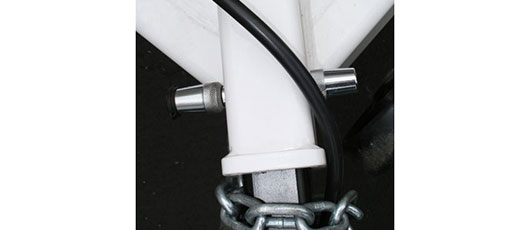 Toughsat T-100
Locking Trailer Tongue
The locking trailer tongue may be removed and stored for added security.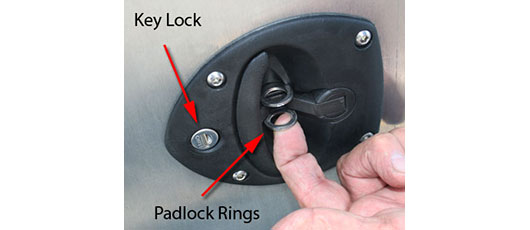 Toughsat T-100
Lock Cabinet Latches
The heavy-duty twist lock cabinet latches on the trailer's three cabinets have both a key lock and padlock rings.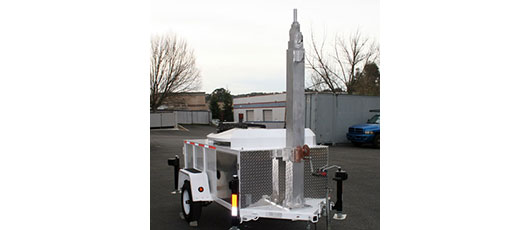 Toughsat T-100
Optional 30ft Tower
The Toughsat T-100 has an optional 30' tower to mount lights, or antennas, or a video camera for creating a custom solution.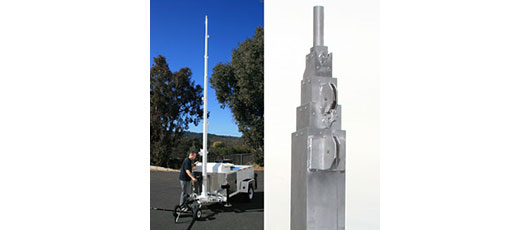 Toughsat T-100
Raising and Lowering the Tower
Raising and lowering the tower takes minutes using an electric drill (not included). The tower stows to a height of 8.5' feet from the ground.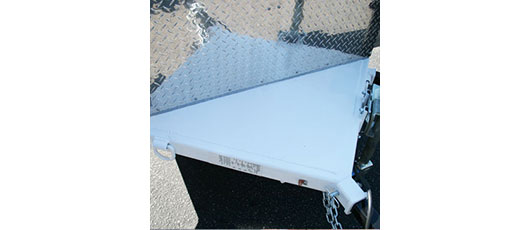 Toughsat T-100
Installing your Own Tower
If you have your own tower, Ground Control provides an optional flat base plate for easy installation.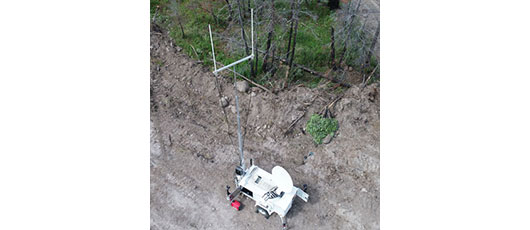 Toughsat T-100
Cellular Backhaul Trailer
Ground Control offers a 4G LTE network solution for the T-100 trailer for locations that require temporary 4G LTE. This solution has a 10 to 20 kilometer range.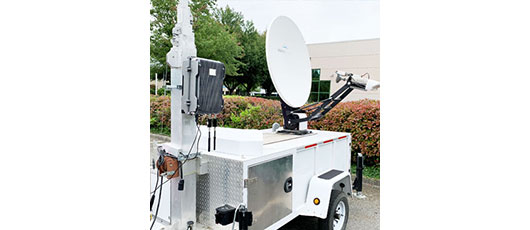 Toughsat T-100
Cellular Backhaul via Satellite
This complete network in a box 4G LTE mounts to our T-100 boom and uses our high-speed iDirect service for reliable 4G LTE communication.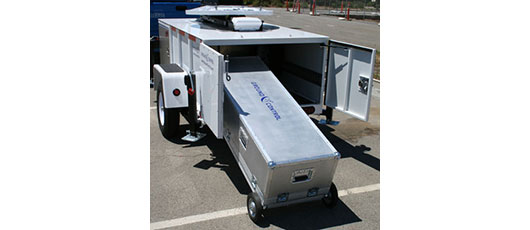 Toughsat T-100
Storage Options
The trailer can also be configured so the Toughsat dish can be boxed into our Flyaway Case. This case solution can be stored in the T-100 bay, or in an SUV.