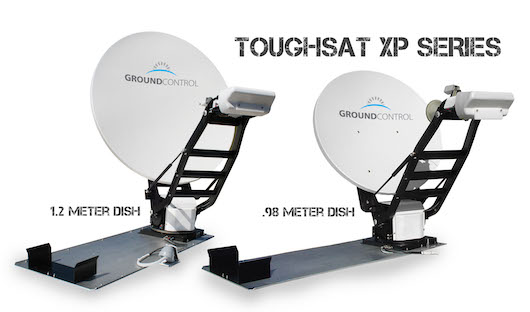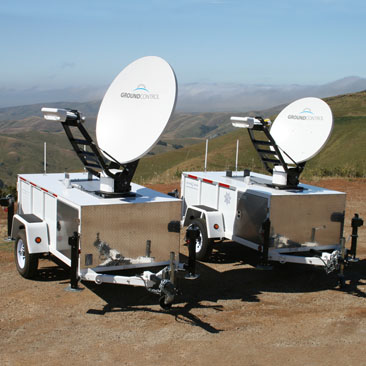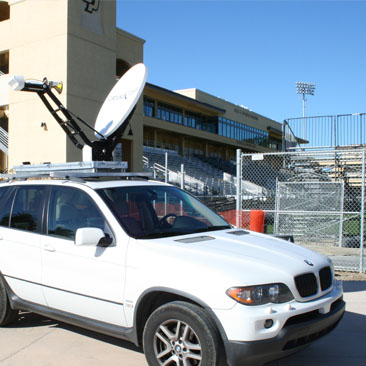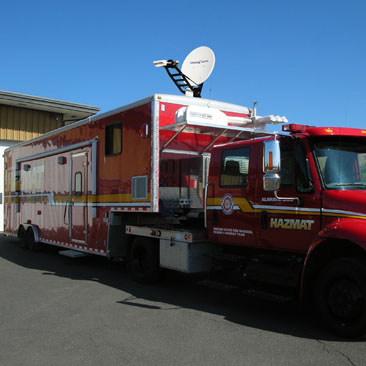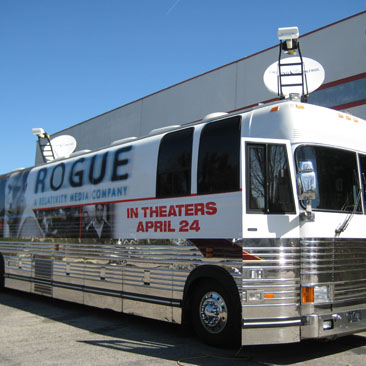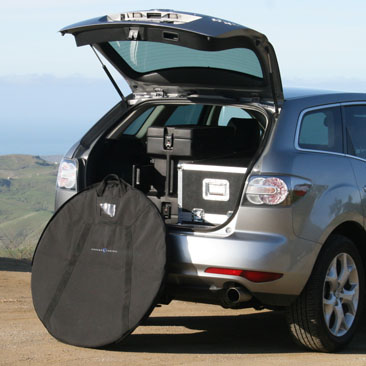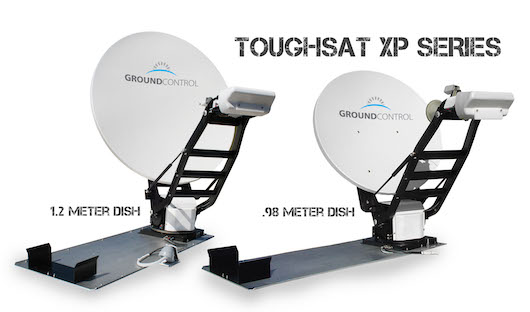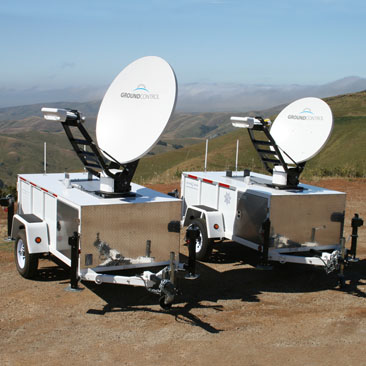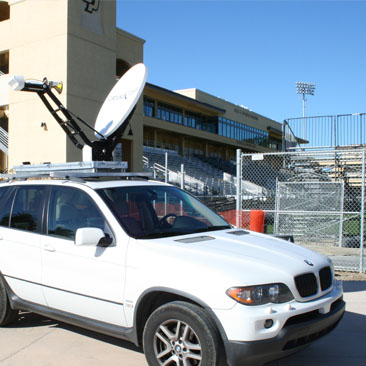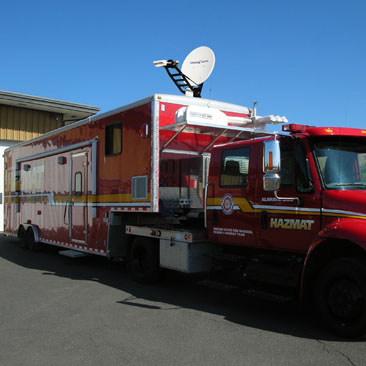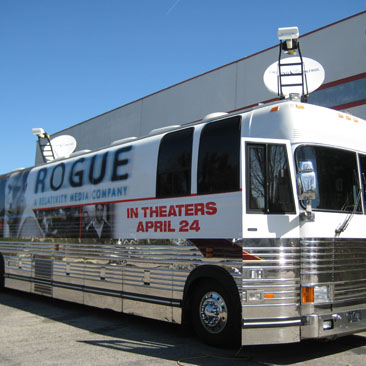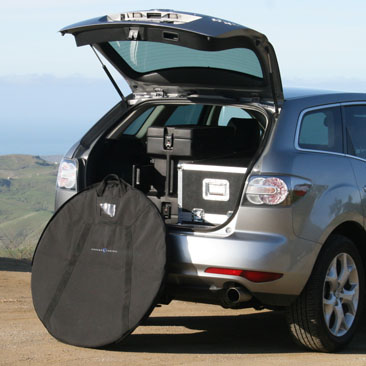 Toughsat XP
Professional Grade Mobile Internet
Toughsat XP is Ground Control's flagship professional series mobile satellite system, incorporating the best of our experience into a complete system with a powerful feature set that operates in normal or extreme environments.
With simple operation at the click of a button combined with our premium grade iDirect service the, solution provides the speeds and bandwidth needed for robust Internet and communications making it the perfect in-field communications solution.
Contact one of our solution experts to discuss how we can solve your communications needs.
iDirect Service Plans
Key Features
Complete, ready-to-go system including all components required for operation

System includes: Mobile Dish, TS2 Controller, iDirect Satellite Gateway and 6 watt BUC

Easy and quick to deploy and stow, including one-button operation

No requirement for specialist training or knowledge to operate

Rapid satellite lock and connectivity establishment

Establishes a local area wireless network (100-foot radius) automatically

Auto-stow feature - dish will automatically stow if rig is moved or dish goes off signal

Operates globally in northern or southern hemispheres

Uses Ground Control as the service provider or any iDirect service provider worldwide

Bundled with our high-performance iDirect service providing 20Mbps x 5Mbps internet speeds

Service pricing available for Public Safety Organizations. SAFECOM-complaint.

Ideal for our VoIP phone service. Connect one or 10 phones that work like any phone

Optional antenna booster extends wireless connectivity up to half a mile.

Connect up to 256 devices with Integrated full feature 4-port router

SNG rated to stream live video at guaranteed 4 x 4Mbps with our streaming services

Powerful TS2 Antenna Controller Unit with intuitive web-based interface for system configuration, diagnostics and control

Black anodized billet aluminum construction, UV-resistant plastics, sealed all-weather electronics

Removes vehicle clearance issue with stow heights below 12 inches

Modular design - components easily replaced in field

Manufactured by Ground Control at our plant in California

Standard 12 month warranty - parts and on-site labor

Extended and lifetime radio electronics warranties available

24-7 US-based technical support from Ground Control included

Optional UPS. A back-up battery for stowing the dish if power is shut off or disconnected
Technical Specification
Max Satellite Speeds (6-watt BUC) Rx/Tx: (G-18)20 / 5 Mbps, (SES2) 5 / 2Mbps

Satellite Gateway: iDirect Evolution X7 Router

Public IP Address: Included

Toughsat ACU Type: Rackmount 1RU with front panel control. 12" depth

Integrated Router: Cisco Linksys with 4-port LAN.

Integrated Wireless Access Point: 802.11 'G'. 100-foot radius standard

DHCP: Wireless and 4-port LAN

Wireless Security: WPA (TKIP) WPA2 (AES) + WEP 64 and 128bit

NAT: Supported by included router

Firewall: Supported by included router

Port Mapping and Port Triggers: Supported by included router

QoS, ToS, MAC Address Clone, RIP v1 RIP v2: Supported by included router

Networkable clients machines: Unlimited

ACU Power (includes dish, router, and Wi-Fi: Average 15 watts, max 40 watts

Reflector: 1.2 or 0.98 square meter effective area

Mount Geometry: 3-axis motor drive (elevation, azimuth, and skew)

Deployment Sensors: GPS and tilt sensor +- 0.1°

Maximum Mount Rotation: (Azimuth) 410°, (Elevation) 165°, (Polarization) +/-95°

Transmit Power: 6 watts

Frequency Receive: 10.96 - 12.75GHz

Frequency Send: 13.75 - 14.50GHz

Stowed Dish Dimensions (1.2m): (LxWxH) 67.5" x 48.3" x 12" (172 x 123 x 30.5cm)

Stowed Dish Dimensions (.98m): (LxWxH) 59" x 39" x 12"(150 x 74 x 30.5cm)

Mounting Plate (1.2 and .98m): 22" x 57" (56 x 145cm)

Base Plate (attached to mounting plate): 14" x 16" (35.6 x 40.7cm)

Deployed Max Height (1.2m / .98m): 68" (173cm) / 52" (132cm)

Weight (1.2m / .98m): 133lbs (60.4kg) / 125lbs (56.7kg)

Boom Radius Sweep (1.2m / .98m): 61" / 53" from center with 5" min. ground clearance

Wind Deployed (1.2m / 0.98m): 50mph (80kph) / 75 mph (120kph)

Wind Stowed: 140mph (225kph)

Max Operational Temperature (at 100% humidity): -20°F to 140°F (-28°C to 60°C)

Max Survival Temperature (at 100% humidity): -60°F to 160°F (-51°C to 71°C)

Environmental IP Rating (Antenna): IP-66

Power: 100 to 240V AC, 50 to 60Hz

Power Plug Types Available: US, UK, EU, AU, and Brazil plug types

Dish Electronics: 15 watts average draw, 40 watts Max

iDirect Router: 75 watts average draw
Toughsat XP Photos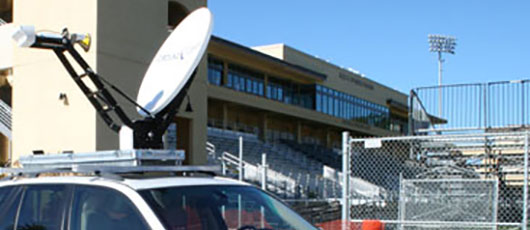 Toughsat XP
Fly and Drive
The Toughsat fly-and-drive system allows the Flyaway case to be easily mounted on any roof rack. The Toughsat is video streaming capable for live events with a streaming services.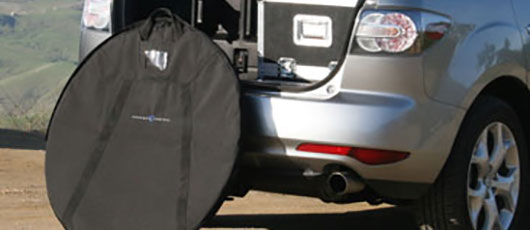 Toughsat XP
Flyaway Case-Based
The optional Flyaway case-based Toughsat is a complete Toughsat system in three pieces that can be transported and operated by a single individual.
Toughsat XP
Rooftop VSAT
The Toughsat does not require a lot of space on top of a roof. Deployed, the boom can clear air conditioners, or other installed equipment.
Toughsat XP
Stowed Height
The Toughsat XP .98 and 1.2 meter dishes both stow below a height of 12". Good for rig clearance issues. Flimsy roofs are easily reinforced with 2 lengths of aluminum quarter angle.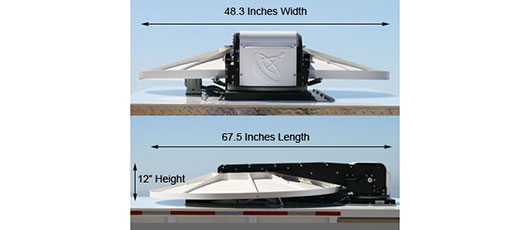 Toughsat XP
1.2 Meter Dimensions
The Toughsat XP 1.2 Meter system uses 67.5 inches of space on top of a vehicle roof. Stow heights are less than the XP .98 meter at below 12" (30.5cm).
Toughsat XP
.98 Meter Dimensions
The Toughsat .98 meter (both the XP and SP) has a very small footprint on top of any rig or vehicle roof. Stow heights are below 12" (30.5cm).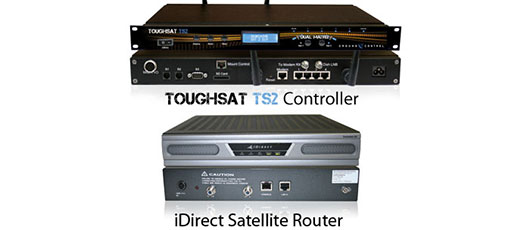 Toughsat TS2 ACU
TS2 Controller
The Toughsat TS2 ACU operates silent with no fan. The iDirect Evolution X7 satellite router is also silent, and is standard equipment. (Rackmount 1 RU for X7 iDirect satellite modem is not shown).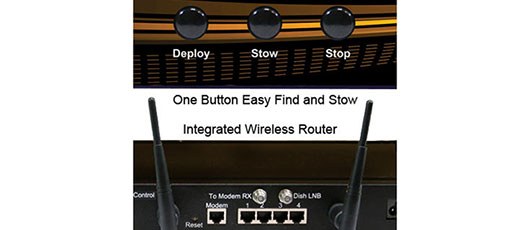 Toughsat TS2 ACU
Antenna Control Unit
The Toughsat TS2 ACU (Antenna Control Unit) has easy one-button "Deploy" and "Stow" buttons for simple operation. Also, the full function integrated wireless G router with a 4 port Ethernet hub on the back of the ACU.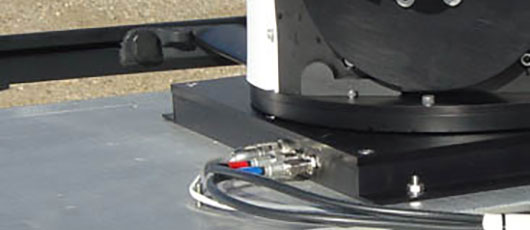 Toughsat XP
Weather-Proof Connectors
Weather proof, easy twist submarine rated connectors, internal weather proof electronics housing, stainless steel & aluminum construction, are just a few of the environmental upgrades for Toughsat to travel and operate anywhere.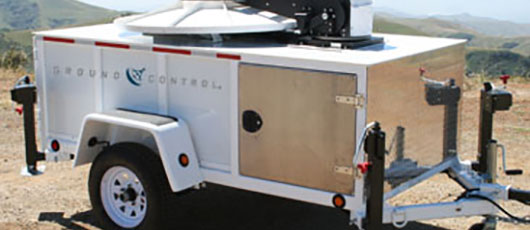 T-100 Trailer
Communication Trailer
Both the 1.2 and .98 meter Toughsats stows to a height below 12" (30.5cm). The T-100 communication trailer is totally self contained with an onboard 1000 or 2000 watt generator.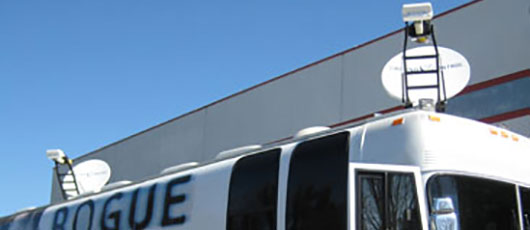 Toughsat XP
Toughsat in the Media
This bus uses two Toughsat systems for redundant connectivity to two different satellites, and for added speed using a dual WAN.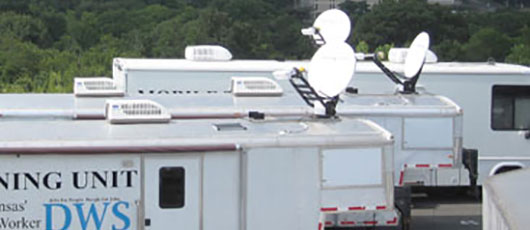 Toughsat XP
Toughsat in Education
These Toughsats are mounted on 5th wheel trailers to create mobile classrooms.
Toughsat XP
Toughsat in Emergency Situations
Ground Control has special 10 unlimited use days per month plans for emergency personnel. We understand that the dish is not used every day, and we price it as such.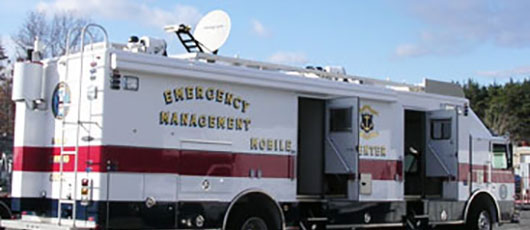 Toughsat XP
Toughsat and First Responders
The Toughsat series is popular with many emergency responders in North America. High-speed Internet and multiple VoIP phones create a fully functional remote command station in minutes.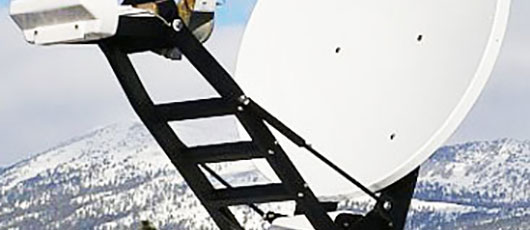 Toughsat XP
Weather-Resistant
The TOUGHSAT XP's operate in extreme environments from most any parked location on the planet. The .98 meter system shown above can stay operational in wind speeds up to 75 mph (120 kph)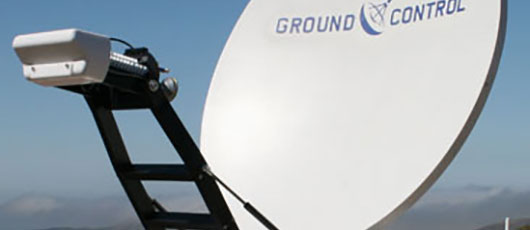 T-100 Trailer
Communication Trailer
The Toughsat XP 1.2 Meter dish is mounted on one of our T-100 Communication trailers that enable the wireless signal to reach out half a mile in any direction.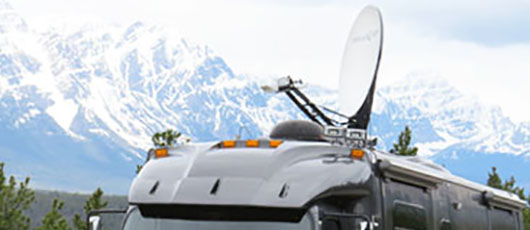 Toughsat XP
Integrated WiFi
The Toughsat has an integrated Wi-Fi access point for any in-range wireless enabled devices. Shown above is a Toughsat XP 1.2 meter dish. Credit to Montana Satellite Services - Toughsat dealer - installer.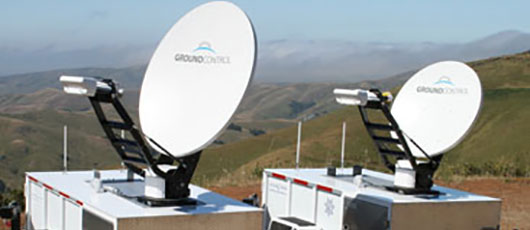 T-100 Trailer
Twin T-100s
Side-by-side are the 1.2 meter Toughsat XP and the .98 meter Toughsat XP on our T-100 communications trailers. The XP systems are designed to be mounted on a vehicle or truck or trailer roof.