Did you know that 81% of emergency managers have experienced communication failures during emergencies?
Whether a major incident is caused by a natural disaster, accident or malicious intent, first responders have to contend with a constantly evolving situation where priorities can change from minute to minute. Adding to the complexity is communication, which is made particularly challenging when multiple agencies need to communicate in order to respond effectively; when an incident takes place in a remote area, or if bandwidth gets constrained.
None of these issues are easy to resolve, but we've written this blog post to outline some potentially overlooked, affordable and easy-to-deploy solutions which can help tackle the three core issues of interoperability, network congestion, and coverage in remote areas.
1. Interoperability
"During incidents like 9/11 and Hurricane Katrina, cell phone towers were destroyed and overloaded, and first responders' radios were incompatible, making life-saving communications almost nonexistent when they were needed most." – United States Army

"The inability of responders from different departments and jurisdictions to communicate over their various radio systems during the event… was determined to have been a factor in the inability to evacuate 343 firefighters from the World Trade Center buildings, who all perished as a result." – Dereck Orr, NIST
Why were the radios incompatible? Because public safety departments across the US are free to choose their own radio systems from different manufacturers, which sometimes operate on different radio bands. But forced standardization of radio systems isn't the answer, as allowing agencies to select their providers encourages competition, driving innovation and lowering costs.
Two options present themselves: firstly, using an "interoperability gateway" otherwise known as a crossband repeater – technology designed to transmit and receive on different parts of the radio spectrum. These devices can be quickly deployed to allow agencies using different radio systems to talk to each other, in addition to other frequently used devices like satellite phones and VoIP desk phones.
Secondly, using Mission-Critical Push-to-Talk (MCPTT) enabled devices. This is a newly developed protocol that several telecommunication companies are building into their applications, including Ericsson, Qualcomm, ESChat and Motarola. If you're using software built to the MCPTT specification, irrespective of the network or handset being used, you can communicate with other agencies using MCPTT. Currently this technology isn't interoperable with LMR, but this is a known requirement that's being worked on (source).
2. Network congestion
For people caught up in an emergency, it's a natural reaction to try and reach friends and family, but this can, and frequently does, lead to network congestion. And that can have catastrophic consequences for emergency responders and the people they're trying to save.
Cognizant of this, two communications companies took the initiative to create networks exclusively for the use of first responders: AT&T's FirstNet, and Verizon's Frontline. Both provide a choice of different phones, tablets, laptops and routers compatible with the service, and cover up to 2.71 million square miles. This helpful article provides a more detailed comparison and pricing.
It's not a perfect solution: users of FirstNet have reported poor signal coverage, while users of Frontline report frustration with saturated networks. One workaround is to use an app like ESChat, which supports multiple terrestrial networks, but also offers a satellite option, Iridium Certus, which provides 100% global coverage. That's a highly valuable failsafe if cell phone towers are damaged or congested, or terrestrial infrastructure is wilfully targeted, as was seen at the Nashville bombing in 2020.
ESChat partnered with Thales to make this satellite solution available. If you're a first responder with a MissionLINK 200, MissionLINK 700 or MCD-MissionLINK device, or its maritime equivalent, the VesseLINK 200 or VesseLINK 700 (the differences are the data speeds available), you'll be able to subscribe to the ESChat service and benefit from low-latency PTT from your smartphone or tablet.
Satellite systems in general are a great failsafe should terrestrial networks be damaged, destroyed or overloaded; and the proliferation of new satellite constellations over the last few years has created more choice and lower prices for users.
Do satellite networks suffer from network congestion too?
As satellite grows in popularity thanks to companies like Starlink, congestion on satellite networks needs to be considered. Like terrestrial networks, some satellite network operators provide dedicated bandwidth for emergency response traffic, whereas with others, you're sharing the network with commercial users. Starlink for example has grown its user base so quickly that the demand is outpacing the capacity of the network, causing speeds to slow right down when many customers try to connect at the same time.
The best advice is to do your research, and ideally speak to someone who understands the satellite industry very well before deciding on a satellite partner.
3. Coverage in remote areas
While FirstNet and Frontline cover 77% of the landmass of the United States, that still leaves 800,000 square miles where there is no cellular coverage. These dead zones are naturally removed from population centers but are no less at risk from wildfires, hurricanes, earthquakes, landslides or flooding, which can cause huge damage to critical infrastructure like oil, gas and water utilities, plus farms, forestry and mining operations.
Sending emergency responders into areas like this presents a new set of challenges around communication, as neither cellular nor radio networks are likely to be consistently available. Satellite systems perform highly effectively in these circumstances, providing instant infrastructure that's independent of terrestrial networks.
Portable, battery-operated devices like the MCD-4800 "The Football" or the MCD-MissionLINK create a WiFi hotspot of up to 1,000ft, providing broadband internet for up to 12 connected devices.
This delivers reliable access to email, text messages, Material Safety Data Sheets (MSDS), and mapping. It enables the tracking of manpower and equipment, and access to GIS data; as well as the ability to upload drone data and to monitor local TV news coverage.
Even a simple handheld device like the RockSTAR can save lives. This highly ruggedized equipment provides real-time tracking of your personnel, and can transmit IoT data such as their temperature and heart-rate.
Two-way text messaging is possible both via the device and via a Bluetooth-connected smartphone, and there are alert features if the device is dropped, or the person moves out of a pre-agreed trajectory.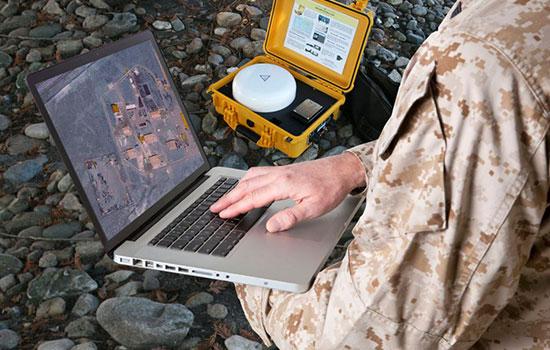 Effective communication during major incidents is a tough nut to crack, but the technology exists today to overcome interoperability challenges, and the emerging MCPTT protocol holds great promise to banish this issue altogether. But it remains important to have options, like satellite, that don't rely on terrestrial infrastructure. Terrestrial infrastructure – including that which supports LMR – will always be the default, but that makes it a high priority target for terrorist attacks. Plus, it remains vulnerable to natural disasters, and is absent from 23% of the US' landmass.
Objective, expert advice
Ground Control is a satellite communications expert, having supplied emergency responders with solutions for over 20 years. We work with multiple satellite network operators and partner with companies like Thales, Hughes, Cobham and Starlink to make sure you get the best possible solution for your circumstances. We're here to help with objective, expert advice when you need it.