The pandemic exacerbated supply chain challenges, with stockpiled goods in temporary storage facilities becoming a key vulnerability in Europe, and trailer break-ins prevalent in the US and Canada. According to the BSI and TT Club's Cargo Theft Report 2021, cargo crime thrived across the globe, at best delaying shipments; at worst, resulting in the total loss of goods due to the breach of shipment integrity.
More recent data shows that thefts from containers / trailers in the United States increased as a proportion of overall cargo theft from 13% to 20% between Q3 2020 and Q3 2021. At a conservative estimate, cargo theft costs businesses and consumers $35 billion a year in the US alone.
In addition to theft, there is a growing problem of individuals stowing away for transportation in cargo shipments, which increases insurance costs, and can result in loss of goods. And to round off our trifecta of supply chain issues, we have perishable goods failing to make it to their destination in a usable state – the most obvious being food and drink, where a third of all food produced globally is lost or wasted, largely due to temperature sensitivity (accounting for half of all food waste).
Six ways asset tracking can help reduce costs and wastage in the supply chain
Cargo theft is being effectively prevented by having IoT-enabled locks that send alerts if they're tampered with or broken by unauthorized people. Couple this with ubiquitous coverage provided by hybrid cellular / satellite services, and you can act in real-time to reduce theft.
The same technology can prevent unwanted passengers, whose presence not only compromises the shipment integrity, but also increases your insurance premiums (not to mention rarely being a safe means of transport for the stowaway).
By giving your drivers a means of contact with the outside world, even when out of cellular range, you can improve their personal safety and morale. And tracking their location gives reassurance that the goods will be delivered when intended, which means that the recipient can plan around the estimated delivery time with confidence.
By measuring the condition of your assets (such as perishables), and being able to act on, for example, an unexpected temperature change in a refrigerated unit, you can reduce the chances of spoiled goods on arrival, saving costs and improving sustainability.
Either by aggregating route data over time, or by layering real-time traffic and weather data over your truck, train or ship's trajectory, you can optimize their route, lowering fuel costs and improving driver safety.
Sensor data can easily measure wear and tear; by alerting fleet managers to any issues before they become crises, you can lower costs and improve driver safety, as well as avoiding costly and reputation damaging delays.
What technologies should you consider for your asset tracking requirements?
There are two key considerations here: the first is how to gather your sensor data from multiple different units (e.g. containers) in a cost-effective, low maintenance, secure and reliable way. The second is, once you have that data, how to transmit it to your base of operations so it can be acted upon.
In terms of gathering sensor data, this is where LPWAN (low-power wide area network) technology comes into play. Created for IoT networks, LPWANs combine great power efficiency, low operating costs, and the ability to manage a large number of connected devices over a wide area. Most have a star topology – each sensor or node is connected to a central gateway. Here's an excellent explanation of LPWAN technology and the major players in this space.
The gateway, or hub, typically has some edge processing capabilities, so it can recognize when data points have fallen out of pre-set parameters, and can then report on exception, rather than sending a continuous stream of data. This is useful for smart locks or temperature sensors, where you don't necessarily need to provide an update if nothing has changed.
Then it's a question of getting that data back to you. If your asset is within cellular connectivity range, a cellular transmitter will be your first choice of data retrieval. It's low cost, relatively low power, reliable and well understood. Plus, the challenges of moving between cellular providers as your asset moves from country to country have been largely overcome. One solution is eSIMs: this technology allows you to host multiple "profiles" (i.e. Mobile Network Operators – MNOs) on a single SIM card. Another solution is working with a provider such as Telit, who have global IoT data plans, and manage this complexity for you.
If your asset is going to travel outside of cellular coverage, you have two choices: firstly, you can wait until your tracker reconnects to the next available cellular tower, which is probably OK if the black spot is just a few minutes. Secondly, you can failover to satellite connectivity.
Considerations for satellite asset tracking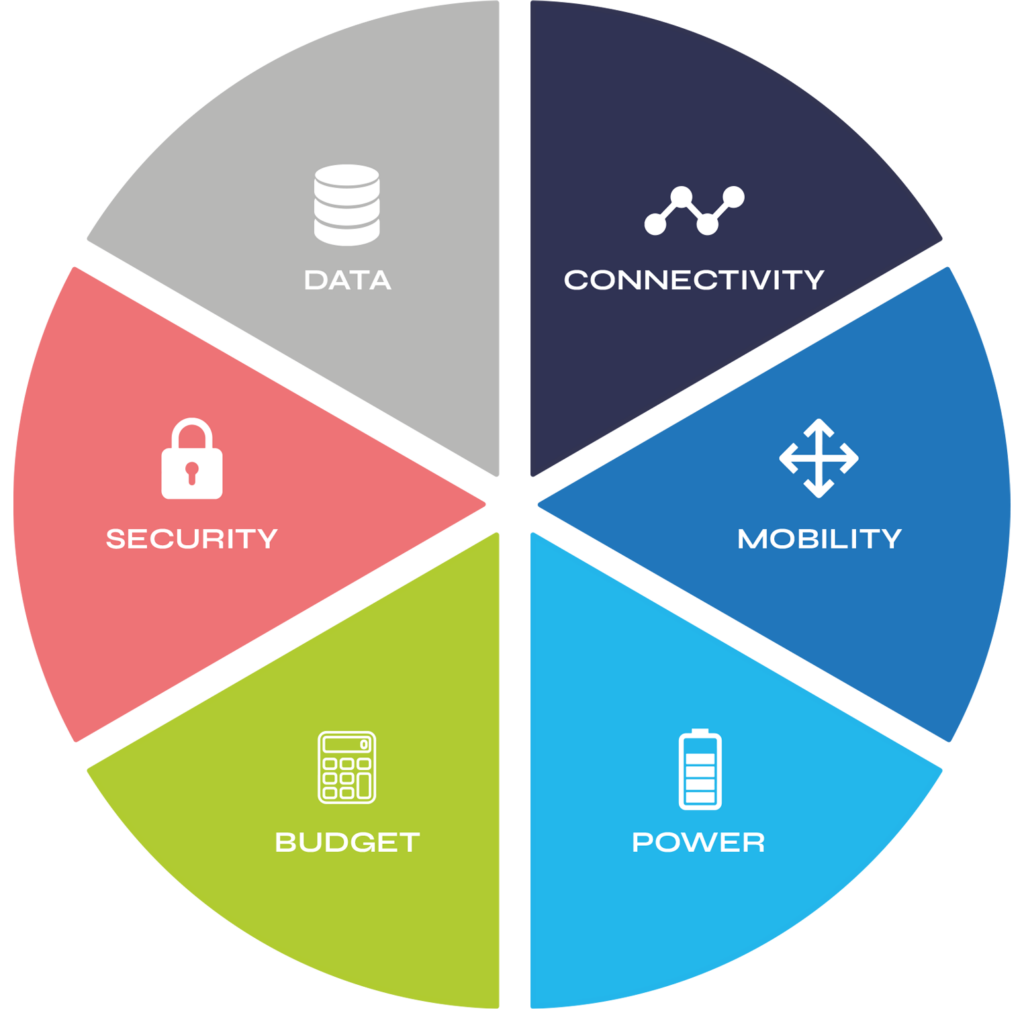 Data: satellite is more expensive than cellular, so it makes sense to optimize your data transmissions – this will also extend the battery life of your device, if it is battery-powered. Reporting on exception, or using a messaging protocol like MQTT, are increasingly common best practices.
Security: when it comes to sending data to the satellite, and from the satellite to the ground station, this is very secure and hard to intercept. Next, you must get your data from the ground station to your application server. Most companies use the internet for data backhaul and protect their asset by VPN, or a dedicated circuit. Our blog post on 'How to Improve Satellite IoT Network Security' is worth a read for more information on this topic.
The security of the physical asset – the transceiver – is also important, and so look for a ruggedized, small form factor device that can be easily concealed, and will stand up to all manner of weather conditions.
Budget: as your asset will likely be moving in and out of cellular coverage, choose a device that seamlessly switches between cellular and satellite, such as the RockFLEET, choosing the lowest cost routing. This, along with data optimization and the appropriate choice of airtime, will keep your costs down.
Power: asset tracking devices are by design not power hungry. There are battery and solar powered options if there is no mains power available; as an example, a company we work with on endangered species preservation builds a satellite transceiver into animal tracking collars, which then typically last around 3 years on a single charge.
Mobility: in this use case you are expecting the asset to move; that means you either need a device that auto-points itself at a satellite in geostationary orbit, or use a device that connects with satellite constellations in low earth orbit (LEO). The latter is often a better choice for land freight as it is easier for LEO devices to find a signal when passing through wooded or hilly territory.
Connectivity: Make sure you're using the appropriate airtime for your needs. Satellite connectivity has diversified a great deal, so don't pay for broadband when you only need event driven messaging like Iridium's Short Burst Data, or Inmarsat's IsatData Pro.
What's next?
New entrants into the satellite space are going to further diversify the connectivity options on the table. It has been the preserve of a small number of well-funded providers, but nanosatellites, for example, can be launched on the back of other commercial spacecraft, dramatically lowering the costs of entry.
Always attractive because of satellite's reach into remote and challenging regions, the relatively low cost of deploying and maintaining a nanosatellite network means in turn, the cost of leveraging that network is low. This is a rapidly developing area and one we'll be watching closely!