We're delighted to announce that Ground Control has been recognized as one of the Top 10 Oil & Gas Solution Providers in 2022.
We have always taken pride in being a partner that truly understands both ends of data communications. Taking ownership of the overall solution and working with our customers to identify not just required volume and frequency of data transmission, but what device compatibility is required and how the data is to be used; to achieve operational goals. We have been creating and delivering advanced connectivity solutions to the Oil & Gas industry for over 20 years.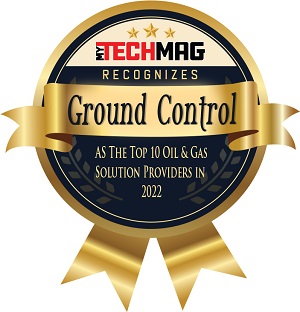 Solutions for the Oil & Gas sector
We deliver remote connectivity solutions to power Oil & Gas IIoT applications and support global, off-grid operations. Simply put, our solutions help to deliver more reliable data, better safety, cost management and enhanced security.
Popular use cases include remote monitoring and control, pipeline management, asset tracking and lone worker enablement and safety; and facilitating each, is robust, advanced connectivity.
The real value of connectivity
From asset management through to remote performance monitoring and maintenance, the IIoT ecosystem is delivering efficiencies and productivity to meet the demands of an ever-evolving energy landscape.
McKinsey & Company project that advanced connectivity to optimize drilling and production throughput and improve maintenance and field operations, could add $250 billion to the industry's upstream operations by 2030.
This focus on connectivity, as opposed to IIoT more generally, is key. Despite the myriad of measurable benefits IIoT offers, everything will fall at the first hurdle if connectivity isn't addressed as a priority. Data enables smarter and faster decisions, but data gaps and interruptions can lead to poor, costly business decisions. To truly harness the value of digitalisation in the field, operators must maintain near real-time, reliable data delivery from all assets within the Oil & Gas supply chain, at all times.
Given the often hostile and remote nature of the environments in which Oil & Gas plants are situated, terrestrial connectivity is not always available, nor reliable. This is where Ground Control really adds value. Using cellular and satellite networks, we specialize in connecting hard-to-reach people, machines and things.
Introducing Iridium Certus® 100
Ideal for IoT and M2M applications, the Iridium Certus® 100 service is facilitated by Iridium's constellation of 66 LEO satellites. Providing pole-to-pole coverage, with the benefit of lower latency.
Offering IP data speeds of up to 88 Kbps, antennas can be small and lightweight, and do not have to be pointed to pick up Iridium satellites. This enables faultless connectivity to be achieved – even in mountainous or wooded areas.
The Certus-Enabled RockREMOTE
Designed for Industrial IoT, the RockREMOTE leverages the Iridium Certus® network and LTE cellular connectivity, end-to-end networking and the powerful Cloudloop platform, to solve remote M2M / IoT connectivity challenges for Oil & Gas. It can be tailored to address a variety of fixed and mobile communications challenges within the Oil & Gas sector.
With serial, Ethernet, and GPIO connectivity to any IoT / M2M devices, it's ideal for legacy installations; but equally has powerful integrated processing, storage and security features that pave the way for edge computing.
RockREMOTE is a particularly interesting solution for Oil & Gas as its exception reporting capabilities open up a whole new world for optimisation, while significantly reducing costs. By setting parameters to send data only if values change, clients are in a much stronger position to manage their data footprint and thus connectivity costs.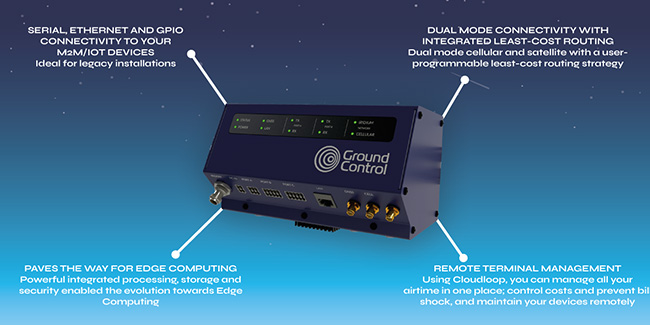 The RockREMOTE is a great solution for:
Monitoring the performance of pressure pumps in the hydraulic fracturing process
Capturing the data from flowback well tests
Capturing production data
Also popular with the Oil & Gas sector
For more information on Ground Control's connectivity solutions for Oil & Gas, contact us at sales@groundcontrol.com and one of our industry experts will be in touch.