Small and Lightweight On-the-Move BGAN Terminal
The Explorer 323 mobile satellite terminal provides internet connectivity, voice and email communication with internet speeds of up to 384Kbps to wireless devices including laptops, tablets, smartphones, and low-bandwidth M2M sensors.
Download the free iPhone or Android app and use your smartphone and tablet to connect, monitor, control and communicate. As well as enabling control and configuration of the terminal, the app also turns a smartphone into a satellite phone to make and receive voice calls.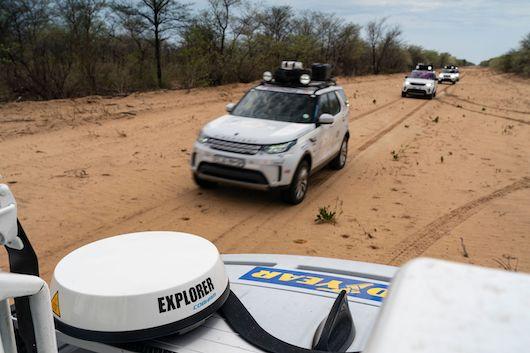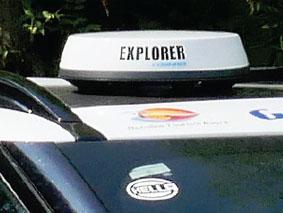 Rugged, Reliable Communications
Small, lightweight and easy to deploy the Explorer 323 has been designed to be instantly attached onto any vehicle roof using the optional mag-mount rubberized feet and powered from a standard 12v/24v vehicle power port.
With its rugged and robust design, the Explorer 323 can provide rich satellite communications in the most challenging of environments, tested to the highest standards for temperature, water and dust.
KEY FEATURES
TECH SPECIFICATION
AIRTIME*
WHAT'S IN THE BOX
Voice and data communications on-the-move
Ultra-compact, easy to deploy, one-piece design (the transceiver is integrated into the domed antenna)
Cost effective
Rugged and robust with no moving parts
Designed to operate in extreme environments
Designed for use with Inmarsat BGAN and BGAN M2M services
Voice calling using the Explorer Connect Android and iOS apps
SMS message using smartphone messaging app
Asset tracking over the BGAN M2M network
Web interface for usage logs, options and many other features.
Designed for extreme environments – IP66 and operates at -25 to +55°C / -13 to 131°F
Compact design – 12.7″ diameter 3.82 height (.321 x .097 meter)
Physical Dimensions: (H) 9.7cm / 3.82″ (Ø) 32.1cm / 12.7″ (W) 3.9kg / 8.5lbs
Satellite Service: Inmarsat BGAN and BGAN M2M – Provided by Ground Control
Voice: 4kbps AMBE +2
Standard IP Data (Rx/Tx): Up to 384 / 225 kbps (>20° elevation), Up to 270 / 158 kbpst;5° elevation)
Streaming IP Data (Rx/Tx): 32, 64 kbps (>20° elevation), 32 kbps (>5° elevation)
SMS: 160 Characters
WLAN Interface: 802.11 b/g
LAN Interface: 1 x 10/100 Mbps ethernet via hybrid power and connectivity cable
Power: 12-24VDC input 35W max via hybrid power and connectivity cable.
Operating Temperature: -25°C to +55°C / -13°F to +131°F
Storage Temperature: -40°C to +85°C / -40°F to +185°F
Humidity: 95% non-condensing at +40°C/+104°F
Water and Dust Protection: IP66
Approvals: CE, GMPCS, FCC, IC, RCM, Inmarsat Class 12, Inmarsat M2M
Terminal Color: White
Standard Warranty: 2-year parts and labor. Extended warranties available
Plan:
100 MB Prepaid SIM
300 MB Prepaid SIM
1200 MB Prepaid SIM
3 GB Prepaid SIM
Pricing (USD):
$525.00
$1,467.00
$5,639.00
$13,980.00
Inclusive Data:
100 MB ($5.25 per MB)
300 MB ($4.89 per MB)
1,200 MB ($4.70 per MB)
3 GB
Valid For:
90 days
1 year
1 year
1 year
SKU:
BGANBW100QRT
BGANBW300ANN
BGANBW1200ANN
BGANBWHU
Explorer 323 all-in-one BGAN Terminal
6m (19.7ft) hybrid power and Ethernet cable
Quickstart guide
Drilling template for permanent mounting
Manuals and other documentation USB drive
Optional mag-mount feet – Add $199 USD
Useful Links
Would you like a quote?
If you've decided that the Cobham Explorer 323 is the right product for you, please call or email us, or complete the form, and we'll be happy to provide a quote for the hardware and/or airtime.

Equally, if you would like some expert, impartial advice on the best mobile satellite internet service, get in touch - we're here to help.