Global personal tracking and messaging device
The handheld unit is waterproof, ruggedized, and built to withstand the most challenging environments. It's an ideal safety device for adventurers, field workers, science expeditions, remote racing events, and anyone travelling outside cell phone range frequently, or for an extended period of time.
The tracker will wake up on a regular basis, obtain a position using the GPS satellite network, and then transmit that position back to Ground Control HQ in seconds using the Iridium satellite network. The message is relayed to us from Iridium and then we visualize the positions on an easy-to-use web-based viewer.
The RockSTAR also allows short messages (like SMS, social media updates, and short emails) to be sent using a paired Bluetooth device, such as a smartphone, and the Messenger app. This allows for full two-way communication wherever you are, even when out of mobile network range.
Multiple user support
If you have just one device or a thousand, managing them is easy with Ground Control's 'CORE' web-based platform. You can divide devices into groups to meet your specific needs and authorize multiple users with different levels of access. For example, some staff can have access to only view positions while others can send commands and configure devices while in the field.
Using the platform, you can track all your field workers' positions from a single screen, set up and track against waypoints, monitor alerts from devices, and establish geo-fences to receive early warnings if a device enters or exits a specific area. Additionally, you can add line rental and credits to your devices.
The platform is web-based, meaning you can access it from anywhere and receive full support from experienced staff.
KEY FEATURES
TECH SPECIFICATION
RUNNING COSTS
AIRTIME
IN THE BOX
5-button keypad plus specific 'alert' button
Bright OLED screen for information display
Full two-way communication system – maximum message length 5,000+ characters
Over-the-air reconfiguration of key parameters
Distress signal: difference transmission speed when alert pressed
Open APIs: integrate with your own platform
Open Bluetooth API for custom app development
USB connection for charging and for data transfer
Truly global operation using the Iridium satellite network
Long battery life (over 2500 transmissions on a single charge)
Messaging with app, or to email and SMS from the device
Bluetooth LE for advanced messaging (requires Bluetooth LE-compatible phone/tablet)
Powered By: Internal battery, rechargeable via USB
Battery Life: Up to three weeks transmitting every 15 mins, up to three months transmitting once per hour, up to 12 months transmitting once per day
Tracking Options: Various tracking options from every five seconds to 12 hours
Alert Options: Red button alert, timer alert, dead man's switch, Temperature (high/low) alert, External power loss
SOS signal goes to your nominated emergency contact(s)
Transmits Using: Iridium Short Burst Data
Size: 7″ x 3″ x 1.4″ (144 x 76 x 36mm) – plus antenna
Weight: 0.67 lbs (303 grams)
Waterproofing: IP67 (submersion up to 1m for 30 mins)
Other Certifications: FCC and CE MIL-810 F/G (ruggedness)
Operational ease: can easily be used with thick gloves on
Ideal For: Handheld use, adventurers, remote field workers, security personnel etc. Temporary vehicle/yacht mounting using Soft Pouch, Permanent vehicle/yacht mounting using Quick Release Mount
Line rental is paid in blocks of 1 month, and allows the RockSTAR to exchange information with the Iridium satellite network. You only pay for months in which you wish to use the RockSTAR. No annual contract is required. Line rental costs $23.00 per month and includes access to The CORE management system for monitoring your devices.
Credits are used each time you transmit. 1 credit is used per tracking position or per 50 characters of message sent or received. 1 credit is also used if you check your mailbox and there are no messages waiting (A mailbox check). Credits do not expire unless you do not use your account at all for 12 months. Credits are shared/pooled between all of the devices on your account.
For full details of our Short Burst Data airtime plans, please visit our SBD pricing page.
Bundle:
per Credit:
Bundle Price:
Line Rental (per month):
50 Credits
$0.20
$10.00
$23.00
100 Credits
$0.19
$19.00
$23.00
200 Credits
$0.16
$32.00
$23.00
500 Credits
$0.14
$69.00
$23.00
1,000 Credits
$0.12
$124.00
$23.00
2,000 Credits
$0.11
$220.00
$23.00
5,000 Credits
$0.10
$482.00
$23.00
With each RockSTAR unit you will receive:
The RockSTAR unit
A USB charger
0.3m USB cable
Quick Start Card
Iridium SBD Coverage
In Low Earth Orbit (LEO) the Iridium satellite constellation is able to deliver many benefits for IoT applications, not least reduced ping time. As these satellites are much closer to the Earth's surface, the latency – ping time, is typically less than one second.
Utilizing omni-directional antennas, data will be accepted by the closest satellite and then 'handed off' as appropriate to the next. Using a mesh of 66 satellites in total, the SBD service is ideal for mobile applications anywhere on the planet including both poles.
Iridium's truly global, low-latency SBD service is perfect for monitoring and updating status on everything from weather balloons to fleet telematics. Used for tracking and IoT applications alike, this service works anywhere on Earth without expensive roaming charges or the need for multiple service agreements.
Iridium Coverage Map – Real Time Tracking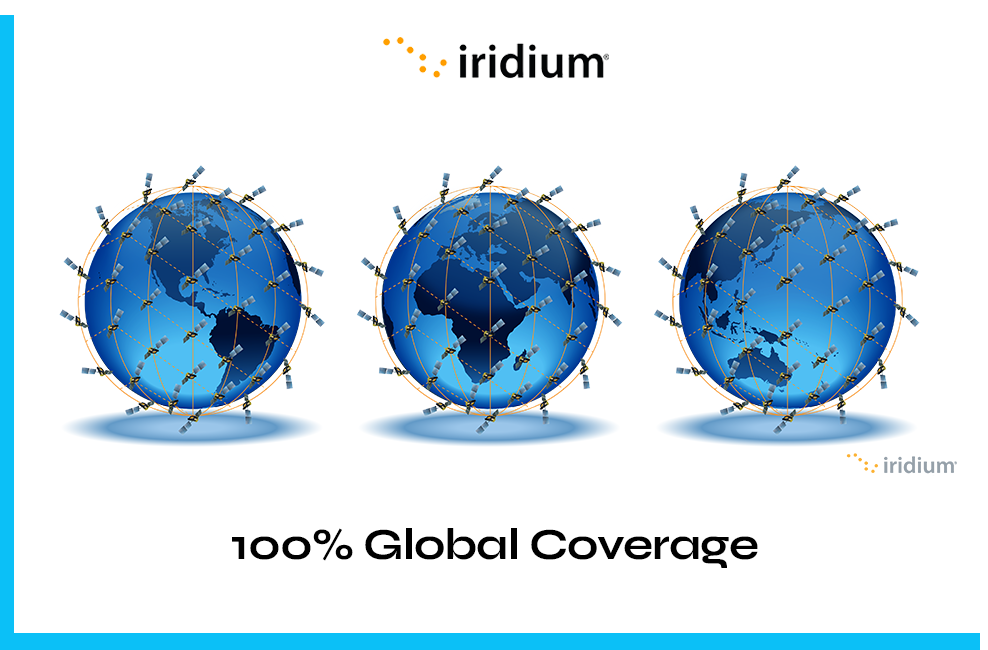 Considering the RockSTAR?
Great, we can help. Click the button below to start a dialogue with one of the team and see how the RockSTAR fits with your application.
Frequently Asked Questions
How does it work?
RockSTAR uses the Iridium satellite network. Specifically, it uses an Iridium service called 'short burst data' (SBD). You can learn more about SBD here. At the heart of RockSTAR is an Iridium 9602N modem.
Can RockSTAR send e-mail or SMS messages?
Yes, you can use the device to send/receive short messages – either using the device itself, with pre-sent messages, or by linking with an iPhone / iPad / Android device to send custom messages.
Messages sent from the device itself are always sent to the group of people you nominate in the management system – i.e. any message will be sent to all configured responders; you can't choose a specific person.
Messages sent via the Bluetooth link (using the Messenger app) can be sent to any destination, via either email address or cell/mobile phone number.
In all cases, people can reply to those messages, via e-mail or SMS, and the messages will come back to either the device or the Messenger app respectively.
Does the unit work indoors?
As with all satellite-based devices, the better view of the sky the unit has, the better it will perform.
RockSTAR units use two sets of satellites: GPS satellites in order to get a position fix, and Iridium satellites to transmit that position back to base. The GPS signal is weaker than the Iridium signal.
Typically, if the RockSTAR is near to a window inside then it may be able to obtain a GPS fix and transmit, although it will take longer than normal, and will therefore use more battery power.
If the unit is deep inside a building then it's unlikely to get a fix or transmit very well, and will therefore use up a lot of battery quite quickly. However, we have had devices transmit successfully from inside caves, fridges, under the seats of cars, and so on – so it is possible, just not guaranteed, and not as reliable as usual.
As a rule, the better view of the sky you can provide for the RockSTAR, the better it will perform and the longer the battery will last.
What's the difference between a RockSTAR and a Yellowbrick / YB3?
RockSTAR units and YB units are both manufactured by Ground Control, and they are identical in terms of hardware.
The difference is in the management system access, 'The Core', which you get as part of the RockSTAR package.
RockSTAR, and the accompanying management system, are designed for corporate, government and fleet use – i.e. you have multiple units, and want to manage them all from the same screen, behind a secure login.
YBs come with a cut-down 'blog' which can display one tracker at a time and is ideal for individual adventurers or expeditions, but not for fleets of units.
In short, if you are looking for a fleet of devices then the RockSTAR is the correct choice. If you are looking for a single tracker for personal use, or you are looking to rent units for a short period of time, YB would be the correct choice.
Useful Links
Have a question?
We take pride in designing and building the RockSTAR ourselves. Over the years we've enhanced and added features based on feedback and specific customer requests, to ensure our device meets your needs.

Complete the form, or call / email us to see whether the RockSTAR could be the handheld tracking and two-way communication solution for your organization. With 20 years of experience, we can help you make the best choices for your critical communication needs.