Iridium Certus is a flexible satellite service platform using the L-band frequency, and Iridium's constellation of 66 satellites in Low Earth Orbit (LEO). It was commercially launched in 2019, which makes it, at the time of writing, Iridium's newest capability.
Iridium Certus is available in three speed classes: Certus 100, which is intended for IoT applications; Certus 200, which is good for basic internet and voice, and Certus 700, which delivers the fastest L-band internet broadband speeds currently available, up to 704 Kbps.
Like all Iridium services, Certus is completely global in reach, including the polar regions, and benefits from low latency (<1 second) thanks to the cross-linked LEO satellite network. The antennas are small and lightweight, making Certus particularly well suited for mobile use cases - maritime, transport & cargo, heavy equipment monitoring, aviation, and remote field worker communications.
Our infographic outlines the differences between the three speed classes and what they're designed for.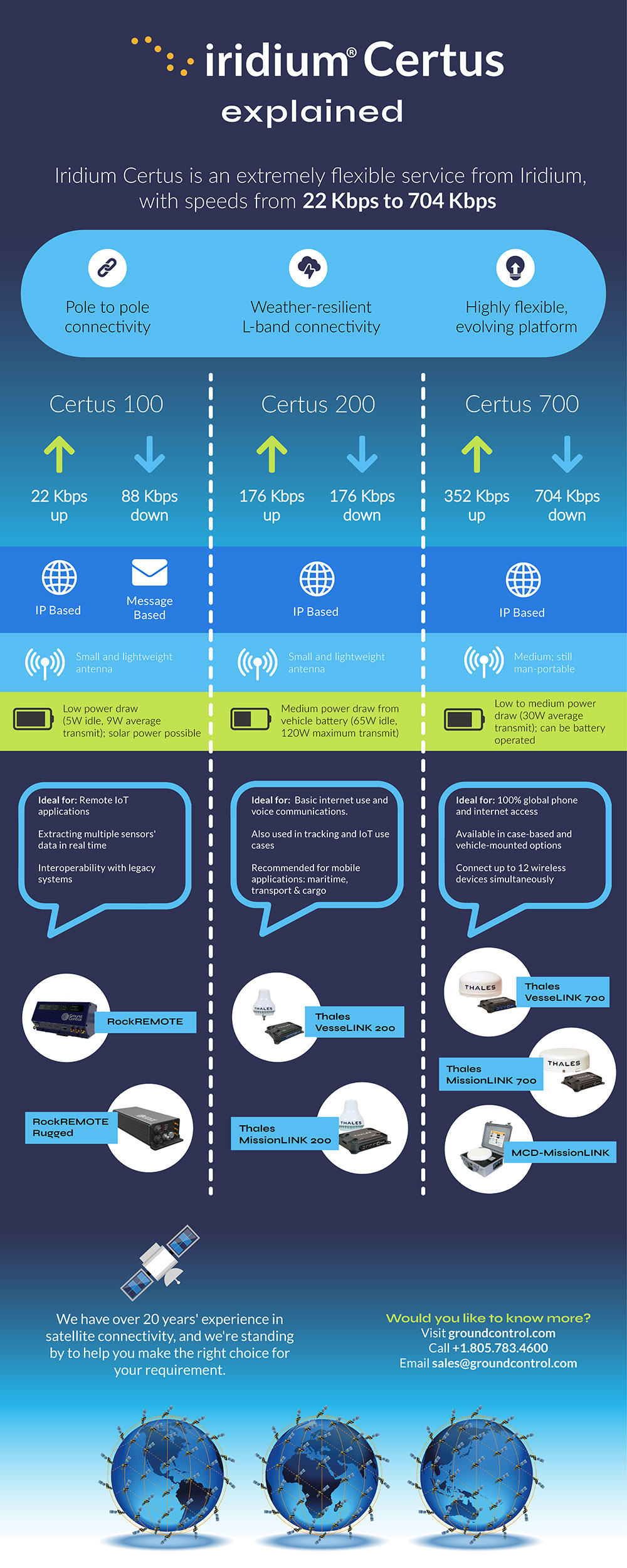 Ground Control is one of a very small number of companies selected by Iridium to build hardware for the Certus service, and we've focused on Certus 100, around which we've designed the RockREMOTE and RockREMOTE Rugged.
These hybrid satellite / cellular devices have a (for satellite IoT!) generous data allowance of 100 Kbps via IP, or you can explore Iridium Messaging Transport (IMT), which uses the Certus platform but is a message-based transmission – more cost-effective as it doesn't have the IP overhead. This means you can capture multiple sensors' data and transmit it in close to real-time, and even send compressed images – very useful for remote surveillance or security use cases. The ability to choose and switch between IP- and message-based transmissions makes the RockREMOTE highly interoperable with your current infrastructure, but future-proofed should you start to work with new messaging protocols like MQTT.
You can read more about these services in the links below, or contact the Ground Control team for more information on any of the devices shown above, including the adaptable and multi-functional Thales terminals.