Machine-to-Machine BGAN Terminal
As the world's first BGAN M2M terminal designed to operate on both Inmarsat BGAN (Broadband Global Area Network) and cellular 2G/3G/LTE networks, EXPLORER 540 delivers always available connectivity for critical monitoring and control applications.
The BGAN M2M service uses Inmarsat BGAN to provide a reliable, global, two-way IP data service. It is designed to connect monitoring and control applications in remote, unmanned locations, providing visibility and management of those assets. By combining BGAN M2M with cellular connectivity in the same terminal, EXPLORER 540 gives users the opportunity to choose the best carrier for any location.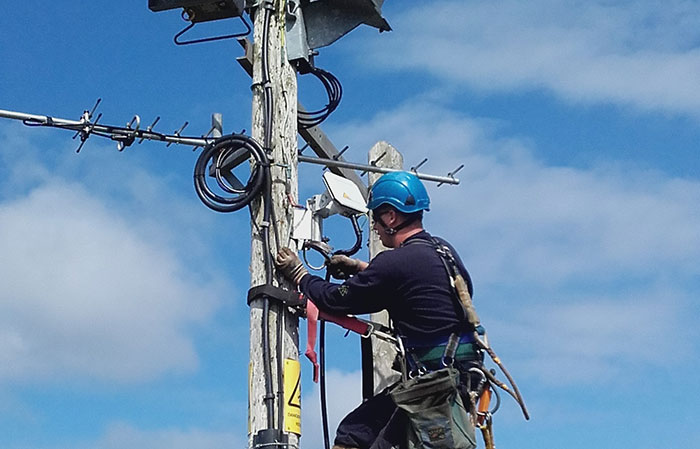 Industry Use Cases
Utility smart grid – real-time control with about 1200 millisecond latency.
Weather, environmental, seismic warning sensors over a global area.
Pump/valve monitoring and control – access remote devices, screens, parameters.
Asset monitoring – trigger switches, door open, motion detector, alarm send information.
Remote video surveillance – 448 Kbps speeds allow for fast refresh-rate of images real-time.
Credit card processing – its low power and small profile make it an ideal alternative to satellite dishes.
Low- or high-bandwidth SCADA or M2M devices.
Any remote device that communicates over a standard TCP-IP internet connection.
KEY FEATURES
TECH SPECIFICATION
STANDARD PACKAGE CONTENTS
AIRTIME
It is a high-speed, real-time Ethernet port to the Internet for any TCP-IP/Serial M2M, SCADA device.
Incredibly rugged with IP66 rating. No enclosure required.
Simple to set up by anyone. Versatile power options with PoE (power over Ethernet) port.
Uses Inmarsat BGAN M2M or standard BGAN service provided by Ground Control.
LTE cellular option – failover to satellite when LTE is not available – least-cost-routing.
Global coverage – equipment can be located anywhere.
Secure from hackers when powerful firewall rules are in place or using a private network.
Remote management of terminal via SMS. Power tools to configure system when not on site.
Remote configuration and debugging capable via SMS.
Single unit design. Terminal provides Ethernet port (with optional PoE).
Mounting bracket included
Low power consumption.
Low profile – doesn't attract attention from possible vandalism or theft.
Hazardous Area C1D2-Approved.
Dimensions(LxWxD): 202mm x 202mm x 51.8mm (7.8″ x 7.8″ x 1.6″)
Weight: 1.6 Kg (3.5 lbs)
Satellite Service: Inmarsat BGAN M2M and BGAN – Provided by Ground Control
Voice/Premium Voice: 4kbps / 3.1 kHz audo, 64 kbps (Not BGAN M2M)
Standard IP Data: Up to 464 kbps. Class-2 BGAN terminal
Streaming IP Data: 32, 64, 128 kbps (Not available when using BGAN M2M airtime)
Interfaces: 1 x RJ-45 LAN / PoE, 1 x 8 pin terminal block (Ethernet / PoE), 3 x I/O pin, 2 pin power input
Internal Interfaces: One Micro USB for cellular 3G module-modem, SIM card slot
Power: PoE via RJ45, 10.5-32 VDC (AC/DC not adapter provided)
Operating Temperature: -40°C to +75°C / -40°F to +167°F
Storage Temperature: -55°C to +80°C / -67°F to +176°F)
Humidity: 95% non-condensing at +40°C/+104°F
Robustness: 0.5 m/1.64 ft drop on concrete (operational, 95% survival)
Environmental: IP-66-compliant (withstands water jets from any direction)
Hazardous: C1-D2 Approved
Warranty: 2 year standard warranty. Extended warranties available
Explorer 540 terminal
Pole mount kit
Two cable glands and one blind plug
Torx #10 bit
Multi-Language installation manual (ENG, FR, DE, ES, RU, JP and CN)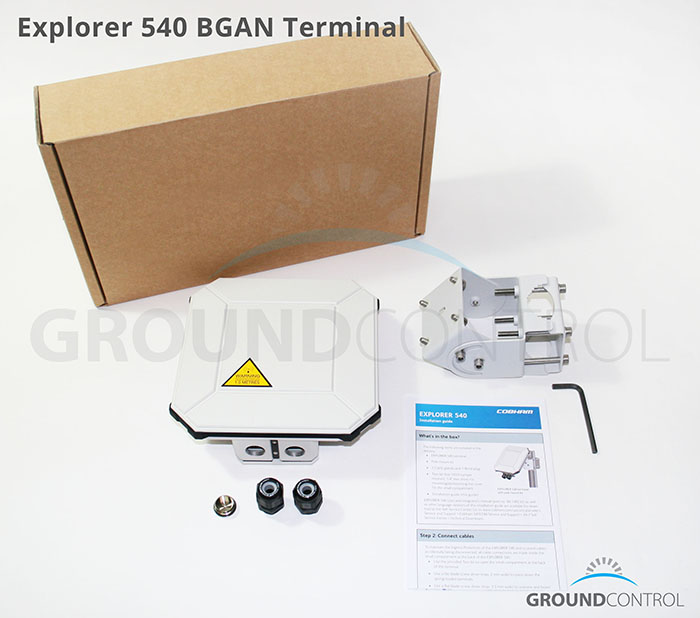 We have plans for data usage up to 2GB per month, so please contact us if your requirements are greater than the options listed below.
Plan:
1 MB
2 MB
5 MB
10 MB
15 MB
20 MB
Price Per Month (GBP):
£19.60
£25.70
£39.10
£65.20
£87.00
£98.00
Included Data:
1 MB
2 MB
5 MB
10 MB
15 MB
20 MB
Activation Fee:
£26.00
£26.00
£26.00
£26.00
£26.00
£26.00
Overage Fee Per MB:
£19.60
£13.00
£12.20
£10.40
£9.60
£8.70
Minimum Contract Term:
1 Month
1 Month
1 Month
1 Month
1 Month
1 Month
SKU:
AT-BGANM2M-1MB-22-1
AT-BGANM2M-2MB-22-1
AT-BGANM2M-5MB-22-1
AT-BGANM2M-10MB-22-1
AT-BGANM2M-15MB-22-1
AT-BGANM2M-20MB-22-1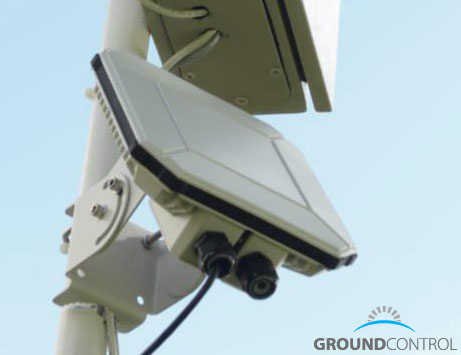 While the Explorer 540 has two entry points at the bottom of the terminal, it can run directly off of PoE (Power over Ethernet) with the optional POE injector. PoE makes installing the 540 a breeze since there will be only one wire to run to the terminal.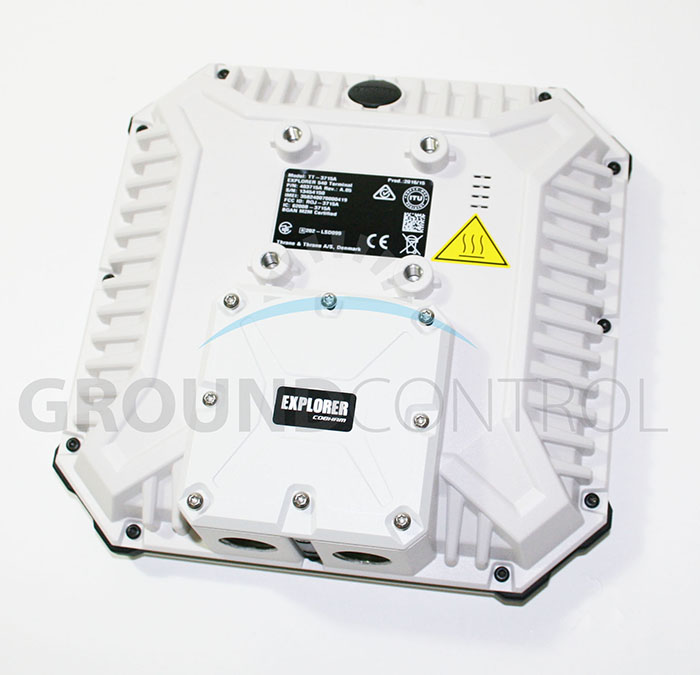 The backside of the Explorer 540 shows the mounting holes and electronics cover of the terminal. The Explorer 540 is rated at IP66 (Powerful water jets from any direction).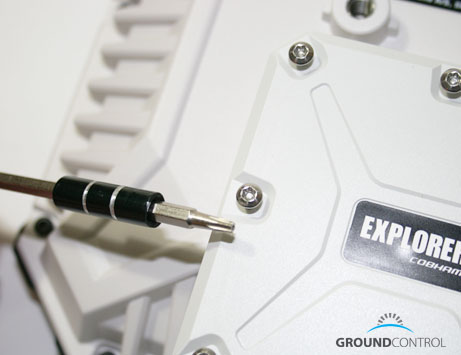 A Torx #10 bit is used to remove and seal the electronics cover.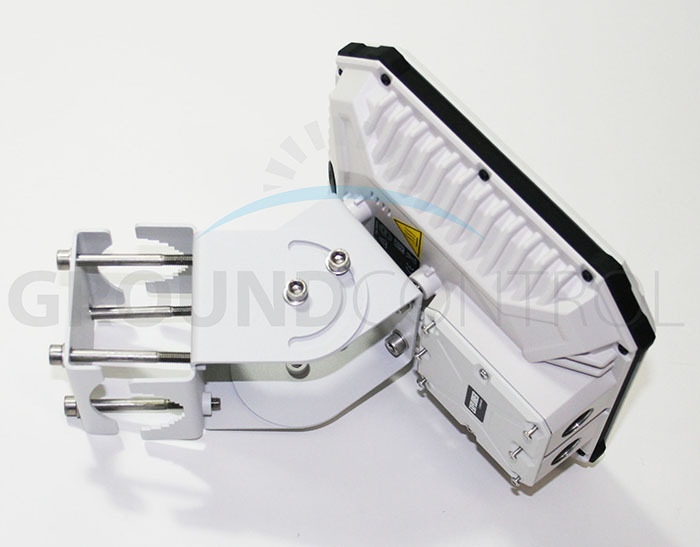 The pole-mounting bracket comes standard with the Explorer 540 M2M BGAN terminal. The bracket can fit around a pole diameter of 47 millimeters (1.75″). May also use Pipe-Straps for larger pipe installations.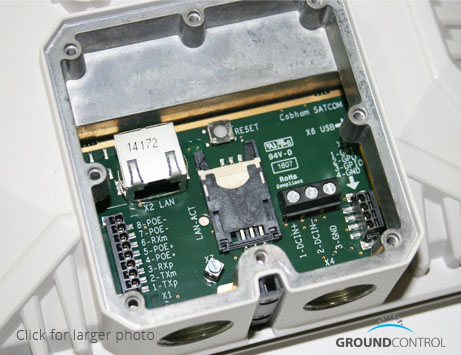 The internal electronics of the Explorer 540. Note that you may connect via RJ-45, or the individual wires of the Cat5e cable. Also note the SIM card tray and the 12 to 24 volt power connectors with a 3rd ground connection.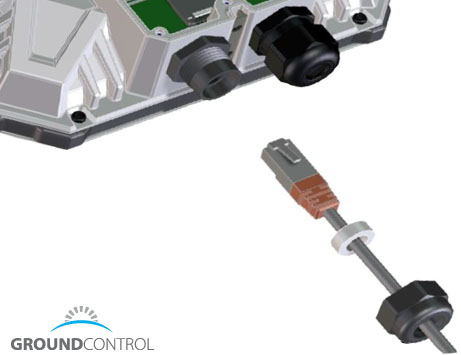 The 540 includes weather-tight cable connections. Very easy to install by anyone and requires no certified installation.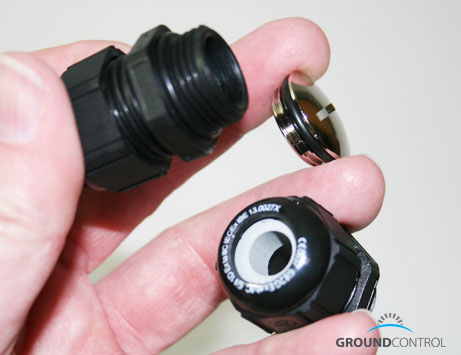 A close-up of the watertight ports and the sealing cap.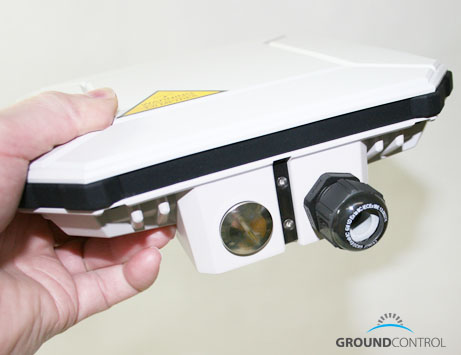 The O-rings around the sealing caps and cable connectors keep the terminal protected from sever elements. Operating temperatures are -40°C to +75°C | -40°F to +131°F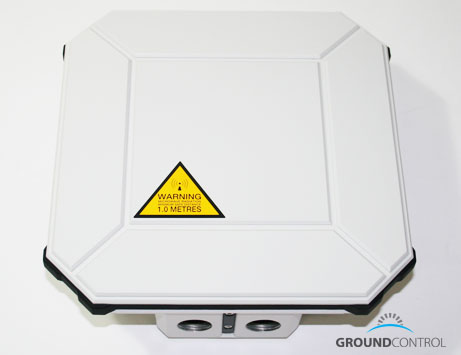 The Explorer series BGAN terminals have performed incredibly well in harsh clients from all locations in the world and is a highly recommended solution for remote Ethernet ports.
Useful Links
Would you like a quote or more information?
If you know the Explorer 540 is the device for you, and would like a quote for the device and / or BGAN M2M airtime, please call or email us, or complete the form, and we'll be happy to help.

If you're not sure yet what you need, and would like friendly and impartial advice, please get in touch; we have 20 years' experience in satellite connectivity, much of that in IoT / M2M applications, so you're in safe hands.