Designed for permanent installation on ships, yachts, vehicles, and other assets
The tracker will wake up on a regular basis, obtain a position using the GPS satellite network, and then transmit that position back to Ground Control HQ using either LTE Narrowband/GPRS or the Iridium satellite network. We visualize the positions on an easy-to-use web-based viewer.
The RockFLEET also allows short messages (like SMS, social media updates, and short emails) to be sent using a paired Bluetooth device, such as a smartphone, and the Messenger app. This allows for full two-way communication wherever you are, even when out of mobile network range.
The combination of LTE Narrowband and Iridium provides a cost-effective and truly global method of tracking and communicating with your assets wherever they are.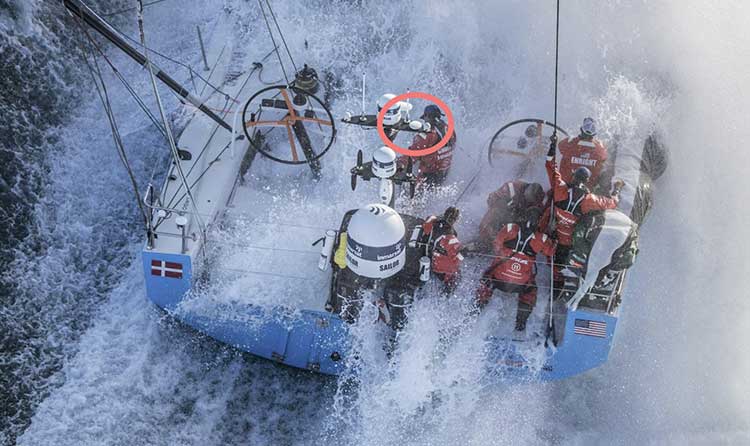 KEY FEATURES
TECH SPECIFICATION
RUNNING COSTS
AIRTIME*
Submersible to 3m for 24 hours
Proven to operate at -30C and +60C
Small form factor, with multiple mounting options – can be covertly mounted and positioned
Will run on 9-30v external power supply back-up internal battery, for up to two weeks' use
Truly global operation using the Iridium satellite network
Least-cost routing option using LTE Narrowband where possible
Bluetooth LE for advanced messaging (requires Bluetooth LE-compatible phone/tablet)
Alerts when external power lost, or when route switching
Dimensions: 120mm diameter x 50mm height | 4.7″ x 1.96″
Storage Temperature: -40 to 85°C
Operating Temperature: -30 to 60°C
Operating Environment: <75% Relative Humidity
Sealed against dust and water ingression to IP68
Power Input Voltage: DC (9-30v)
Power Consumption: 500mA max, plus very low current sleep mode (<30mA)
Uses the Iridium 9602 Short Burst Transceiver
Uses the Maxtena 1621 Patch Antenna
Available with LTE Narrowband, Serial Communications (RS-232) and Bluetooth LE
Cable Options: 3m 9-30c (can be varied)
Switch input/output wires for remote input/alert/control
Complex geofencing abilities
Remote configuration of ALL parameters remotely over the air
Ground Control offers Iridium SBD airtime both as a prepaid tariff, and as an annual contract for companies planning a larger deployment of devices. Full pricing plans can be found on our Short Burst Data Pricing page.
If you choose our prepaid, or pay-as-you-go option, line rental is paid in blocks of 1 month, and allows the RockFLEET to exchange information with the Iridium satellite network. You only pay for months in which you wish to use the RockFLEET. No annual contract is required. Line rental costs £18.00 per month and includes access to The CORE management system for managing your devices.
Credits are used each time you transmit. 1 credit is used per 50 bytes (or part thereof) of message sent or received. 1 credit is also used if you check your mailbox and there are no messages waiting (A mailbox check). Credits do not expire, even if you are paying no line rental. Credits are shared/pooled between all of the devices on your account
Please note, while our pay-as-you-go tariffs offer great flexibility for development purposes, we know they are not suitable for everyone. If you are planning a larger deployment of devices and are willing to commit to airtime contracts of 12 months or more, please get in touch; our annual contracts are likely to suit you better.
Bundle:
50 Credits
100 Credits
500 Credits
1,000 Credits
5,000 Credits
10,000 Credits
50,000 Credits
Per Credit:
£0.16
£0.145
£0.11
£0.099
£0.077
£0.066
£0.035
Bundle Price:
£8.00
£14.50
£55.00
£99.00
£385.00
£660.00
£1,750.00
Line Rental:
£18.00
£18.00
£18.00
£18.00
£18.00
£18.00
£18.00
Questions about the RockFLEET?
Great, we can help. Click on the button below to start a chat with one of our team and see how the RockFLEET fits into your application.
Useful Links
Some ways RockFLEET devices can be used
Want to know more?
We design and build the RockFLEET ourselves, and many of us are users, too! Whether you're looking for tracking and basic connectivity for personal use, or need to collect VMS data for an entire fleet, the RockFLEET is a low-cost, practical and versatile solution.

Call or email us, or complete the form, and we'll be happy to answer any questions, and make our expert recommendation on the best product and service for your needs.