What is Iridium Certus? It's a satellite service platform which is currently available in three variations: Certus 100, designed for IoT applications; Certus 200, designed for basic internet and voice, and Certus 700, which delivers the fastest L-band connectivity available today. It's all enabled by the truly global Iridium constellation for total connectivity anywhere in the world.
Whether it's staying connected with loved ones while out at sea, responding to a critical emergency situation, or transmitting remote sensor data across a wide variety of industries, Iridium Certus 100, 200 and 700, coupled with mobile, portable and fixed hardware solutions by Thales and Ground Control, delivers important communication and data services when and where you need it most.
Discover the best satellite-based connectivity solutions powered by Iridium Certus. Use the infographic to help you select the best solution and service for your needs.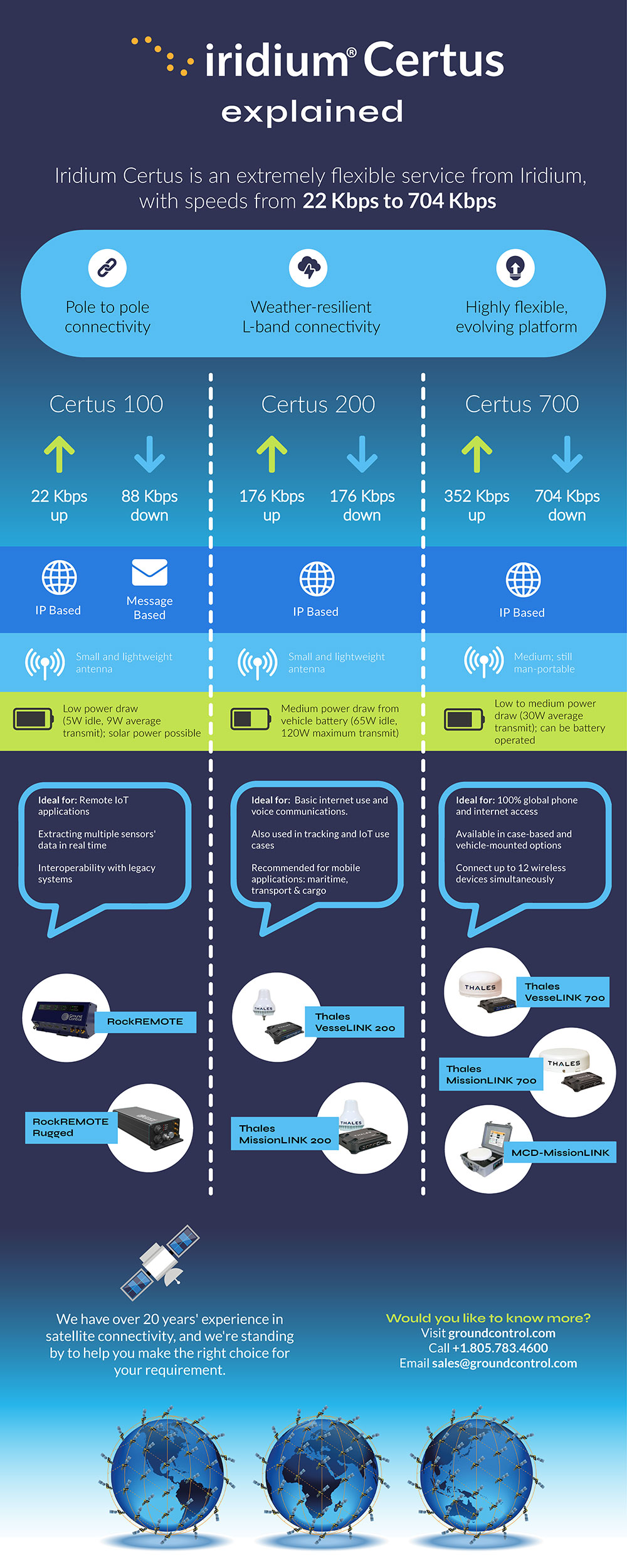 Certus 100 devices
Ground Control is one of a very small number of manufacturers to have designed and built Certus 100-powered products. The RockREMOTE and RockREMOTE Rugged are basically identical, but the Rugged version is designed for use outside, or while mobile; if you have an enclosure, the original RockREMOTE will better meet your needs.
These devices are intended for IoT applications. They offer hybrid cellular and satellite connectivity, with lowest cost routing, so that you're only accessing the satellite network when necessary. You can transmit your sensor data over IP or use the new Iridium Messaging Transport (IMT) solution, which reduces the cost of transmission.
The data allowance is relatively generous for IoT applications, allowing the transmission of images and multiple sensors' data, in close to real-time (latency is less than one second). This makes the device ideal for security or remote access applications.
Certus 100 Products & Airtime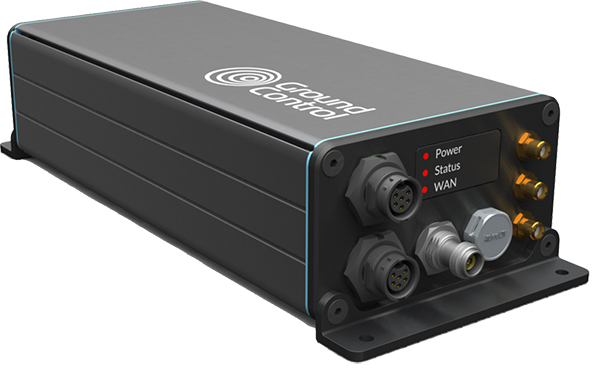 Certus 200 devices
We partner with Thales to bring you two devices that leverage the Certus 200 network: the MissionLINK 200 and the VesseLINK 200. They are basically identical but the MissionLINK (pictured) is intended for land mobile use, and the VesseLINK for maritime.
What we like about the Certus 200 service, and these two terminals, is how flexible they are. You can get basic internet access – enough for text-based communication across email, social media and messaging apps – and they also come with dedicated phone lines that work simultaneously with the internet access.
They'll comfortably manage the transmission of tracking and IoT as well, although only offer an IP-based transmission service, which will make them a little more expensive for these applications.
Certus 200 Products & Airtime
Certus 700 devices
Iridium Certus 700 is the fastest L-band satellite solution available today, with speeds of up to 704 Kbps. This means that wherever you are, in whatever weather conditions, you'll get reliable broadband internet and phone access for up to 12 connected devices (wireless or wired, your choice).
We offer three Certus 700 devices: the Thales MissionLINK 700, designed for land mobile, the Thales VesseLINK 700, designed for maritime, and the MCD-MissionLINK (pictured), which takes the MissionLINK 700 terminal, and adds a battery (up to 6 hours of normal use), connection ports, and a ruggedized, waterproof, portable case.
Delivering a mobile office whether you're at land or sea, supporting web browsing, email and file transfer, and up to 3 simultaneous high-quality voice lines.
Certus 700 Products & Airtime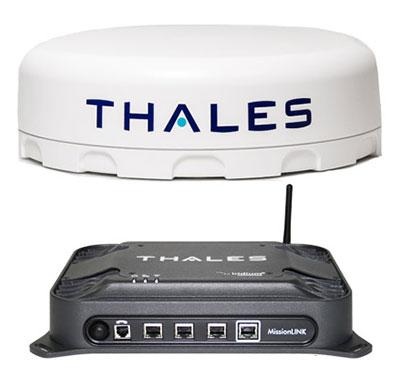 Interest piqued?
With over 20 years' experience in satellite and cellular connectivity, we take pride in pairing our customers with the most appropriate device and airtime for their needs. If you think Iridium Certus, Thales and RockREMOTE solutions could help you be better connected, we'd love to hear from you.
We are proud to work with Iridium and Thales – some of the most reliable and innovative players in the market – and we also work with leading manufacturers and multiple airtime providers to ensure that customers get the best possible solution.
If you'd like to talk to one of our experienced team about how you can keep your team connectivity, on land or at sea, with Thales or Rock satellite technology, simply email sales@groundcontrol.com, or call us on +1.805.783.4600.