Industrial IoT Communications Device
The RockREMOTE solution bridges the gap between legacy technology and digital service evolution without requiring significant investment in a complete infrastructure refresh.
It delivers a reliable and flexible, all IP-based, dual-mode LTE-Satellite communications solution for fixed, semi-fixed or mobile M2M / IoT applications worldwide. Customers select between Ethernet, Wi-Fi or Serial RS232/485 for their communications interface requirements.
The highly adaptable RockREMOTE guarantees robust communication and provides the vital link to ensure that your data keeps flowing when the grid stops.
Need a waterproof / vibration-resilient version? The new RockREMOTE Rugged offers a new form factor for permanent outdoor use in the most harsh environments.
RockREMOTE Use Cases
Enhanced oversight and management of widely distributed assets
Expand the scope of remote monitoring applications
Record environmental conditions at prospective new locations without access to electricity
Instantaneous updates on power generation to avert overload
Timely notifications of equipment breakdown to prevent interruptions in production
Decrease response time and minimize the number of field personnel required
Collect and analyze data to optimize loading and transportation activities.
Key Features
Tech Specification
Airtime
Iridium Messaging Transport
What's in the Box
Omni-directional, with no antenna pointing required; ideal for fixed deployment in hilly or woody locations, or for on-the-move applications
Simple to deploy, IP-based over Ethernet or Wi-Fi
Dual mode Iridium Certus satellite network combined with LTE
Small form factor, industry standard DIN rail mounting
Usage optimization enables RockREMOTE to be deployed in solar-powered environments in locations where mains power is unavailable
Powerful integrated processing, storage and security enables the evolution towards Edge Computing
Support for MQTT into IoT cloud services from Amazon, Google and Microsoft
Ground Control's subscription management platform, Cloudloop, enables visibility and control over your asset usage
Hardware security module ensures that your data is secured while being transmitted over the network
Transparent message buffering, queuing, and automatic data compression
Communications
Satellite: Iridium Certus 9770 transceiver
Satellite Antenna: passive omnidirectional
Satellite Network: Iridium Certus 100 TCP/IP: 22 Kbps up / 88 Kbps down
Cellular: LTE cellular module (regional specific variants)
Cellular Antenna: optional external LTE antenna
SIM Card Slots: 2 x Standard (2FF) SIM card slots (Satellite + Cellular)

Connection Interfaces
Ethernet: 1 x RJ45
Serial: 1 x RS232, 1 x RS485 / RS422
Digital: 1 x GPIO port with 8 x isolated GPIOs

Computer Module
Processor: Quad Core 1.5GHz Cortex-A72 (ARM v8)
Memory: 2GB RAM, 8GB Flash
Operating System: Linux

Power Specification
Range: 10v – 30v DC
Power Consumption: 0W (Sleep), 5W (Idle), 9W (Transmit)
Supercapacitors for safe shutdown
Power Interface: Spring loaded header socket
Physical Specification
Terminal Dimensions (LxWxH): 193.3mm x 120.3mm x 117.0mm / 7.6″ x 4.7″ x 4.6″
Terminal Weight: 1,263 grams / 2.78 lbs
Antenna Dimensions: (Hx⌀): 150mm x 97mm / 5.9″ x 3.8″
Mounting: Industry Standard DIN rail mounting

Terminal Compliance
Iridium Certification: Certus 100 IoT
Temperature Rating: -40°C to + 70°C / -40°F to 158°F
Ingress Protection: IP5x (Dust)

Management Interfaces
Easy to use interface to configure RockREMOTE functionality
Advanced debugging and monitoring tools
Remote Configuration via Cloudloop Data
Hardware Security: Dedicated hardware security module

Smart Connection Management
Traffic routing is based upon a user programmable strategy
Automatic reconnection and retry mechanism; on-demand, interval or scheduled connection

Enterprise or Cloud
Integrated with Cloudloop Data for integrated billing, provisioning and usage monitoring
Certified support for AWS IoT Core, Google Cloud IoT and Azure IoT Hub
These are example airtime plans. For full details of our Iridium Certus 100 airtime, please visit our Certus 100 Service Plans page, or contact us with your data transfer requirements for a customized quote.
Plan:
Flex
5 MB
50 MB
200 MB
Price Per Month (USD):
$25.00
$53.00
$200.00
$636.00
Included Data:
0 MB
5 MB
50 MB
200 MB
Overage Fee / MB:
$19.00
$12.00
$7.00
$5.00
Minimum Contract Term:
3 Months
3 Months
12 Months
12 Months
Taking full advantage of IMT, the latest Iridium network service evolution, Ground Control has developed a Satellite IoT delivery network. It's designed to deliver large message payloads for a wide range of IoT applications in a highly cost effective way.
It provides an end-to-end solution comprised of:

1. An MQTT application deployed on the RockREMOTE terminal; this provides the interface for your remote application to submit and receive data payloads
2. The Iridium IMT satellite service
3. An MQTT server application, delivered via Ground Control's Cloudloop platform, which enables your IoT service application to submit and receive data payloads.
The following items are supplied with your RockREMOTE device.
RockREMOTE or RockREMOTE Rugged Unit with Iridium SIM card Installed
Omnidirectional Certus 100 Antenna
9m antenna cable assembly
DC power cable assembly (1m for RockREMOTE, 2m for RockREMOTE Rugged with IP67 connector)

Optionally, you may also have been provided with:
An appropriate antenna mounting bracket (see Accessories)
LTE, WiFi and GNSS antennas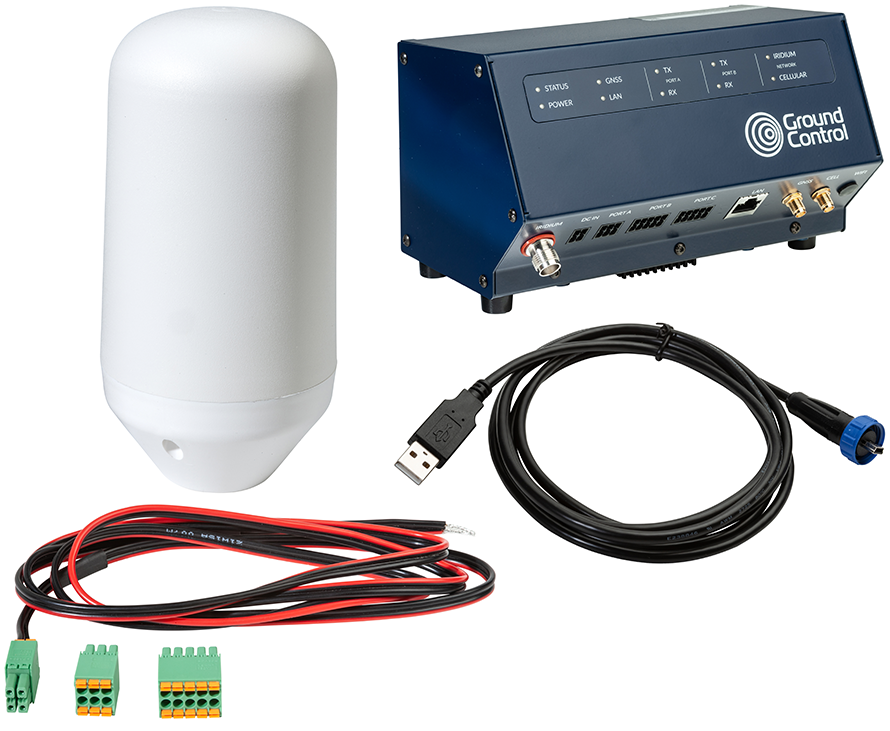 Iridium Certus 100 Coverage
In Low Earth Orbit (LEO) the Iridium satellite constellation is able to deliver many benefits for IoT applications, not least reduced ping time. As these satellites are much closer to the Earth's surface, the latency – ping time, is typically less than one second.
Utilizing omni-directional antennas, data will be accepted by the closest satellite and then 'handed off' as appropriate to the next. Using a mesh of 66 satellites in total, the Certus 100 service bridges the gap between narrowband and broadband, with a TCP/IP connection enabling higher throughput speeds of 22 Kbps up, 88 Kbps down.
Iridium's truly global (including both poles), low-latency Certus 100 service is perfect for machine-to-machine, tracking, telemetry, condition monitoring and SCADA applications. Used for tracking and IoT applications alike, this service works anywhere on Earth without expensive roaming charges or the need for multiple service agreements.
Iridium Coverage Map – Real Time Tracking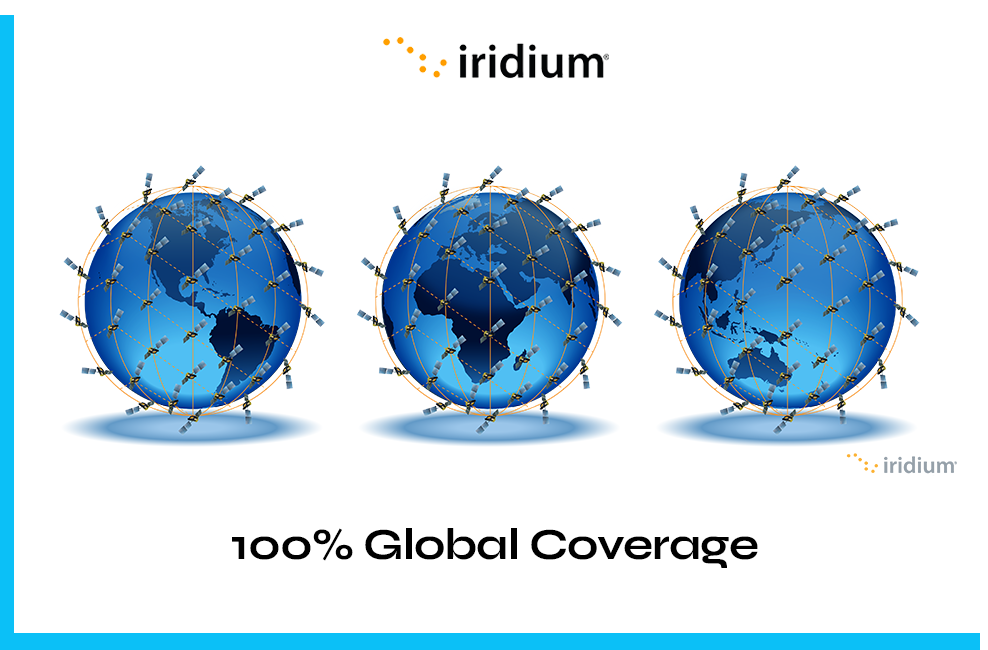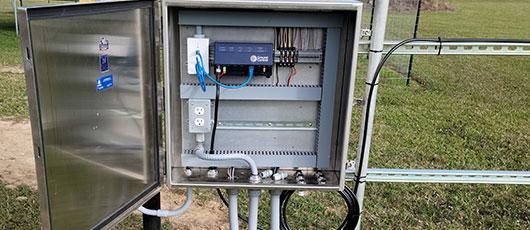 The RockREMOTE is pictured here in a metal cabinet. The transceiver has ingress protection of IP5X; the antenna is IP66.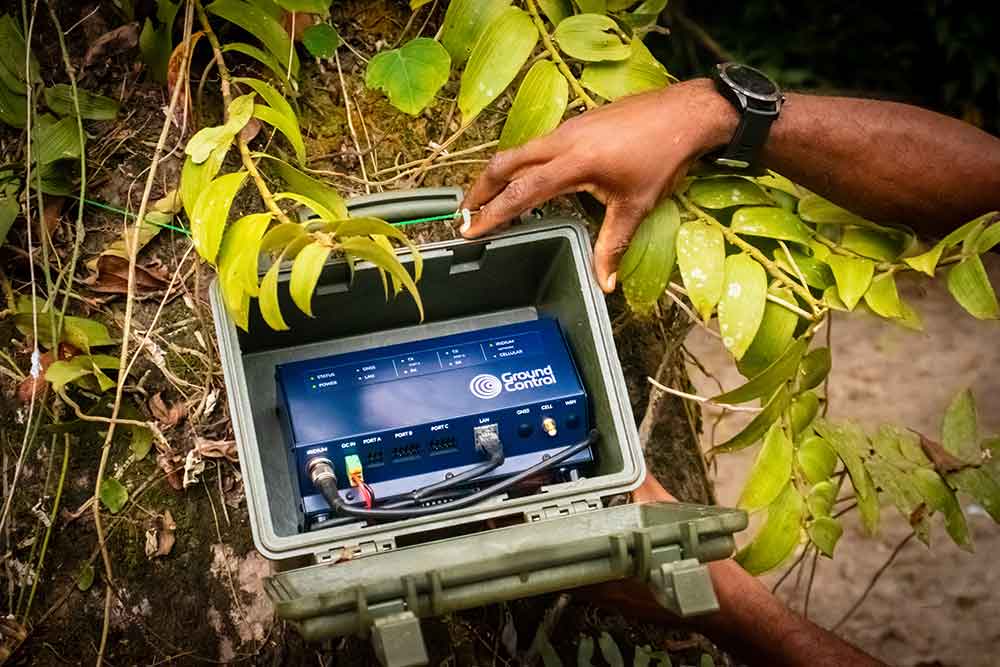 The RockREMOTE in this form factor is intended for use indoors or within an enclosure, and the device comes with a discreet, robust, external antenna. For a device that's intended for outdoor use, have a look at the RockREMOTE Rugged.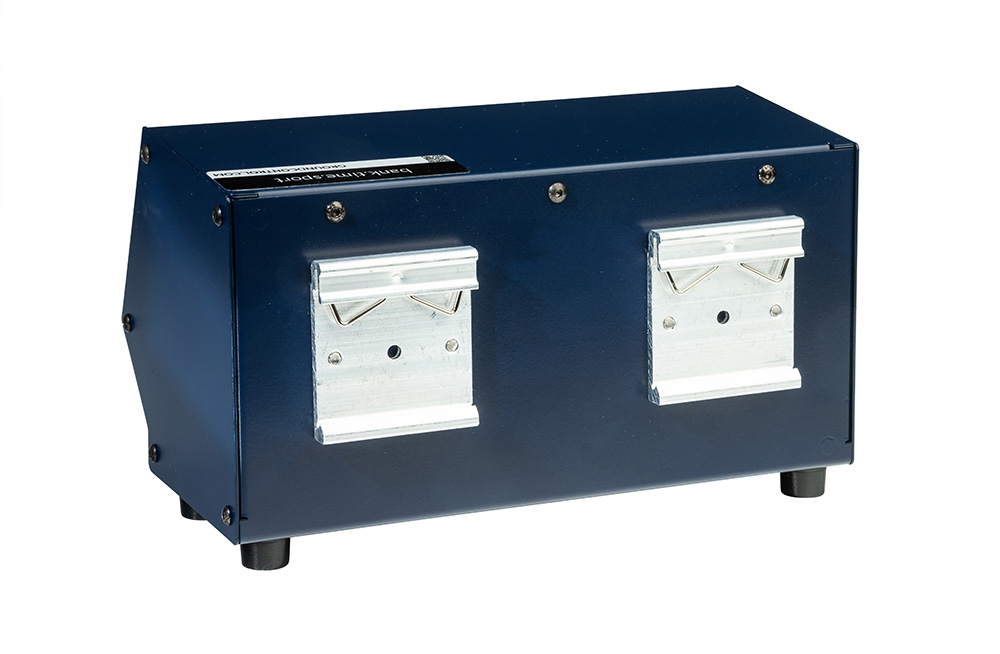 The rear view of the RockREMOTE features industry standard DIN rail mounting.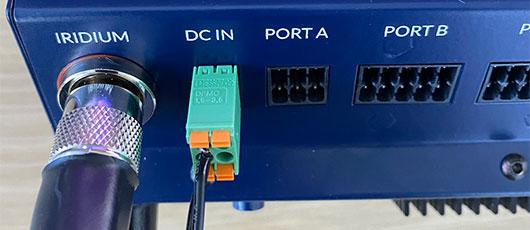 Here's a close up of the connection interfaces; from left to right, the Iridium Antenna connection port, DC power in, RS422/RS485 connection port, RS232 connection port.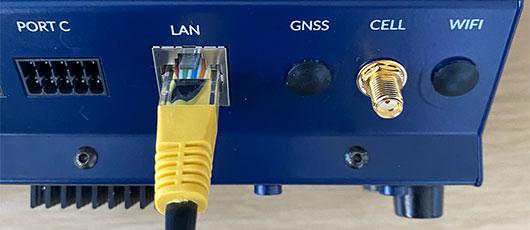 Pictured here is the digital I/O connection port, ethernet connection, and cellular antenna connection.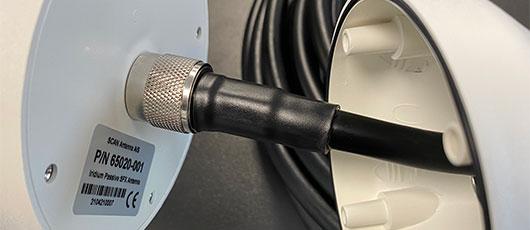 The omni-directional antenna doesn't need to be pointed, and is a low-loss radome. Mounts on any US-style Mounting Bracket with 1″-14NF threaded stud (not supplied).
Considering the RockREMOTE?
The RockREMOTE is the ultimate solution for uninterrupted data transmission. Easy to install, robust, discreet antenna, and an IP connection enabling higher throughput. Find out how the RockREMOTE can support your operations today.
Frequently Asked Questions
Can the service be configured to be 'always on'?
Iridium Certus 100 is a TCP/IP based service enabling a bi-directional 'always on' connection between field assets and a back end solution.
What would be the typical Mains and current draw?
Typical power consumption is 1.5 amp average with 4 amp peak. Actual power usage will be heavily dependent on how the RockREMOTE device is being used in terms of how the processing unit is utilised for any applications, and the frequency of network communications.
Do I need satellite connectivity if I have / intend to use NarrowBand IoT?
RockREMOTE provides support for cellular as well at satellite connectivity and offers functionality that extends beyond a pure connectivity solution. Although NB IoT will improve and extend the capabilities of cellular for IoT, it still requires access to the terrestrial cellular networks to operate reliably. For truly remote, reliable connectivity, a hybrid approach provides the most reliable method to guarantee connection.
How secure is the RockREMOTE solution?
Security is made up of a number of elements within the RockREMOTE solution. The network security is offered through VPN connections both from the satellite ground station to the land network connection, then from there to the customer site. This is further enhanced though the availability of the inbuilt hardware security module which can encrypt the data before being sent over the network, ensuring that, even if accessed along the way, data is unusable to anyone who has accessed it.
How would you handle antenna line of sight issues in areas with trees or rocks?
Using the combination of the Certus 100 LEO network and the Omnidirectional antenna, line of sight issues are significantly reduced. The antenna will automatically locate the satellite as opposed to having to be specifically pointed at a geostationary satellite. The solution still requires a good view of the sky.
How long does it typically take to install a RockREMOTE device and antenna on site?
Installation time is dependant on how / where the device and antenna are being mounted. If a DIN rail mount is already correctly located, with power and connections in place to the required measure devices, the RockREMOTE unit installation can be completed in a matter of minutes. The activity that will require greater consideration will be the external mounting of the antenna and the routing of the antenna cable.
How quickly can the terminal get online from a cold power up?
RockREMOTE powers up and can start to send data within 90 seconds from cold start.
How does the device re-connect when network coverage is lost?
If network connectivity is lost, RockREMOTE will automatically re-acquire connectivity to either Satellite or Cellular networks.
How does auto-recovery after power outage work for RockREMOTE?
RockREMOTE will auto-restart and return to its previous state after a power outage. It will automatically restore an active Iridium or cellular connection, for example.
How is sleep mode controlled?
For full details, please review our RockREMOTE developer docs. Establishing a connection from sleep mode is not too much quicker than turning on from cold (sleep to connection in just under a minute vs. 90 seconds from cold) but does give the benefit of keeping the caps charged and the RTC running. For applications where power is limited, it may be preferable to install a switch or relay from the logger.
What's the difference between Iridium Certus 100 and Iridium Messaging Transport (IMT)?
Iridium Messaging Transport (IMT) uses the Certus 100 service; the plans are the same price and have the data allowance regardless of whether you're using IMT, a message-based protocol, or Certus 100, an IP-based protocol. However, the cost of sending your data via IMT is going to be substantially lower than sending your data via Certus 100. This is because there is no TCP/IP overhead in a message-based service; you only send your data payload. That said, IMT is more technically involved to implement.
If you send your data via Certus 100, as an IP-based service, it's highly interoperable with your existing software, and integration will be simple. If you send your data via IMT, you'll need to "chop it up" first, and reassemble it at the far end. If you can do this, it's a far more cost-effective way of sending data, but needs some programming skill. We're here to help so just get in touch if you'd like some advice on this, or representative costs for using IMT over Certus 100.
Is the MQTT broker server included as part of the Cloudloop account?
Use of the MQTT broker service is included as long as you have an active Certus device activated with us using IMT (Iridium Messaging Transport). IMT messages are taken from the device allowance in bytes (but are much more efficient due to no TCP overhead).
We recommend using our MQTT broker if using IMT over RockREMOTE as then we can support your implementation fully. More details on Cloudloop MQTT here: https://docs.rockremote.io/config/iot.
Useful Links
Let's build together
The RockREMOTE is designed to deliver unparalleled remote IoT connectivity, featuring impressive low power requirements and the cutting-edge Iridium Certus 100 connectivity. Enabling accelerated data transfer rates, we're proud to be among the select few chosen to manufacture hardware utilizing this game-changing airtime service.

Start a chat with our knowledgeable team today to explore how the RockREMOTE can support your Industrial IoT operations.