Professional Grade Mobile Internet
Press a button on our Toughsat satellite internet system and minutes later you will be online with up to 20Mbps x 5Mbps speeds using our iDirect service from us, or any iDirect provider worldwide. The solution provides the speeds and bandwidth needed for robust internet and communications making it the perfect in-field communications solution.
Satellite internet, unlike cellular, has no dead zones even in disaster areas. If you can see the sky, you may connect for high-speed internet and phone. Ground Control has been a leader in auto-deploy satellite antennas with thousands of organizations since 2002.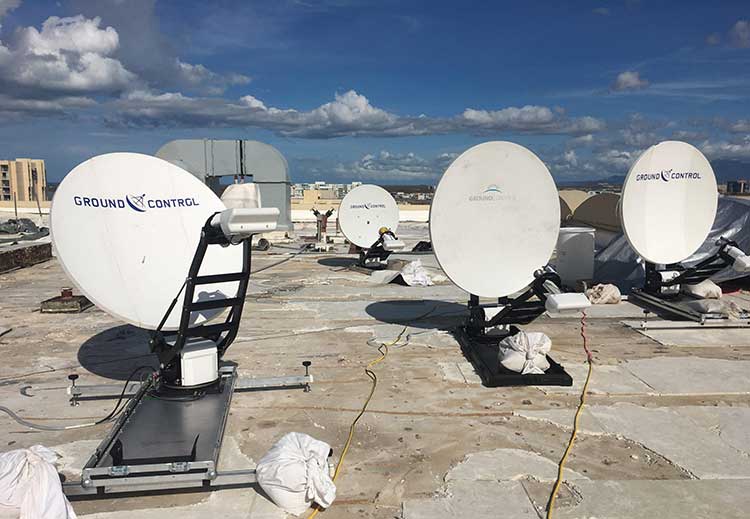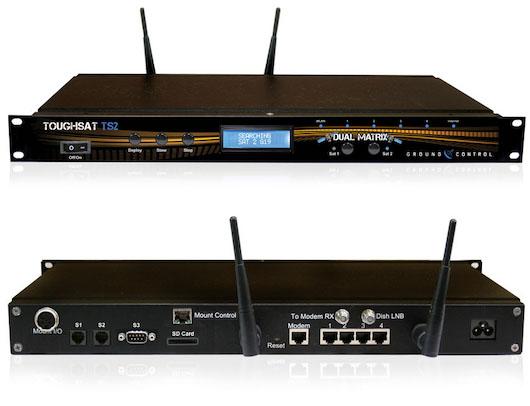 Simple Operation – No Certification or Training Needed
After pressing the 'Deploy' button on the Toughsat TS2 controller, the dish will raise and auto acquire the satellite signal and in minutes will automatically create a broadband Wi-Fi hotspot.
Connect any wireless-capable device such as smartphones, tablets, laptops, or VoIP phones. No other interaction is required and no training or certification is required for use. To stow the dish, simply press the 'Stow' button.
KEY FEATURES
TECH SPECIFICATION
*AIRTIME
INSTALLATION AND SUPPORT
DUAL MATRIX SERVICE
WARRANTY
Complete, ready-to-go system including all components required for operation
System includes: Mobile Dish, TS2 Controller, iDirect Satellite Gateway and 6 watt BUC
Easy and quick to deploy and stow, including one-button operation
No requirement for specialist training or knowledge to operate
Rapid satellite lock and connectivity establishment
Establishes a local area wireless network (100-foot radius) automatically
Auto-stow feature – dish will automatically stow if rig is moved or dish goes off signal
Operates globally in northern or southern hemispheres
Uses Ground Control as the service provider or any iDirect service provider worldwide
Bundled with our high-performance iDirect service providing 20Mbps x 5Mbps internet speeds
Service pricing available for Public Safety Organizations. SAFECOM-complaint.
Ideal for our VoIP phone service. Connect one or 10 phones that work like any phone
Optional antenna booster extends wireless connectivity up to half a mile.
Connect up to 256 devices with Integrated full feature 4-port router
SNG rated to stream live video at guaranteed 4 x 4Mbps with our streaming services
Powerful TS2 Antenna Controller Unit with intuitive web-based interface for system configuration, diagnostics and control
Black anodized billet aluminum construction, UV-resistant plastics, sealed all-weather electronics
Removes vehicle clearance issue with stow heights below 12 inches
Modular design – components easily replaced in field
Manufactured by Ground Control at our plant in California
Standard 12 month warranty – parts and on-site labor
Extended and lifetime radio electronics warranties available
24-7 US-based technical support from Ground Control included
Optional UPS. A back-up battery for stowing the dish if power is shut off or disconnected
Max Satellite Speeds (6-watt BUC) Rx/Tx: (G-18)20 / 5 Mbps, (SES2) 5 / 2Mbps
Satellite Gateway: iDirect Evolution X7 Router
Public IP Address: Included
Toughsat ACU Type: Rackmount 1RU with front panel control. 12″ depth
Integrated Router: Cisco Linksys with 4-port LAN.
Integrated Wireless Access Point: 802.11 'G'. 100-foot radius standard
DHCP: Wireless and 4-port LAN
Wireless Security: WPA (TKIP) WPA2 (AES) + WEP 64 and 128bit
NAT: Supported by included router
Firewall: Supported by included router
Port Mapping and Port Triggers: Supported by included router
QoS, ToS, MAC Address Clone, RIP v1 RIP v2: Supported by included router
Networkable clients machines: Unlimited
ACU Power (includes dish, router, and Wi-Fi: Average 15 watts, max 40 watts
Reflector: 1.2 or 0.98 square meter effective area
Mount Geometry: 3-axis motor drive (elevation, azimuth, and skew)
Deployment Sensors: GPS and tilt sensor +- 0.1°
Maximum Mount Rotation: (Azimuth) 410°, (Elevation) 165°, (Polarization) +/-95°
Transmit Power: 6 watts
Frequency Receive: 10.96 – 12.75GHz
Frequency Send: 13.75 – 14.50GHz
Stowed Dish Dimensions (1.2m): (LxWxH) 67.5″ x 48.3" x 12" (172 x 123 x 30.5cm)
Stowed Dish Dimensions (.98m): (LxWxH) 59″ x 39″ x 12"(150 x 74 x 30.5cm)
Mounting Plate (1.2 and .98m): 22" x 57" (56 x 145cm)
Base Plate (attached to mounting plate): 14" x 16" (35.6 x 40.7cm)
Deployed Max Height (1.2m / .98m): 68" (173cm) / 52" (132cm)
Weight (1.2m / .98m): 133lbs (60.4kg) / 125lbs (56.7kg)
Boom Radius Sweep (1.2m / .98m): 61" / 53" from center with 5" min. ground clearance
Wind Deployed (1.2m / 0.98m): 50mph (80kph) / 75 mph (120kph)
Wind Stowed: 140mph (225kph)
Max Operational Temperature (at 100% humidity): -20°F to 140°F (-28°C to 60°C)
Max Survival Temperature (at 100% humidity): -60°F to 160°F (-51°C to 71°C)
Environmental IP Rating (Antenna): IP-66
Power: 100 to 240V AC, 50 to 60Hz
Power Plug Types Available: US, UK, EU, AU, and Brazil plug types
Dish Electronics: 15 watts average draw, 40 watts Max
iDirect Router: 75 watts average draw
Plan:
3 GB
3 GB MAX
12 GB
12 GB MAX
Price Per Month (USD):
$399.00
$599.00
$849.00
$1,299.00
Service Speed:
3 Mbps x 1 Mbps
20 Mbps x 5 Mbps
3 Mbps x 1 Mbps
20 Mbps x 5 Mbps
Inclusive Data:
3 GB
3 GB
12 GB
12 GB
Overage Fee:
$0.19 per MB
$0.19 per MB
$0.14 per MB
$0.14 per MB
With hundreds of Ground Control certified field service technicians in the US, Canada, and Puerto Rico, we can easily install and maintain your equipment anywhere. We are a single-source provider of both equipment and premium grade service, and since we've been manufacturing mobile systems for a decade, you can trust that we deliver the best value for your organization.
Ground Control's two North American teleports service two different high-performance satellites that operate independently of each other. With the Dual Matrix service, a single mobile satellite dish may connect with either of the satellites at any time, no matter the plan they subscribe to.
Dual Matrix is the answer to "what if something goes wrong with the satellite connection?", be it a line-of-sight obstacle from a building or tree, or congestion, or network error, or other technical problems.
Ground Control's Dual Matrix service offers connectivity with a second orbiting satellite at the touch of a button. This fully redundant dual infrastructure solution is ideal for all industries that must maintain the highest of communications standards.
Learn more about our fully redundant satellite infrastructure.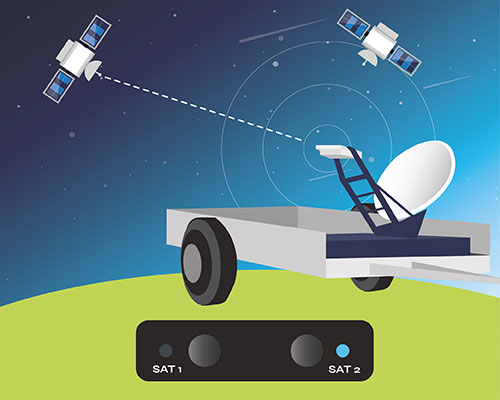 Standard Warranty
Toughsat XPs are protected with a standard one-year parts and on-site labor limited warranty. Our field technicians, located in hundreds of locations throughout North America, will drive to your rig's location (in most locations) and perform needed repairs, all on our dime.
Extended Warranties Available
12-Month Extended Warranty – Add one extra year of parts and labor to the standard warranty for either the Toughsat mobile satellite systems.
24-Month Extended Warranty – Add two extra years of parts and labor to the standard warranty for either the Toughsat mobile satellite systems.
Lifetime Electronics Warranties Available
For a small monthly fee of $24.95 placed on your monthly VSAT service, Ground Control will replace any failed radio electronic component of your satellite system, which includes the satellite gateway router, the LNB, and the 3-, 4- or 6-watt BUC (transmitter). As long as the radio insurance fee is current with an active iDirect account with Ground Control, any radio equipment that fails to operate through standard use will have that part replaced.
Dual Matrix – Dual Satellite Network
The Toughsat series – Toughsat XP, Toughsat Flyaway, and T-100 Trailer – may utilize the SES2 satellite service in North America. Users can also choose Intelsat's Galaxy 18 service, or our Dual Matrix option which allows you to switch between the two services as preferred / needed.
Map shows the Intelsat Galaxy 18 satellite and SES2 footprint, and their shared coverage areas.
Dual Satellite Coverage Map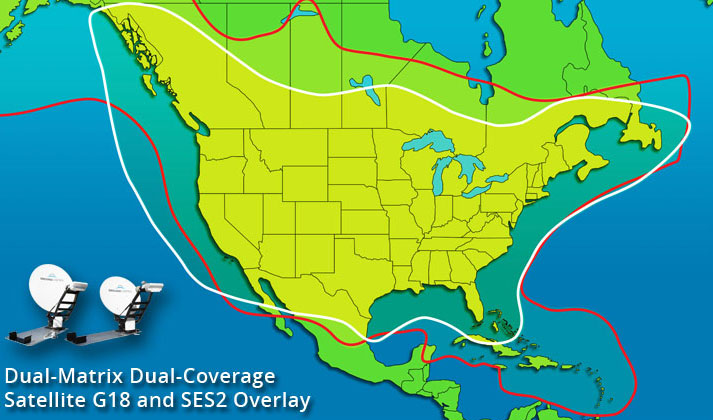 Considering the Toughsat XP?
The Toughsat series of products are complete ready-to-go systems that may include reliable, high-speed iDirect Internet service. Start a dialogue with one of the team and see how the Toughsat XP fits into your application.
Side-by-side are the 1.2 meter Toughsat XP and the .98 meter Toughsat XP on our T-100 communications trailers. The XP systems are designed to be mounted on a vehicle or truck or trailer roof.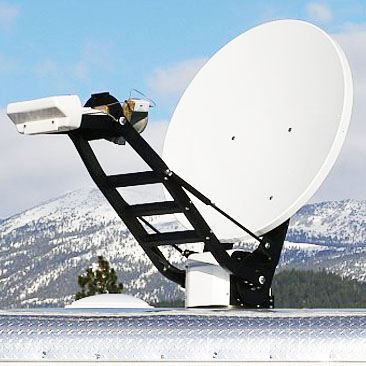 The TOUGHSAT XP's operate in extreme environments from most any parked location on the planet. The .98 meter system can stay operational in wind speeds up to 75 mph (120 kph).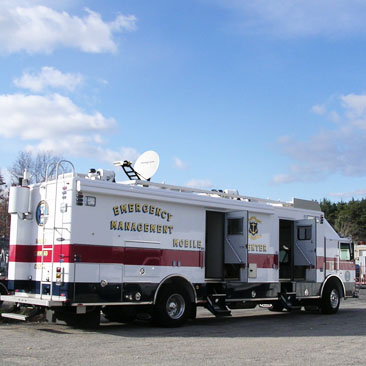 The Toughsat series is popular with many emergency responders in North America. High-speed Internet and multiple VoIP phones create a fully functional remote command station in minutes.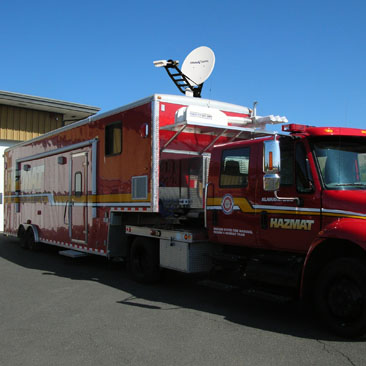 Ground Control has special 10 unlimited use days per month plans for emergency personnel. We understand that the dish is not used every day, and we price it as such.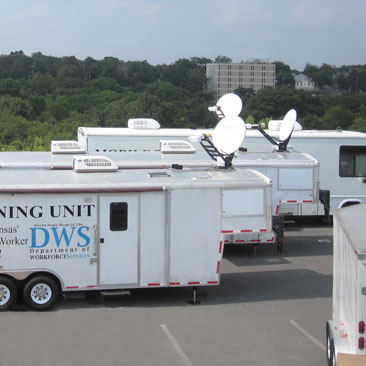 These Toughsats are mounted on 5th wheel trailers to create mobile classrooms.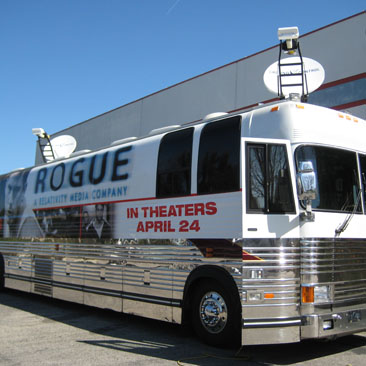 This bus uses two Toughsat systems for redundant connectivity to two different satellites, and for added speed using a dual WAN.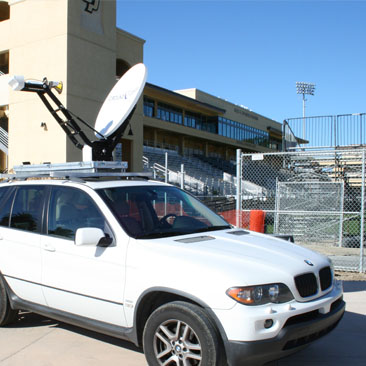 The Toughsat fly-and-drive system allows the Flyaway case to be easily mounted on any roof rack. The Toughsat is video streaming capable for live events with a streaming services.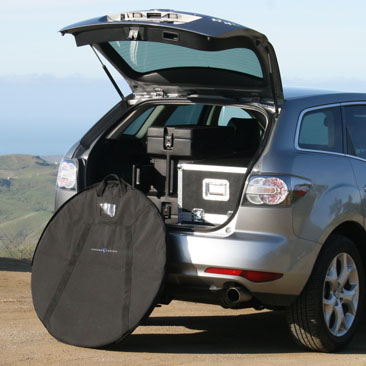 The optional Flyaway case-based Toughsat is a complete Toughsat system in three pieces that can be transported and operated by a single individual.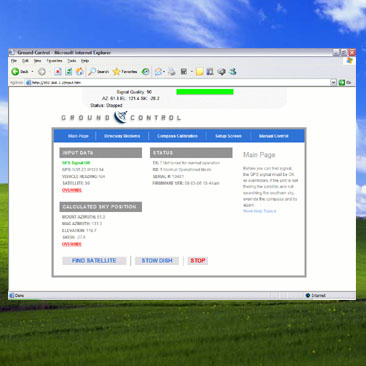 The Toughsat ACU screens are accessible with any browser. In addition to detailed system information are system parameters, manual controls, override screens, software updating, history screens, and of course Find, Stow and Stop buttons.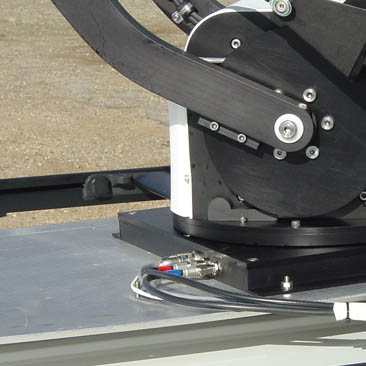 Weather proof, easy twist submarine rated connectors, internal weather proof electronics housing, stainless steel & aluminum construction, are just a few of the environmental upgrades for Toughsat to travel and operate anywhere.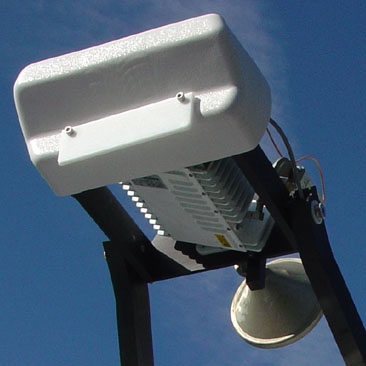 The powerful 6 watt radio (BUC) works in the most extreme weather for our performance 20Mb x 2Mb or high-speed satellite services. The skew motors are able to precisely calibrate polarization (horizontal or vertical) with any line-of-site satellite.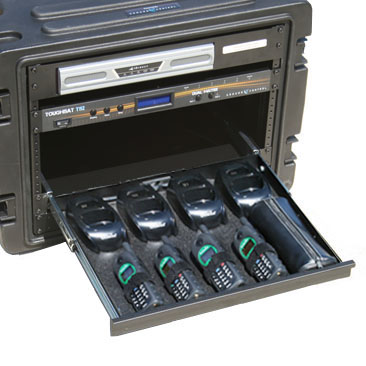 Ground Control offers Long-range cordless phones that have a range of up to 2 miles from the base station. Use like any cordless phone to make or receive calls from anyone in the world. These phones use our VoIP phone service optimized for satellite.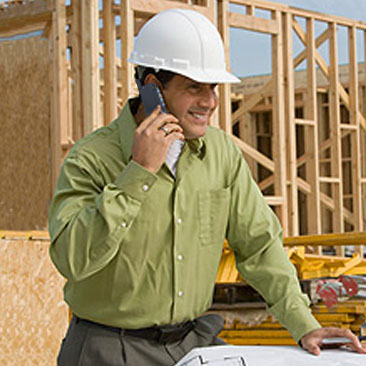 Long-range phones will free personnel to work at distance from the mobile satellite system. Each phone may be issued its own local phone number (up to four phone lines), or share a single line.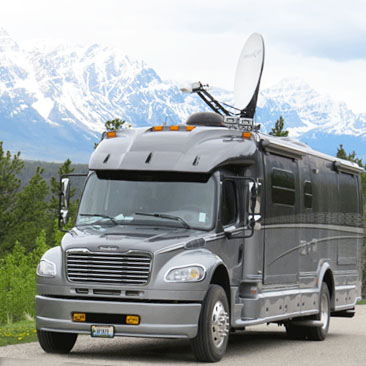 The Toughsat has an integrated Wi-Fi access point for any in-range wireless enabled devices. Shown above is a Toughsat XP 1.2 meter dish. Credit to Montana Satellite Services – Toughsat dealer – installer.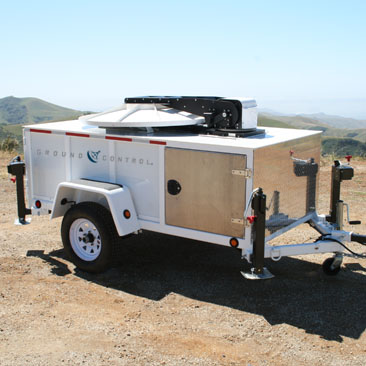 Both the 1.2 and .98 meter Toughsats stows to a height below 12″ (30.5cm). The T-100 communication trailer is totally self contained with an onboard 1000 or 2000 watt generator.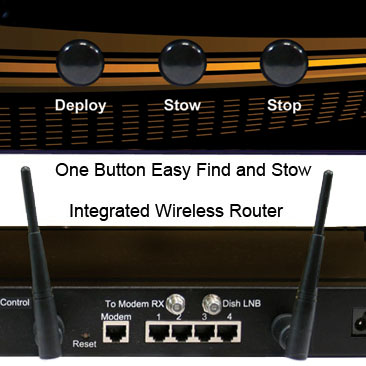 The Toughsat TS2 ACU (Antenna Control Unit) has easy one-button "Deploy" and "Stow" buttons for simple operation. Also, the full function integrated wireless G router with a 4 port Ethernet hub on the back of the ACU.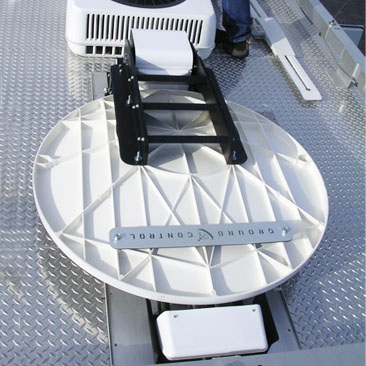 The Toughsat XP .98 and 1.2 meter dishes both stow below a height of 12″. Good for rig clearance issues. Flimsy roofs are easily reinforced with 2 lengths of aluminum quarter angle.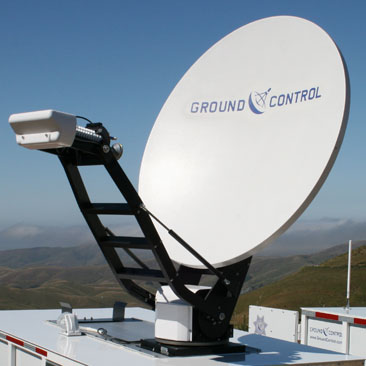 Here the Toughsat XP 1.2 Meter dish is mounted on one of our T-100 Communication trailers that enable the wireless signal to reach out half a mile in any direction.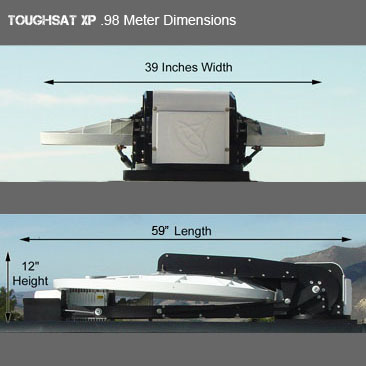 The Toughsat .98 meter (both the XP and SP) has a very small footprint on top of any rig or vehicle roof. Stow heights are below 12″ (30.5cm).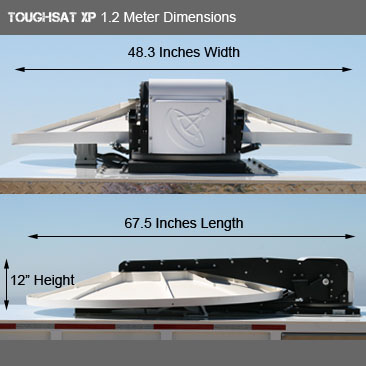 The Toughsat XP 1.2 Meter system uses 67.5 inches of space on top of a vehicle roof. Stow heights are less than the XP .98 meter at below 12″ (30.5cm).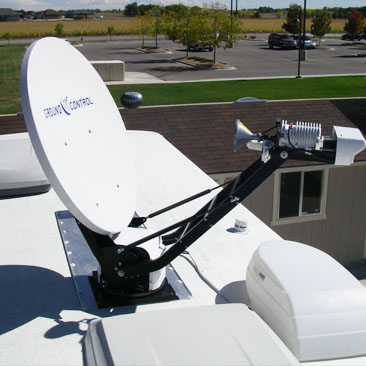 The Toughsat does not require a lot of space on top of a roof. Deployed, the boom can clear air conditioners, or other installed equipment.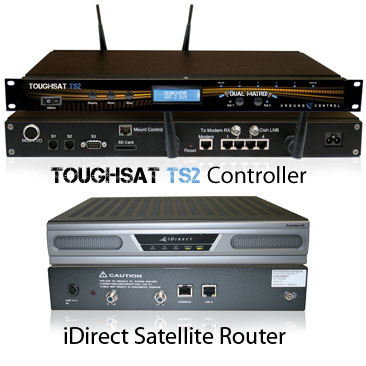 The Toughsat TS2 ACU operates silent with no fan. The iDirect Evolution X7 satellite router is also silent, and is standard equipment. (Rackmount 1 RU for X7 iDirect satellite modem is not shown).
Frequently Asked Questions
Who manufactures the Toughsat?
Ground Control manufactures the Toughsat line of mobile satellite antenna systems. We're also the service provider for all mobile VSAT systems. Our manufactured equipment also works with any iDirect provider worldwide.
What is the difference between VSAT and BGAN satellite terminals?
BGAN (short for 'Broadband Global Area Network') are small terminals that can fit in a laptop case and can connect with one of four satellites for transfer speeds up to 492Kbps. BGAN charges by the megabyte downloaded/uploaded at about $5 a MB, which is far more than VSAT mobile dish service. The trade-off is that BGAN is very portable compared to VSAT (satellite dishes).
BGAN service also works globally with one service plan, so if you're a world traveler, BGAN may be a perfect fit. Our satellite systems, on the other hand, can't be carried in a laptop case and service plans may need to be changed in different countries.
Here's a blog post that goes into more detail about the difference between VSAT and BGAN.
Who do I buy my monthly access from?
Ground Control. We're a leader in mobile satellite internet access using premium iDirect service and iDirect satellite routers. If there's a problem, we're available for support 24/7. You may also use our line of mobile satellite equipment with any other iDirect provider anywhere in the world.
What is the difference between dish sizes?
A 1.2 square meter satellite dish is slightly elliptical (normally) and has a horizontal diameter of about 4″ (48 inches).
A .98 Square Meter dish has a diameter of about 3′ 4″ (39 inches).
Can I connect any kind of computer to the Toughsat?
Yes. All Ground Control VSAT satellite systems create a standard local area network for any type computer or wireless device. The Toughsat ACU (antenna control unit) will create a 100-foot radius 802.11 wireless 'G' access point.
I'm concerned about security with wireless access. Is it secure and can I turn Wi-Fi off?
Yes, absolutely. You may use the robust encryption or you may at any time disable the wireless and limit connections to the network with Ethernet cables.
Can anyone physically install the dish?
No. A certified installer is required since installation is fairly complicated. (This does not pertain to the Toughsat Flyaway that requires no installation.) You can become a VSAT-certified installer for a nominal fee using our online VSAT certification course. Ground Control has professional satellite installers throughout the US and Canada. If you're using your own provider or are located outside of North America, please contact a Ground Control sales representative for your installation options.
How does the dish find the satellite?
On the Toughsat, simply press the 'Deploy' button on the controller (or from any connected computer) and the dish deploys and locks to the satellite automatically in about three to seven minutes. All systems are completely self-contained and don't need any kind of computer to connect to the satellite and create a local area network. There is no physical labor involved in setting up the dishes or network connection. Once the satellite is found, you're online. Simply run your web browser or e-mail program.
Can I be traveling down the road and be online at the same time?
No. The Toughsat system requires the vehicle or rig to be parked in order to connect on the satellite. Here are your options if you need an in-motion satellite solution.
How does weather affect the dish?
The larger the dish, the less 'rain fade' hinders performance. However, it takes a fair amount of rain to knock off even our smallest dishes. Transmission may be irregular if signal quality dips, which is rare and happens only in a severe downpour. Wind can also be a factor, but our Toughsat mobile systems are designed to withstand enormous wind gusts with its no-backlash braking technology, a great Toughsat feature.
What is AutoStow and how does this feature work?
On the Toughsat, the AutoStow is for when you accidentally drive off and leave the dish up. For autostow to work, the system must be turned on. (Note, we do offer an integrated AutoStow battery if power is accidentally shut off.) If the vehicle moves more than 10 feet, the onboard GPS will recognize the vehicle is moving and automatically stow the dish. Also, if something moves in front of the dish for longer than 10 seconds, taking the signal offline, the dish will stow.
While these AutoStow features are not a guarantee for your hardware's safety, they are a good line of defense to protect your investment. Please note that damage to your antenna caused by a moving vehicle is not covered under your Ground Control warranty.
Will the mobile system fit and operate on my rig, trailer, or vehicle roof?
The system can operate on any mobile platform that gives the dish room to rotate in place. If mounting on top of a truck or trailer roof, please review the dimensions of the Toughsat XP 1.2 and .98-meter dishes. If mounting on top of a vehicle, we recommend using the Fly-And-Drive Toughsat that will mount a Toughsat to most any vehicle roof rack. Ground Control also sells a self-contained multi-purpose T-100 communications trailer that will work with all mobile dishes we offer.
How difficult is it to use the Toughsat?
The Toughsat was designed to remove the complexities of connecting. Simply press the 'Power Button' on the ACU and wait a few seconds for the system to boot and the panel lights to stop blinking. Next, press the 'Deploy' button and that is it. All mobile systems will automatically go up and lock onto the correct satellite.
Once this happens, the network will activate and you may immediately connect to the internet at high-speed. To stow the dish, simply press the 'Stow' button. The dish will stow in about two minutes (Toughsat), and you may then drive away leaving power on or off. (Leaving power on is helpful for bookmobiles that perform frequent stops.)
Is it easy to stow and reconnect the satellite dish when one moves from one location to another?
Yes. Just press the 'Stow' button on the front panel (or from any connected browser) and the dish will stow automatically. When you arrive at the new location, simply press on the 'Find Satellite' button. There is an optional remote keypad that allows the Toughsat ACU buttons to be placed on the drivers dashboard.
Can the dish be used for TV as well as Internet simultaneously?
On our earlier mobile systems, there was a bracket that could add DirecTV and Dish Network, but satellites constantly change and many have lost their satellite TV because of these moves. If you require TV, we highly recommend the purchase of an inexpensive mobile TV system separate from your internet/data connection.
Can the dish be used as a telephone?
Ground Control sells an excellent VoIP package that's been optimized for satellite connectivity. You may buy our phones or purchase a $99 VoIP adapter from us and then use it with any standard corded or cordless phone. Many of our customer have had success using Skype over our network as well.
How fast are the upload and download speeds?
Our fastest iDirect solution is 20Mbps down and 5Mbps up. We also offer dedicated 'unshared' channels that offer speeds of 20Mbps down and 7Mbps up. New for 2022 is the blended cellular and satellite airtime solution, the Dejero GateWay, which when we tested it, saw download speeds over 180 Mbps.
For more information on our service packages, please call a Ground Control representative or review our North American iDirect services or find our services Internationally.
Can I get a Static/Public IP address?
Yes. One publicly routable IP address is standard with all accounts, and more are available from Ground Control.
Does the Ground Control satellite network support VPN?
Yes. Our iDirect services work with with many VPNs. We also sell the Encore series of VPN devices if you are looking for a proven VPN solution over satellite.
How often may I use the dish?
As much as you like. If the dish is locked on satellite and your computer is turned on, you're online.
Does the system work anywhere in North America or other parts of the globe?
Yes. However, service is dependent on the coverage area of the satellite you're connected to. Please review coverage maps of service in your region. The map will show where the signal strength is stronger and weaker. Larger dishes and radios are able to connect in regions that have a weaker signal.
Can the system be installed where my rig is currently located?
Yes, this is how installations are normally done. Ground Control will dispatch a certified mobile installer to your rig location.
Are there firmware upgrades?
Firmware upgrades are always free and easy to perform. With the Toughsat, upgrades are done by pressing one button from any connected browser. We also offer auto-updating that requires no user interaction.
Do you offer support for mobile systems?
Absolutely. We offer 24/7 support for all iDirect systems and our support staff is based here in the United States. It's always free for service subscribers, and we even give you an 800 number to call us. Online mobile satellite support is available.
Useful Links
Let's get started
We have been designing and building satellite communication hardware for 20 years, for use cases as varied as data backhaul for weather balloons through to first responders requiring connectivity in a crisis. Reliable, secure, practical solutions is what we're all about.

Call or email us with your questions, or complete the form, and we'll be happy to help.